Buenos días a todos los componentes de esta gran comunidad, la verdad que siempre es muy agradable levantarnos por la mañana y contemplar nuestra obra maestra, en este caso nuestro JARDIN, el caso es que a metros de la entrada de casa, tengo esta belleza de planta, la cual es de nombre MANACA, la cual es oriunda del pais de BRASIL, como se ven sus flores son grandes, en la misma planta nacen de colores blanco y lila, son muy abusivas y radiantes, por cierto muy aromáticas, en otros paises se la conoce como jazmín del PARAGUAY, la verdad que las mismas dan y llenan de vida el jardín.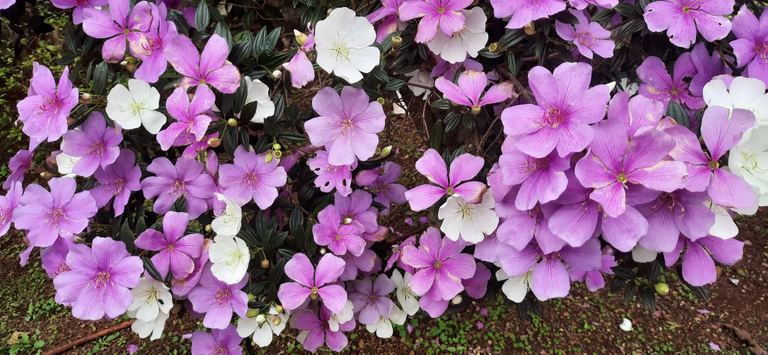 Existe un detalle en esta planta, lo cual considero muy importante por el solo hecho de que de esa manera es que me agradan mucho mas, cuando plantamos dicha planta de manaca, su primera y la primera flor que da la misma, es de color blanca, símbolo de la pureza, cuando esta flor esta completamente abierta, es cuando comienzan luego a abrirse el total de los otros pimpollos o sea lila fuerte, suave y blanco, destacando como escribí anteriormente su perfume, el cual es de un olor agradable, en mi caso a mis sentidos de olfato, lo digo porque cada ves que cruzo o paso cerca de la misma, me llena totalmente mi interior, como si fuera que renueva mi alma.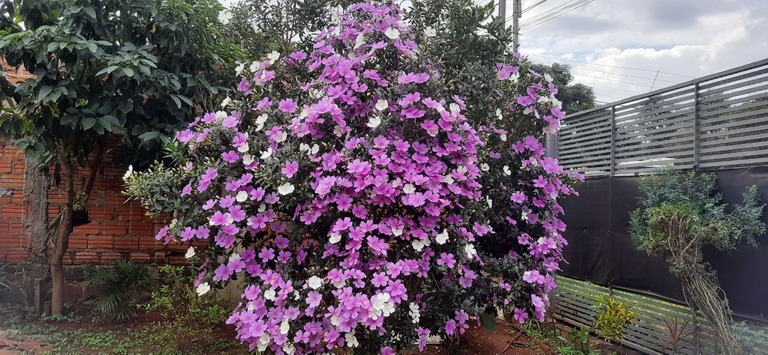 Bueno esta foto, es de la parte de atrás de dicha planta, las tomas fueron diferentes la primera, de frente y cerca luego la segunda mas alejada y luego esta, la verdad que haciendo el contraste verde de sus hojas, el gris de su tallo y con estas flores dejan a la vista un bello espectáculo, el cual complementa con su presencia al resto de las flores del jardín.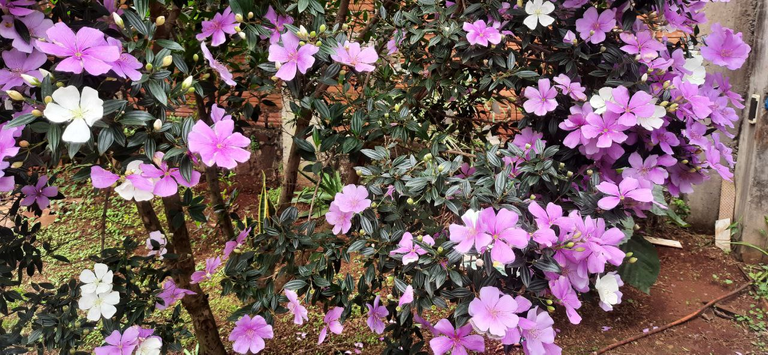 Es por todo esto amigos que soy un agradecido a nuestro señor DIOS, por tanta belleza que herradla por medio de la MADRE NATURALEZA, todas las plantas de flores de mi jardín.
MUCHAS GRACIAS POR SEGUIRME Y LEERME, QUE TENGAN UN EXCELENTE DIA EN FAMILIA.
TRANSLATED INTO ENGLISH.
Good morning to all the components of this great community, the truth is that it is always very nice to get up in the morning and contemplate our masterpiece, in this case our GARDEN, the case is that a few meters from the entrance of the house, I have this beautiful plant, which is named MANACA, which is native to the country of BRAZIL, as you can see its flowers are large, in the same plant are born in white and lilac colors, are very abusive and radiant, certainly very aromatic, in other countries it is known as jasmine PARAGUAY, the truth is that they give and fill with life the garden.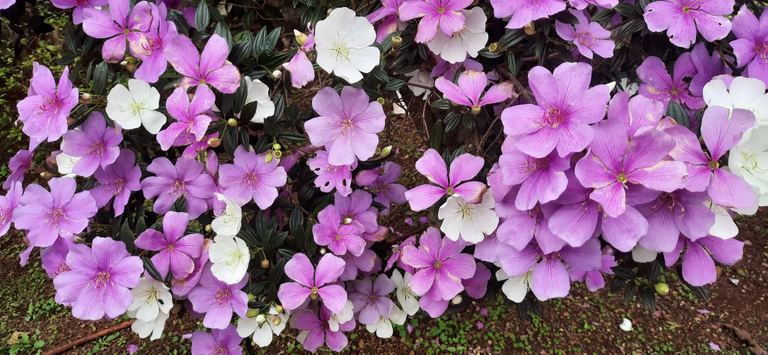 There is a detail in this plant, which I consider very important for the only fact that this way is that I like them much more, when we plant this plant of manaca, its first and the first flower that gives the same one, is white, symbol of purity, when this flower is completely open, is when they begin then to open the total of the other blossoms or strong lilac, soft and white, highlighting as I wrote above its perfume, which is a pleasant smell, in my case to my senses of smell, I say this because every time I cross or pass near it, it fills me completely inside, as if it was that renews my soul.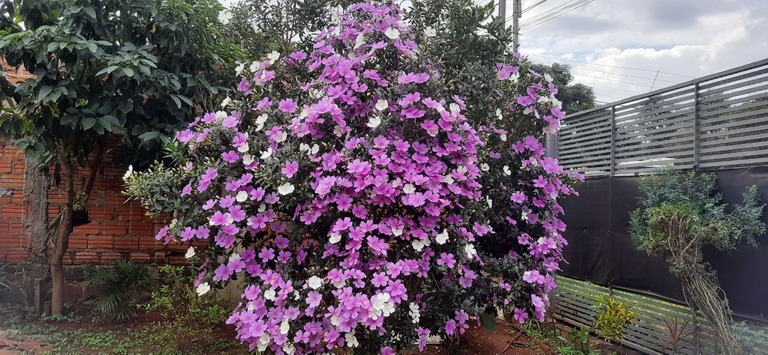 Well this photo, is of the back of this plant, the shots were different the first, front and close then the second more distant and then this, the truth that making the green contrast of its leaves, the gray of its stem and with these flowers leave a beautiful sight, which complements with its presence to the rest of the flowers in the garden.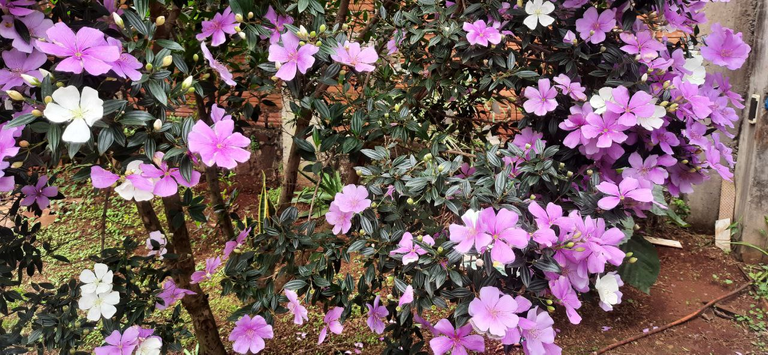 It is for all this friends that I am grateful to our Lord GOD, for so much beauty that he has made through MOTHER NATURE, all the flowering plants in my garden.
THANK YOU VERY MUCH FOR FOLLOWING ME AND READING ME, HAVE A GREAT DAY WITH YOUR FAMILY.