Buen día a todos, continuando con el post anterior, y en estos momentos casi en el centro de los ríos IGUAZU Y PARANA, en donde estaría el mojón de lo que seria las tres fronteras, navegando por el Iguazú, nos topamos con el rio Paraná, es por donde en dicho rio que se esta construyendo un puente de integración, entre BRASIL Y PARAGUAY, porque el trafico de camiones de carga es muy fluido, entonces se llego a esa determinación, construir un puente nuevo solamente para camiones.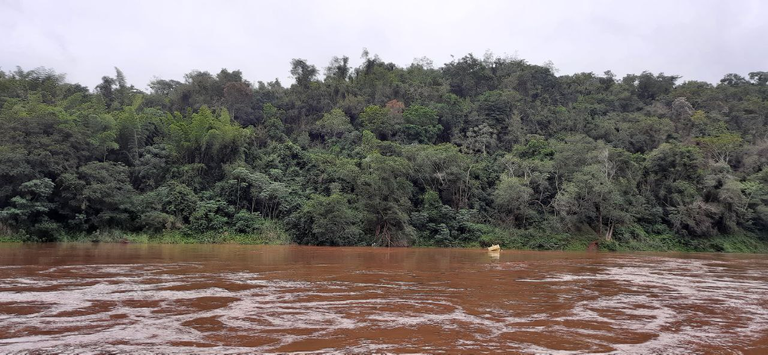 Lo que observamos en esta foto, seria la parte de las dos costas de ambos paices PARAGUAY Y BRASIL, donde comenzó la construcción del puente que los unirá.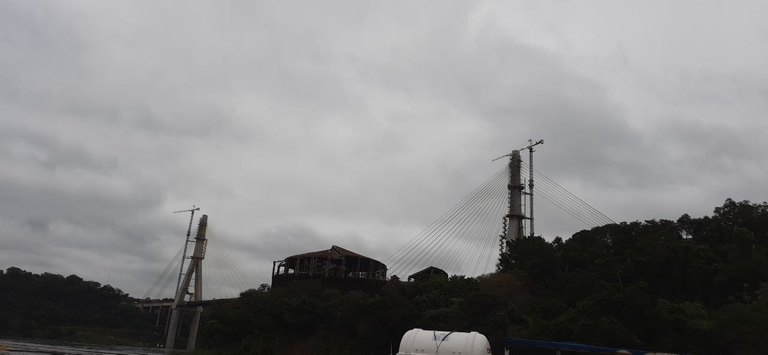 Como se puede ver lo que faltaría para finalizar esta gran obra es construir otra columna en la parte central, de esa forma quedaría unidos los dos paices.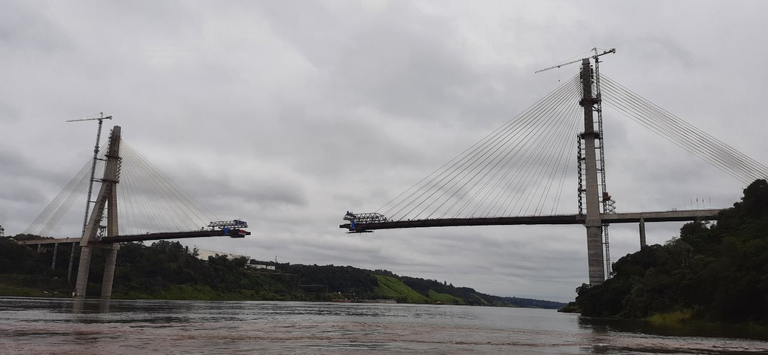 La verdad amigos en lo personal, es ver todo esto por la fotos es una cosa, pero otra es verlo desde la distancia en que me encuentro en estos momentos que estoy navegando con la Balza.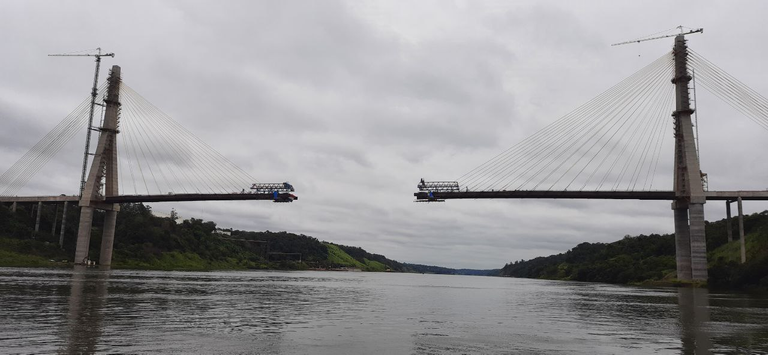 Por supuesto que el rio en este caso el URUGUAY, sigue su curso, dejando verse en el horizonte un excelente paisaje como este, como si fuera que a medida que mas lejos miramos hacia el horizonte, parece que el rio se va achicando.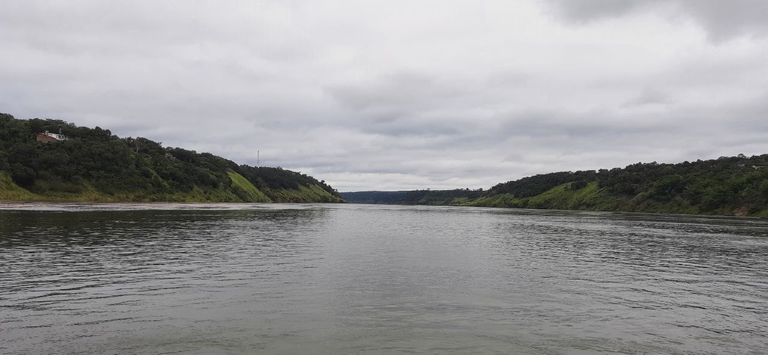 Precisamente no es así, es por la distancia que parece que se achica, pero la verdad que lo que se esta achicando es la distancia entre la barcaza y la costa, es en este momento en donde el timonel del remolcador utiliza toda su destreza de marino, porque como verán en donde tiene que en encallar es justo la medida del puente de la barcaza, luego de encallar ya comienza el descenso de los vehículos y de el resto del personal.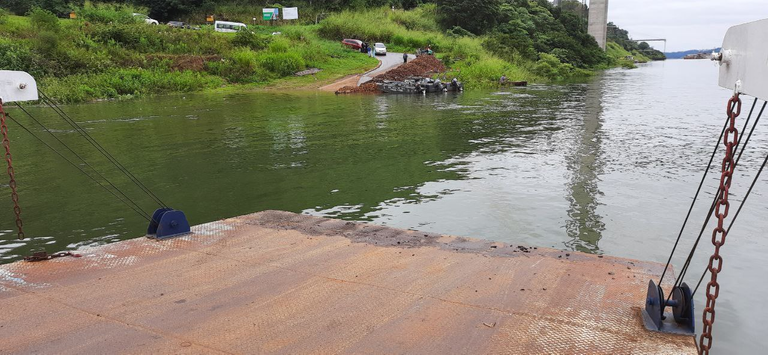 La verdad que disfrutar de un viaje de 12 minutos en una barcaza, se hace un poco eterno, porque al estar contemplando estos bellos paisajes costeros es algo digno de apreciar.
MUCHAS GRACIAS POR SEGUIRME Y LEERME, QUE TENGAN UN BENDECIDO DIA.
TRANSLATED INTO ENGLISH.
Good morning everyone, continuing with the previous post, and at this time almost in the middle of the IGUAZU and PARANA rivers, where would be the milestone of what would be the three borders, navigating the Iguazu, we came across the Parana River, is where in that river that is building a bridge of integration between BRAZIL and PARAGUAY, because the traffic of cargo trucks is very fluid, then came to that determination, build a new bridge only for trucks.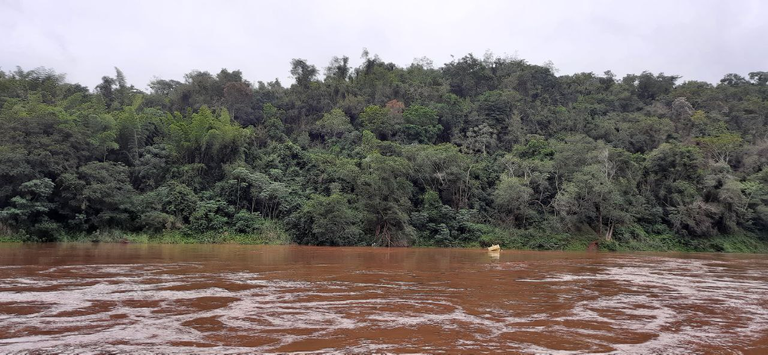 What we observe in this photo, would be the part of the two coasts of both countries PARAGUAY AND BRAZIL, where the construction of the bridge that will unite them began.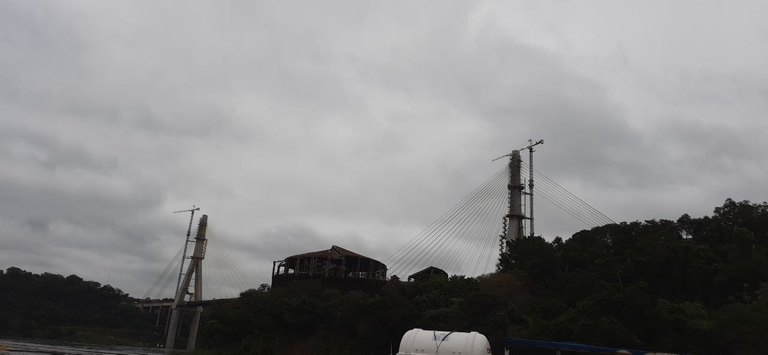 As you can see what would be missing to finish this great work is to build another column in the central part, that way the two countries would be united.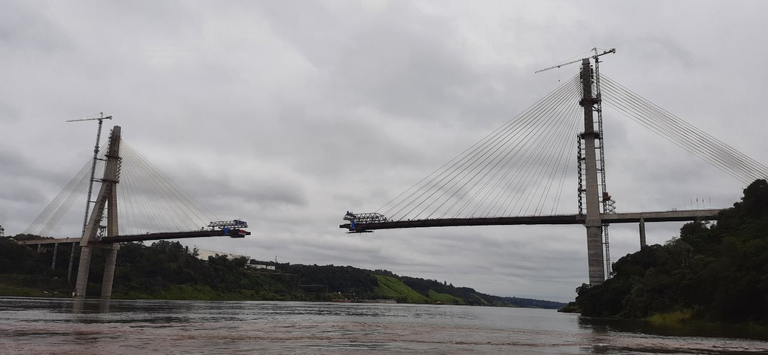 The truth, my friends, is to see all this from the photos is one thing, but it is another to see it from the distance that I am at the moment I am sailing with the Balza.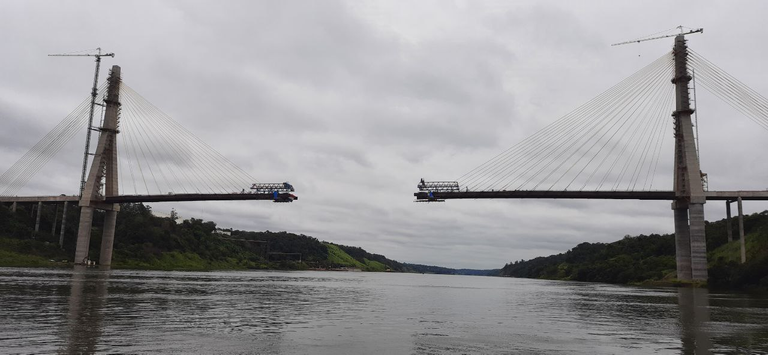 Of course the river in this case the URUGUAY, continues its course, leaving an excellent landscape like this on the horizon, as if it were that the farther we look towards the horizon, it seems that the river is getting smaller.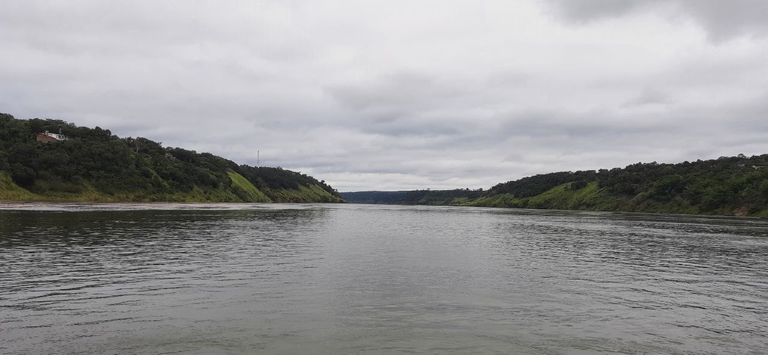 Precisely it is not like that, it is because of the distance that seems to be shrinking, but the truth is that what is shrinking is the distance between the barge and the coast, it is at this moment where the tugboat helmsman uses all his skill as a sailor, because as you will see where he has to run aground is just the size of the bridge of the barge, after running aground and begins the descent of the vehicles and the rest of the staff.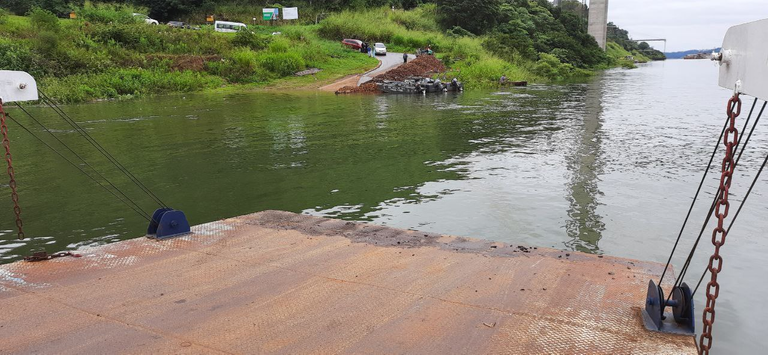 The truth is that enjoying a 12 minute trip on a barge, is a little eternal, because to be contemplating these beautiful coastal scenery is something worth appreciating.
THANK YOU VERY MUCH FOR FOLLOWING AND READING ME, HAVE A BLESSED DAY.