Buenos días a todos, los seguidores de HIVE, la cual es una plataforma social, donde cada uno de nosotros en la medida que podemos efectuamos publicaciones, de momentos vividos en el pasado, presente y lo que viviremos en el futuro, mas cuando se trata de compartir con la familia como en este caso, pasando unos días de playa pero con el único detalle amigos que como no es temporada, entonces la playa todo para nosotros jajaja,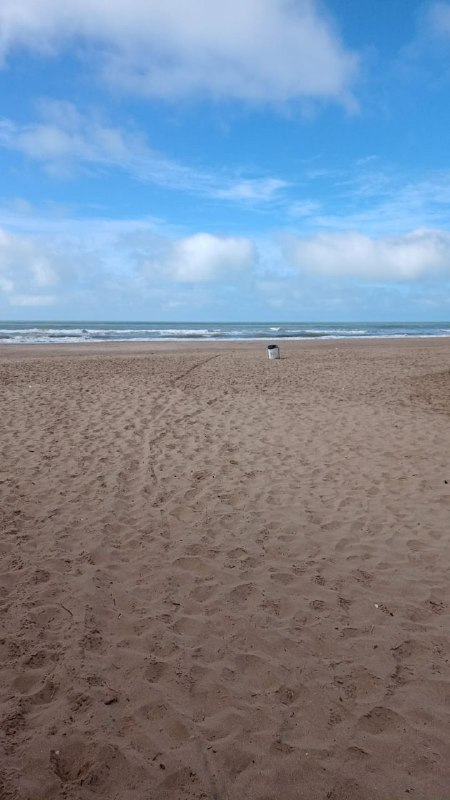 El clima se presta se encuentra excelente, este lugar se trata de LAS TONINAS, PARTIDO DE LA COSTA, PROVINCIA DE BUENOS AIRES, REPUBLICA ARGENTINA, SUD AMERICA, un lugar paradisiaco, bueno va en gusto a mi y mi familia nos agrada esta fecha porque como ben parece una playa desierta.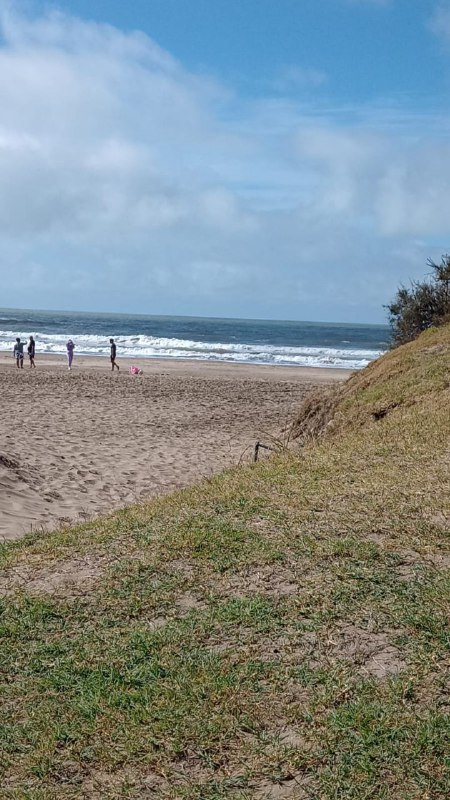 El cielo celeste y blanco y si miramos hacia el horizonte contemplando el mar y el cielo es muy acogedor sentirse así tan tranquilo, con los grandes médanos an la parte del frente del mar, sin el bullicio de la masa humana que como sabemos en las temporadas, es imposible sentirse cómodo, bueno según la hora en que nos hallamos en dicha playa.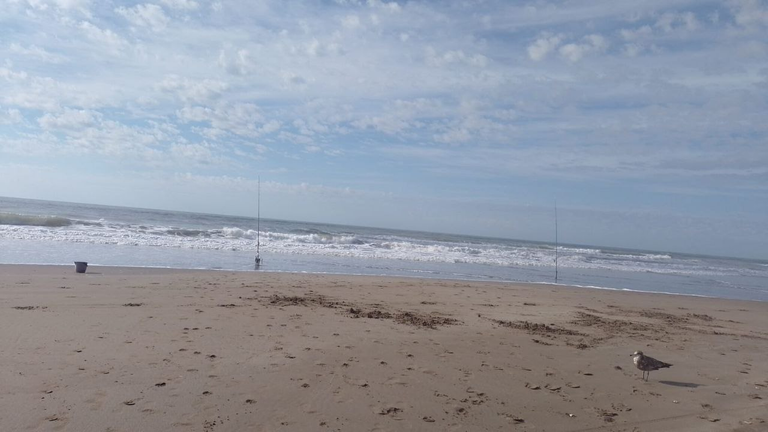 Es todo tan tranquilo que en lo médanos se puede notar el verde de las plantas que comienzan a crecer, también como se ve no existen casi huellas en la playa, pero en la época de temporada es todo lo contrario, lo que nunca falta es la presencia de algunos pescadores solitarios con su caña esperando el pique de algún pez.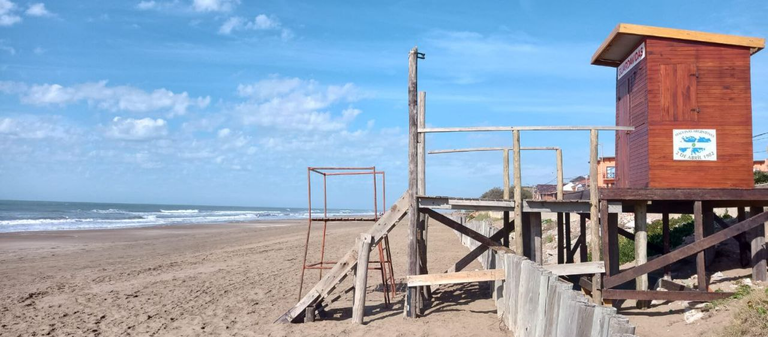 Esta parte que se ve en la foto no es un tótem o una estatua es la casilla del bañero, el cual cumple sus funciones todos los días de temporada brindando la seguridad de los presente en dicha playa.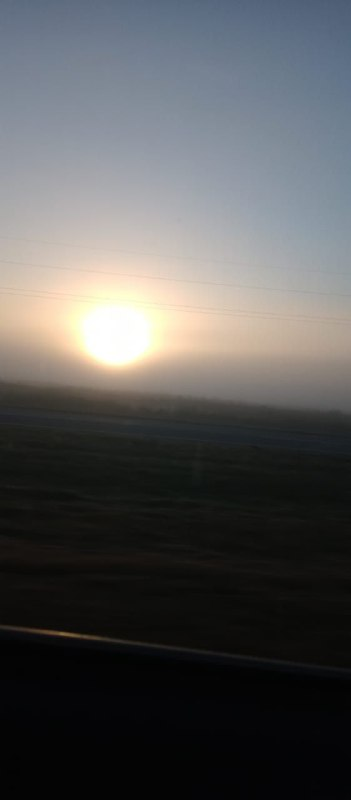 Bueno como se nos fue el día y también el sol, quien se fue a descansar, para darle el lugar a la luna, apenas se puede ver el mar, el cual comienza a devorarse la playa, como vemos esa linea blanca y hacia el horizonte una bola blanca con su entrono de amarillo a anaranjado, que como dije es el sol que se va a descansar.
MUCHAS GRACIAS POR LEERME Y SEGUIRME, QUE TERMINEN BIEN EL DOMINGO Y BUEN COMIENZO DE SEMANA.
TRANSLATED INTO ENGLISH.
Good morning to all the followers of HIVE, which is a social platform, where each of us as far as we can make publications, of moments lived in the past, present and what we will live in the future, but when it comes to sharing with family as in this case, spending a few days at the beach but with the only detail friends that as it is not season, then the beach all for us hahaha,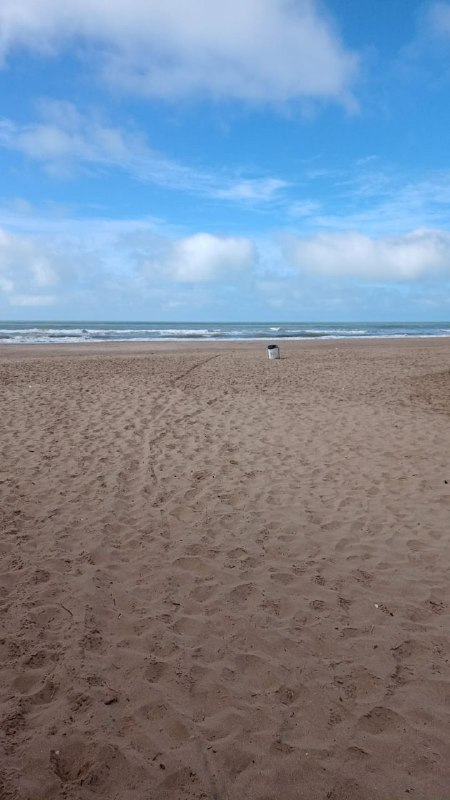 The weather is excellent, this place is LAS TONINAS, PARTIDO DE LA COSTA, BUENOS AIRES PROVINCE, ARGENTINA REPUBLIC, SOUTH AMERICA, a paradisiacal place, well it goes in taste to me and my family we like this date because as ben seems a deserted beach.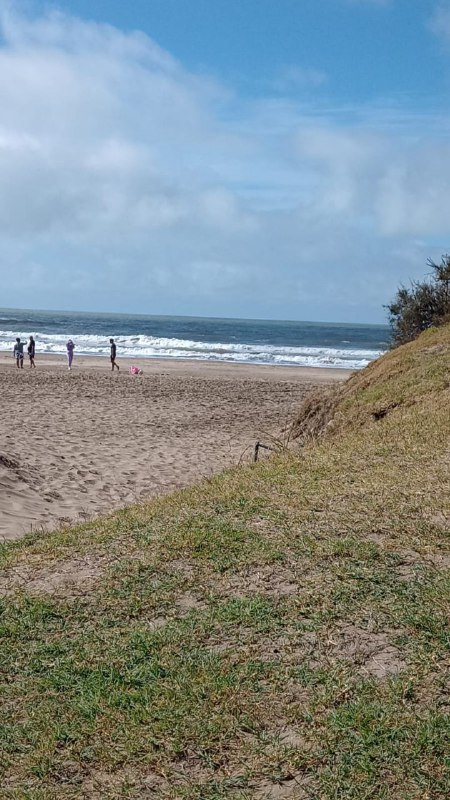 The sky is light blue and white and if we look towards the horizon contemplating the sea and the sky it is very welcoming to feel so calm, with the big sand dunes in front of the sea, without the bustle of the human mass that as we know in the seasons, it is impossible to feel comfortable, well depending on the time we are in this beach.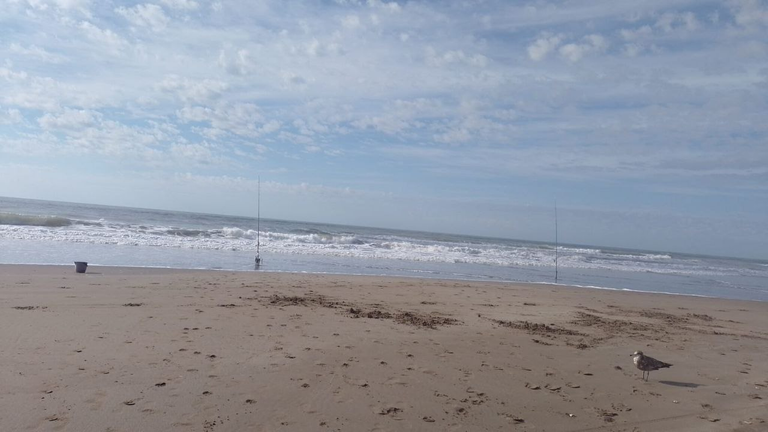 It is so quiet that in the dunes you can notice the green of the plants that are beginning to grow, also as you can see there are almost no footprints on the beach, but in the season it is the opposite, what is never missing is the presence of some lonely fishermen with his rod waiting for a fish.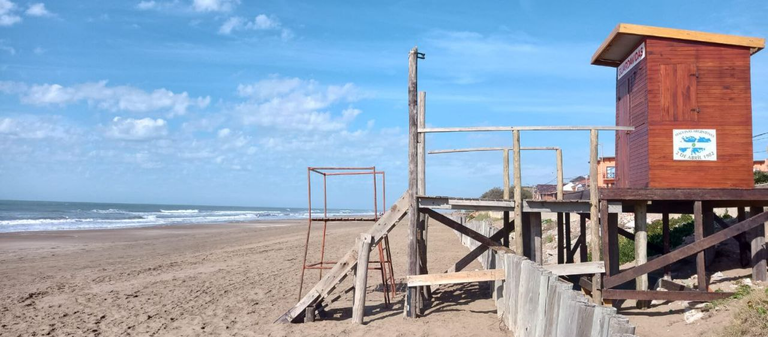 This part that you can see in the photo is not a totem or a statue, it is the bather's box, which fulfills its functions every day of the season providing security for those present on the beach.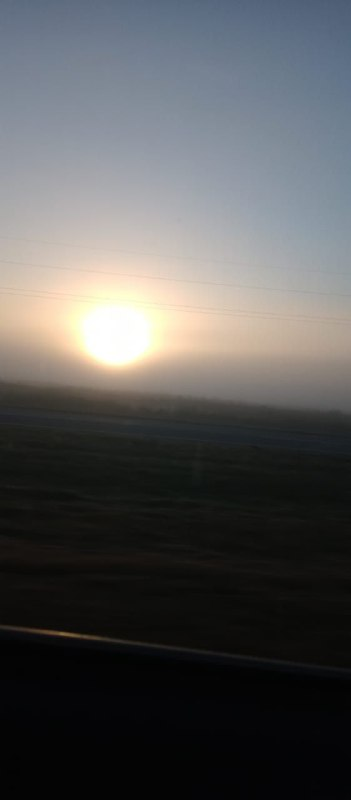 Well as the day is gone and also the sun, who went to rest, to give the place to the moon, you can barely see the sea, which begins to devour the beach, as we see that white line and towards the horizon a white ball with its yellow to orange surroundings, which as I said is the sun that is going to rest.
THANK YOU VERY MUCH FOR READING AND FOLLOWING ME, HAVE A NICE SUNDAY AND A GOOD BEGINNING OF THE WEEK.