Buenos días a toda esta gran comunidad, la cual como siempre digo, es muy importante por nosotros que la integramos, porque de una manera o otra todos nos ayudamos entre todos, me expreso así porque en cada publicación que explayamos dejamos todo de nosotros, con temas generales, de esa forma también ganamos todos, como si fuera una inversión a largo plazo, buenos bien sabemos que nada es estable a nivel universal, me refiero a las monedas todas en general, a veces suben muy rápido como bajan muy rápido, pero si somos disciplinados y voluntariosos por el esfuerzo que ponemos de manifiesto, por ejemplo en esta pesca donde obtuvimos buenas piezas en la misma, tratándose de pejerrey, los cuales para cocinarlos al grille, acompañado de un puré de calabaza, papa o con verduras.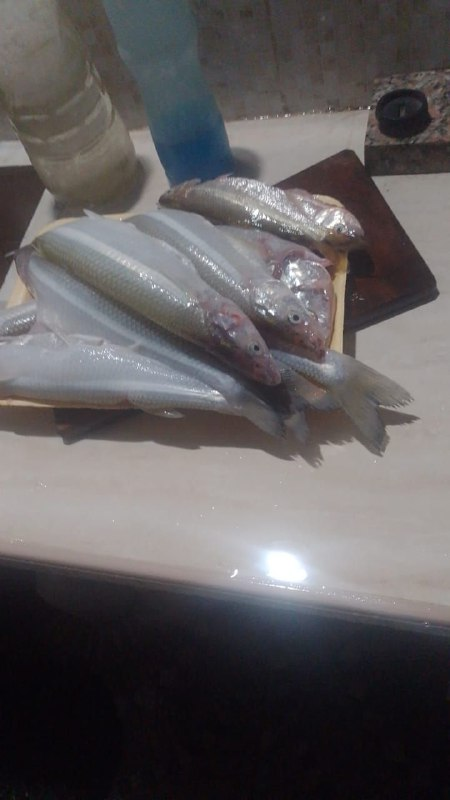 La verdad ablando de pejerrey, llega el invierno el cual es la época donde la pesca de estos peces se hace en abundancia,, cuantos mas grandes son, mas sabrosos salen al cocinarlos, como les dije al grille, también pueden cocinados a la crema, acompañados con un puré de manzana, es para varios gustos, se puede también acompañar con pastas, la verdad amigos que para mis gusto la mejor manera de acompañar estos peces en la cocina es con una buena ensalada de albahaca, con ajo y un poco de picante, con mucho limón y aceite de oliva, sale un manjar, como bien dije para mis gusto.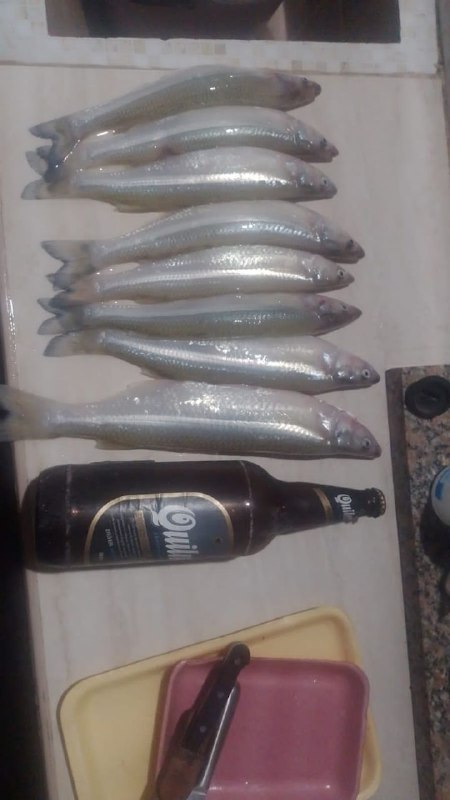 Ustedes se preguntaran que hace la botella de cerveza con los peces, existe una razón amigos, la misma es para que se puedan comparar los peces por el tamaño del largo de la botella y los mismos miden mas de 40 centímetros, en los torneos de pesca, la pieza o el pez mas largo es el ganador, no por el peso, de todas maneras no dejan de ser un buen aliciente para el que se pasa el día tratando de pescar algo,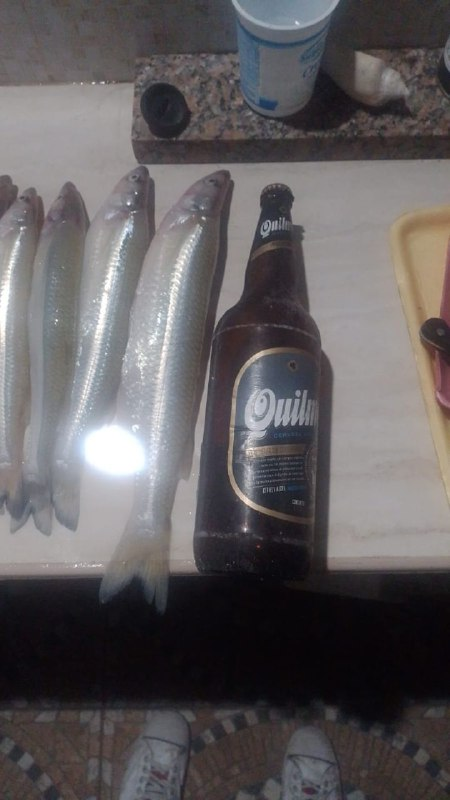 Para conocimiento de los que les agradan la pesca, existe una laguna muy conocida en el sur, cerca de BAHIA BLANCA, provincia de BUENOS AIRES, ARGENTINA, la misma se llama GUAMINI, en donde todos los años, la municipalidad de dicha localidad siembra los alevines, cuando llega la temporada, salen como los que se ben en la foto, bueno también cuando los siembran o los arrojan los alevines en dicha laguna, le dan los alimentos balanceados correspondientes, para acelerar su crecimiento.
MUCHAS GRACIAS POR SEGUIRME Y LEERME, QUE PASEN UN EXCELENTE DIA.
TRANSLATED INTO ENGLISH.
Good morning to all this great community, which as I always say, is very important for us who integrate it, because in one way or another we all help each other, I express myself this way because in each publication that we explain we leave all of us, with general topics, in that way we also win all, as if it were a long-term investment, well we know that nothing is stable at the universal level, I am referring to currencies in general, sometimes they go up very fast and sometimes they go down very fast, but if we are disciplined and willful for the effort we put in, for example in this fishing where we obtained good pieces in the same one, being pejerrey, which to cook them to the grille, accompanied by a pumpkin puree, potato or with vegetables.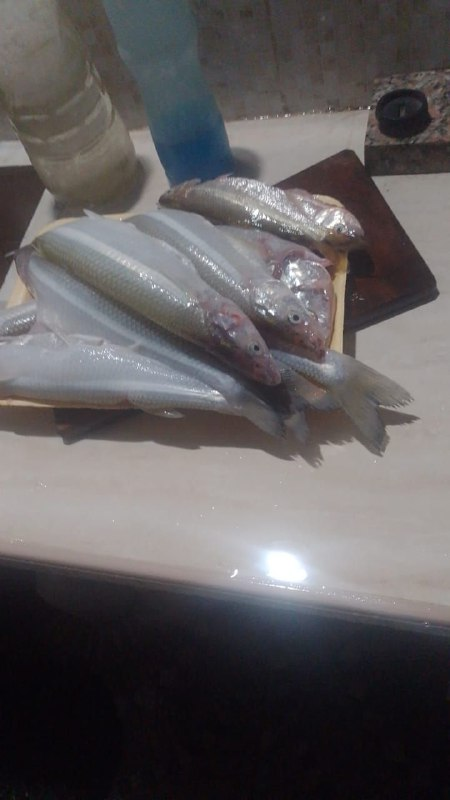 The truth speaking of silversides, winter is the time when fishing for these fish is abundant, the bigger they are, the tastier they are when cooked, as I said to the grille, they can also be cooked with cream, accompanied with an apple puree, it is for various tastes, You can also accompany them with pasta, the truth is that for my friends, the best way to accompany these fish in the kitchen is with a good basil salad, with garlic and a little spicy, with lots of lemon and olive oil, it is a delicacy, as I said for my tastes.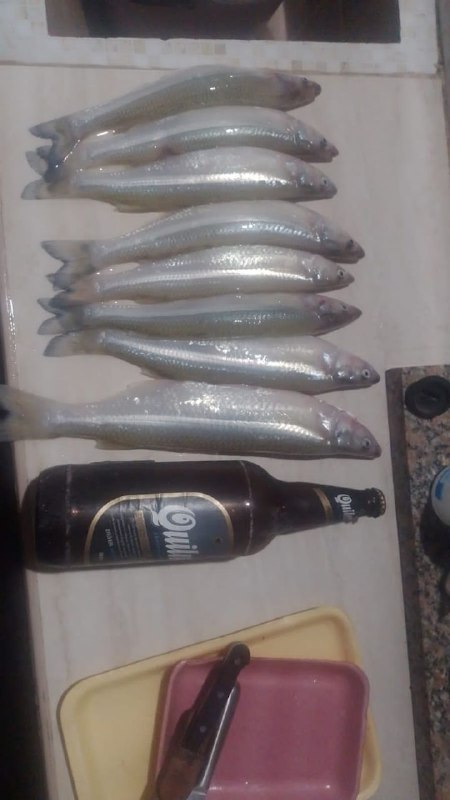 You may wonder what the beer bottle is doing with the fish, there is a reason friends, it is so that the fish can be compared by the size of the length of the bottle and they measure more than 40 centimeters, in fishing tournaments, the piece or the longest fish is the winner, not by weight, anyway they are still a good incentive for those who spend the day trying to catch something,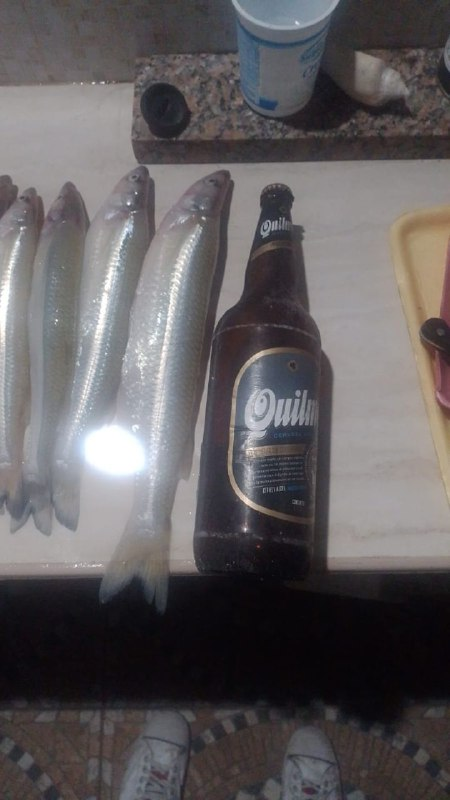 For the knowledge of those who like fishing, there is a very well known lagoon in the south, near BAHIA BLANCA, province of BUENOS AIRES, ARGENTINA, it is called GUAMINI, where every year, the municipality of the town sows the fry, when the season arrives, they come out like the ones in the photo, well also when they sow or throw the fry in the lagoon, they give them the corresponding balanced food, to accelerate their growth.
THANK YOU VERY MUCH FOR FOLLOWING AND READING ME, HAVE A GREAT DAY.