Hola a todos, la verdad que los viajes, a veces son muy oportunos para darnos mas sabiduría en el saber, con esto quiero decir, que en lo personal me agrada el hecho de que cuando paso por un lugar, por ejemplo, viajando por la ruta nacional nro.12, se hace presente la entrada a un pueblo, el cual se llama SAN COSME, ESTA UBICADO EN EL noroeste de la provincia de CORRIENTES, ARGENTINA, dicho pueblo fue fundado en el 31 de mayo del año 1806, debido al crecimiento de la población, en ese entonces los curas, por haber en ese lugar una parroquia, el obispo del lugar dio nombre a dicho pueblo, el cual se encuentra a 38 km. de la ciudad capital, CORRIENTES, ARGENTINA, siendo el mismo denominado como localidad el 12 de febrero del año 1825, donde ya existía un conglomerado de casas, las cuales estaban construidas con adobe (barro) y pajas, así que de ese entonces comenzó su crecimiento, donde en la actualidad se considera un lugar muy tranquilo para descansar.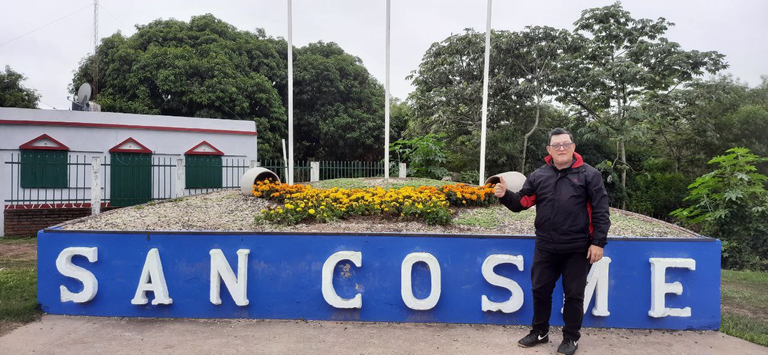 En dicha localidad, tiene un atractivo, muy conocido por grandes músicos, de la provincia de CORRIENTES, COMO EL MUY POPULAR Y CONOCIDO
(DON TRANSITO COCOMAROLA ),quien dedico e escribió una canción dedicada a dicho pueblo, por la existencia en el mismo de una laguna muy popular llamada ( LAGUNA TOTORA ), el cual es un lugar muy concurrido por los locales y también en cada año, en que se celebra, los grandes festivales de la música tradicional de esa provincia, el cual se trata del
( CHAMAME ), donde es concurrido por una gran cantidad de grupos y conjuntos, también solistas, que enfatizan con esa música como dije muy tradicional.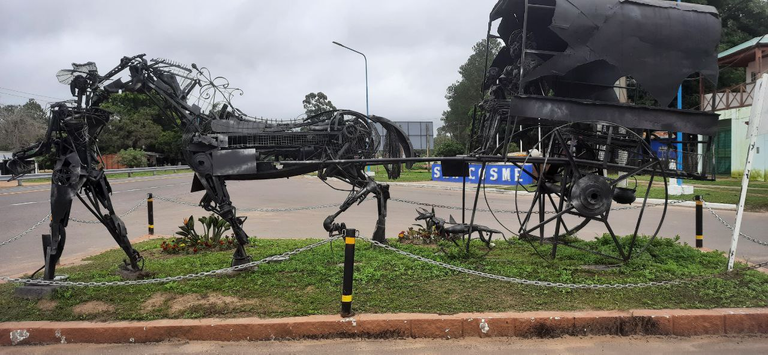 Las fotos obtenidas, son del ingreso de dicho pueblo, al que no ingrese debido al corto tiempo que tenia, o sea para llegar a mis destino, pero de todas manera hice una referencia y comentario del mismo, lo cual para mi es muy importante por su popularidad en lo que a música se refiere, frente al monolito de ingreso, o sea la otra foto se trata de una carroza, con el caballo y el paisano tomando de la rienda de dicho animal, son de la época de los primeros comienzos y esta construido con hierros reciclados, toda una obra de arte.
MUCHAS GRACIAS POR SEGUIRME Y LEERME, QUE DISFRUTEN DE UN EXCELENTE DIA.
TRANSLATED INTO ENGLISH.
Hello everyone, the truth is that travel, sometimes are very opportune to give us more wisdom in knowledge, with this I mean, that personally I like the fact that when I pass through a place, for example, traveling along the national route nro.12, the entrance to a town is present, which is called SAN COSME, IS LOCATED IN THE northwest of the province of CORRIENTES, ARGENTINA, the town was founded on May 31, 1806, due to population growth, at that time the priests, because there was a parish in that place, the bishop of the place gave name to the town, which is 38 km. of the capital city, CORRIENTES, ARGENTINA, being the same denominated as locality the 12 of February of the year 1825, where already existed a conglomerate of houses, which were constructed with adobe (mud) and straws, so from then it began its growth, where at the present time it is considered a very calm place to rest.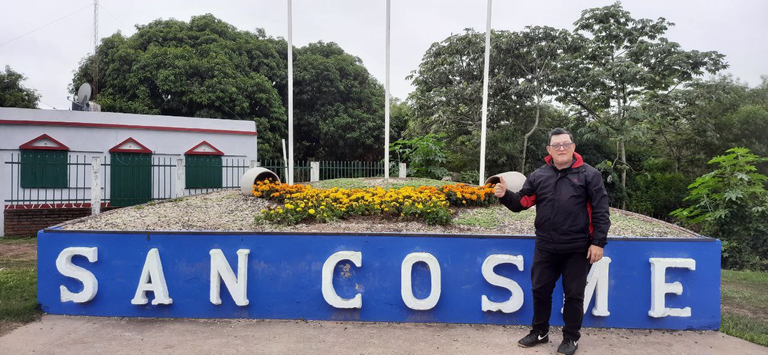 In this locality, it has an attraction, very well known by great musicians, of the province of CORRIENTES, LIKE THE VERY POPULAR AND WELL KNOWN
(DON TRANSITO COCOMAROLA), who dedicated and wrote a song dedicated to this town, by the existence in the same of a very popular lagoon called (LAGUNA TOTORA), which is a very popular place for the locals and also in each year, which is celebrated, the great festivals of traditional music of that province, which is the
( CHAMAME ), where it is attended by a large number of groups and ensembles, also soloists, who emphasize with that music as I said very traditional.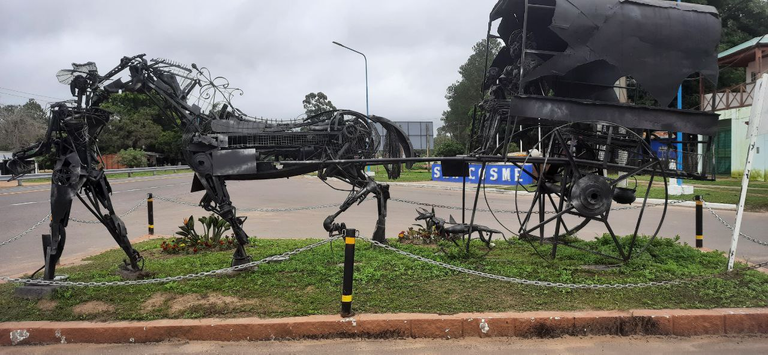 The photos obtained, are of the entrance of this town, which I did not enter due to the short time I had, or to reach my destination, but anyway I made a reference and comment on it, which for me is very important because of its popularity in terms of music is concerned, in front of the monolith of income, or the other photo is a carriage, with the horse and the countryman taking the rein of the animal, are from the time of the early beginnings and is built with recycled iron, a work of art.
THANK YOU VERY MUCH FOR FOLLOWING AND READING ME, HAVE A GREAT DAY.