Hola a todos, que tengan un buen comienzo de semana con mucha salud y por supuesto disfrutando de la familia, bueno también, disfrutando de nuestros que haceres, como por ejemplo el de controlar la pequeña huerta, como se ve en la foto y la que contiene las siguientes plantas, repollo, lechuga, cebolla de verdeo, perejil, hinojo, zanahoria, acelga y orégano.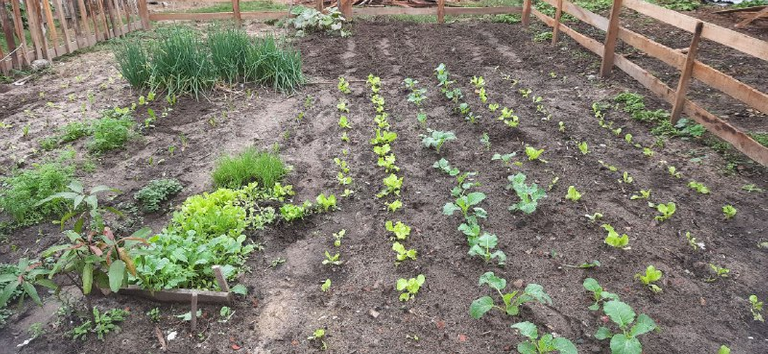 Si de huertas hablamos amigos, lo esencial es tener agua acumulada, la cual es imprescindible para regar y darle vida a las plantas, en este caso acumulo la misma en este barril o tacho de 200 litros y de ahí voy utilizando lo necesario para regar las plantas.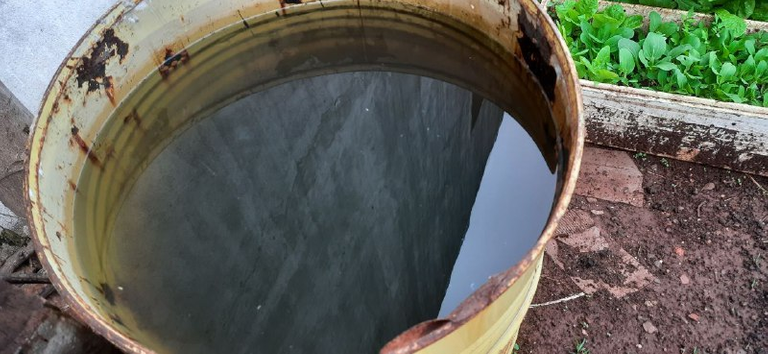 A veces me conviene tener un recipiente con agua cerca de las plantas de verdura, de esa manera es mas cómodo utilizar dicha agua y por supuesto como ven las plantas crecen muy bien.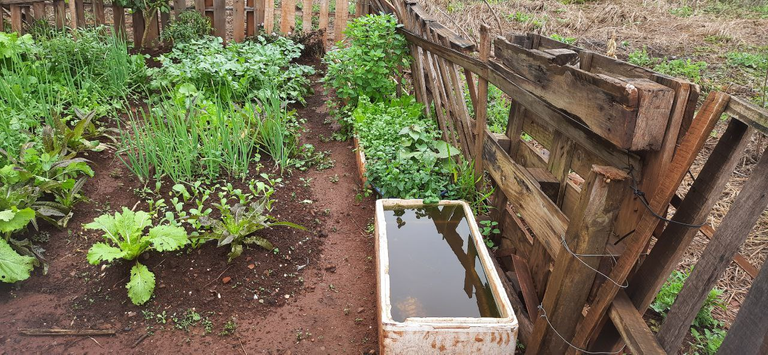 En esta foto podemos observar las plantas de batata, orégano y lechuga, como ven la cerca de esta pequeña huerta esta hecha con empalizado con una altura de 1 metro, el motivo es para que no ingresen las gallinas y otros animales, o sea es para conservar el cuidado de la plantas de verdura.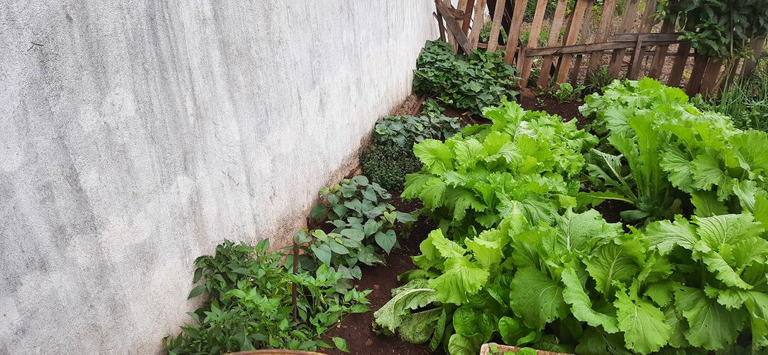 En esta foto se puede ver la cebolla de verdeo, el perejil y en los canastos de color blanco, es donde sembré las semillas de las verduras que una ves que las mismas están como vemos ahora, se procede a humedecer la tierra y luego se va quitando los plantines, para luego plantarlos en los canteros que ya la tenemos preparados.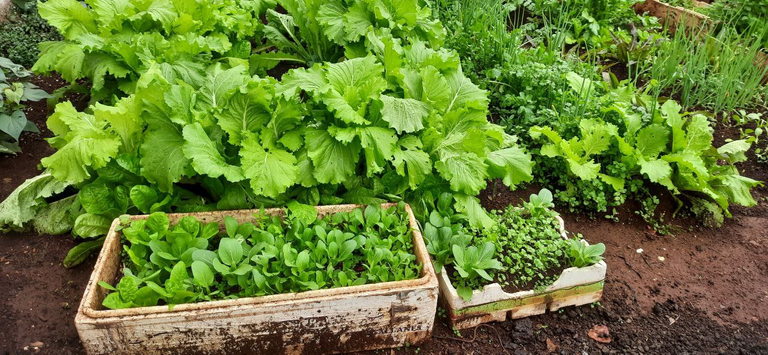 De esa manera amigos, plantando estas verduras, es una manera de tener nuestra propia verdura, por supuesto de muy natural, porque las mismas no tienen ningún componente químico.
MUCHAS GRACIAS POR LEERME Y SEGUIRME, QUE TENGAN UN BUEN COMIENZO DE SEMANA.
TRANSLATED INTO ENGLISH.
Hello everyone, have a good start of the week with lots of health and of course enjoying the family, well also, enjoying our to do's, such as controlling the small vegetable garden, as seen in the photo and containing the following plants, cabbage, lettuce, green onion, parsley, fennel, carrot, chard and oregano.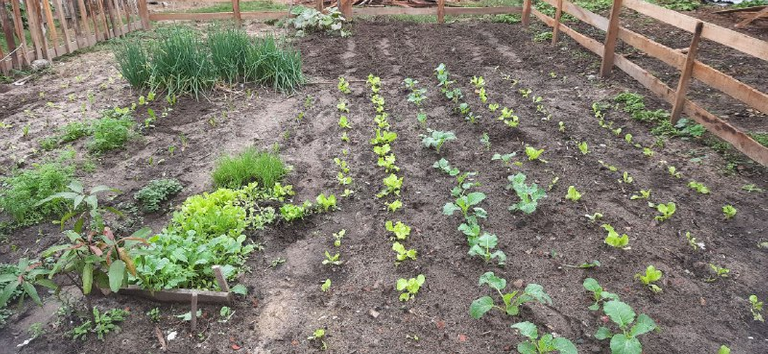 If we talk about vegetable gardens friends, the essential thing is to have accumulated water, which is essential for watering and giving life to the plants, in this case I accumulate it in this barrel or 200 liter bucket and from there I use what I need to water the plants.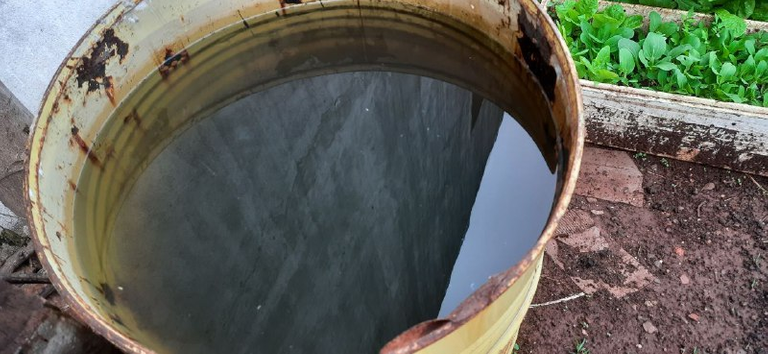 Sometimes it is convenient to have a container with water near the vegetable plants, that way it is more comfortable to use the water and of course as you can see the plants grow very well.
image.png](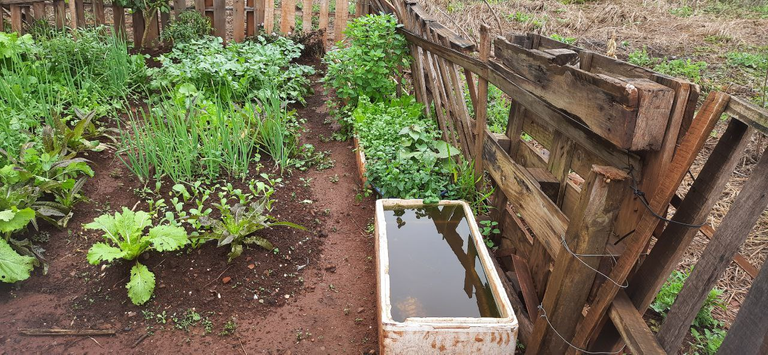 )
In this photo we can see the sweet potato, oregano and lettuce plants, as you can see the fence of this small vegetable garden is made with palisade with a height of 1 meter, the reason is so that the hens and other animals do not enter, that is to say it is to conserve the care of the vegetable plants.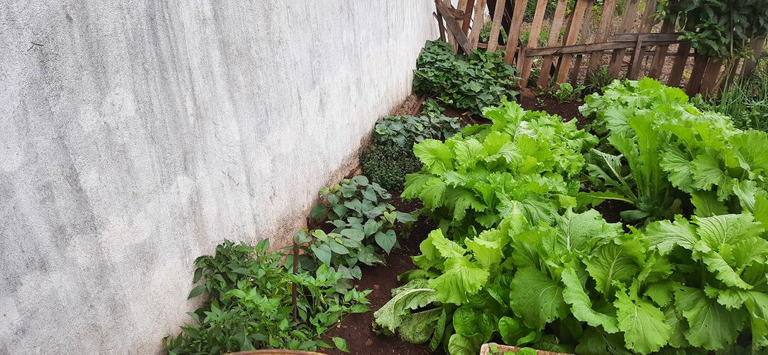 In this photo you can see the green onion, parsley and in the white baskets, is where I sowed the seeds of the vegetables that once they are as we see now, we proceed to moisten the soil and then remove the seedlings, and then plant them in the beds that we have already prepared.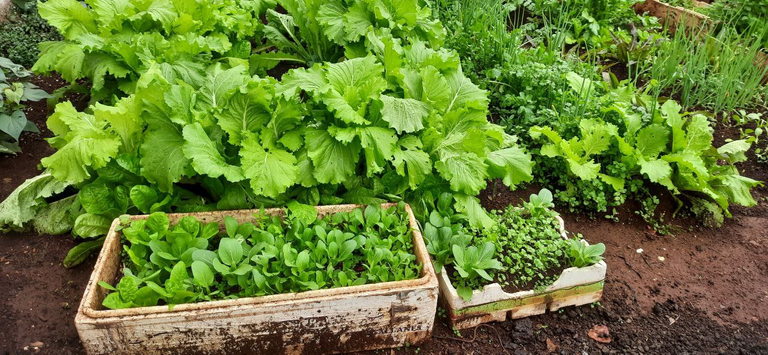 In this way friends, planting these vegetables, is a way to have our own vegetables, of course very natural, because they do not have any chemical component.
THANK YOU VERY MUCH FOR READING AND FOLLOWING ME, HAVE A NICE BEGINNING OF THE WEEK.