Como lo mencione en el post anterior referente a la restauración de muebles los cuales fueron rescatados al incendiarse la casa de un amigo, así que dicho trabajo lo estoy haciendo ahora con este mueble el cual se trata de una alacena de la cocina, que por suerte se logro rescatar, como siempre comento si a todo lo que hacemos le ponemos amor y perseverancia sale bien, mas cuando se trata de colaborar con una buena causa, que es estos muebles de mi amigo.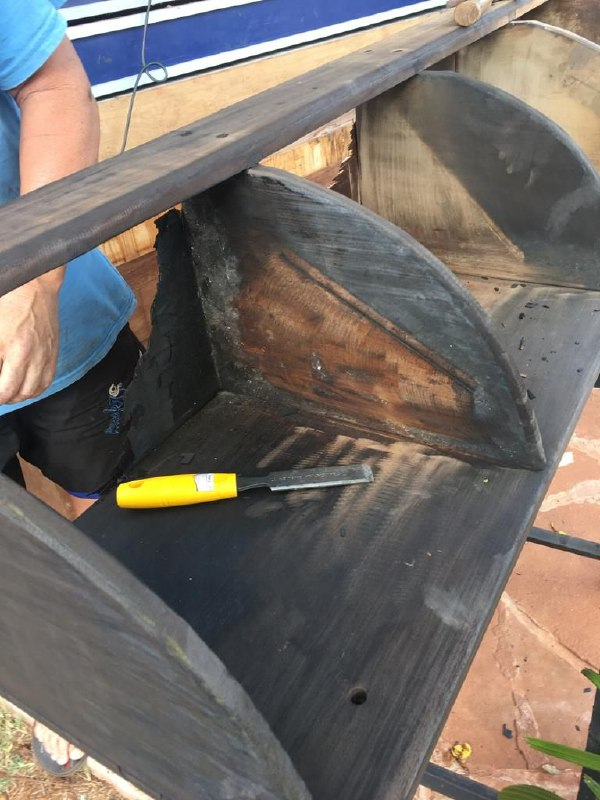 Como verán me instale abajo de la glorieta, es al aire libre, tiene sombra y es mas cómodo porque esta en el patio del jardín, por ende es mejor para estos casos , lo digo porque al lijar la madera quemada o sea con un poco de carbón, despide mucho polvo, por eso ese trabajo lo realizo con barbijo puesto.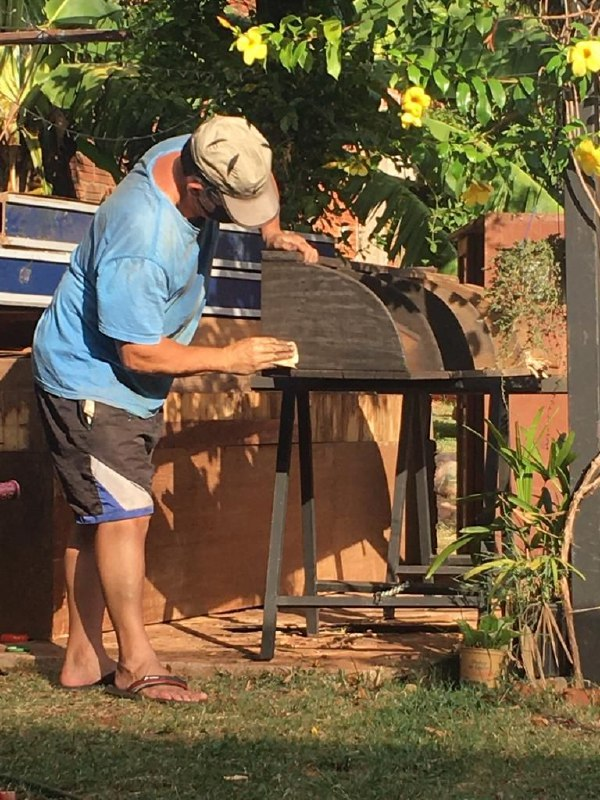 Las herramientas en este caso son las lijas, la brocha para sacar bien el polvo de cuando se lija la madera, bueno la tenaza para quitar unos clavos que quedaron de la madera que se quemo, como ven en esta foto saque la parte quemada y colocare una nueva.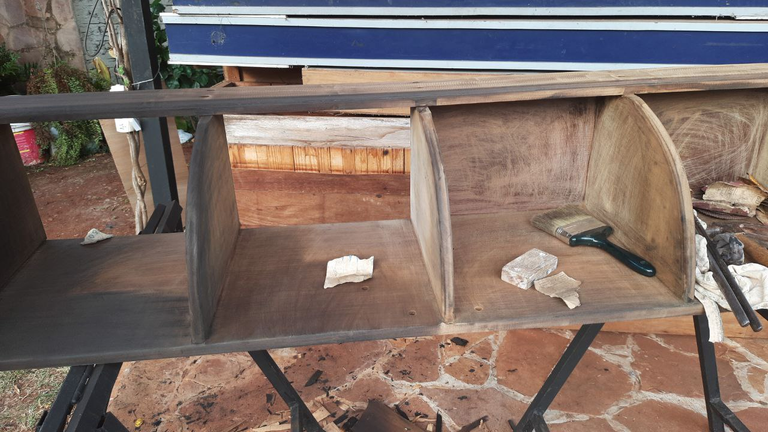 Con la escopla fui quitando muy despacio la madera quemada y de ahí los clavos que les comente y también de la madera quemada, por supuesto todo cuesta por el estado en que se encuentra pero todo es posible cuando le ponemos ganas con mucha voluntad.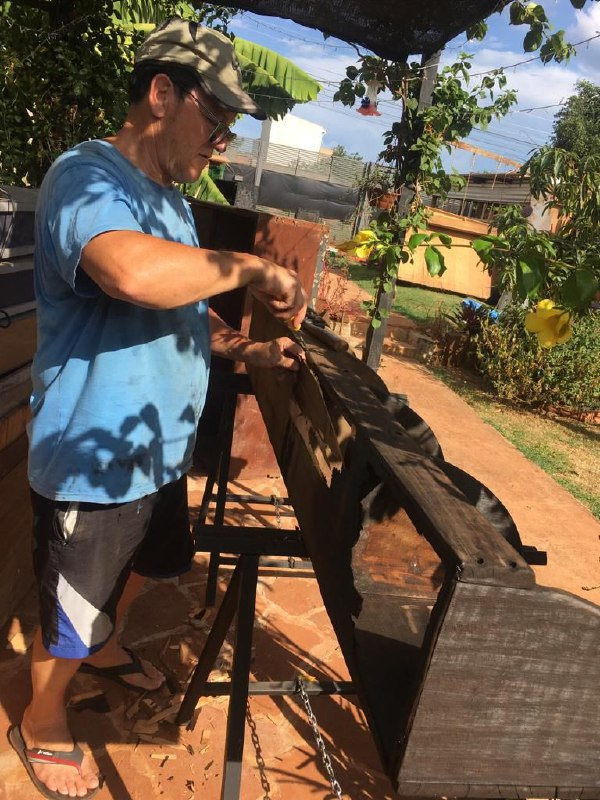 Los muebles restaurados una ves que los termine are un post de ellos, por eso ahora solamente es de como los estoy volviendo a recuperarlos.
MUCHAS GRACIAS POR SEGUIRME Y LEERME, QUE TENGAN UN BUEN DOMINGO EN FAMILIA.
TRANSLATED INTO ENGLISH.
As I mentioned in the previous post regarding the restoration of furniture which were rescued when a friend's house burned down, so this work I am doing now with this piece of furniture which is a kitchen cabinet, which luckily was rescued, as I always say if we put love and perseverance to everything we do, it comes out well, especially when it comes to collaborate with a good cause, which is this furniture of my friend.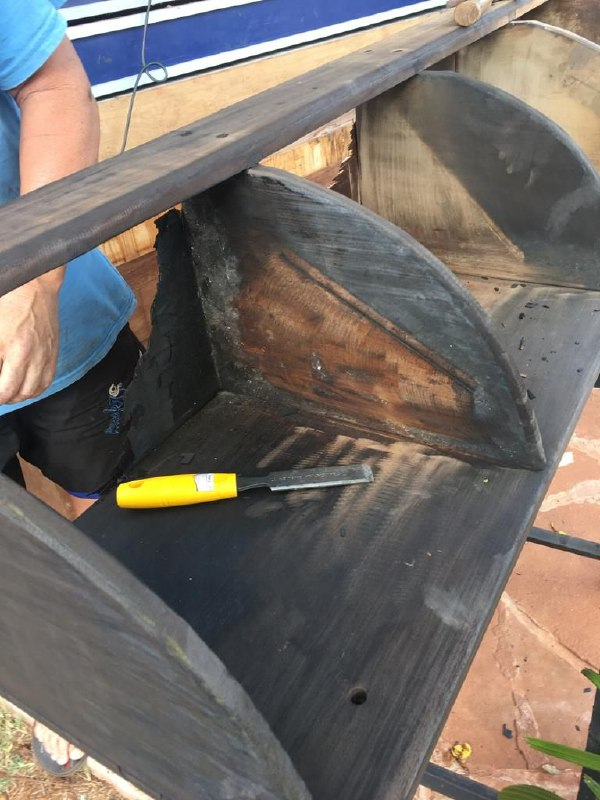 As you can see I installed myself under the gazebo, it is outdoors, it has shade and it is more comfortable because it is in the patio of the garden, therefore it is better for these cases, I say this because when sanding the burned wood or with a little charcoal, it gives off a lot of dust, that is why I do this work with a mask on.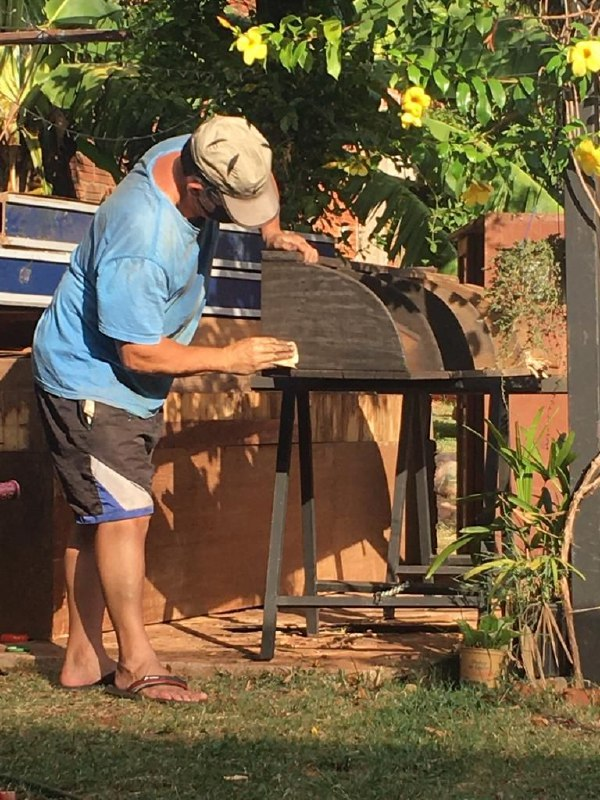 The tools in this case are the sandpaper, the brush to remove the dust when sanding the wood, and the pliers to remove some nails that were left from the wood that was burned, as you can see in this picture I removed the burned part and I will put a new one.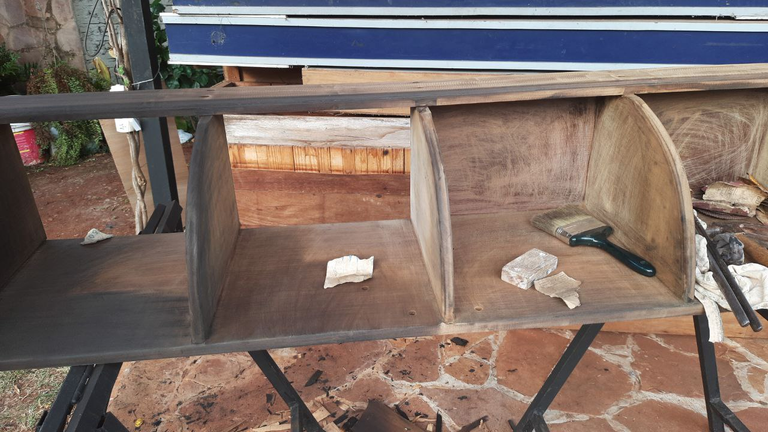 With the chisel I was removing very slowly the burned wood and from there the nails that I mentioned and also from the burned wood, of course everything costs for the state in which it is but everything is possible when we put desire with a lot of will.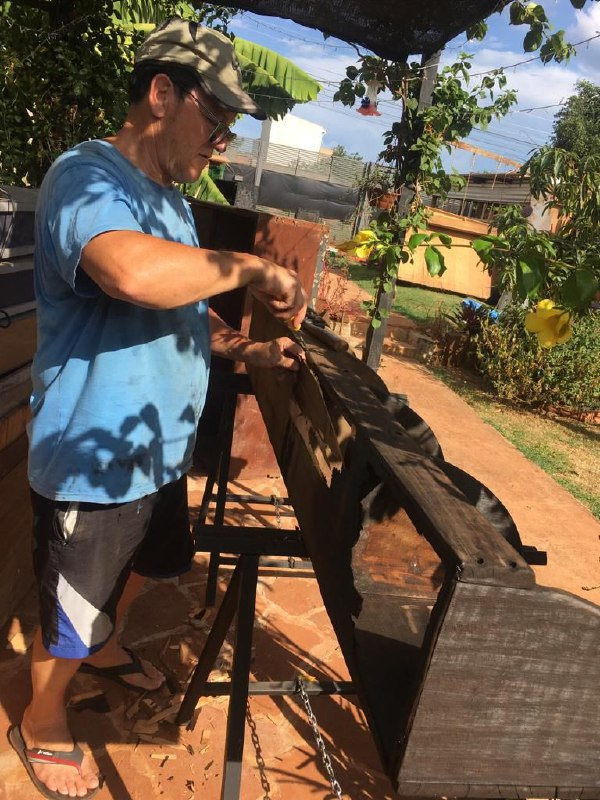 The restored furniture once I finish them I will be a post about them, so now it is only about how I am recovering them.
THANK YOU VERY MUCH FOR FOLLOWING ME AND READING ME, HAVE A NICE SUNDAY WITH YOUR FAMILY.