Buenos días a todos, a veces cuando queremos hermosear nuestra casa, es necesario efectuar una reforma, como en este caso, necesitaba fabricar una puerta reja para colocarla desde el quincho hacia la pérgola, de esa manera quedaría mas próxima la misma, para el día donde hubiera eventos o un asado compartido en familia, de tal manera que comencé en la construcción de dicha puerta por los laterales de la misma con hierro-Angulo- los que colocaría alrededor de dicha puerta, por supuesto antes de soldar hay corroborar que este bien derecho.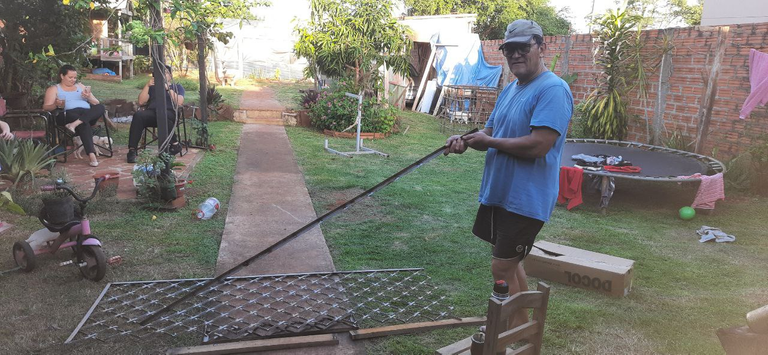 Solucionado el tema de los hierros o sea los ángulos bien derechos, el siguiente paso es comenzar a soldar, lo que pasa amigos que son materiales descartado pero los remodelo y trato de sacar los mejor como por ejemplo esta reja, es por eso lo de observar bien los materiales reciclados para construirla.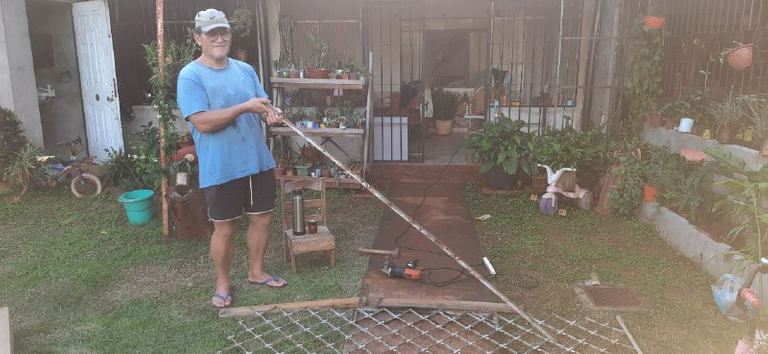 Una ves que la arme, el siguiente paso es saber si encastra bien en el marco donde la colocaría, al encastar bien, lo primero es colocar la bisagra como la que se ve en la foto, las cuales seria tres. arriba, medio y la parte de abajo.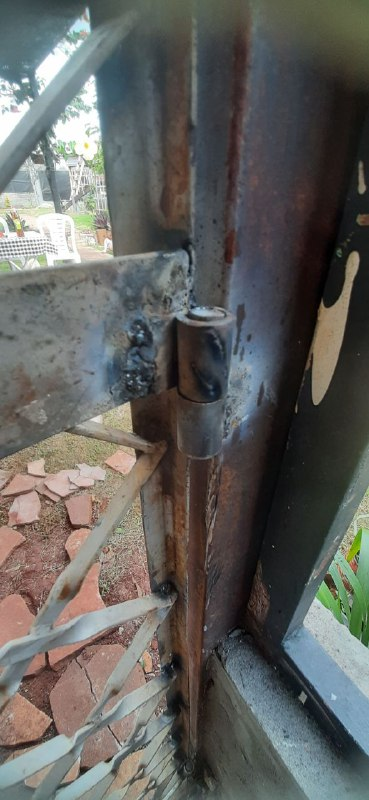 Bueno podemos ver que la puerta de reja quedo bien colocada con las tres bisagras, por suerte abre y cierra bien, así que pasaríamos al siguiente paso, el de colocar la cerradura y un pasador.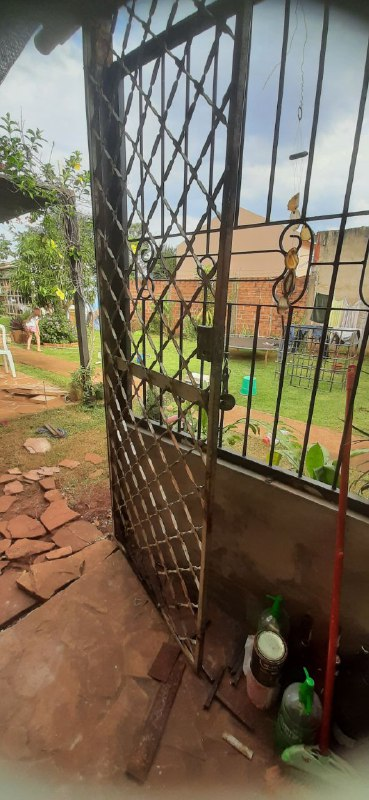 La cerradura a colocar es una de llave de doble paleta, el detalle esta en que corte en ambos lados, el frente de la misma y parte del Angulo de la reja para que así encastre bien, luego la soldé a dicha puerta, como verán la cubrí dejándola bien protegida
.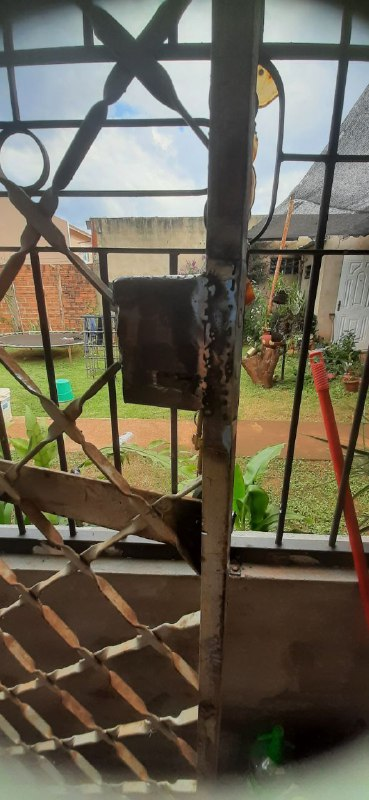 Por supuesto que una ves colocada y cubierta con chapa, tenemos que comprobar que la misma funcione, como verán en la foto por suerte funciona perfectamente, también el pasador colocado.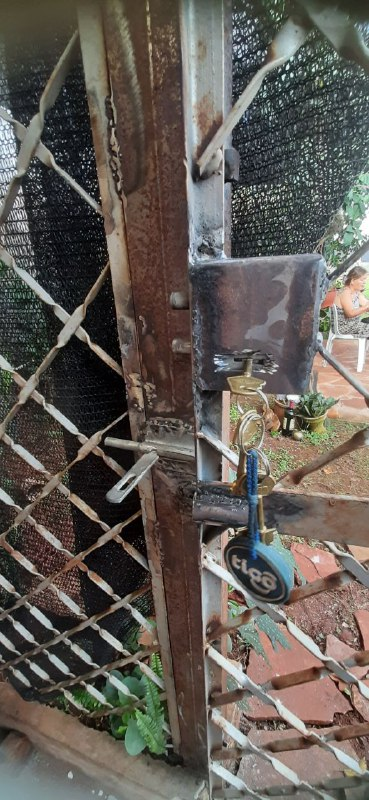 Luego lo que seria el parante, el cual es un caño cuadrado de 10 x 10, se tubo que efectuar dos agujeros, donde se introduciría los pestillos de la cerradura al colocar las llaves, al comprobar esa parte muy importante, la misma me dio tranquilidad porque dicha puerta cierra muy bien.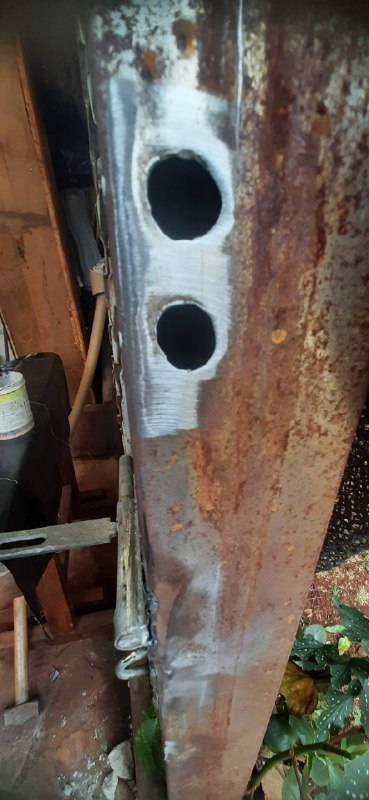 Teniendo la puerta de reja lista, bueno a futuro tengo que pintar todo, también las rejas que arma en otra ocasión, que también efectué la publicación,, ahora a comenzar con la construcción del camino que sale del quincho hasta la pérgola.
Como siempre efectuó el comentario amigos, que si todo lo que hacemos le ponemos amor y perseverancia sale bien.
MUCHAS GRACIAS POR LEERME Y SEGUIRME, QUE TENGAN BUEN COMIENZO DE FIN DE SEMANA.
TRANSLATED INTO ENGLISH.
Good morning everyone, sometimes when we want to beautify our house, it is necessary to make a reform, as in this case, I needed to make a gate grille to place it from the barbecue to the pergola, that way it would be closer to the same, for the day where there were events or a shared family barbecue, so I started in the construction of the door on the sides of the same with iron-angle, which would place around the door, of course before welding there is corroborate that it is well straight.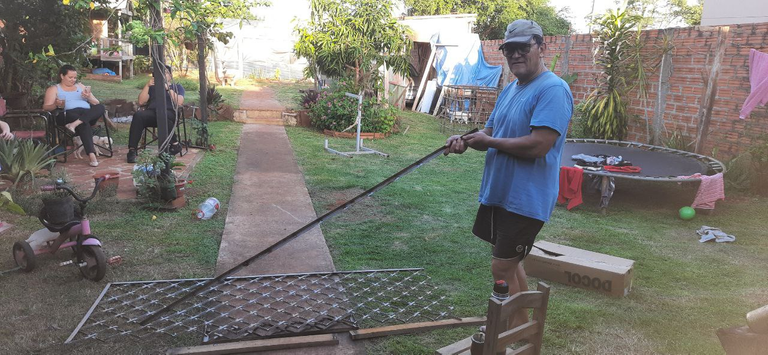 Solved the issue of the irons or the right angles, the next step is to start welding, what happens friends that are discarded materials but I remodel them and try to get the best as for example this fence, that's why to observe well the recycled materials to build it.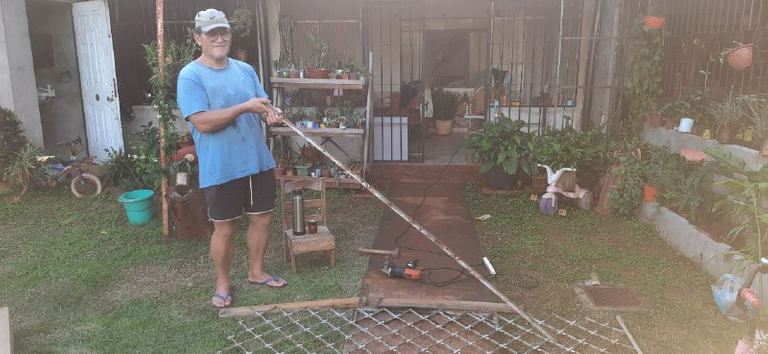 Once I put it together, the next step is to know if it fits well in the frame where I would place it, when it fits well, the first thing to do is to place the hinge like the one you see in the picture, which would be three, top, middle and bottom.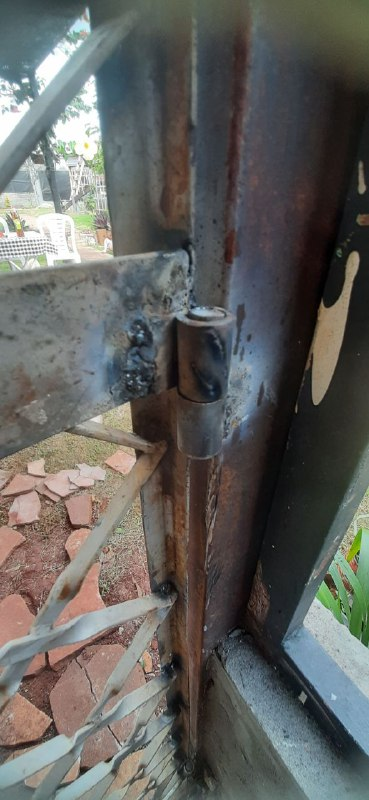 Well we can see that the grille door was well placed with the three hinges, luckily it opens and closes well, so we would move to the next step, placing the lock and a pin.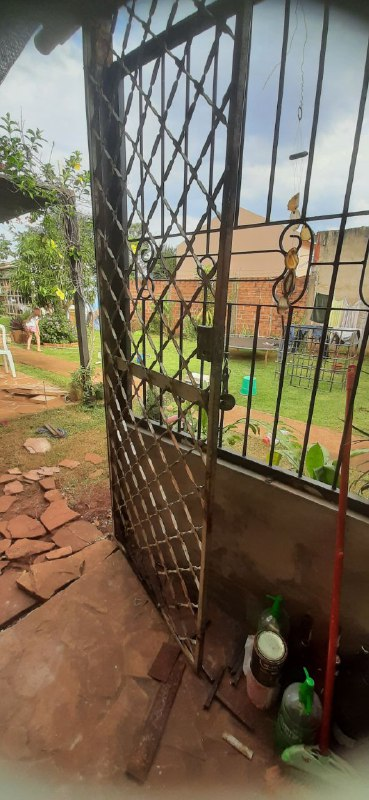 The lock to place is a double paddle key, the detail is that I cut on both sides, the front of it and part of the angle of the grille so that it fits well, then I welded it to the door, as you can see I covered it leaving it well protected.
.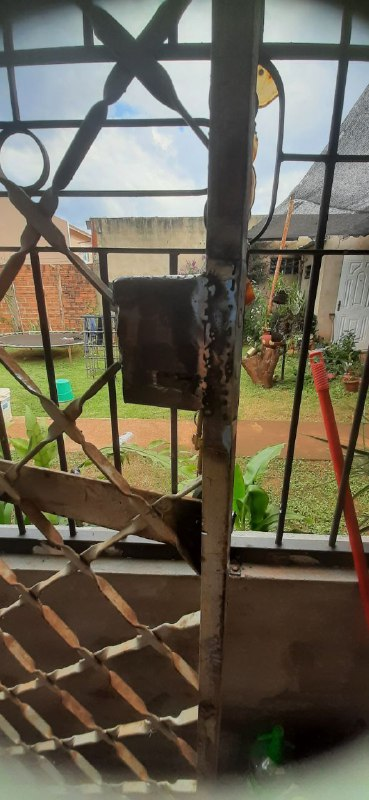 Of course once it is placed and covered with sheet metal, we have to check that it works, as you can see in the picture luckily it works perfectly, also the pin placed.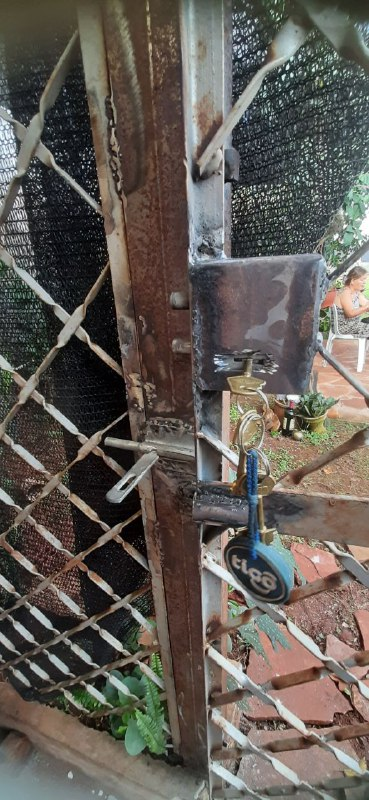 Then what would be the parante, which is a square pipe of 10 x 10, we had to make two holes, where the latches of the lock would be introduced when placing the keys, to check this very important part, it gave me peace of mind because the door closes very well.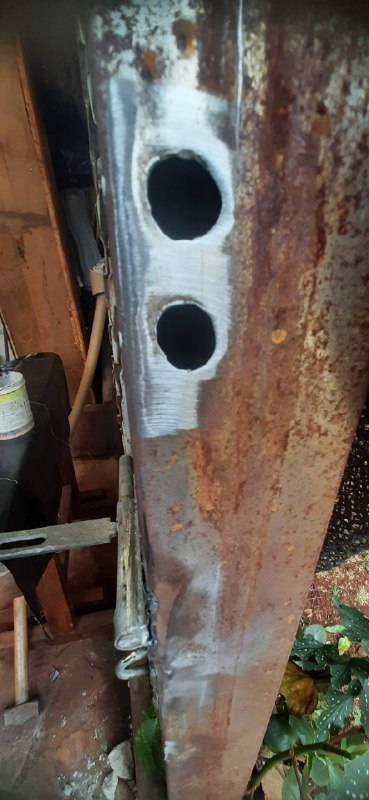 Having the grill door ready, well in the future I have to paint everything, also the grills that I put together in another occasion, that I also made the publication,, now to begin with the construction of the path that goes from the quincho to the pergola.
As always made the comment friends, that if everything we do we put love and perseverance goes well.
THANK YOU VERY MUCH FOR READING AND FOLLOWING ME, HAVE A GOOD BEGINNING OF THE WEEKEND.