Buenos días a los integrantes de esta hermosa comunidad de HIVE, la cual hace que cada uno de nosotros superemos el día a día, efectuando nuestras publicaciones, que como se sabe es un granito de arena, pero que entre todos ese granito de arena se convertirá en un médano de arena, haciendo de esa manera que se cumpla nuestros sueños, agrandando también nuestros ideales, nuestros sueños, de querer superarnos, teniendo en cuenta nuestras iniciativas, es por eso que hoy en este post, quiero compartir con todos ustedes una manera muy fácil de como construir una cama rebatible de 2 plazas.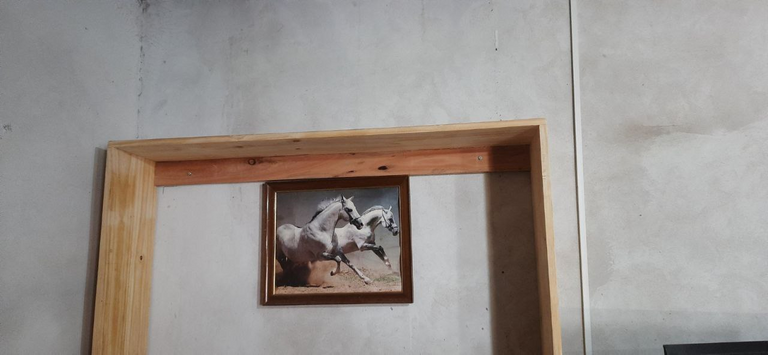 Lo primero son la herramientas a utilizar, serrucho, martillo papagayo, cinta métrica, nivel de mano, destornillador, cierra eléctrica para corte de madera, clavos varias medidas, escuadra y plomada, todo esto especialmente el nivel para que dicha cama queda perfectamente sobre la pared.
La madera a utilizar, son de pino cepilladas totalmente en los cuatro lados,
Medimos donde construiremos la cama.
2)Preparamos bien la pared
3)Armamos el marco lo que seria la parte del borde de afuera, con tablas de 40 centímetros, la cual lleva tope en la parte de abajo y arriba también en el medio que es de donde se sujetara la cama en la pared, como se ve en la foto.
4)Luego cortamos la medida de dicho marco una tabla de aglomerado entera que de la medida justa de lo que seria la parte de abajo de la cama, le colocamos 3 bisagras en lo posible bien reforzadas como vemos, las cuales las ajustamos en la madera entera que dije y en la parte de arriba de lo que seria el sócalo.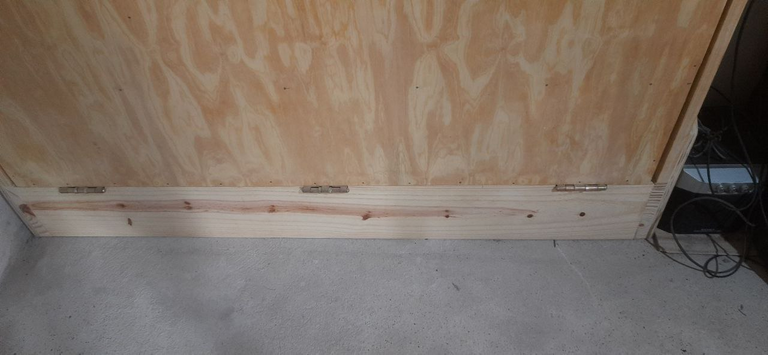 En lo que seria la madera entera que hace de base de la cama, le agregamos dos estantes en forma de la letra T invertidas, su función es de estante cuando cerramos la cama y cuando la abrimos cumplen la forma de las patas o pie de la misma, estando abajo le armamos y colocamos la parrilla o base del colchón, como se ve en la foto.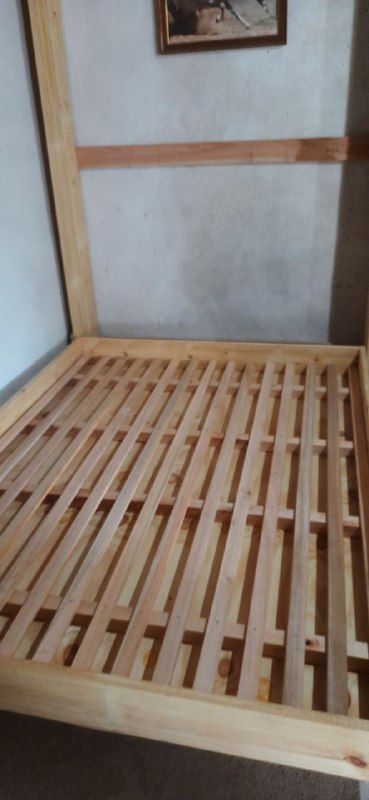 Para ir terminando con el armado de la misma en esta foto se ve como quedaría la parte de abajo y la función de las T invertidas que hacen de patas, como dos estantes, para disimular que se trata de una cama embutida, amigos es muy fácil de fabricarla, ocupa poco espacio, la podemos rebatir con el colchón, es por eso muy importante de que cuando armemos los bordes tengamos en cuenta el ancho de dicho colchón, entonces podemos rebatirla armada, lista para dar el uso que se merece o sea para tener un buen descanso y reposar nuestros cuerpos.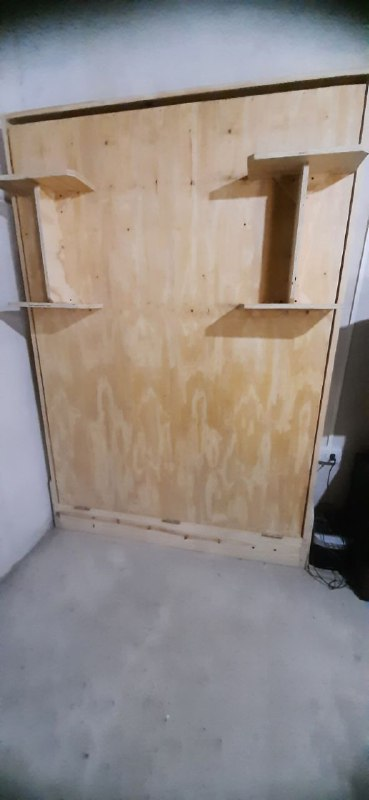 Lo que me quedo pendiente es el color, eso va en gusto, en este caso todavía conserva el color natural de la madera, el cual para en lo personal me agrada, de tal forma que si es de sus agrados el como fabricar una cama embutida de 2 plazas , no dejen de enviar sus apreciados comentarios.
MUCHAS GRACIAS POR LEERME Y SEGUIRME, QUE PASEN UN EXCELENTE DIA.
TRANSLATED INTO ENGLISH
Good morning to the members of this beautiful community of HIVE, which makes each of us overcome the day to day, making our publications, which as you know is a grain of sand, but that between all that grain of sand will become a sand dune, thus making our dreams come true, also enlarging our ideals, our dreams of wanting to overcome, taking into account our initiatives, which is why today in this post, I want to share with you all a very easy way to build a folding bed of 2 places.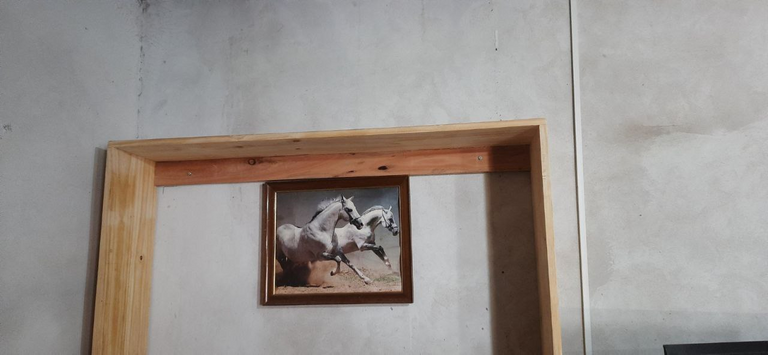 The first thing is the tools to use, saw, parrot hammer, tape measure, hand level, screwdriver, electric saw for cutting wood, nails various measures, square and plumb, all this especially the level so that the bed is perfectly on the wall.
The wood to be used is made of pine, planed on all four sides,
We measure where we will build the bed.
Prepare the wall well.
We assemble the frame which would be the part of the outside edge, with boards of 40 centimeters, which has a stop at the bottom and above also in the middle which is where the bed will be attached to the wall, as shown in the photo.
Then we cut the measure of this frame a whole chipboard that the right size of what would be the bottom of the bed, we put 3 hinges if possible well reinforced as we see, which adjust them in the whole wood that I said and at the top of what would be the socket.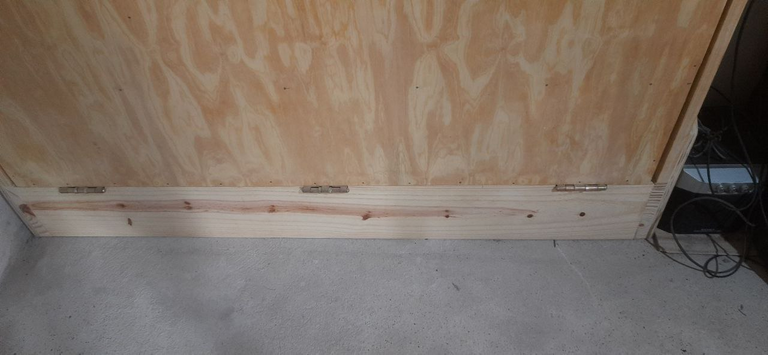 In what would be the whole wood that makes the base of the bed, we add two shelves in the form of the letter T inverted, its function is a shelf when we close the bed and when we open it fulfill the shape of the legs or foot of the same, being down we assemble and place the grill or base of the mattress, as seen in the photo.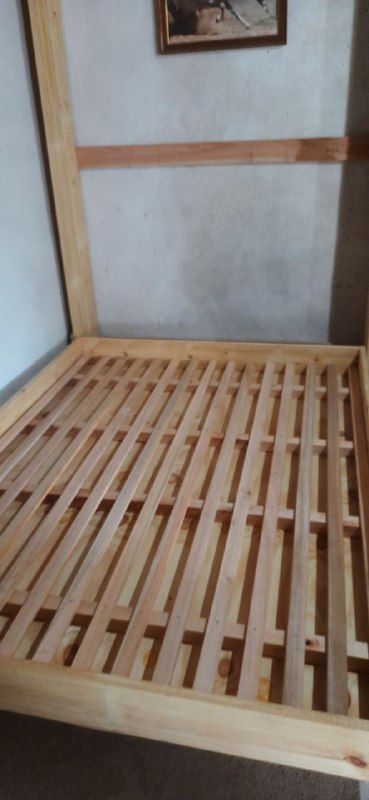 To finish with the assembly of the same in this photo you can see how the bottom and the function of the inverted T that make legs, as two shelves, to disguise that it is an embedded bed, friends is very easy to make it, takes up little space, we can fold it with the mattress, it is therefore very important that when we assemble the edges take into account the width of the mattress, then we can fold it armed, ready to give the use it deserves or to have a good rest and rest our bodies.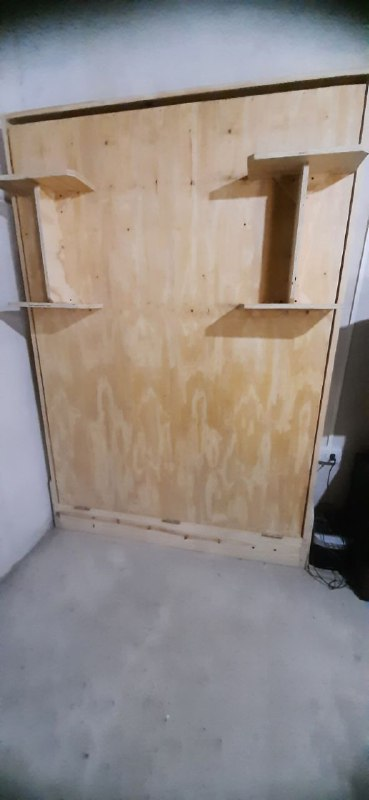 What I have left pending is the color, that goes in taste, in this case still retains the natural color of the wood, which for me personally I like, so if you like how to make a 2 seater bed, do not fail to send your appreciated comments.
THANK YOU VERY MUCH FOR READING AND FOLLOWING ME, HAVE A GREAT DAY.