Con el comienzo de la primavera, mi jardín cobra mas vida de la que tiene, no solamente por la variedad de flores si no que las plantas frutales que en el se encuentran como en este caso la plata de mango,, la cual es una fruta muy codiciada, mas cuando se trata del mango rosa o mango injertado, la verdad yo la compre así como una simple planta de mango y la verdad este seria el segundo año o la segunda ves que da frutos y esta ves será en mas cantidad que el año pasado el cual por ser la ´primera ves había dado 14 frutos, pero este año la cantidad es asombrosa, debe ser por el trato que le doy, el cual es de brindarle mucho amor, en el riego, en hablarle, rociarle con un liquido casero para los insectos invasores, amigos el liquido es fácil de prepararlo, cuando pelamos un banana, guardamos su cascara en la heladera o nevera, cuando tenemos una cierta cantidad, las retiramos y la ponemos a hervir por un buen rato, cuando notamos que el agua se volvió de color amarronado la quitamos del fuego y dejamos que se enfrié, la forma de aplicarlo a las plantas es colocando dicho liquido en un rociador y aplicarle por las maña nanas, cuando todavía conserva un poco de roció, es muy bueno para las hojas y para el comienzo de su floración como en este caso.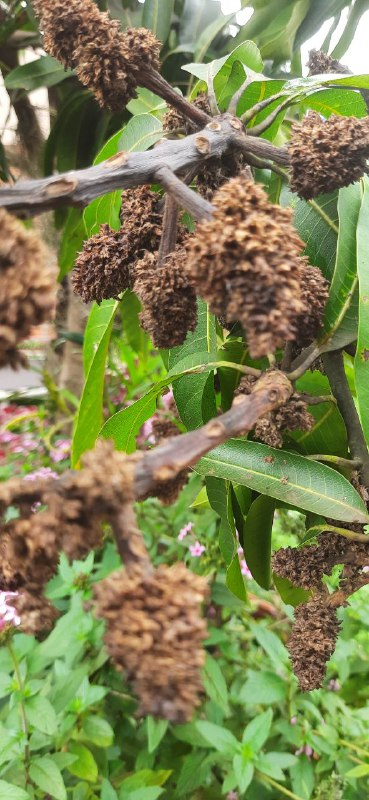 Estos son los primeros frutos de este año, después de la floración, desde su comienzo ya dicha fruta se va tornando de un color casi lila, salen de a dos y hasta de tres frutas en un gajo, ese palito que se ve es una flor que se seco en este caso dio dos frutas dicho gajo.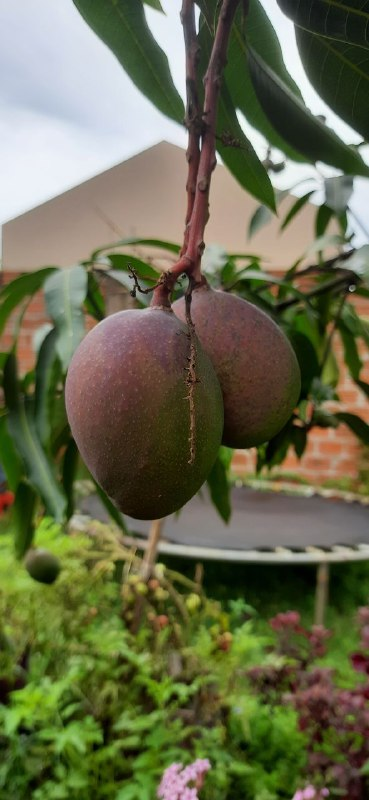 Bueno como notaran esta fruta es mucho mas grande, el motivo es el siguiente al salir en dicho gajo una sola fruta, la misma como ven sale con mas fuerza y por supuesto mas grande, también su sabor, el cual lo comparo con el durazno natural o sea en lata.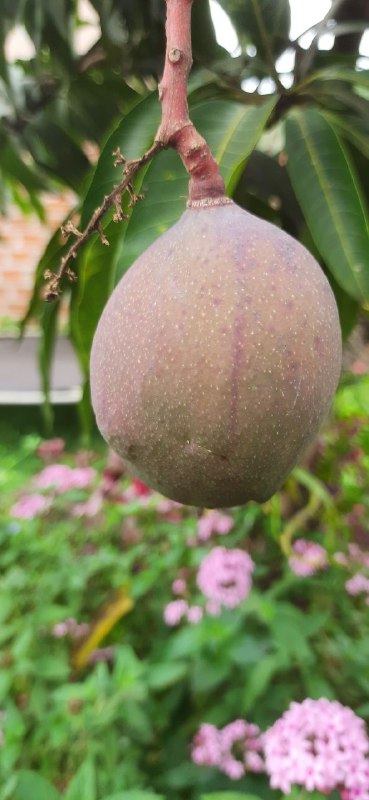 Esta fruta como dije es importante por su contenido de enzimas, las cuales ayudan al sistema digestivo del cuerpo humano, también es bueno contra la acidez ayudando a aliviar el estomago, por eso como digo, LA MADRE NATURALEZA, es muy savia en todo lo que en ella existe, y cada uno cumple una función diferente, en esta subsistencia que es la vida misma.
Si les fue de sus agrados este tema tan importante de esta fruta de MANGO, no dejen de enviar sus apreciados comentarios.
MUCHAS GRACIAS POR SEGUIRME Y LEERME, QUE TENGAN UN EXCELENTE DIA.
TRANSLATED INTO ENGLISH.
With the beginning of spring, my garden comes more alive than it has, not only for the variety of flowers but also for the fruit plants that are in it as in this case the mango silver, which is a very coveted fruit, more when it comes to the pink mango or grafted mango, The truth is that I bought it as a simple mango plant and the truth is that this would be the second year or the second time that it bears fruit and this time it will be in more quantity than last year which for being the 'first time had given 14 fruits, but this year the amount is amazing, it must be because of the treatment that I give it, which is to give it a lot of love, when we peel a banana, we keep its peel in the refrigerator or fridge, when we have a certain amount, we remove it and put it to boil for a good while, When we notice that the water became brownish color we remove it from the fire and let it cool down, the way to apply it to the plants is by placing the liquid in a sprayer and apply it in the morning, when it still retains a little spray, it is very good for the leaves and for the beginning of flowering as in this case.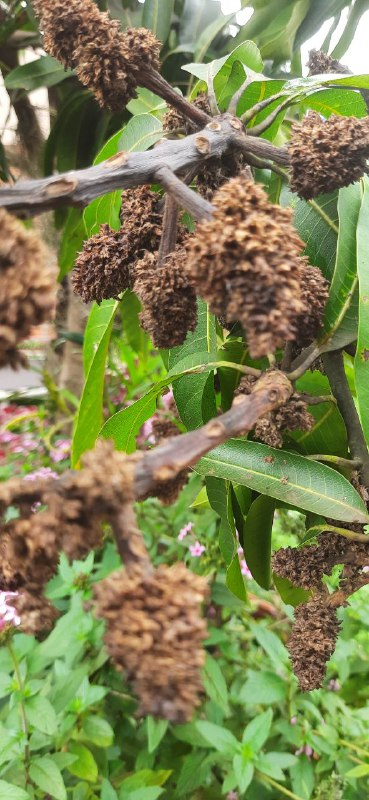 These are the first fruits of this year, after flowering, since its beginning and the fruit is becoming almost lilac color, two or even three fruits come out in a gore, that stick you see is a flower that dried in this case gave two fruits that gore.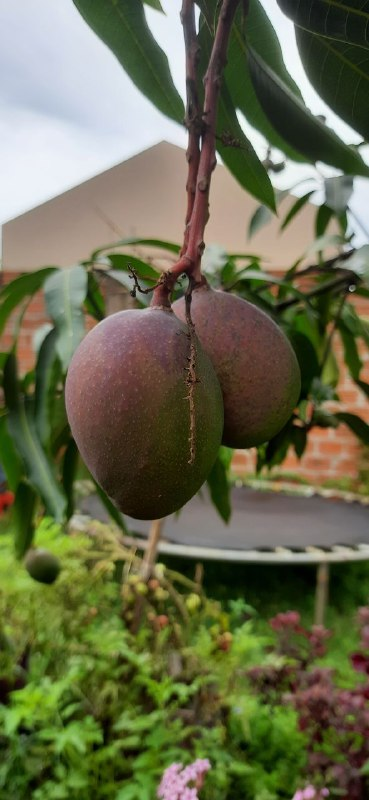 Well as you can see this fruit is much bigger, the reason is the following to leave in this gore a single fruit, the same as you see comes out with more strength and of course bigger, also its flavor, which I compare it with the natural peach or canned.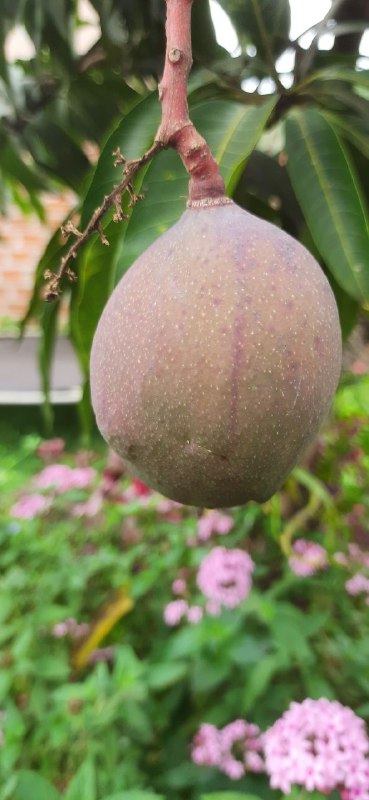 This fruit as I said is important for its content of enzymes, which help the digestive system of the human body, it is also good against acidity helping to relieve the stomach, so as I say, MOTHER NATURE, is very sap in all that exists in it, and each one fulfills a different function, in this livelihood that is life itself.
If you liked this important topic of this MANGO fruit, please do not hesitate to send your appreciated comments.
THANK YOU VERY MUCH FOR FOLLOWING AND READING ME, HAVE A GREAT DAY.