Buenos días a todos, en estos momentos estamos atravesando un calor con una temperatura de 36 grados, esto es el comienzo del día, al observar hacia el cielo, pude ver hacia el horizonte de un color casi anaranjado, el cual a medida que se aproximaba hacia donde me hallaba yo, pasaba a un color gris casi celeste, casi como la forma de un arcoíris, calculo que se debe al calor que hace, pero lo que destaco amigos es el árbol que con su silueta, nos presenta un bello paisaje haciendo contraste o sea del color verde que este posee, si tengo que describir todo esto diría que estoy cerca de un volcán, el cual esta comenzando con su erupción, porque como les dije referente al horizonte se define muy bien el cambio de color, todo esto es como a veces lo digo que serian señales, porque como bien sabemos, estamos en los últimos tiempos, la venida del señor DIOS es inminente, entonces en lo personal y en la medida que puedo lo disfruto con toda mi familia y amigos, mas cuando de disfrutar se trata, con el dios ZEUS, escondiéndose, sabemos también que todo esto es obra de NUESTRA MADRE NATURALEZA, para la cual nada es imposible, pero los culpables somos nosotros los seres humanos, porque con los grandes y varios experimento se esta destruyendo el plante, según los grandes científicos el problema se encuentra en el agujero de la tapa de ozono, se dice que todo eso traerá problema en el futuro, pero si tomáramos conciencia de eso, el mundo seria otro, no habría tantas cosas nuevas las que aparecen cada día, sin contar referente al covid 19.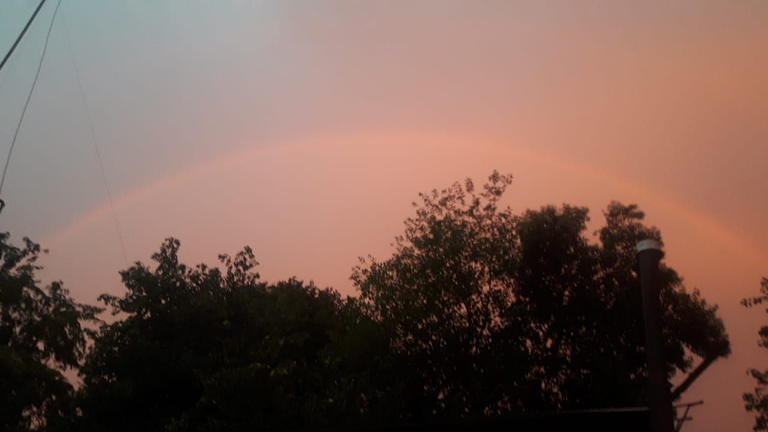 Es por todo eso que debemos preocuparnos, pero en lo mas mínimo, porque si confiamos en un DIOS, sabemos que el es poderoso y fiel, para el nada es imposible.
MUCHAS GRACIAS POR SEGUIRME Y LEERME, QUE TENGAN UN BUEN COMIENZO DE SEMANA.
TRANSLATED INTO ENGLISH.
Good morning everyone, at this time we are going through a heat with a temperature of 36 degrees, this is the beginning of the day, looking at the sky, I could see towards the horizon of an almost orange color, which as it approached to where I was, it went to an almost light blue gray color, almost like the shape of a rainbow, I guess that is due to the heat, but what I emphasize friends is the tree that with its silhouette, presents us with a beautiful landscape making contrast or the green color that it has, if I have to describe all this I would say that I am near a volcano, which is beginning with its eruption, because as I said regarding the horizon is very well defined color change, all this is as I sometimes say that would be signs, because as we well know, we are in the end times, the coming of the Lord GOD is imminent, then personally and as far as I can I enjoy it with all my family and friends, but when it comes to enjoy, with the god ZEUS, hiding, we also know that all this is the work of OUR MOTHER NATURE, for which nothing is impossible, but the culprits are us human beings, because with the great and various experiments we are destroying the planet, according to the great scientists the problem is in the hole of the ozone cap, it is said that all this will bring problems in the future, but if we became aware of this, the world would be another, there would not be so many new things that appear every day, not to mention the covid 19.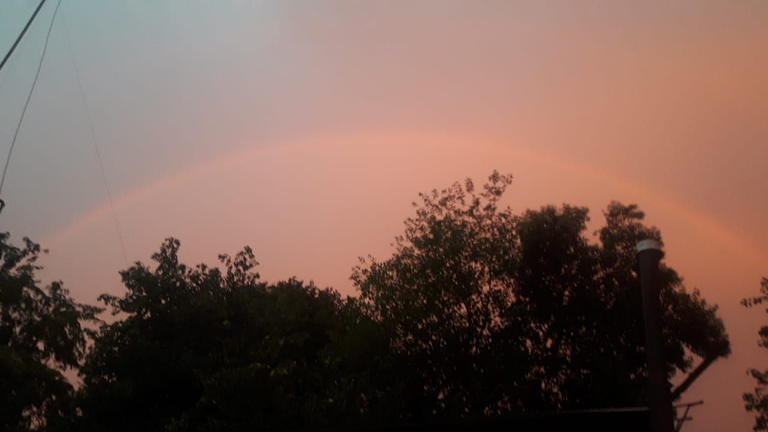 It is for all that that we should worry, but in the least, because if we trust in a GOD, we know that he is powerful and faithful, for him nothing is impossible.
THANK YOU VERY MUCH FOR FOLLOWING ME AND READING ME, HAVE A GOOD BEGINNING OF THE WEEK.