Buenos días a todos, siendo un domingo mas en nuestra subsistencia, en la que siempre tenemos algo para hacer, para seguir adelante, como se puede ver en este caso, si hablamos de hacer, que mejor que el de colaborar en la terminación del techo de la casa de un vecino, la cual es de losa o sea de hormigón, por supuesto, que se encuentra todo armado, solamente lo que falta es llenar dicha losa.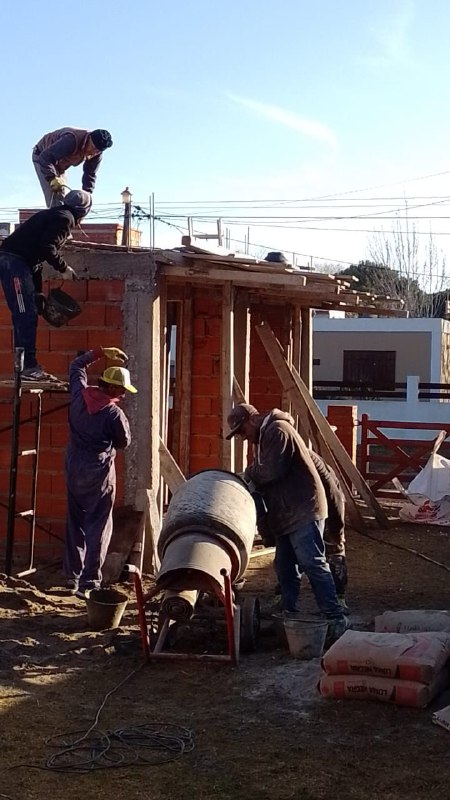 Para llenar la misma, es donde quiero llegar amigos, lo que demuestra la unión de los vecinos en colaborar, porque siendo domingo y en donde madrugamos para comenzar este trabajo, por el hecho de que si sale el sol, se nos hace mas difícil, porque el hormigón se seca mas rápido, entonces al colaborar todos juntos se puede realizar todo mas prolijo y bien.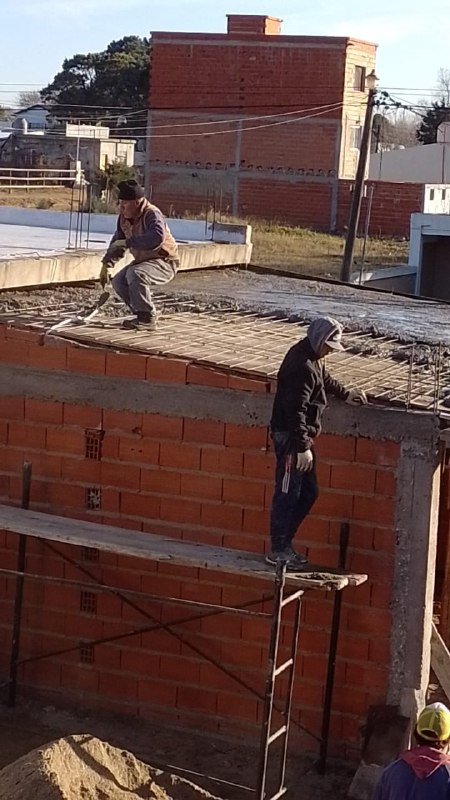 En donde uno se encuentra en la parte de arriba, sobre los hierros de dicha losa, que el que controla que el hormigón se compacte bien, luego el que esta en el andamio que seria el intermediario que alcanza los baldes de mescla y en la parte de abajo se encuentran los que con la maquina, en este caso trompito, preparan el hormigón, para el llenado de la losa, el cual contiene piedra, agua, arena y cemento.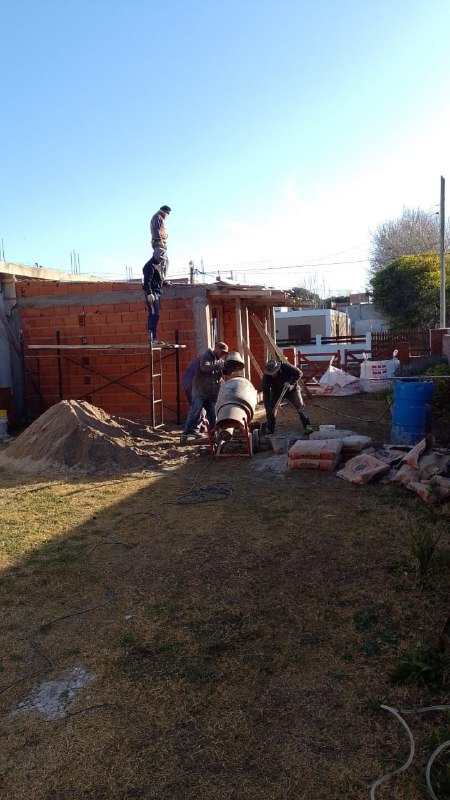 A veces como en este caso, puede surgir alguna precaución como se ve en la foto, el de arreglar algún detalle, que por los movimientos de los que trabajamos, se puede desatar algún hierro por ejemplo, pero es como dije un detalle y se soluciona rápido.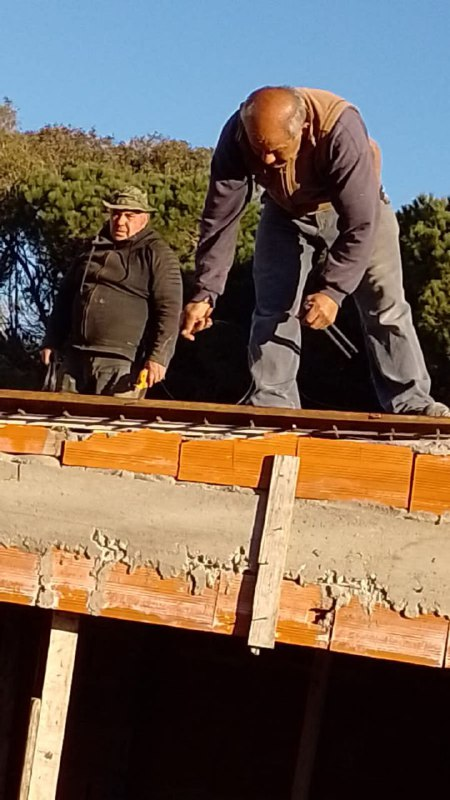 De tal manera de como mencione la unión de los vecinos, como el dicho que dice, la unión hace la fuerza, por supuesto que es un poco cansador, pero el fin es el propósito, para lo cual se trabaja, entonces así el presupuesto es mas bajo, porque como bien sabemos hoy por hoy nada sale barato, entonces el uno por el otro, dándole la forma que corresponde al techo, que como vemos en esta foto que excelente y bien prolijo.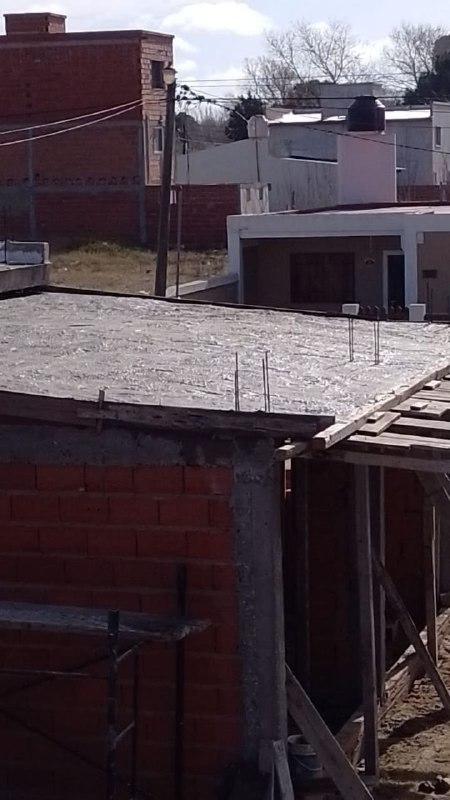 Los hierros que sobresalen se los denomina pelos, la función de estos hierros, es para una una futura construcción, o se si queremos continuar hacia arriba, se ensambla las columnas en los mismos y se continua dicha construcción.
muchas gracias por leerme y seguirme. que tengan un excelente domingo.
TRANSLATED INTO ENGLISH.
Good morning everyone, being another Sunday in our livelihood, in which we always have something to do, to move forward, as you can see in this case, if we talk about doing, what better than to collaborate in the completion of the roof of the house of a neighbor, which is slab or concrete, of course, that is all armed, only what is missing is to fill the slab.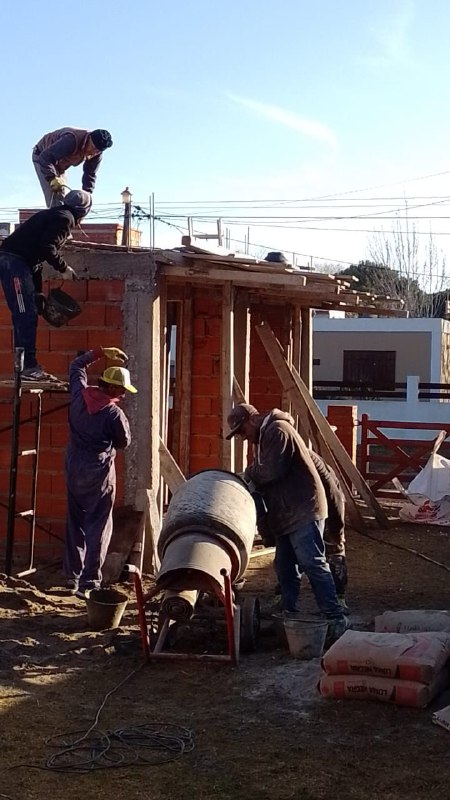 To fill the same one, is where I want to arrive friends, which demonstrates the union of the neighbors in collaborating, because being Sunday and where we get up early to begin this work, by the fact that if the sun rises, it is more difficult for us, because the concrete dries faster, then when collaborating all together we can make everything more neat and well.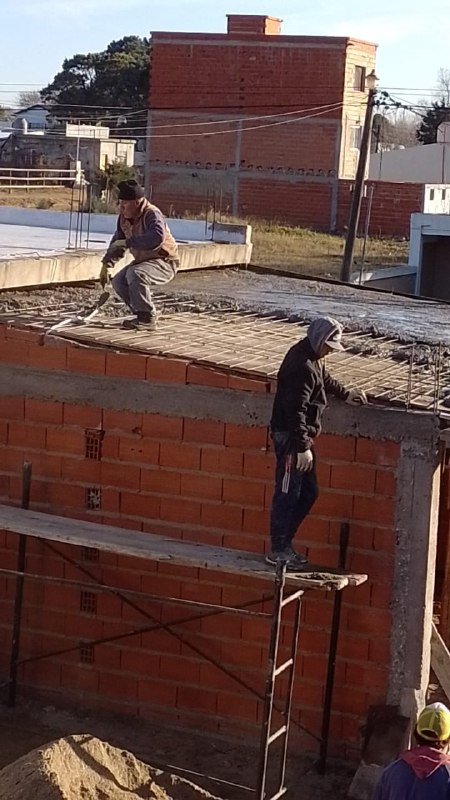 In where one is at the top, on the irons of the slab, which controls that the concrete is well compacted, then the one on the scaffolding that would be the intermediary who reaches the buckets of mixture and at the bottom are those who with the machine, in this case trompito, prepare the concrete for filling the slab, which contains stone, water, sand and cement.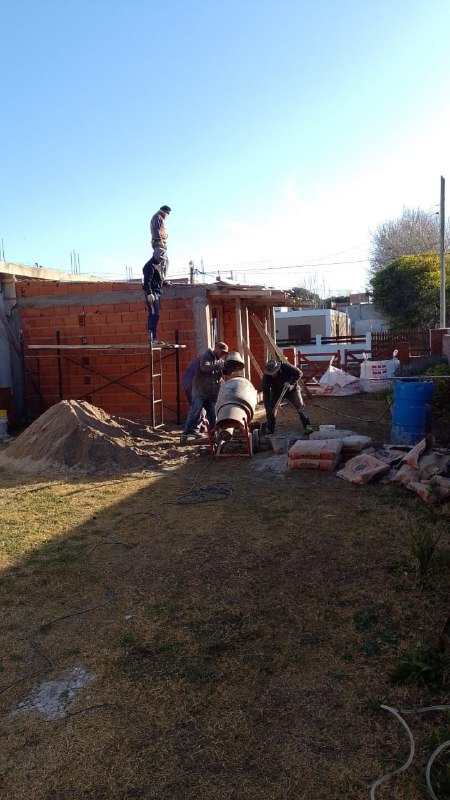 Sometimes as in this case, some precaution may arise as seen in the photo, to fix some detail, that by the movements of those who work, you can untie some iron for example, but it is as I said a detail and is solved quickly.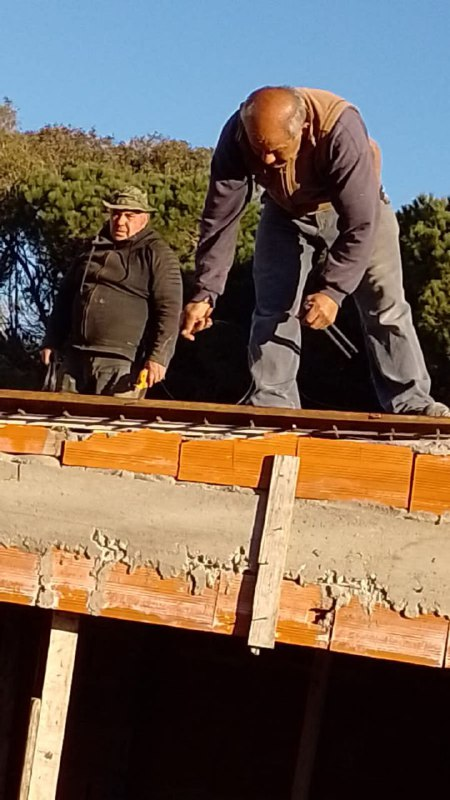 In such a way as I mentioned the union of the neighbors, as the saying goes, union is strength, of course it is a little tiring, but the end is the purpose, for which we work, so the budget is lower, because as we know today nothing comes cheap, then one for the other, giving the shape that corresponds to the roof, which as we see in this photo is excellent and neat.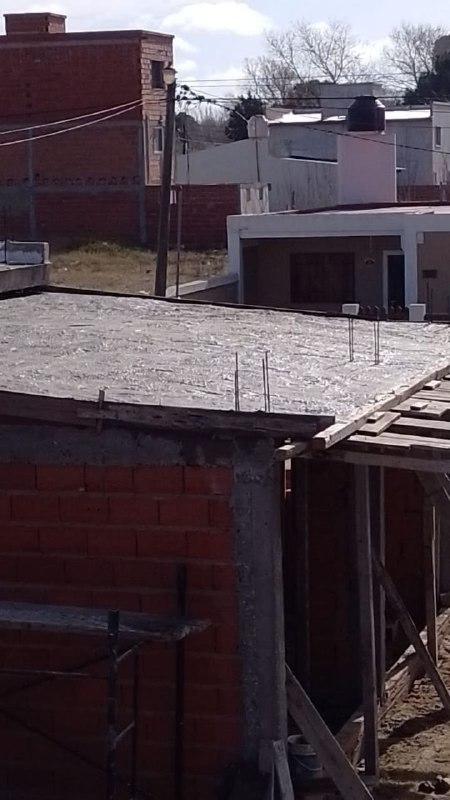 The iron that protrude are called hairs, the function of these irons, is for a future construction, or if we want to continue upwards, the columns are assembled on them and continue the construction.
thank you very much for reading and following me. have a great Sunday.