Buenos días a todos los seguidores de esta gran comunidad de HIVE, hablando de seguidores, quiero decirles como siempre lo hago en estas ocasiones, que no soy herrero pero siempre lo dije y lo digo, si todo lo que emprendemos o asemos, lo asemos con amor las cosas salen bien, es por eso que esta reja la cual es para colocar en una ventana de una iglesia, sus medidas son de 7 cm. de alto por 1,30 de largo , la cual la construiré con hierros reciclados, tanto la parte del borde que es con ángulos y las varillas que son para la parte del frente a una distancia cada uno de 10 cm., como se ve en esta foto estoy preparando lo que seria los ángulos del borde de dicha reja.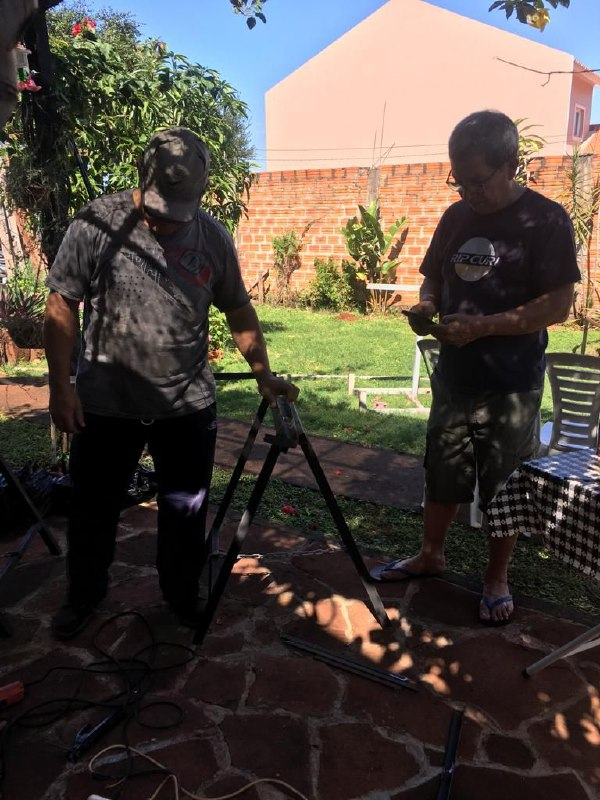 Para mas comodidad, este trabajo lo estoy relazando abajo de la pérgola, por el sol que la verdad hoy esta muy fuerte, también cuento con la ayuda de una amigo, que esta muy atento a lo que estoy realizando.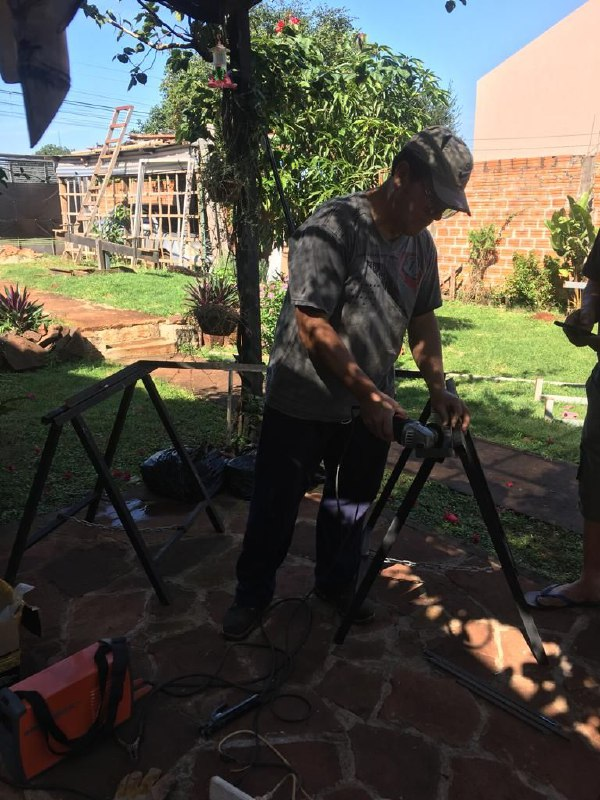 Para este trabajo cuento con el soporte de dos caballetes, de esa manera es mas cómodo para realizar la misma o sea dicha reja, una ves cortado los ángulos y doblado en 90 grados ya los voy soldando.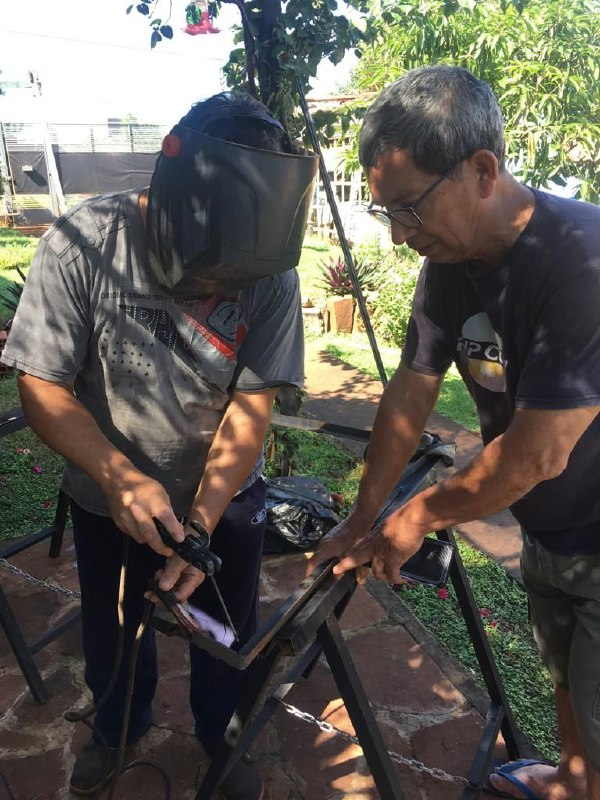 Como se puede observar en esta foto, las partes a soldar son todas diferentes, asimismo la soldadura también, es por eso que cuento con la ayuda de este amigo.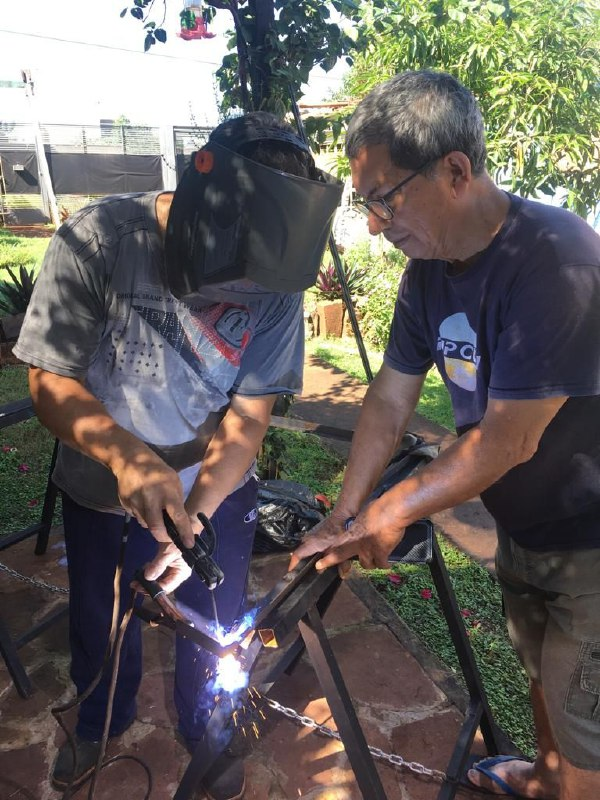 Lo que pasa es que como no alcanzo la parte del Angulo, para completar el mismo, en partes luego de doblar y soldar a los 90 grados, se tubo que agregar en la parte del medio.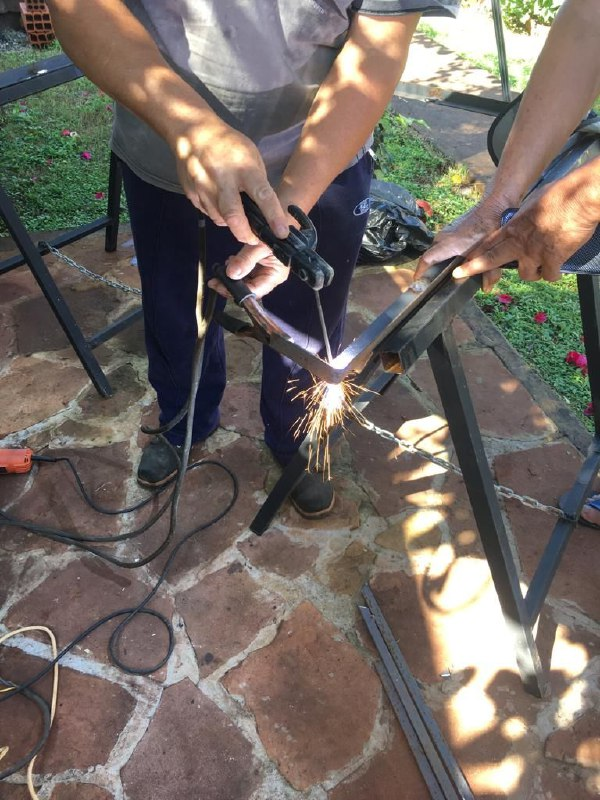 La verdad no es muy difícil el de empalmar los ángulos, los mismos como son la parte exterior de la reja, por supuesto que tiene que quedar muy bien, el detalle esta en medir todo muy bien, quizás por unos milímetros menos o de mas dicha reja quedaría fuera de escuadra.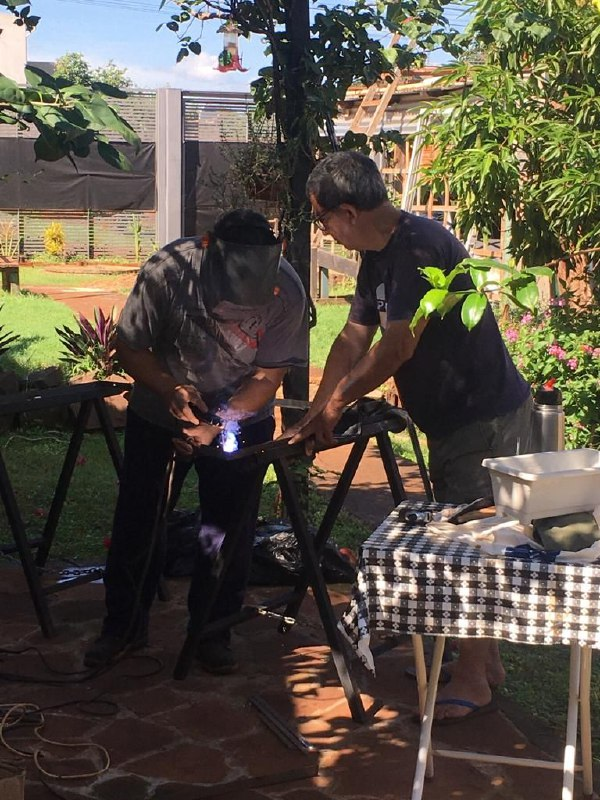 Para trabajar mas cómodo, como la vereda esta bien a nivel, la utilice para terminar de soldar los ángulos que seria toda la parte de afuera de la reja, formando bien el rectángulo de 70 de ancho por 1,30 de largo.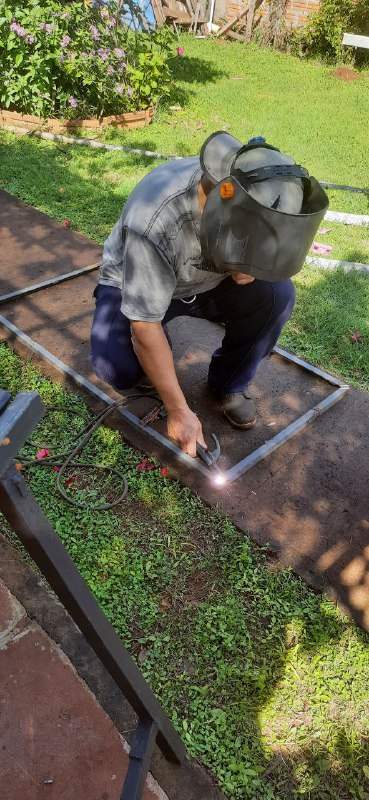 Bueno amigos este el comienzo del armado de la reja para una ventana de una iglesia, por lo tanto tiene que quedar muy bien como dije.
MUCHAS GRACIAS POR SEGUIRME Y LEERME. QUE TENGAN UN EXCELENTE DIA.
TRANSLATED INTO ENGLISH.
Good morning to all the followers of this great community of HIVE, speaking of followers, I want to tell you as I always do on these occasions, I am not a blacksmith but I always said it and I say it, if everything we undertake or asemos, asemos with love things go well, which is why this fence which is to place in a window of a church, its measures are 7 cm. It measures 7 cm. high and 1.30 cm. long, which I will build with recycled iron, both the part of the edge that is with angles and the rods that are for the front at a distance of 10 cm. each one, as you can see in this picture I am preparing what would be the angles of the edge of the fence.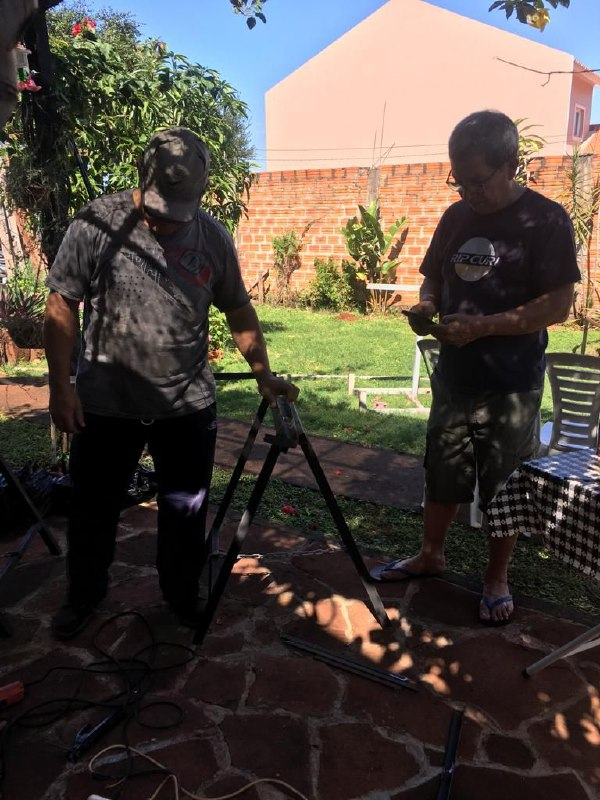 For more comfort, this work is being done under the pergola, because of the sun that today is very strong, I also count with the help of a friend, who is very attentive to what I am doing.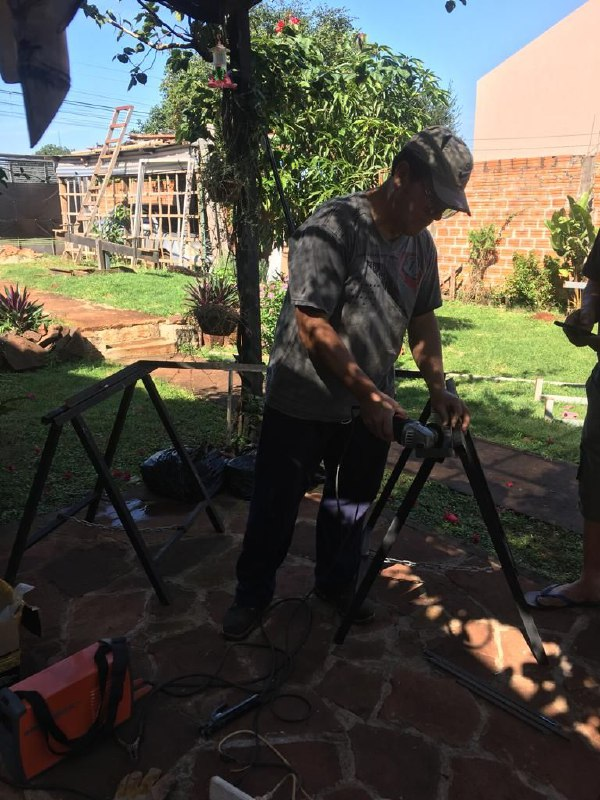 For this work I have the support of two trestles, that way it is more comfortable to make the same or the grille, once cut the angles and bent at 90 degrees and I'm welding.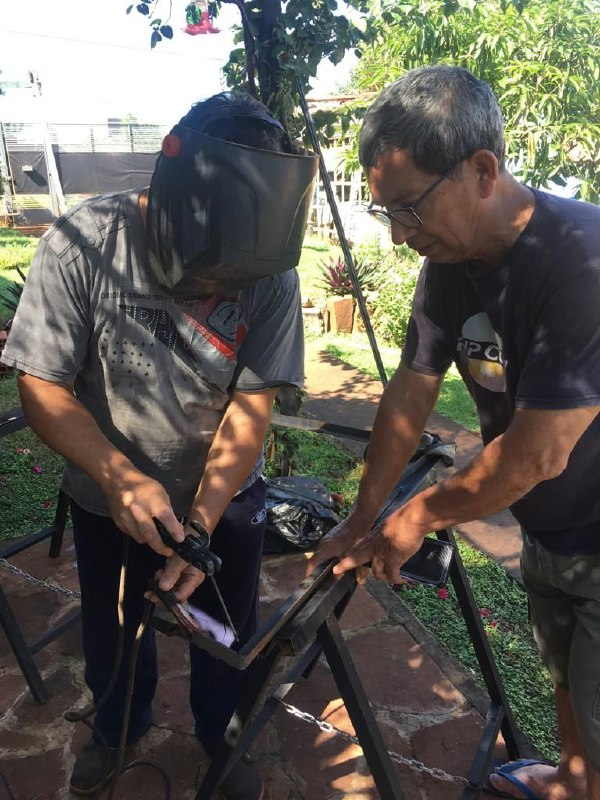 As you can see in this picture, the parts to be welded are all different, and the welding is also different, that's why I have the help of this friend.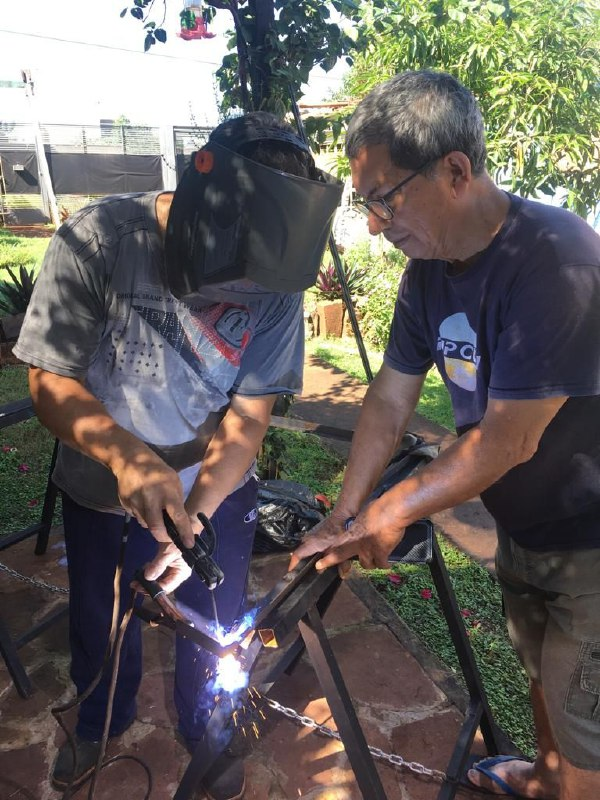 What happens is that as I did not reach the Angle part, to complete it, in parts after bending and welding at 90 degrees, I had to add in the middle part.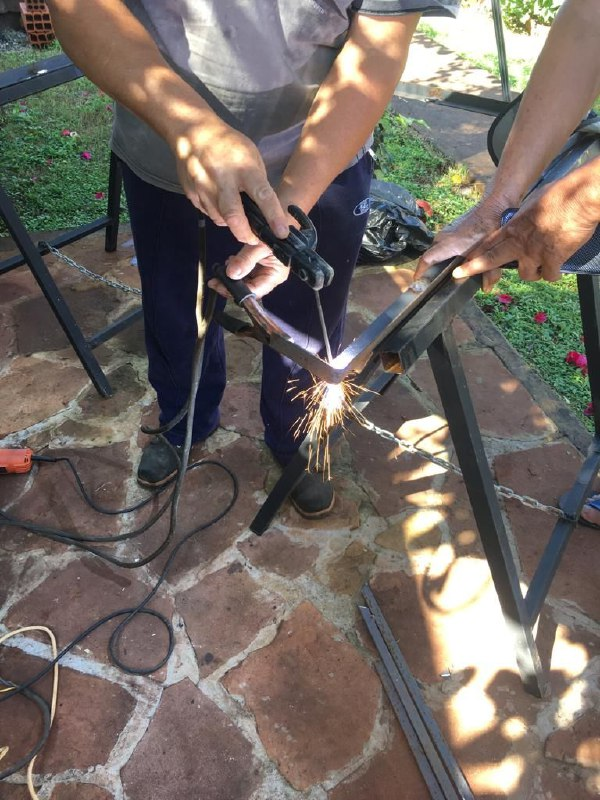 The truth is not very difficult to join the angles, the same as they are the outer part of the grille, of course it has to be very well, the detail is to measure everything very well, perhaps by a few millimeters less or more the grille would be out of square.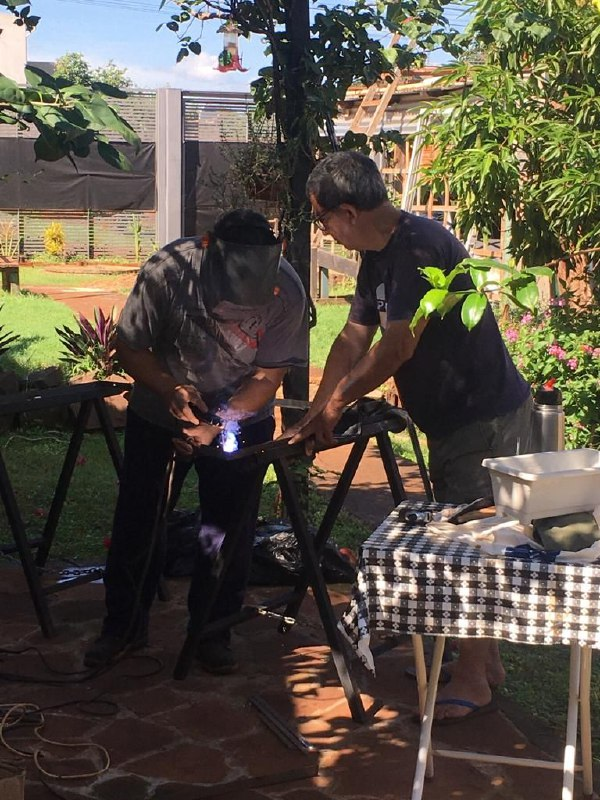 To work more comfortably, as the sidewalk is level, I used it to finish welding the angles that would be the entire outside of the fence, forming the rectangle of 70 wide by 1.30 long.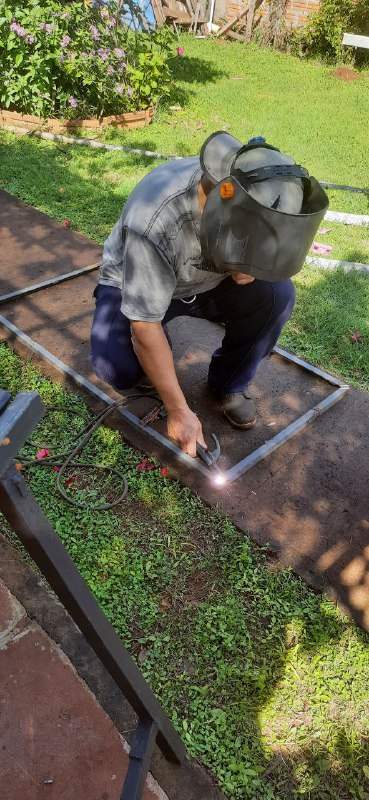 Well friends this is the beginning of the assembly of the grille for a church window, so it has to look very good as I said.
THANK YOU VERY MUCH FOR FOLLOWING AND READING ME. HAVE A GREAT DAY.