Hola a todos los integrantes de esta gran familia de HIVE, digo familia porque si bien al interactuar dejamos un poco de nosotros en cada publicación, por el solo hecho de seguir adelante hasta llegar a la meta que cada uno de nosotros eligió o pretende con el ingreso obtenido, de los granitos de arena que vamos depositando cuando hacemos nuestro comentarios, con esto quiero decir y expresar una frase muy conocida-TODOS PARA UNO Y UNO PARA TODOS.
Por eso hoy quiero dejarles este post, en el cual, es algo que lo hacemos en nuestro hogar y también para hermosear al mismo, que es lo siguiente, el mantenimiento de la verja o reja del frente de nuestra casa, la mia por ejemplo Hera de color negro, pero como se ve ahora es de color gris grafiti, la verdad valio la pena el cambio.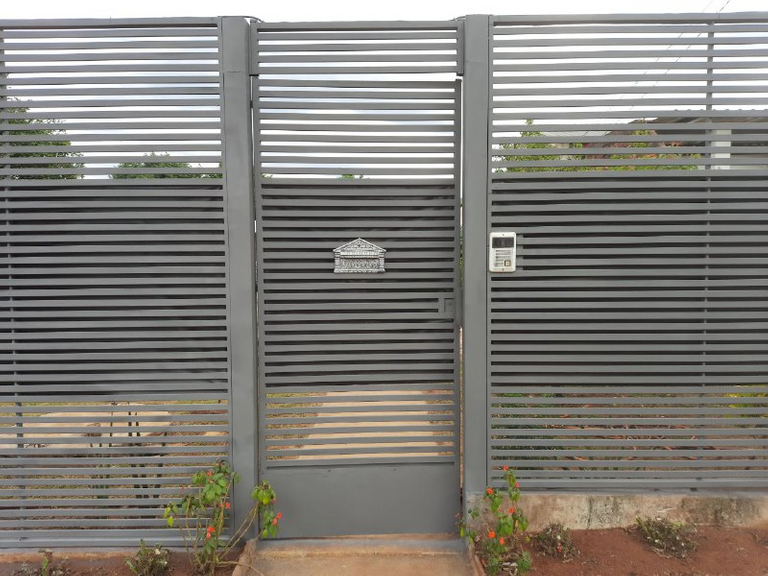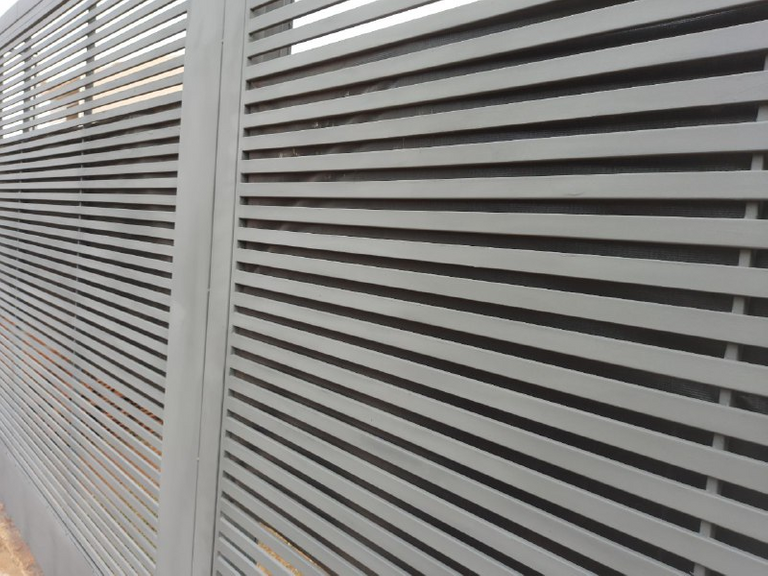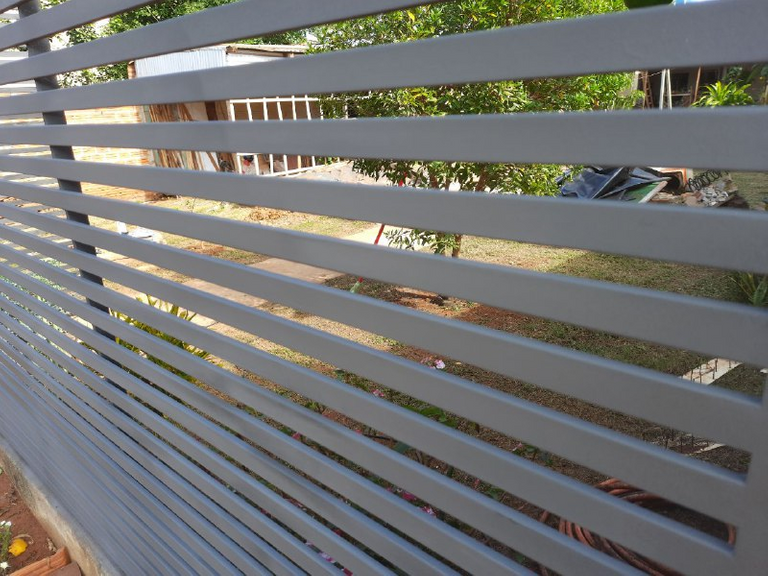 Todo lleva su proceso, primero lijar las partas donde se incrusto el oxido, pero al mismo tiempo en lo posible lijarla toda, ahora con las maquinas modernas que existen se hace todo mas fácil como en este caso, una ves que tenemos todo preparado para volver a pintarla, como se ve en la foto utilice una pistola de pintor, donde la pintura sale impulsada por el aire que brinda el compresor a través de una manguera.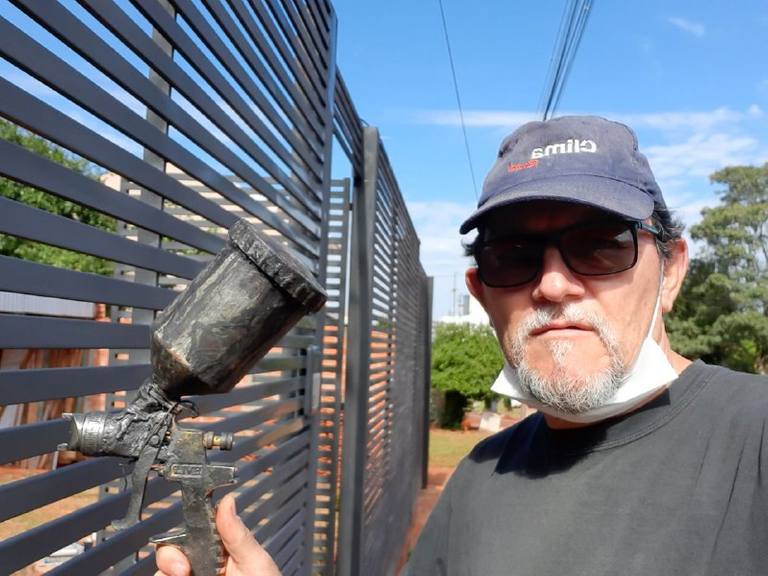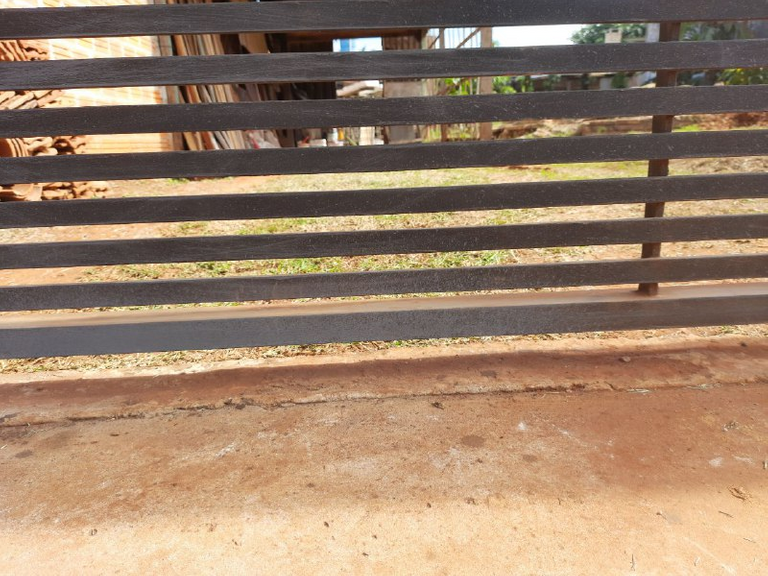 En esta foto se ve el color antiguo y como quedaría con el color nuevo, la verdad muy bello, no solamente eso si no que también son tres pinturas en una, antióxido, la pintura y el color de esa manera le da mas resistencia y dura mas dicha pintura, bueno amigos esta es la parte que quiero dejar bien en claro, como sabemos loas mascotas en este caso lo canes o perros, son de orinar en la parte de abajo, es una atracción fatal que tienen los mismos con todo lo que es hierro, así que lo mejor es colocarle una chapa como la que vemos en la foto bien atornillada sobre la reja, a una altura de unos 40 centímetros que seria el alcance del orín del animal, también pintar esa chapa, que seria una manera de proteger la reja y dure mas el hierro.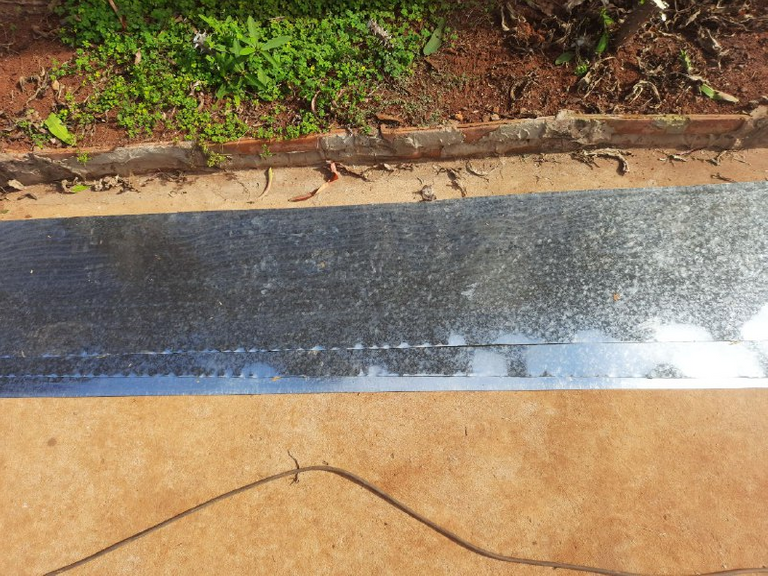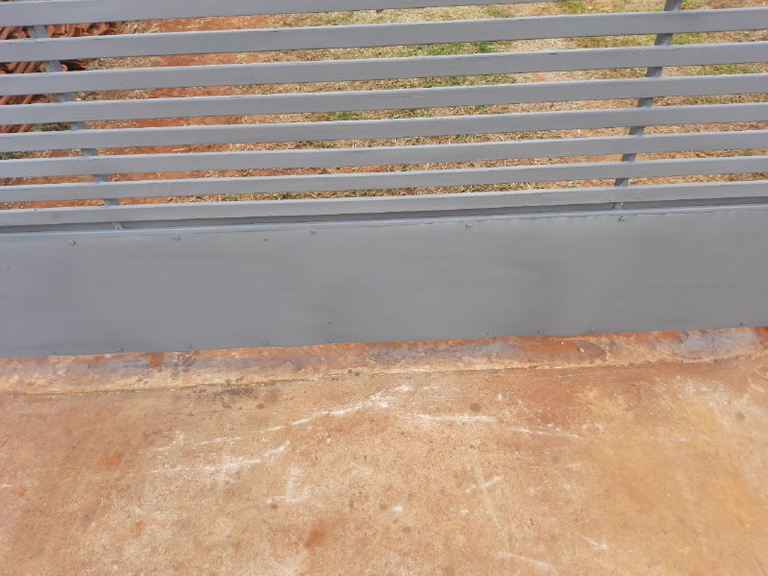 Quedaría así como vemos en este fotografía, lo mismo efectué en el portón del garaje y en la puerta de ingreso, para atornillar dicha chapa es bueno utilizar la herramienta adecuada con vemos es un taladro a batería con mucha potencia.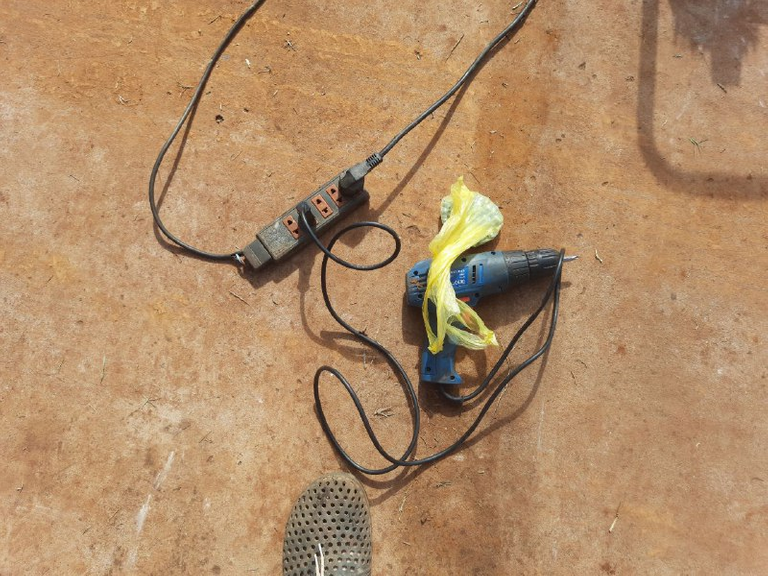 Esto seria el compresor de aire, que impulsa el mismo por una manguera hasta que llega a la pistola que vimos anteriormente, ase salir la pintura del recipiente con la fuerza del aire dejando un trabajo mas presentable que si lo fuéramos a hacer con pincel o rodillo, lo mas importante acá también es que no desperdiciamos pintura y la misma se agarra o penetra bien en el hierro por la manera que es impulsada.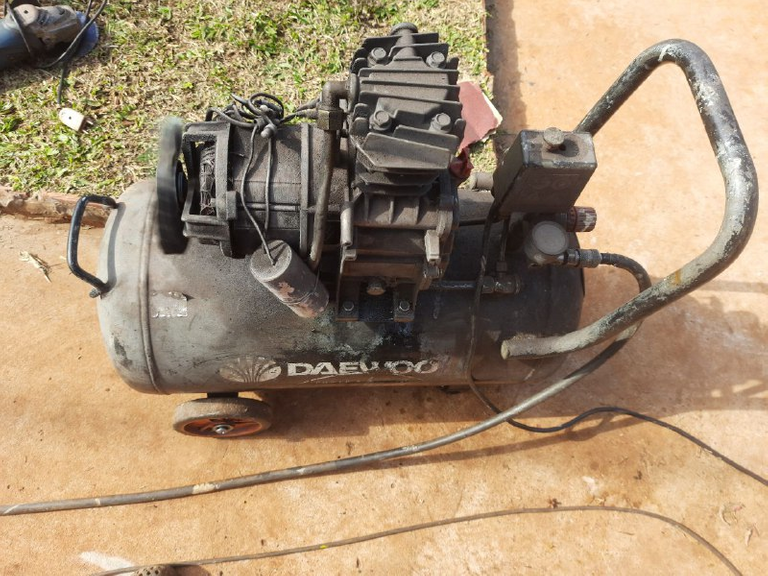 De tal manera que para efectuar este trabajo que si lo asemos con amor y perseverancia queda perfecto, es hacer el uso de la electricidad, sin ella seria imposible el mismo, así que si les agrado la forma y manera de efectuar el mantenimiento de la verja o reja, no dejen de expresar sus comentarios y sus votos.
MUCHAS GRACIAS POR SEGUIRME Y LEERME, QUE TENGAN UN BENDECIDO COMIENZO DE SEMANA.
TRANSLATE IN ENGLISH.
Hello to all the members of this great family of HIVE, I say family because although when we interact we leave a little of ourselves in each publication, by the mere fact of moving forward until we reach the goal that each one of us chose or intends with the income obtained, from the grains of sand that we deposit when we make our comments, with this I mean and express a well-known phrase-ALL FOR ONE AND ONE FOR ALL.
That is why today I want to leave you this post, in which, it is something that we do in our home and also to beautify it, which is the following, the maintenance of the gate or gate in front of our house, mine for example Hera black in color, but as seen now it is graffiti gray, it was really worth the change.
! [image.png] (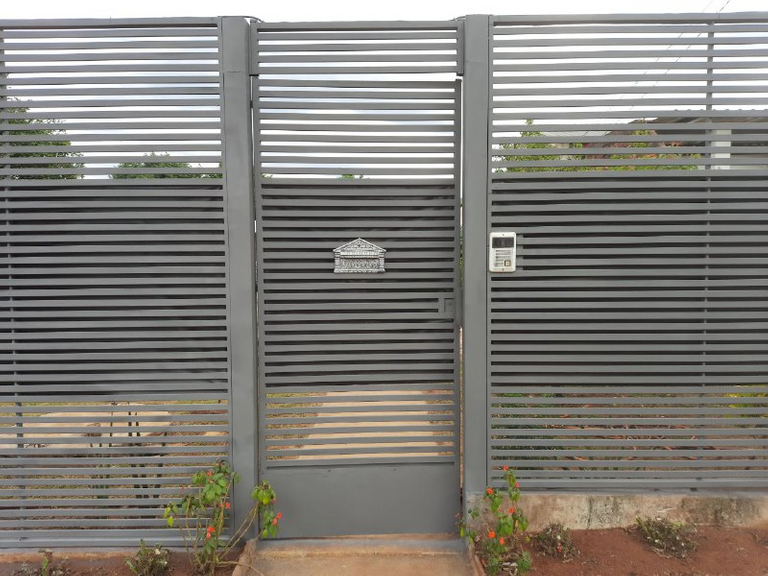 )
! [image.png] (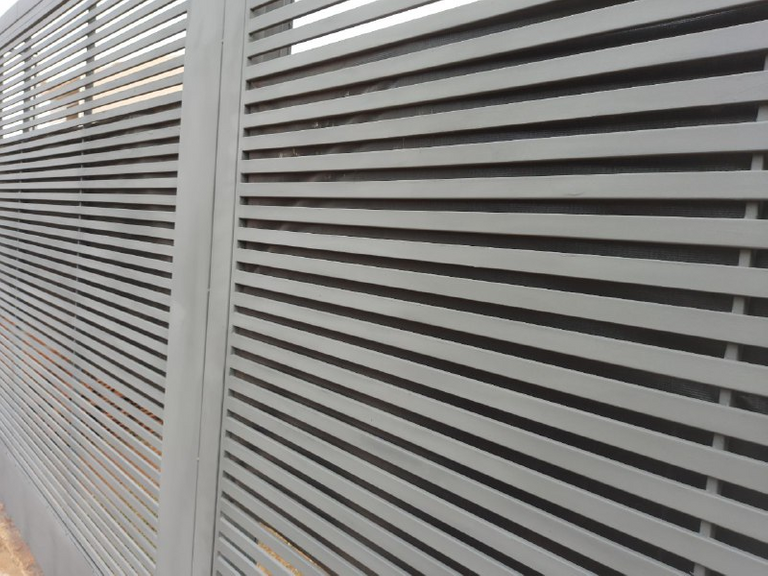 )
! [image.png] (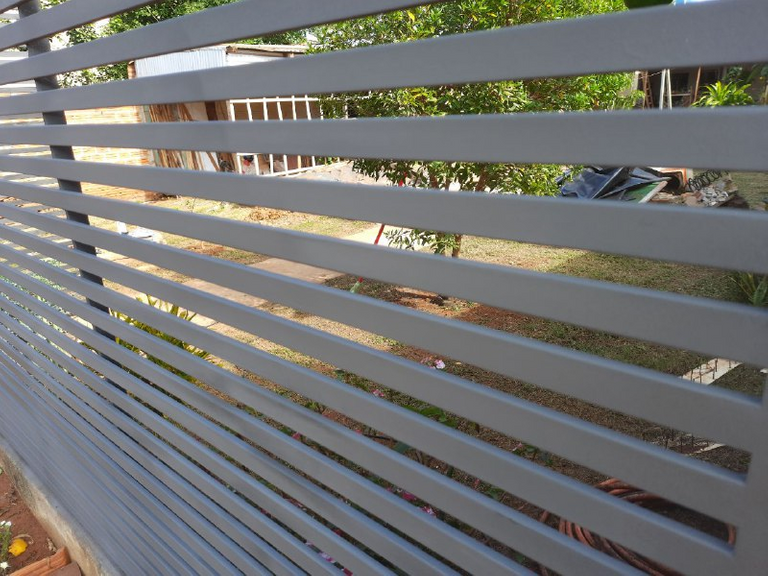 )
Everything takes its process, first sand the parts where the rust is embedded, but at the same time sand it as much as possible, now with the modern machines that exist, everything is easier as in this case, once we have everything ready to return To paint it, as seen in the photo, use a paint gun, where the paint is propelled by the air provided by the compressor through a hose.
! [image.png] (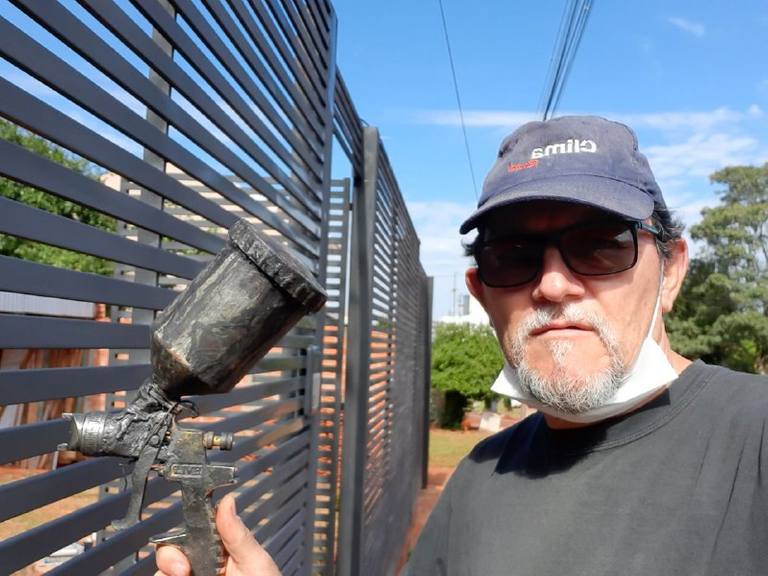 )
! [image.png] (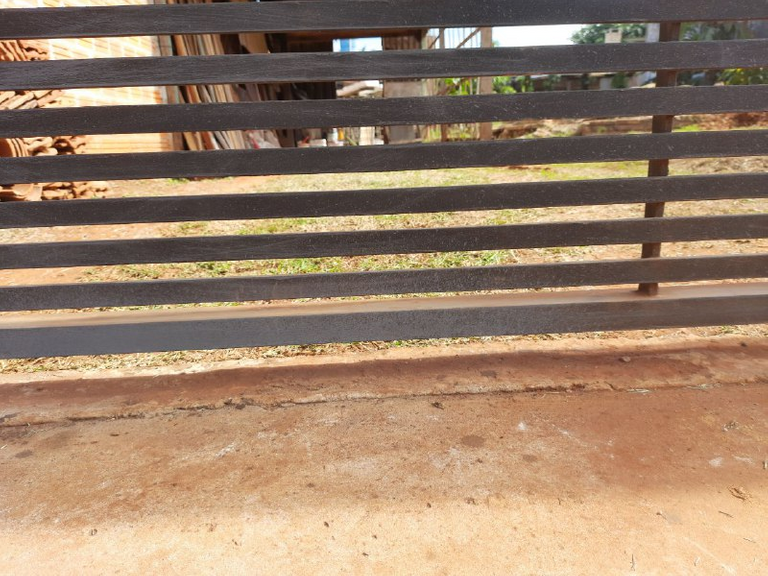 )
In this photo you can see the old color and how it would look with the new color, the truth is very beautiful, not only that but there are also three paintings in one, anti-rust, the paint and the color that way gives it more resistance and lasts but said painting, well friends this is the part that I want to make very clear, as we know the pets in this case the dogs or dogs, they are to urinate on the bottom, it is a fatal attraction that they have with everything that It is iron, so it is best to place a sheet like the one we see in the photo screwed tightly on the fence, at a height of about 40 centimeters that would be the extent of the animal's urine, also paint that sheet, which would be a way to protect the grate and last longer the iron.
! [image.png] (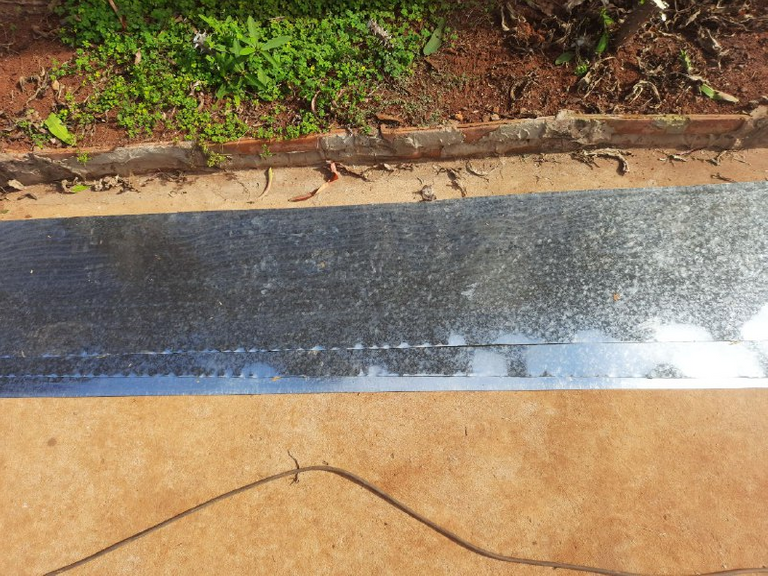 )
! [image.png] (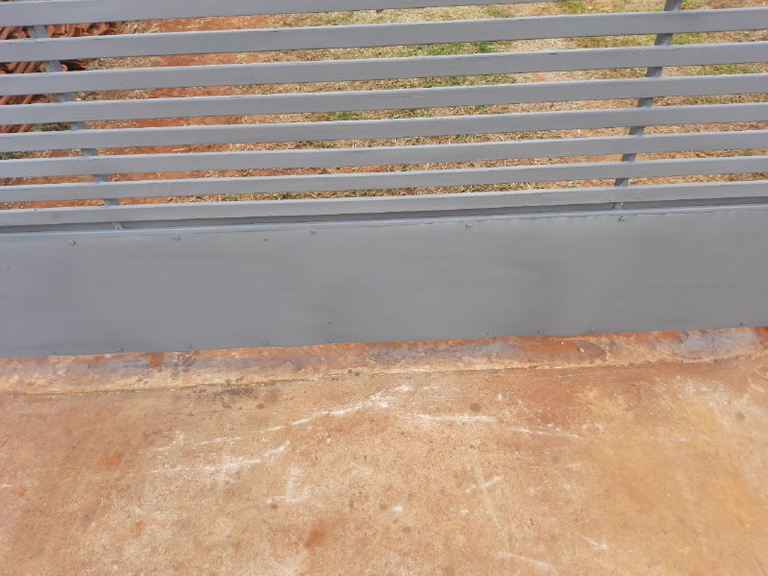 )
It would look like this, as we see in this photograph, the same thing I did on the garage door and on the entrance door, to screw this plate it is good to use the appropriate tool with we see it is a battery-powered drill with a lot of power.
! [image.png] (https://files.peakd.com/file/peakd-hive/comandoyeya/EoH1kMfyadvek8ytWqzSvfvQ2u7nZpkNDiJ7DNuNfwTgW3sNYP8RRvfbQhgcNhngM1uvL.
This would be the air compressor, which drives it through a hose until it reaches the gun that we saw earlier, the paint will come out of the container with the force of the air, leaving a more presentable job than if we were to do it with a brush or roller. The most important thing here is also that we do not waste paint and it grips or penetrates the iron well because of the way it is driven.
! [image.png] (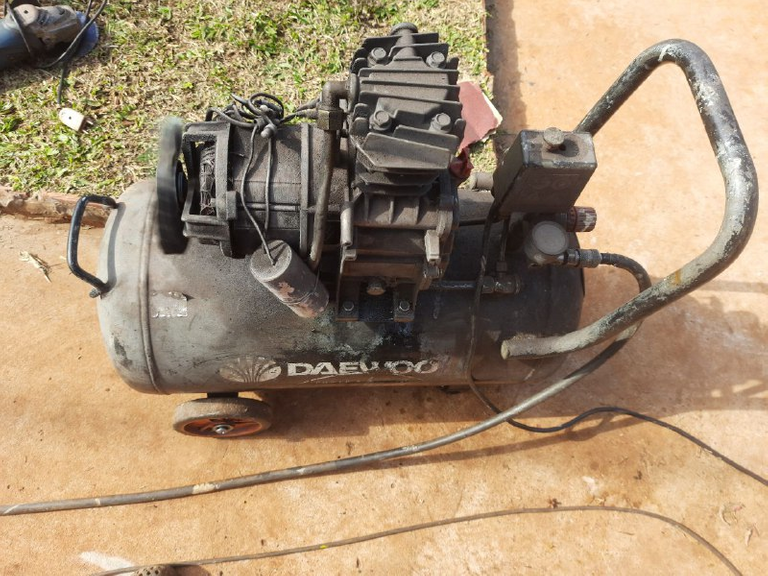 )
In such a way that to carry out this work that if we grill it with love and perseverance it is perfect, it is to make the use of electricity, without it it would be impossible, so if you like the way and way of maintaining the fence or reja, do not stop expressing your comments and your votes.
THANK YOU SO MUCH FOR FOLLOWING AND READING ME, HAVE A BLESSED START TO THE WEEK.