Hola queridos amigos de hive, doy gracias a DIOS por un día mas de vida y por tenerlos a ustedes los cuales son una fuente de inspiración referente a todo lo que hacemos en cada publicación en la cual depositamos un poquito de cada uno para hacer que dicha plataforma vaya creciendo cada día un poco mas y de esa manera seguiremos subsistiendo a todo lo que esta aconteciendo en el mundo.
Continuando que mi publicación y la terminación de la pérgola la cual como se ve en la foto cada ves falta menos para que quede bella, una ves que rellene todas las juntas como se ve con cemento liquido, prepare todo el borde, colocando reglas y tirantes de madera a nivel para poder de esa manera efectuar las terminaciones de los bordes, los cuales utilice concreto bien reforzado o sea piedra, arena y un poco mas en la medida de cemento.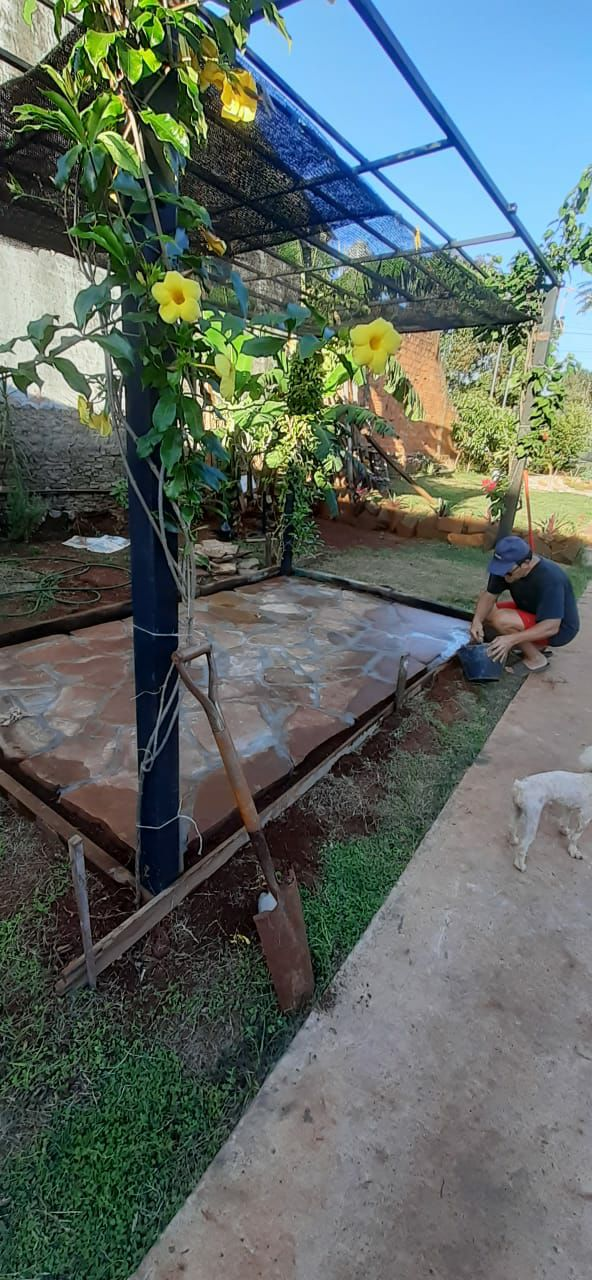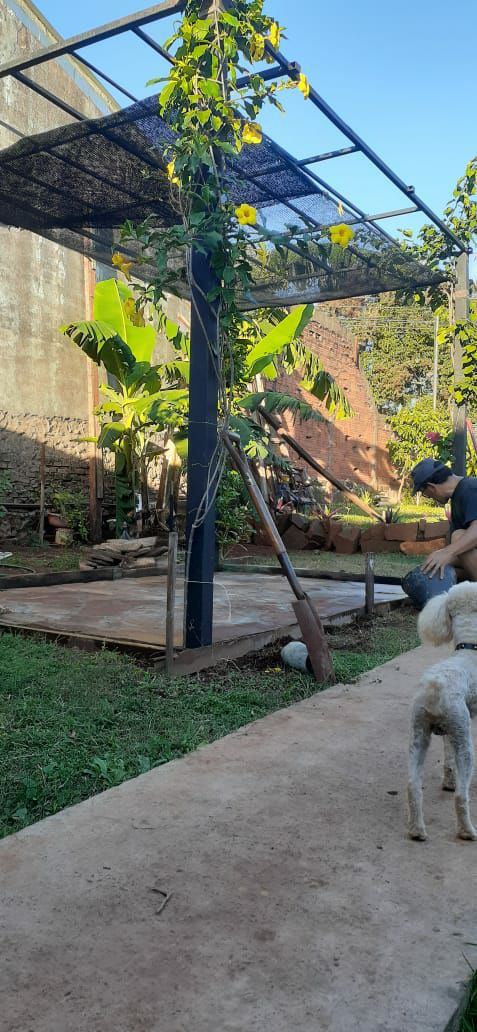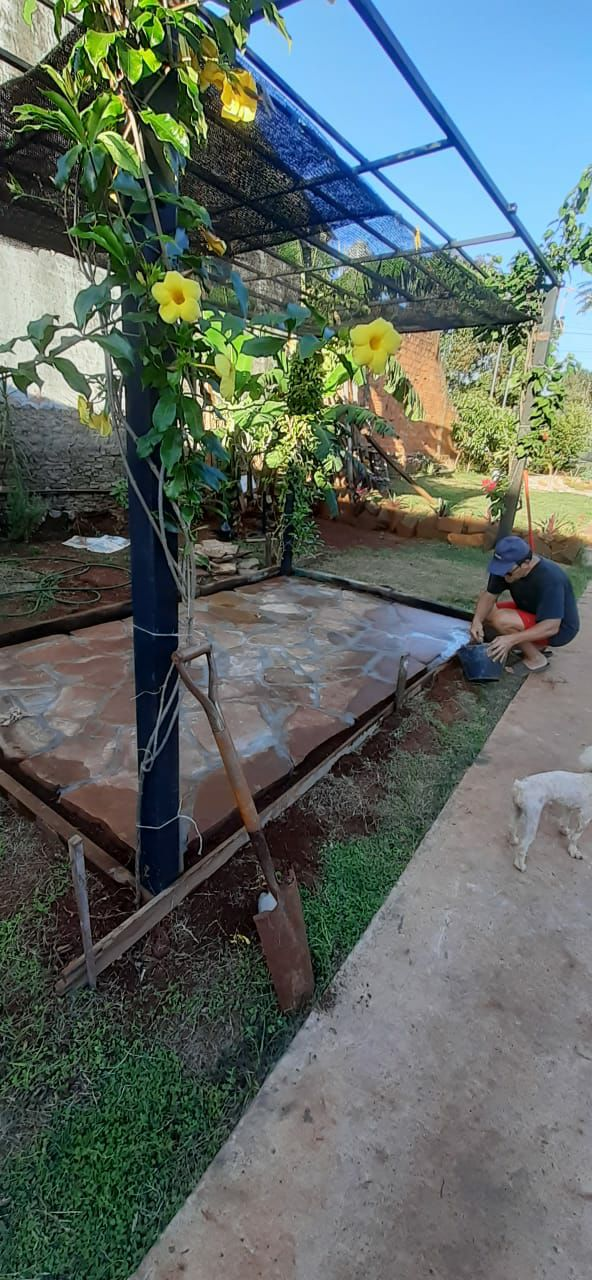 Como se ve acá, fui ultimando los detalles de los bordes y lo que me faltaría seria la parte de arriba mejorar bien la media sombra, que quede bien recta y en lo posible que cubra todo el espacio, porque su función aparte de dar sombra cuando hay mucho sol es de retener las futuras caídas de las hojas de las plantas de flores, cuando estas cubran toda la parte de arriba.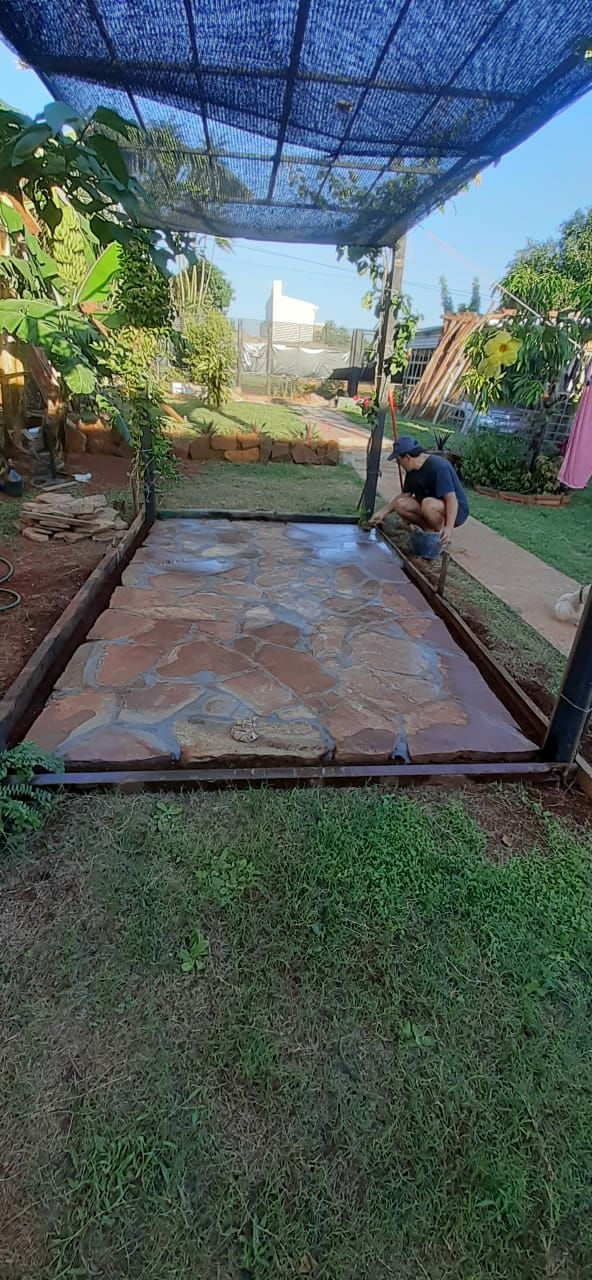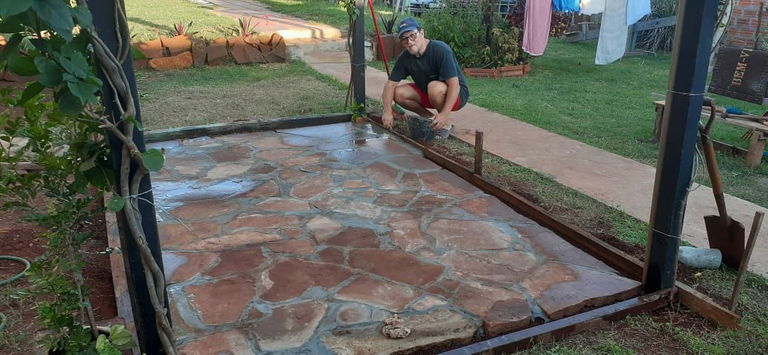 Por eso ya me estoy imaginando a futuro como quedaría todo, con todas esas flores de varios colores, brindando un hermoso escenario en el centro del jardín, con dicha pérgola terminada, como se ve ahora con los bordes rellenados, las juntas también, procedí a regar tres veces al día, es para que no ceda o se produzca rajaduras en dicho piso debido al excesivo calor que hace durante el día.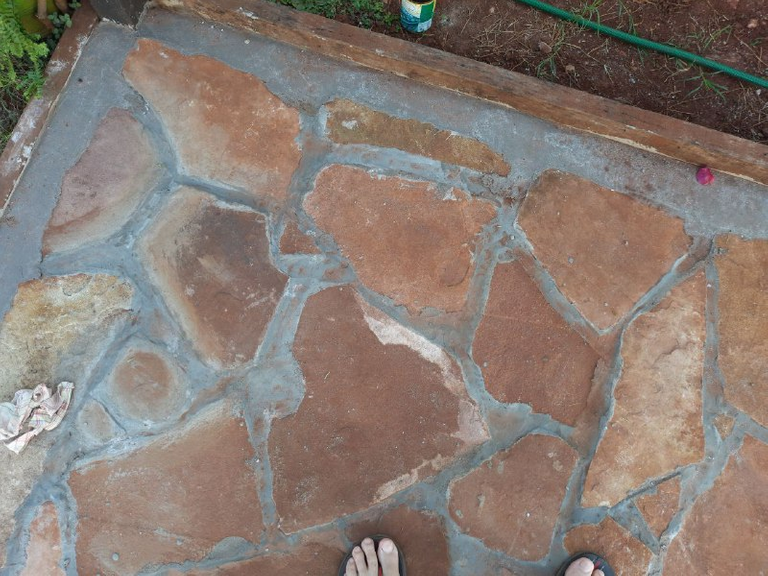 En esta foto se ve perfectamente terminado el piso y de como quedo las juntas del mismo, de la misma manera quedo todo su borde, les animo a que si lo desean amigos lo pueden hace siguiendo las instrucciones desde el post de ayer con el de hoy y también como digo siempre si le ponemos amor y perseverancia todo sale perfectamente para dar otra imagen a nuestro jardín.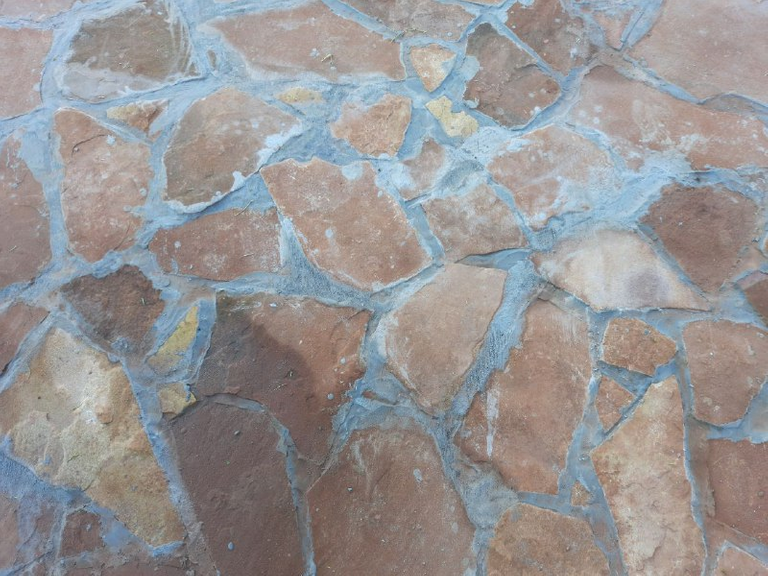 Bueno concluyo con esta manera muy simple de como construir una pérgola que no necesariamente puede ser de hierro, también la podemos construir con madera pero el detalle es que la madera, la tenemos que, primero curarla por la cantidad de incestos que la destruyen como la nombrada oruga, yo lo hice con aceite de lino quemado mesclado con tiner para luego pasarle barniz marino, quedando así terminado.
De haberles agradado todo lo indicado, espero que sea de sus agrados y el la medida que puedan lo construyan, asimismo espero de sus comentarios afirmando dicha publicación.
TRADUCIDO EN INGLES.
Hello dear friends of hive, I thank GOD for one more day of life and for having you who are a source of inspiration regarding everything we do in each publication in which we deposit a little bit of each one to make said The platform grows a little more every day and in this way we will continue to survive everything that is happening in the world.
Continuing that my publication and the completion of the pergola which as seen in the photo each time is less needed to be beautiful, once I fill all the joints as seen with liquid cement, prepare the entire edge, placing rules and braces of level wood in order to be able to make the finishing of the edges, which use well reinforced concrete that is stone, sand and a little more in the measure of cement.
! [image.png] (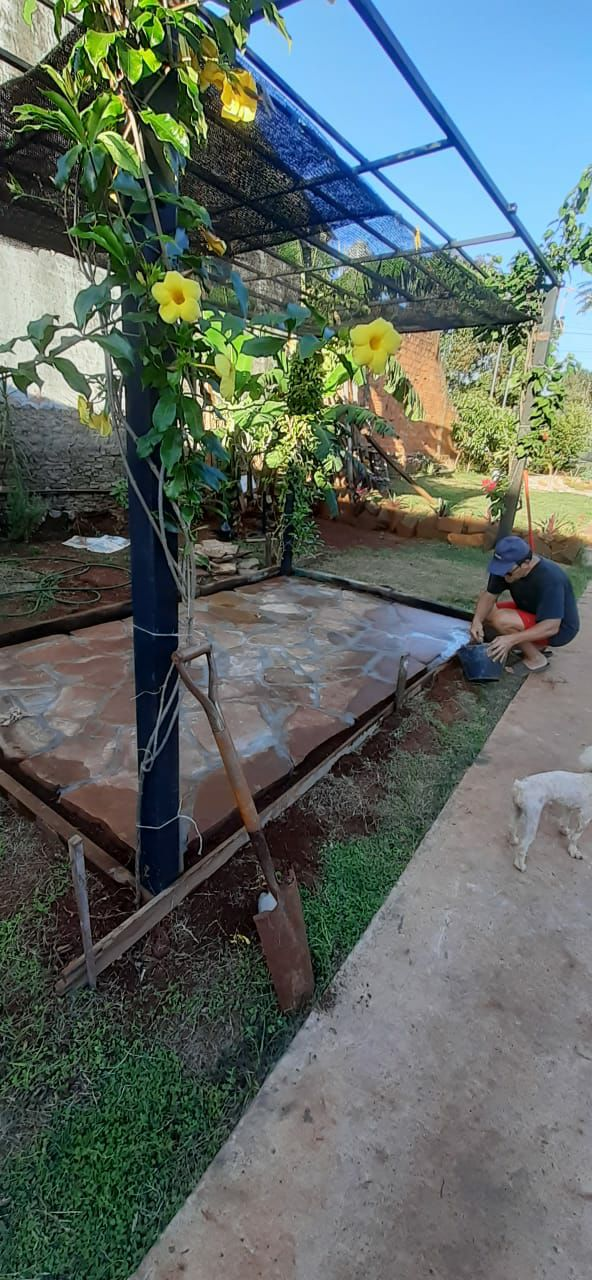 )
! [image.png] (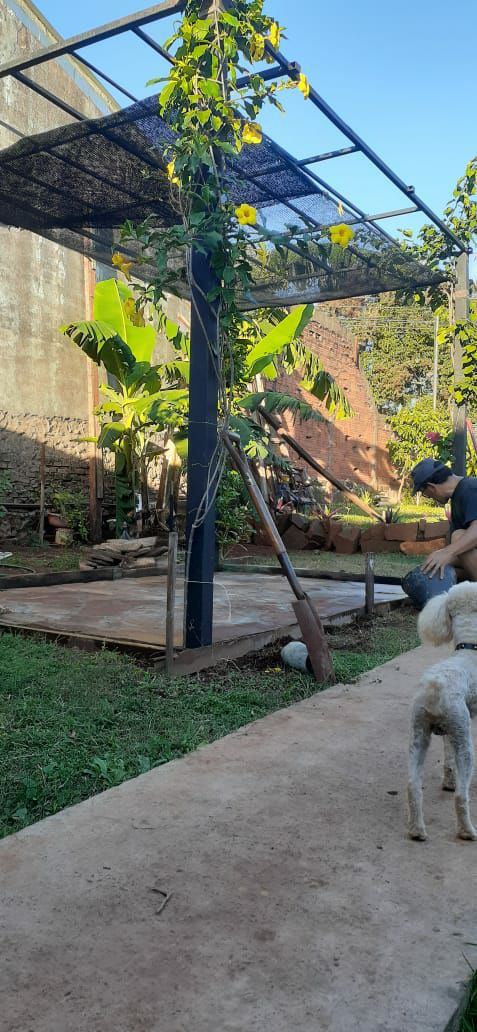 )
! [image.png] (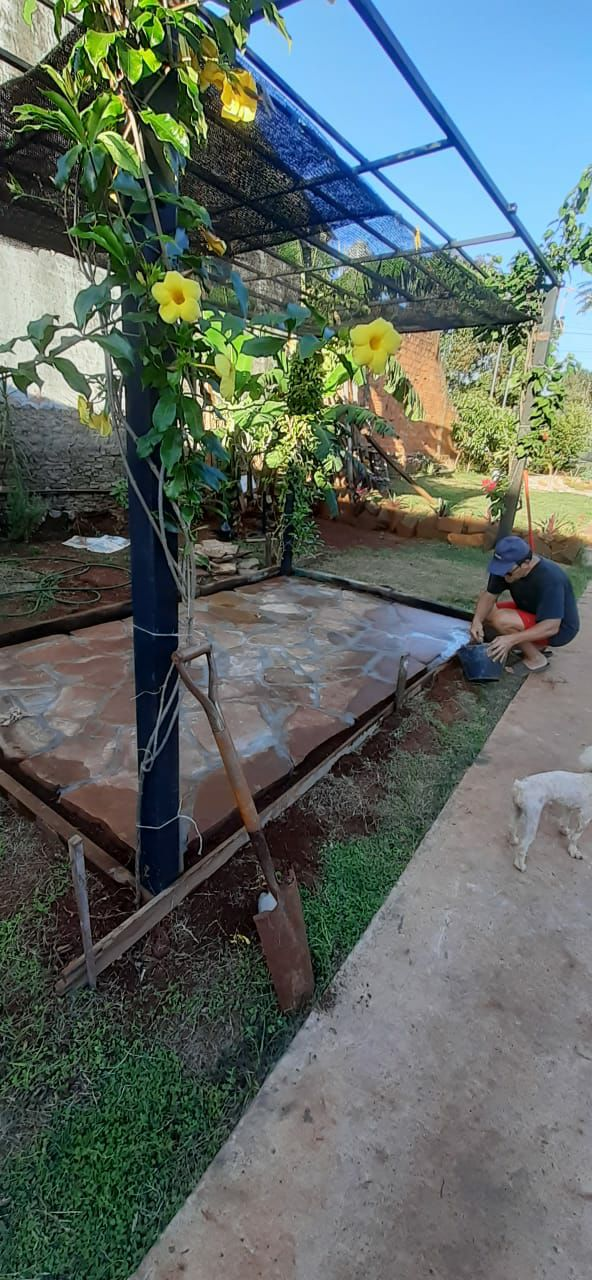 )
As you can see here, I was finalizing the details of the edges and what I would lack would be the upper part to improve the half shadow well, that it is well straight and as far as possible that it covers the entire space, because its function apart from providing shade when there is a lot of sun is to retain the future falls of the leaves of the flowering plants, when they cover the entire top.
! [image.png] (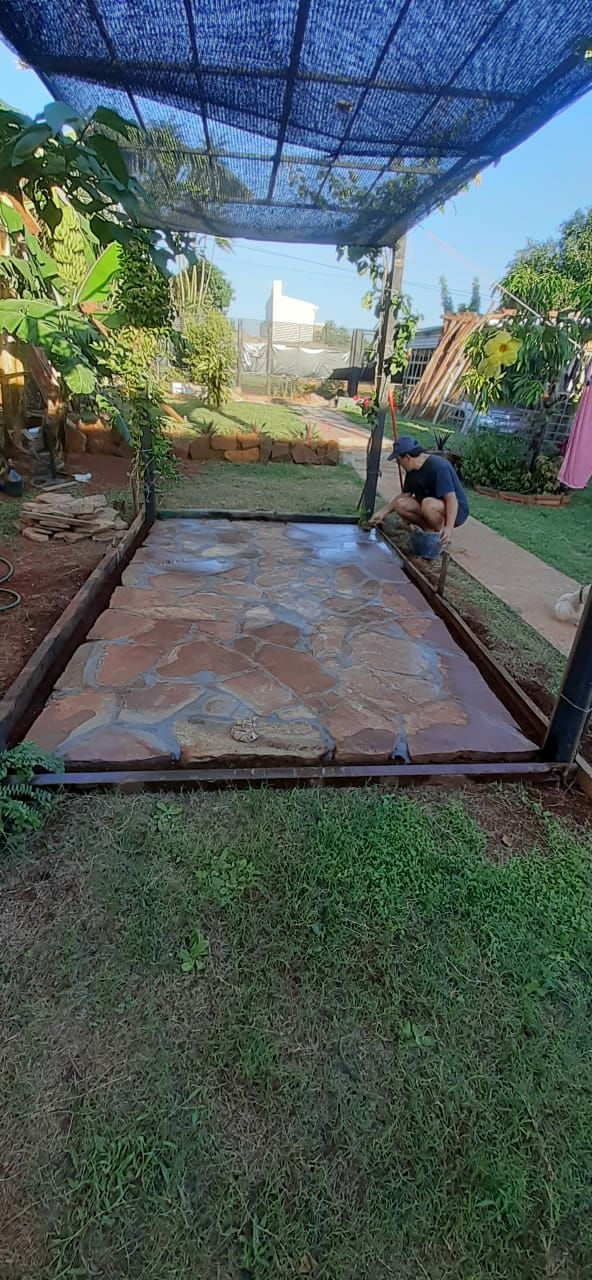 )
! [image.png] (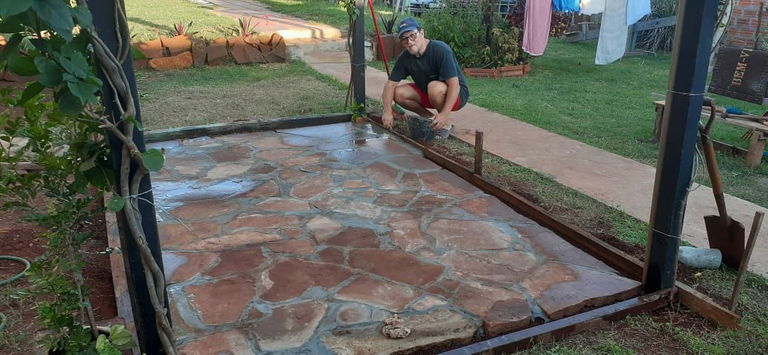 )
That is why I am already imagining in the future how everything would look, with all those flowers of various colors, providing a beautiful setting in the center of the garden, with said finished pergola, as seen now with the edges filled in, the joints also, I proceeded to water three times a day, is so that it does not give way or cracks occur in said floor due to the excessive heat it does during the day.
! [image.png] (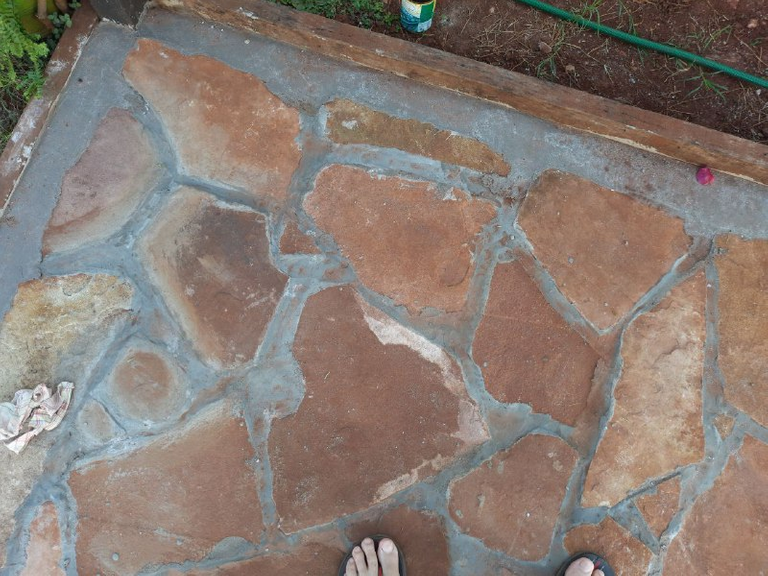 )
In this photo the floor is perfectly finished and how the joints of it are, in the same way all its edge remains, I encourage you if you wish, friends, you can do it following the instructions from yesterday's post with today's post And also, as I always say, if we put love and perseverance in it, everything works out perfectly to give our garden another image.
! [image.png] (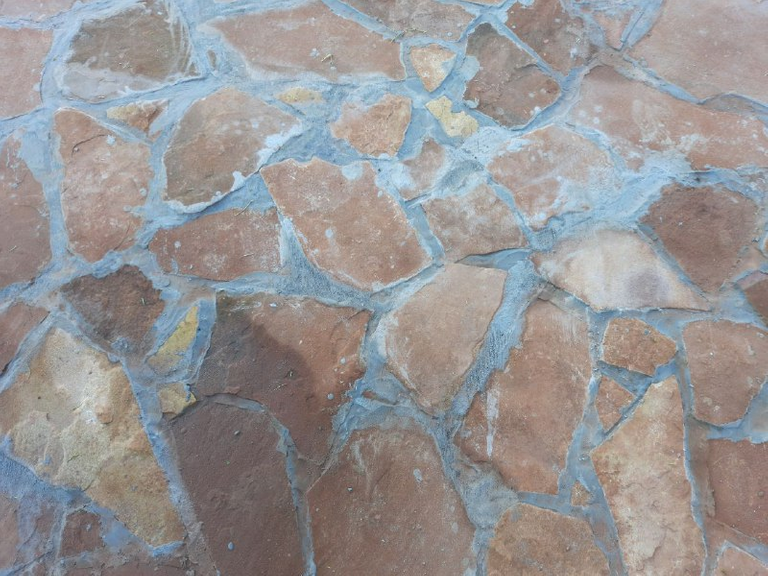 )
Well I conclude with this very simple way of how to build a pergola that can not necessarily be made of iron, we can also build it with wood but the detail is that we have to cure wood, first due to the amount of incest that destroys it, such as named caterpillar, I did it with burnt linseed oil mixed with tiner and then passed marine varnish, thus being finished.
If you have liked everything indicated, I hope it is to your liking and to the extent that you can build it, I also hope your comments affirming said publication.
THANK YOU SO MUCH FOR READING AND COMMENTING, HAVE A BLESSED DAY.
MUCHAS GRACIAS POR LEERME Y COMENTAR, QUE TENGAN UN BENDECIDO DIA.