For much more than 100 years people dreamed of impossible technologies, many artists and dreamers among others captured their futuristic ideas that today are NOT news for us.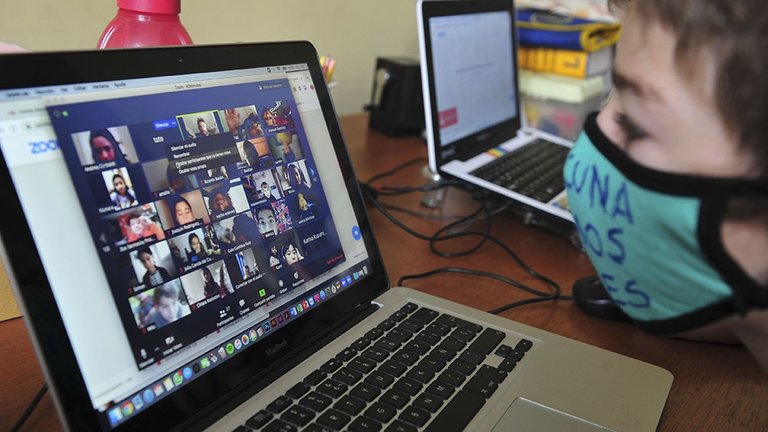 LINK
From those crazy brothers who believed they could fly to people who believed they could speak and see another person's face in real time on the other side of the planet.
Today I want to show you that crazy idea for the year 1958 about distance education that we know today.
Give the hands of a futuristic illustrator we can appreciate how this and many others imagined school classes in the future or what the classrooms of the future would be like, the teachers' attendance at school would no longer be necessary, everything would be done in a remote and interactive way since each student would have a device composed of a screen and keyboard with which they would participate in the questions and answers.
Can you imagine talking and thinking about this in 1958? Much of what these people like Arthur Radebaugh imagined is surely what led us to apply this type of technology. Today COVID-19 led us to apply it implicitly.
---
ESPAÑOL
---
Desde hace mucho mas de 100 años las personas soñaban con tecnologías imposibles, muchos artistas y soñadores entre otros plasmaban sus ideas futurístas que hoy para nosotros NO son novedad.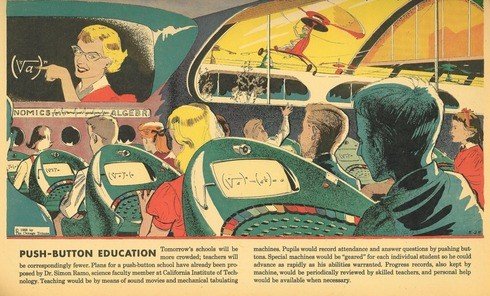 LINK
Desde aquellos locos hermanos que creían poder volar hasta personas que creían que podrían hablar y ver la cara de otra persona en tiempo real al otro lado del planeta.
Hoy te quiero mostrar esa idea loca por el año 1958 acerca de la educación a distancia que hoy conocemos.
Da la manos de un ilustrador futurísta podemos apreciar como este y mucho otros se imaginaban las clases escolares en el futuro o como serían las aulas del futuro, la asistencia de los profesores al colegio ya no sería necesaria, todo se haría de manera remosta e interactiva ya que cada alumno contaría con un dispositivo compuesto por pantalla y teclado con el que participaría de las preguntas y respuestas.
¿Te imaginas hablar y pensar en esto en el año 1958?, mucho de lo que estas personas como Arthur Radebaugh imaginaba seguramente es lo que nos llevó a aplicar este tipo de tecnoogía. Hoy el COVID-19 nos llevó a aplicarla de manera implícita.
Gracias por pasar.