The bicycle was born as a vehicle for daring people, the creators baptized it as: "The pedals" since they were the mechanisms to give impetus to what we now call the bicycle.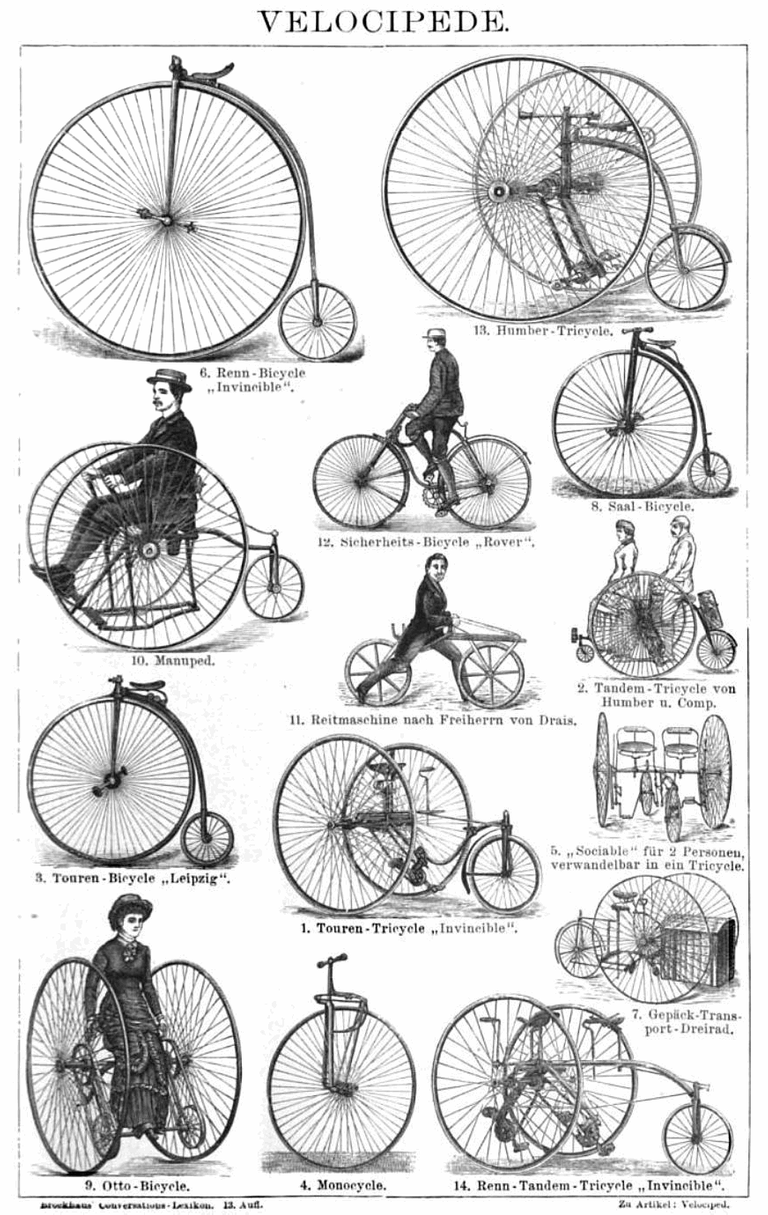 Link
In 1861 the "Velocipede" was created, which was rear-wheel drive with pedals on the wheel, for example, with thirty strokes per minute it could reach a maximum speed of five kilometers per hour.
As the innovations of this vehicle progressed, the front wheels with the pedals became larger and the rear smaller in this way the speed could be increased.
By 1870 the front wheel had been enlarged too much and that model was called "High Wheeler". They sought greater speed, less weight but lost balance, this velocipede had a wheel of 1.40 m in diameter and with one pedal stroke it reached 4.40 meters but the higher the vehicle was, the greater the instability.
By 1880, the bicycle was standardized with a 1.20 m front wheel and a 0.40 m rear wheel.
---
ESPAÑOL
---
La bicicleta nace como un vehículo para gente audaz, los creadores lo bautizaron como: "Los pedales"ya que eran los mecanísmos para dar impulso a lo que hoy llamamos bicicleta.
En 1861 se crea el "Velocípedo" que era de tracción trasera con pedales en la rueda, por ejemplo con treinta pedaleadas por minutos podía llegar a la velocidad máxima de cinco kilómetros por hora.
A medida que se avanzaba con las innovaciones de este vehículo las ruedas delanteras con los pedales se hacía mas grande y la trasera mas pequeña de esta manera se podía aumentar la velocidad.
Para 1870 se había agrandado demasiado la rueda delantra y a ese modelo se lo llamó "High Wheeler" se buscaba mayor velocidad, menos peso pero se perdía equilibrio, este velocípedo tenía una rueda de 1,40 m de diametro y con una pedaleada llegaba a 4.40 metros pero cuanto mas altura tenía el vehículo mayor era la inestabilidad.
Para 1880 se estandarizó la bicicleta con la rueda delantera de 1.20 m y la trasera de 0.40 m.
Gracias por pasar.