HOLA AMIGOS 💕💕🐝🐝 // HI FRIENDS 💕💕 🐝🐝
Espero que se encuentren muy pero muy bien ☺️ Hoy es 21 de Diciembre y en muchos hogares damos la bienvenida a la Navidad, recibiendo el espíritu de la navidad, en muchos hogares realizamos una cena para compartir con la familia y hacerle una Carta dónde pedimos 21 deseos, y buscamos la carta del año pasado para tachar los deseos cumplidos en darnos cuenta por cual de los deseos debemos trabajar más, mientras acomodamos todo lo de la cena fui al jardín para mirar las plantas de girasoles que ya florecieron junto con mi sobrino, y para nuestra sorpresa nos dimos cuenta que todas las hojas de la mata de girasol estaban picadas por algún animalito, observando bien las hojas nos dimos cuenta que en la plata habitan o por lo menos estaban presente varios animalitos, entre ellos dos mantis bebés, un grillo verde y otros animalitos más pequeños.
I hope you are very, very well ☺️ Today is December 21st and in many homes we welcome Christmas, receiving the spirit of Christmas, in many homes we make a dinner to share with the family and make a letter where we ask for 21 wishes, and we look for the letter of last year to cross out the wishes fulfilled to realize which of the wishes we should work more, while we arranged everything for dinner I went to the garden to look at the sunflower plants that already bloomed along with my nephew, and to our surprise we realized that all the leaves of the sunflower bush were bitten by some little animal, observing well the leaves we realized that in the silver inhabit or at least were present several small animals, including two baby mantises, a green cricket and other smaller animals.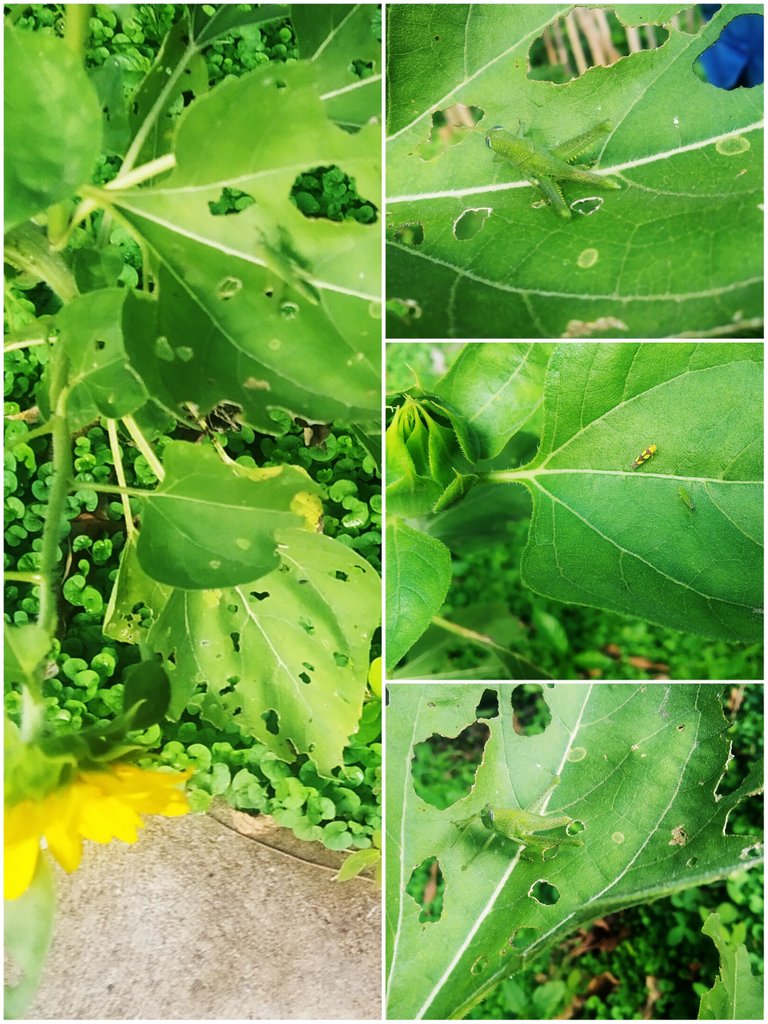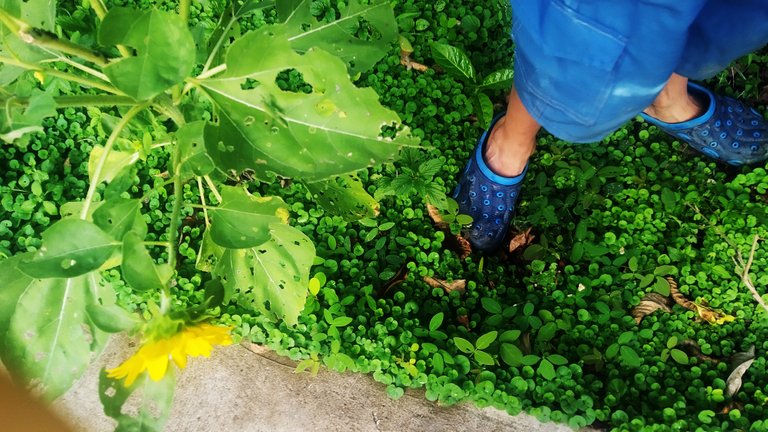 ---
En cuanto llegue al jardín, ví los girasoles que ya estaban florecidos, uno de mis sobrinos me dice: tía ven a ver la mantis bebé 🥰 me acerque y efectivamente estaba allí una mantis bebé, era parecido a un pedacito de hoja pero se movía, con mi teléfono la fotografía no queda muy bien pero es muy hermoso ver como un animalito puede semejarse tanto a una hoja verde... Trate de capturar las imágenes lo mejor que pude. Hace algún tiempo atrás puede observar como una mantis adulta formaba su nido en una de las matas de orégano de mi patio, por ser esas mantis tan pequeñas, pensé que tal vez cerca puede estar su madre o sus hermanos si es que una mantis puede tener más de nos bebés mantis, lo que si es cierto que no había tenido está experiencia de ver unas mantis tan pequeñas 😊 lo que si es cierto es que fue algo extraordinario poder observar en primera fila este tipo de cosas que nos brinda la naturaleza.
As soon as I got to the garden, I saw the sunflowers that were already in bloom, one of my nephews told me: aunt come and see the baby mantis 🥰 I approached and indeed there was a baby mantis, it looked like a little piece of leaf but it was moving, with my phone the picture is not very good but it is very beautiful to see how a little animal can look so much like a green leaf... I tried to capture the images as best I could. Some time ago I could observe how an adult mantis formed its nest in one of the oregano mayas in my yard, because those mantises are so small, I thought that maybe its mother or siblings could be nearby if a mantis can have more than one baby mantis, what is true is that I had not had this experience of seeing such small mantises 😊 what is true is that it was something extraordinary to observe in first row this kind of things that nature gives us.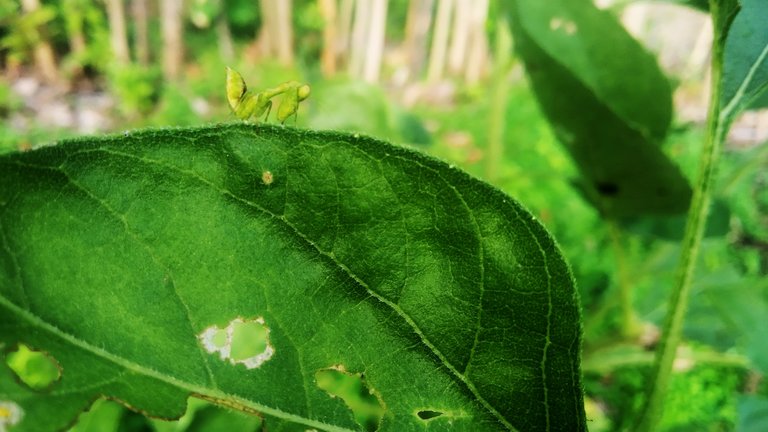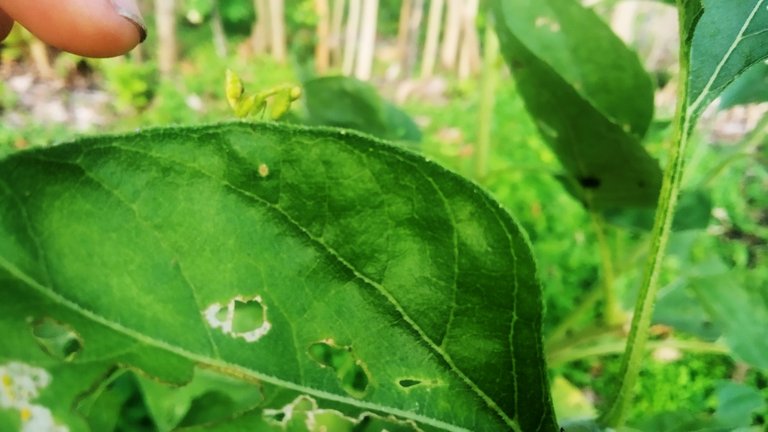 ---
Luego al ver tan picadas las hojas de la mata de girasol, pensé que esas mantis tan pequeñas no podían haber causado tanto daño a las hojas de la planta de girasol, así que entre mis sobrinos y yo observamos con más cuidado a ver si encontramos más mantis, pero no fue así, y encontramos un grillo verde🦗 que estaba camuflajeado con lo verde de la hoja de la mata de girasol 🌻 lo que si tengo conocimiento es que los grillos verdes se comen las hojas de las plantas, tanto así que tengo una tía que los caza y los mata para que no se coman sus matas, yo de verdad no tengo corazón para matar un grillo que está allí sin hacerme nada 😶 pero lo que si estoy segura es que mi tía lo hubiese agarrado y lo pisa 🤪 ella adora sus matas y no le gusta que ni nosotras la estemos tocando jejejeje.
Then when I saw the leaves of the sunflower bush so stung, I thought that those small mantises could not have caused so much damage to the leaves of the sunflower plant, so my nephews and I observed more carefully to see if we found more mantises, but we didn't, and we found a green cricket🦗 that was camouflaged with the green of the leaves of the sunflower bush 🌻 what I do know is that green crickets eat the leaves of the plants, so much so that I have an aunt who hunts them and kills them so that they do not eat her bushes, I really do not have the heart to kill a cricket that is there without doing anything to me 😶 but what I am sure is that my aunt would have grabbed it and stepped on it 🤪 she loves her bushes and does not like that even we are not touching it hehehehehehe.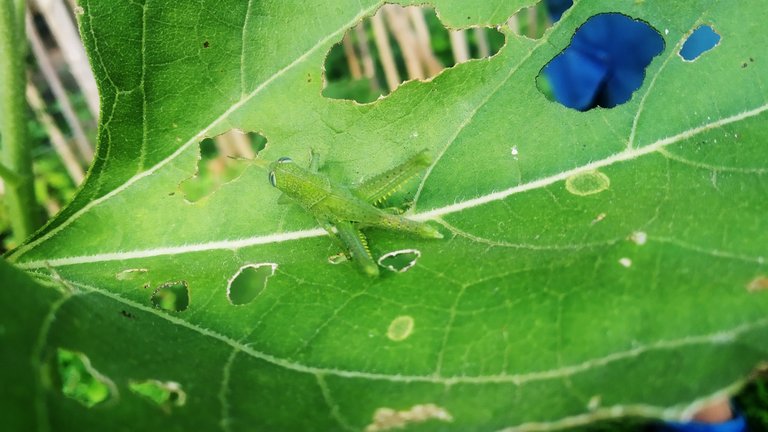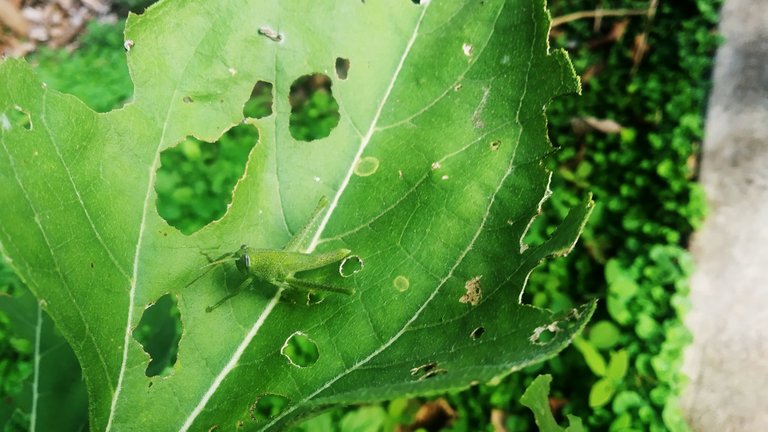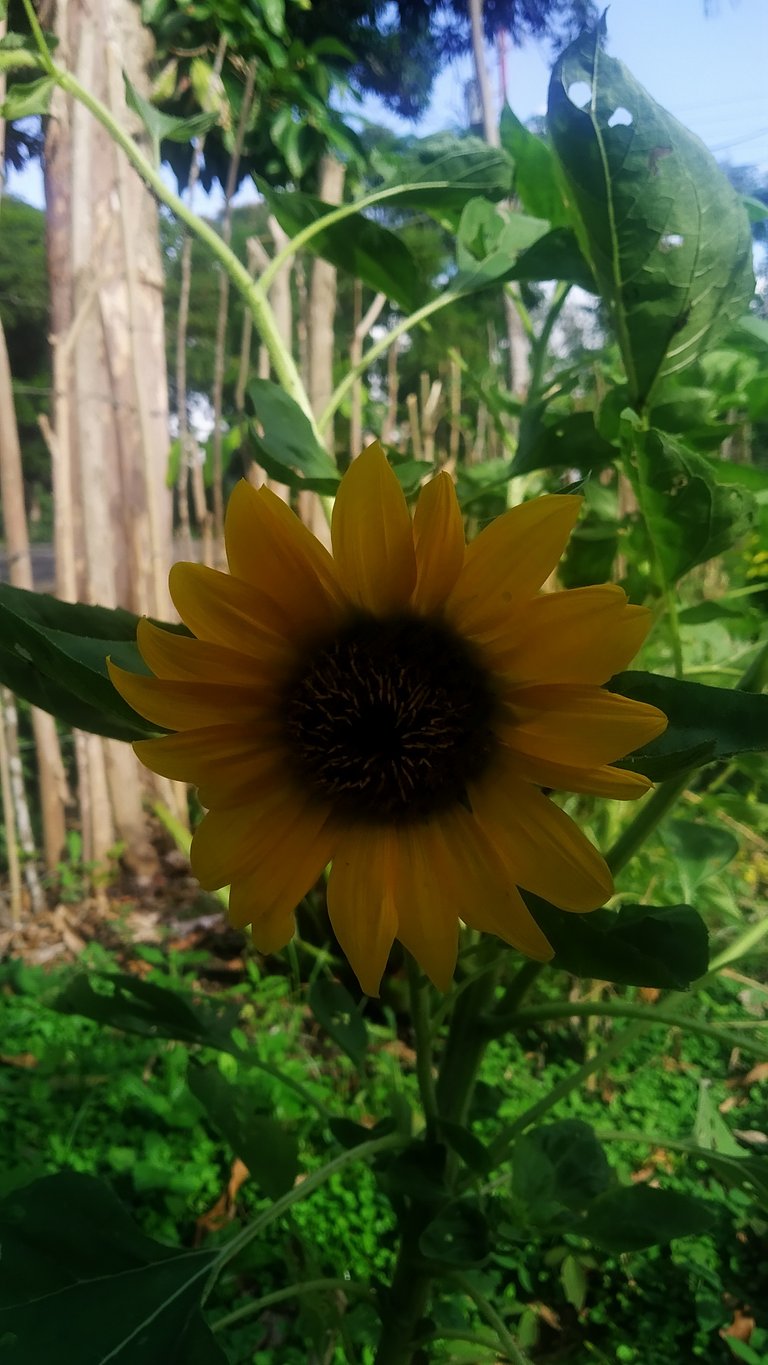 ---
Adicional a las mantis y el grillo verde, también estaban otros animalitos de colores llamativos, amarillo, verdes, gris también tenía la mata muchas hormigas amontonadas en el tallo... No sé que pueda hacer para rescatar la salud de las matas de girasol, porque todas tienen las hojas con huecos, y puede que si se le siguen comiendo las hojas la mata de girasoles se seque en su totalidad, y una de mis flores favoritas es el girasoles 🌻 si alguien me lee y sabe que puedo hacer para salvar mis matas de girasol, claro sin usar pesticidas. Espero que alguno de ustedes mis queridos amigos tengan un tips que me pueda ayudar, de antemano muchísimas gracias 🤗💕🐝
Additional to the mantis and the green cricket, there were also other little animals of bright colors, yellow, green, gray, the bush also had many ants piled on the stem... I don't know what I can do to rescue the health of the sunflower bushes, because they all have leaves with holes, and it may be that if they keep eating the leaves the sunflower bush dries up in its entirety, and one of my favorite flowers is the sunflower 🌻 if someone reads me and knows what I can do to save my sunflower bushes, of course without using pesticides. I hope some of you my dear friends have a tips that can help me, thank you very much in advance 🤗💕🐝