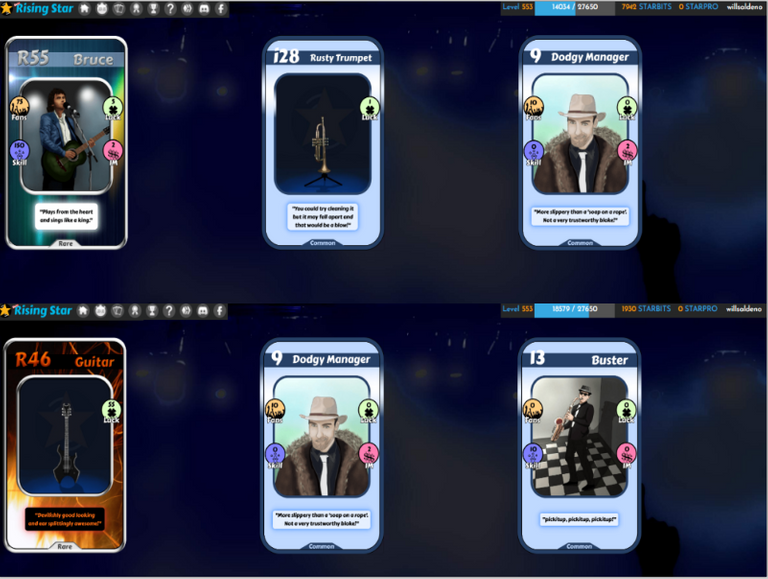 Greetings, my dear Earthlings. I invested 23000 STARBITS and 12.5 Hives this time, the first in two packs that can see the result of what I found in the first image, the second I will explain them below, so that you have an idea and see if you like it and are encouraged to try .

Saludos, mis estimados terrícolas. Invertí 23000 STARBITS y 12.5 Hives esta vez, los primeros en dos pack que pueden ver el resultado de lo que encontré en la primera imagen, lo segundo se los explicaré más abajo, para que tengan idea y vean si les gusta y se animan a probar.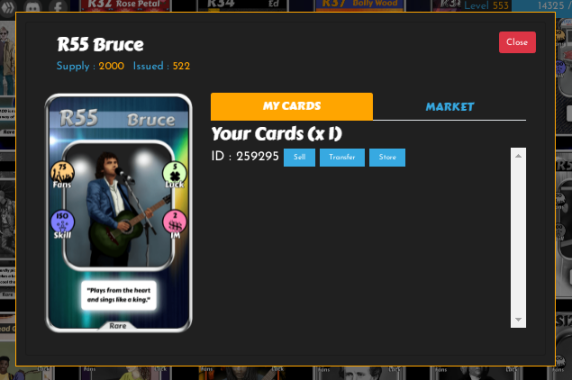 As you can see in the second image, in the first envelope I found a R55 Bruce, a card that I did not have, so I am happy, since that improves my percentage in the collection, which every time brings me closer to completing it, in the second pack , the best thing to highlight was that R46 Guitar, but in the third image notice that I have already found several, so there is not so much joy. Who does not prefer that those that we do not have come out? LOL.

Como pueden ver en la segunda imagen, en el primer sobre encontré un R55 Bruce, tarjeta que no tenía, así que estoy contento, ya que eso mejora mi porcentaje en la colección, lo que cada vez me acerca a completarla, en el segundo pack, lo mejor a destacar fue esa R46 Guitar, pero que en la tercera imagen noten que ya he encontrado varias, así que no es tanta la alegría ¿Quién no prefiere que le salgan esas que no tenemos? jajaja.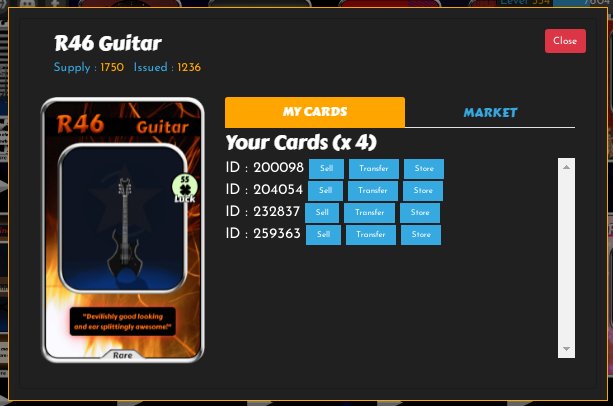 While I pause to show the previous post, the result of the special missions, with that card in which I invested to be able to do those missions and nothing yet, and that I have done the missions once I find a clover to see if It helps me a little and nothing, as you can see in the following image, I have not found any of the two cards that can be in that mission, the posts are empty and I do not want it to happen to me like the previous one in which I did not find anything and I did not buy the card now it has gone up a lot, the cheapest I looked at in more than 14 Hives, that could happen with these that are already around that price or close and could go up much more, because it is seen that it is more difficult to find them than the other from the previous special mission.

Mientras hago una pausa para mostrar lo del post anterior, el resultado de las misiones especiales, con esa tarjeta en la que invertí para poder hacer esas misiones y nada aún, y eso que he hecho las misiones una vez que encuentro un trébol a ver si me ayuda un poco y nada, como pueden ver en la imagen siguiente, no he encontrado ninguna de las dos tarjetas que se puede en esa misión, los puestos están vacíos y no quiero que me pase como la anterior en la que no encontré nada y no compré la tarjeta ahora ha subido mucho, la más barata la mire en más de 14 Hives, eso podría pasar con éstas que ya andan por ese precio o cerca y podrían subir mucho más, porque se ve que es más difícil encontrarlas que la otra de la misión especial anterior.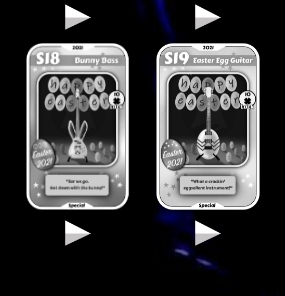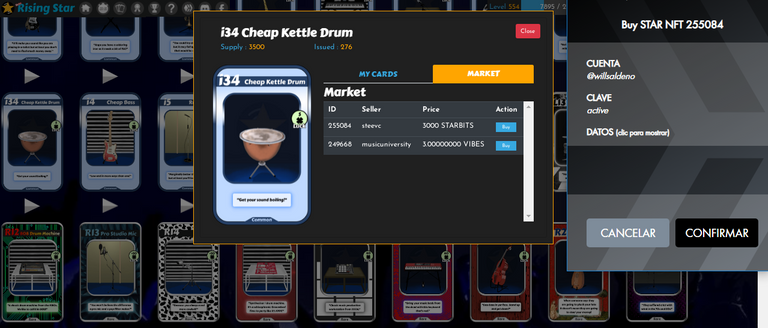 En esta tarjeta invertí 3000 STARBITS, yo creo que esta a bajo precio, porque son algo difícil de encontrar en los pack, a pesar de ser una tarjeta común, de ella también hable en el anterior post sobre inversiones y juegos, así que cada tarjeta de esas dos que mencione comunes que vea baratas las voy a comprar, ya que quiero guardar al menos unas 5 de éstas, lo que me ha abierto una idea, voy a invertir en 10 tarjetas de cada una comunes para ayudar un poco en la economía del juego, calculo que me costaran unos 800 STARBITS cada tarjeta comunes, y son unas 9, por lo que invertiré cerca de 80, que será mi presupuesto para esto, comenzaré a reunirlos desde este momento, por lo que tardaré unos 2 días o menos, dependiendo cuantos quest haga.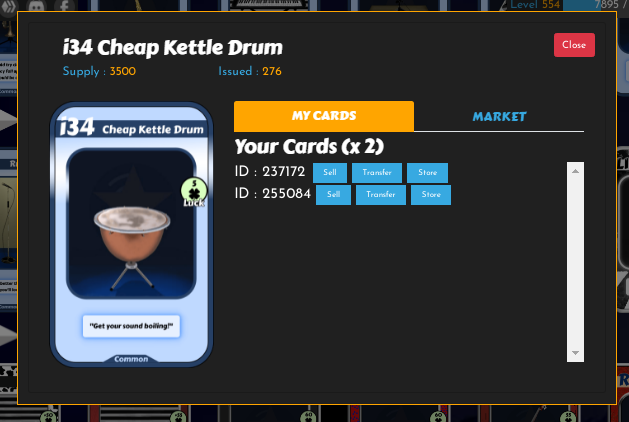 Here in that image above you can see the mining tokens that I invested in I had already mentioned in VIBES, but the 12.5 Hives this time, I invested in the LENM mining token, I did it to test its profitability and see if it is worth saving to invest there, for now notice something, that the VIBES is more expensive, around 0.3 Hives and the LEN a little more than 0.1, and with everything and that the VIBES miner is somewhat cheaper 4.5 Hives the last time I check, and the LENM, 5Hives each, I do not know if this is based on the profitability of each one, I must analyze it with this test, if anyone knows about this I would appreciate leaving me a comment. It's good that the game includes more token to pay for the packs, that helps those who start and gives depth to our beloved Risingstar game, as always the owners are looking for new things to give the game durability, I congratulate them for that.

Aquí en esa imagen de arriba pueden ver los token mineros en los que invertí ya había mencionado en VIBES, pero los 12.5 Hives de esta vez, los invertí en el token minero LENM, lo hice para probar su rentabilidad y ver si vale la pena ahorrar para invertir allí, por ahora note algo, que el VIBES es más costoso, ronda 0.3 Hives y el LEN un poco más de 0.1, y con todo y que el minero del VIBES es algo más barato 4.5 Hives la última vez que revise, y el LENM, 5Hives cada uno, no se si esto se basa en la rentabilidad de cada uno, debo analizarlo con esta prueba, si alguien sabe sobre esto le agradecería dejarme un comentario. E bueno que el juego incluya más token para poder pagar los sobres, eso ayuda a esos que comienzan y da profundidad a nuestro querido juego Risingstar, como siempre los dueños andan en busca de nuevas cosas para darle durabilidad al juego, les felicito por eso.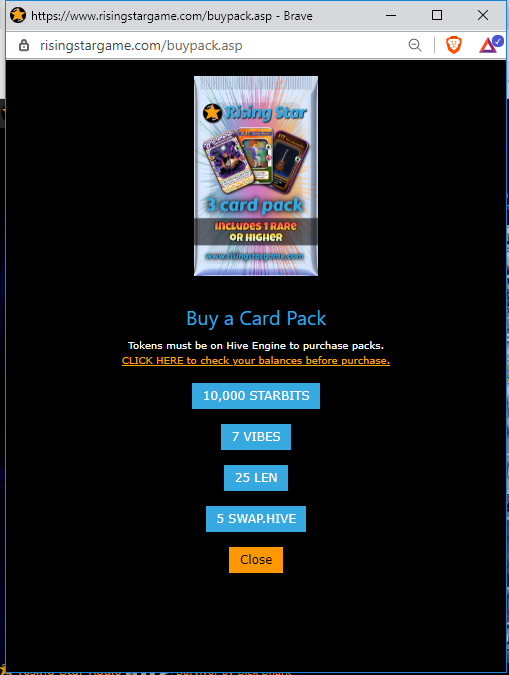 This is where the lyrics go for today, I invite you to continue looking a little more of this world in the next publication, I hope it will be tomorrow, or later, maybe the voice will be seen or will let you see something about games, so if you liked it What is being done for you here, do not hesitate to support the work with something positive, below I invite you to:

Hasta aquí llegan las letras por hoy, les invito a seguir mirando un poco más de este mundo en la siguiente publicación, espero sea mañana, o más tarde, quizás la voz verse o o deje ver algo sobre juegos, así que si te ha gustado lo que se hace para ustedes aquí, no dudes en apoyar el trabajo con algo positivo, allí abajo te invito a: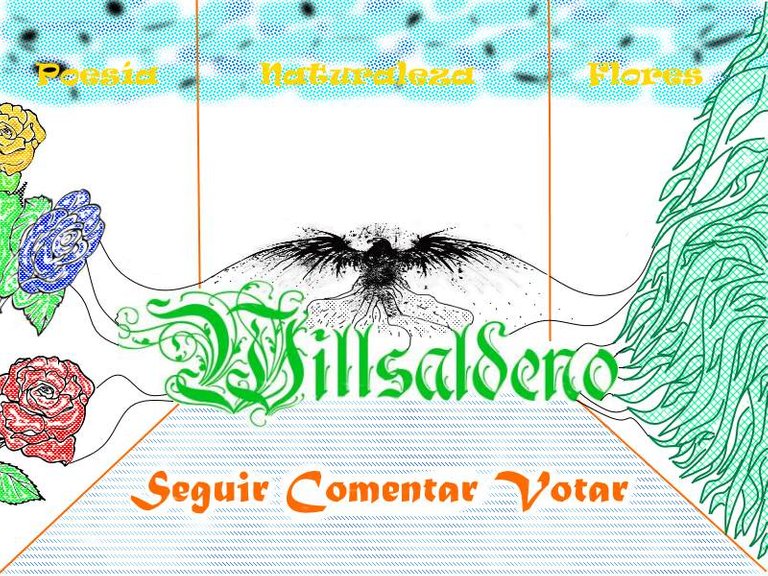 Nota-Note
Bilingüe: Que utiliza dos lenguas al mismo nivel o se hace en dos lenguas
Bilingual: That uses two languages ??at the same level or is done in two languages.

All images are screenshot of the game

Risingstargame and the currency of the token was made in collage style, with the program, Paint.net, to give an idea of ​​a possible currency that is surely made in a very more professional if they do it in the future.

Todas las imágenes son capture de pantalla del juego

Risingstargame y la monedo del token fue realizada a estilo collage, con el programa, Paint.net, para dar una idea de una posible moneda que de seguro la realizan con una manera mucho más profesional si en un futuro ellos la realizan.