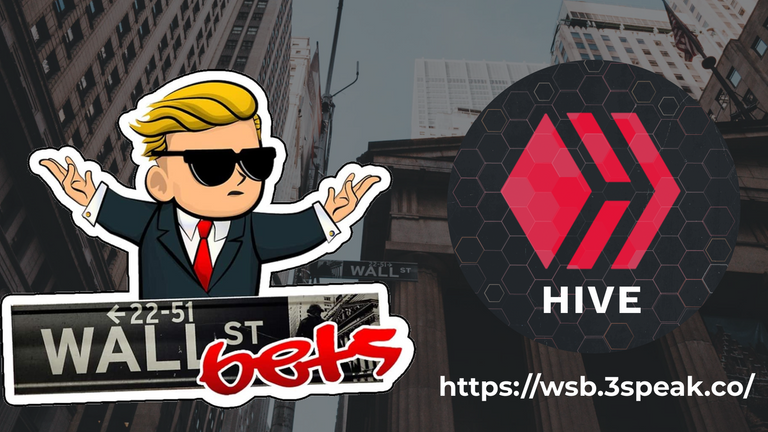 Greetings my dear Earthlings. Today I make my presentation in this WallStreetBets community, and I do it with something that seems very simple, but that many people because they do not know, many times lose the opportunity to earn a good amount of money, or grow if they do it well, also if they They give the conditions as mostly happens in the rises of a crypto, this time it is the Hive. I always monitor the price on a daily basis and for some time ago, on 02/03/2021, I noticed that it began to jump, at that time I had to pay a debt, I was analyzing where to invest, although not I have a lot of capital that is said (only invest the capital according to my pocket) as my work deserves (I live from what I earn here in this ecosystem) I always go around reviewing things that give me a possible profit, more than any Hive Engine token and games on the blockchain, and in that something inside me told me that a rise in the Hive could be approaching, as I mentioned before I had a debt of $ 300 that I borrowed to invest, but I did not have anything at that time, like this I decided to gather everything I could by selling some cards (mainly from the responsible game where I invested, dCity) to top it off, the game has a continuous drop in the price of its token, the SIM, so I saw the ROI budget reduced considerably, with the What did I think? r debt. So I started selling and collecting Hives and hoping it would go up. Some people started to play a joke and spread a rumor (which was false, with an image where a famous influencer (Elon Musk named was the DOGE) but it seems that that (the false image where they changed the name of the DOGE and placed Hive) too it had its influence, although I already saw the rise coming, a while ago the same thing happened and I made good money. Many people do not know this and are not pending, but those who do, can earn good money, if they calculate which it will be the stopping point, and hopefully they sell at their highest point The times that it has happened I put an estimate somewhat lower than most think.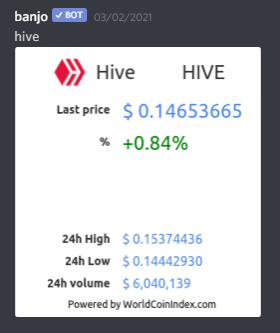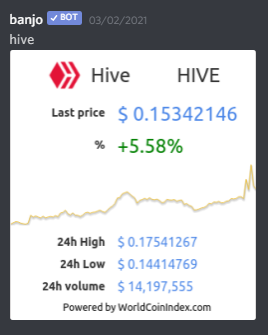 )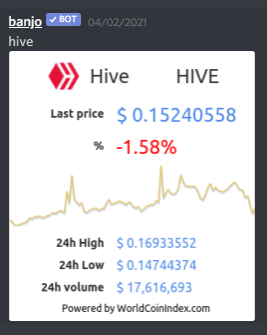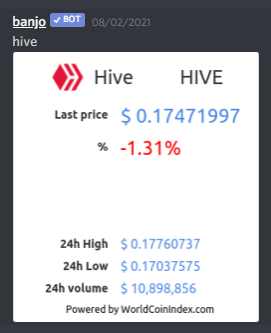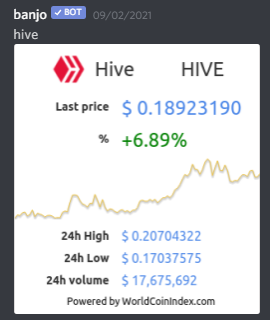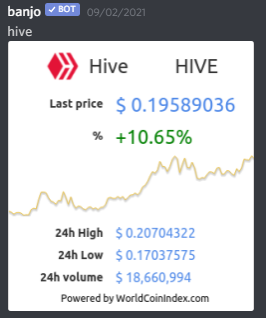 If this were given when dCity was not in trouble, surely it would be earned much more (but it could be, it has no place) so I had to sell and collect a good amount of Hives, wait for the right moment between falls and rises, but Always with a stipulated price, where he had to sell and change to another more stable currency, while monitoring the price, he was gathering $ 100 in Hives and then waiting and praying to be lucky.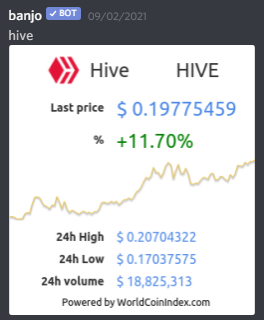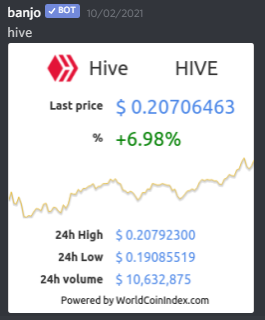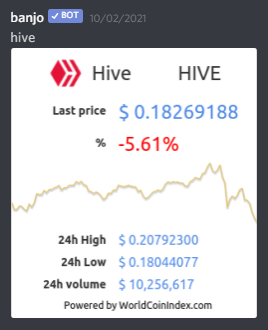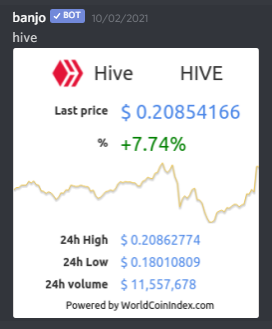 The Hive has something that announces its rise, I don't know, I'm always pending, once I step 0.2, something told me that it would go to more than 0.3, and when I started to collect it was at 0.13 , so when I reached 0.23, and had already doubled the capital to $ 200, I felt the temptation to sell at that moment, but that was where the experience made me wait, my ceiling, that price that I stipulated to sell.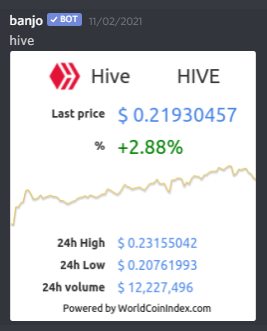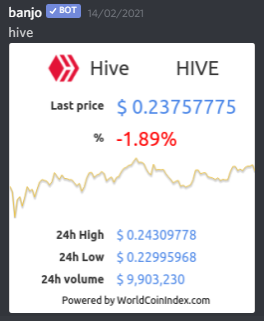 This is when yesterday I hit my goal, $ 0.37 and so I saw the capital tripled in a miraculous way, which allowed me to have the money to cover the payment of my debt, and do not think I did not think which can go up to $ 1, because reviewing SatoshiStreetBets, I saw a twitter of a whale announcing that:
2,500,000 #STEEM ($ 1,122,663) transferred from an unknown wallet to #Upbit
This type of thing always influences and well the price has risen, pleasantly. So I changed my target price.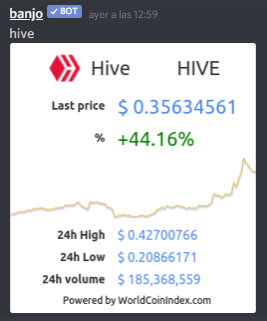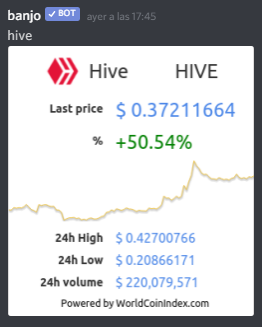 I also think it was luck, because once I changed, the price started to drop, of course, I have faith that it will go up and I will keep collecting hives, I know many will too, so for sure, go up again at least lake, but the truth I want this to be the moment of the Hive and why not? Suddenly stepping on $ 1 or even $ 2 would be great, as I always want the best for this ecosystem and that would be a good boost for all of us who make life here.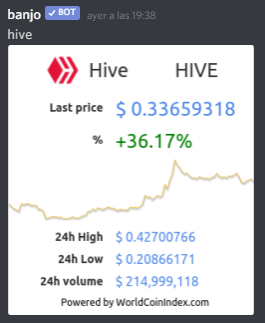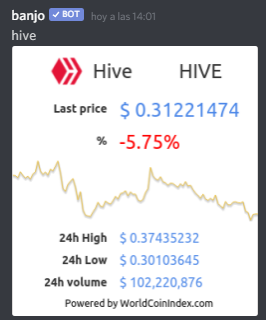 Here I show you how the price of the SIM has plummeted, there I have lost a good amount of money, or rather, if it is not recovered I will lose it, because there is still hope that it will rise from new at its price. I have already written a few posts on the subject, and now more than before, I think that this is more than all for not having released new cards, which serve as an incentive for us players to invest more SIMs and thus reduce the amount in circulation, but hey, let's hope that the owner, one day reacts and the game recovers, because there I put everything I have, trying to grow and be able to generate a little more money, but this is how this work is, some continue, others They lose, but I continue in the fight, and just like throughout these 3 years that I have been here, I will try to continue in the fight for tomorrow's bread.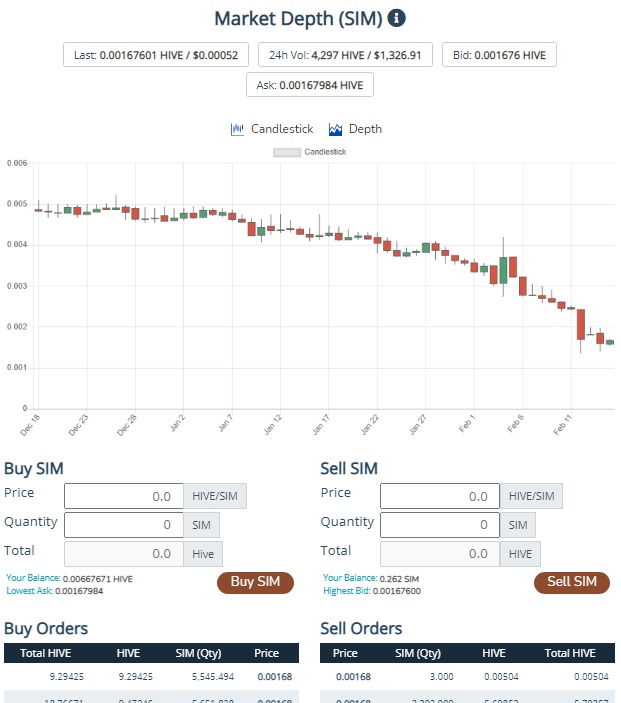 This is how monitoring any token and if you learn enough, you can earn some money investing, although there are many ways, there are a good number of people who do not know what they do or how to take advantage of a hike, of course there is always the risk, but that is our job, trying to learn enough, to earn something at every opportune moment.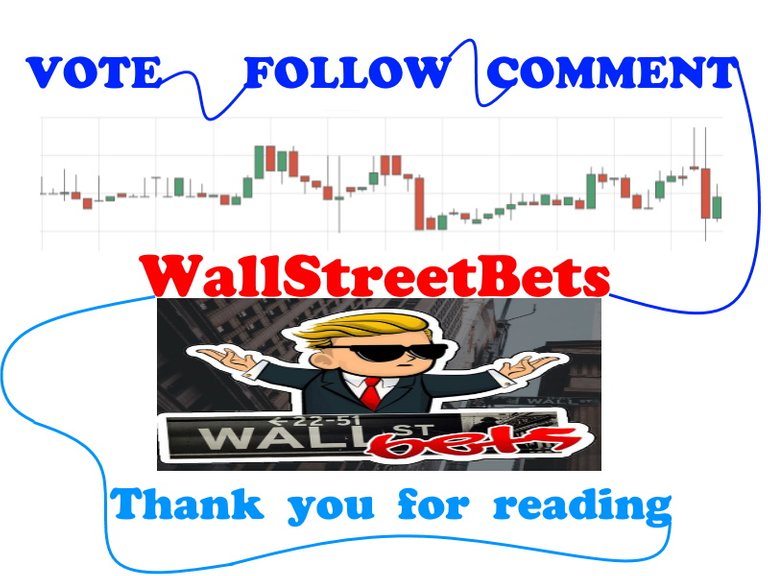 The images are screenshots, and true copies of the sites where they have been taken, the copyright of the same to the site where it was taken is recognized, I present collages made with the intention of offering support material to the content and they are made with the Paint.net program. I am not an expert in investments or bonds, this is only my opinion and it is your responsibility whether you take it into account or not, each person is responsible for their own finances.
Published using wsb.3speak.co