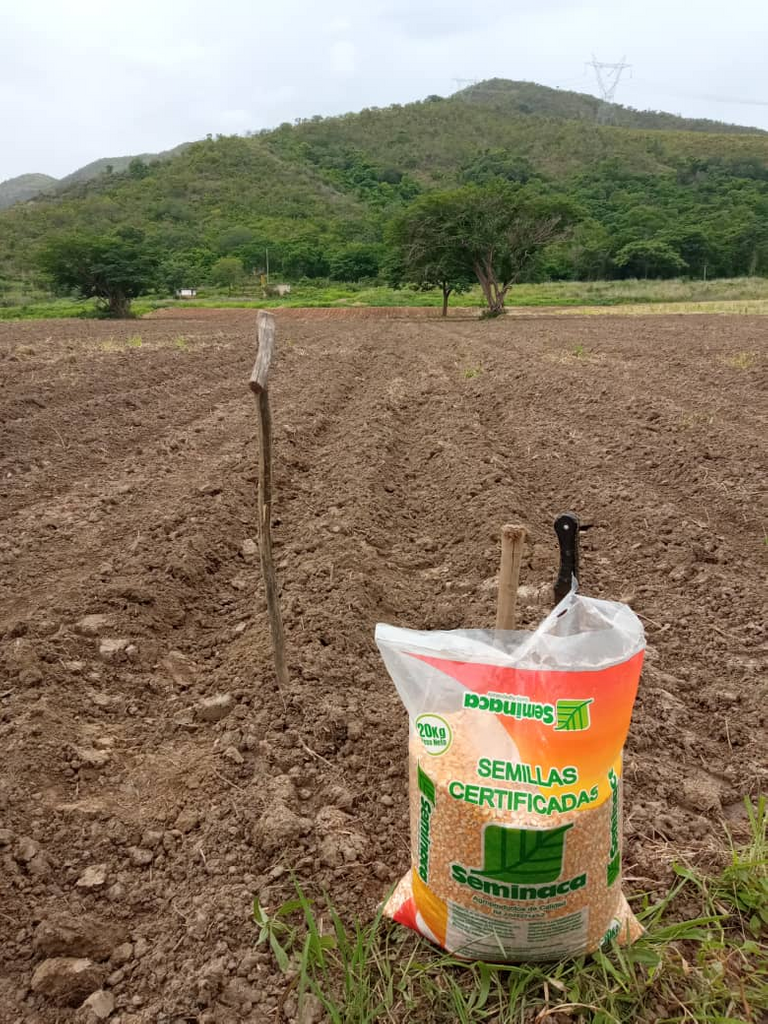 Greetings, my dear readers. After passing the tractor with the harrow to plow the land, we cleaned only a piece of the area that has a strong undergrowth called Gamelote, I decided to rent the machinery and do sucos in a mechanized way (another great economic effort) they have already been many expenses and I'm still missing The land was beautiful and today we began to work very early, I cut and removed a good amount of weed and loaded it at the foot of that expensive tree that you see in the photo. Then I made the furrows in that area, because with the weeds when the tractor passed with the hooks to furrow the tool in that part it did not do the job and that is why I have to do it with the lungs with the escardilla, haha. I used certified seed of one that is very good, that's why a bit expensive, but I want to get a good harvest, that's why I make an effort for the best things. In the photo you can detail, also two of the workers who were sowing from this corner, two others came from the other. Even though I spoke to 6 workers, only 4 attended.

Saludos, mis estimados lectores. Después de pasar el tractor con la rastra para arar la tierra, limpiamos solo un pedazo de la zona que tiene una maleza fuerte llamada Gamelote, decidí alquilar la maquinaria y hacer sucos de manera mecanizada (otro gran esfuerzo económico) ya han sido muchos gastos y aún me falta. La tierra quedo hermosa y hoy comenzamos a trabajar muy temprano, yo corte y retire una buena cantidad de maleza la cargue al el pie de ese árbol de caro que se ve en la foto. Luego hice los surcos en esa zona, por que con la maleza al pasar el tractor con los ganchos para surcar la herramienta en esa parte no hizo el trabajo y por eso toco hacerlo a pulmón con la escardilla, jaja. Use semilla certificada de una que es muy buena, por eso algo costosa, pero quiero sacar una buena cosecha, por eso hago esfuerzo para las mejores cosas. En la foto pueden detallar, también a dos de los obreros que iban sembrando desde esta equina, otros dos venían desde la otra. Aunque hable con 6 obreros, solo asistieron 4.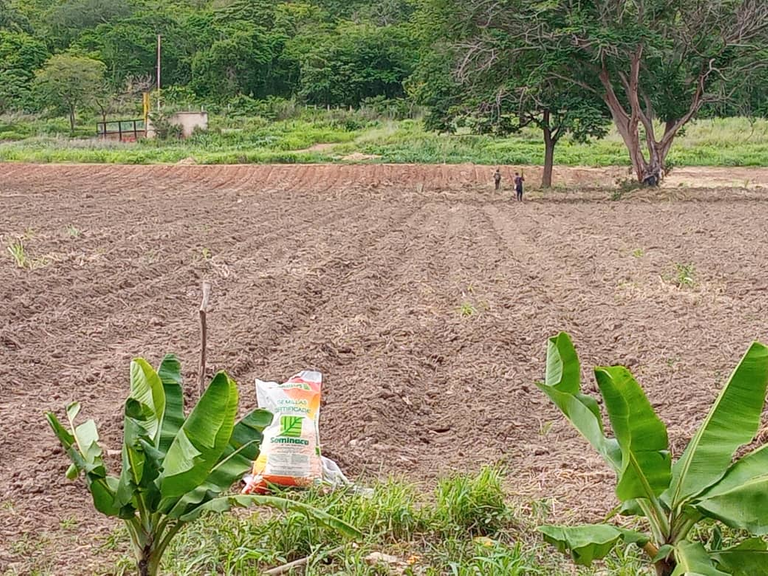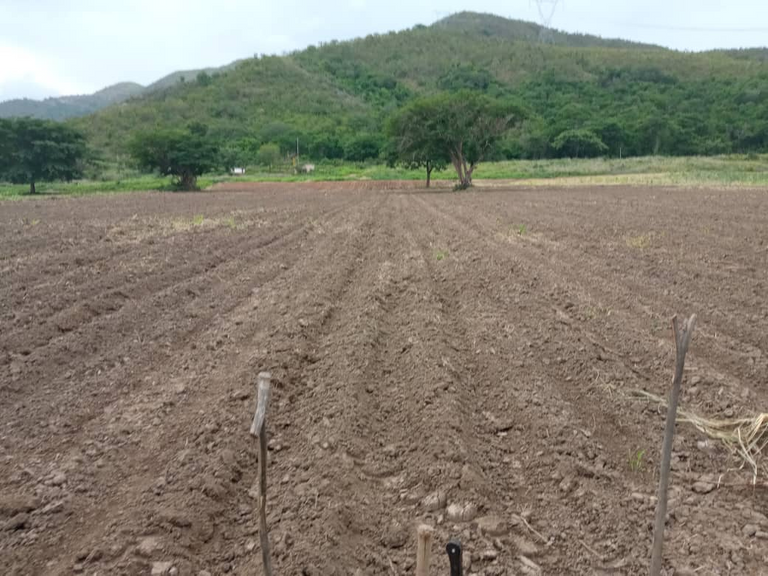 The earth was asking for seed and everything was ready, so from very early on, we began to put seeds, everything was perfect: the sky was full of clouds, we were eager to sow, the seed there and the food on the stove for lunch.

La tierra pedía semilla y todo estaba listo, así que desde muy temprano, comenzamos a meter semillas, todo era perfecto: el cielo estaba con nubes, nosotros deseosos de sembrar, la semilla allí y la comida montada en el fogón para el almuerzo.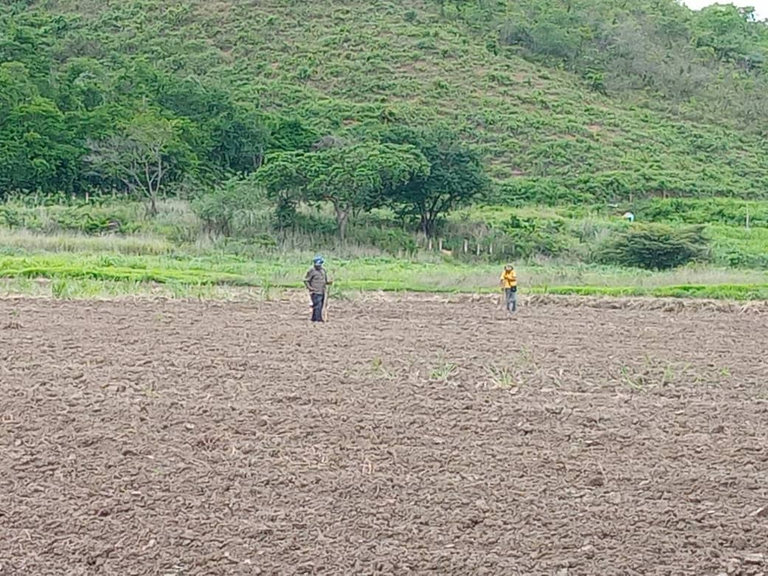 That photo was taken by my wife, while I was planting to try to yield something more, since one of the workers said that he was leaving at 11:30 am (some people do not like to work often) the others as they are family They said until finished. But things were perfect when a rain hit us, it was the announcement of the great downpour that was coming, which cut our work, because it was strong and the ground was very muddy. We got under a small roof that I made about a month ago, for these occasions, but whoever it is, one would get wet almost the same as outside, because there in my land it is very breezy and it rained it was windy. I just have to wait for it to clear a little and go home, to make sure that there is some sun tomorrow to be able to continue the day and finish sowing, it was 20 kilos of seeds and I estimate that we put in about 11 kilos. I want to thank you for that support every day, which helps me to a large extent to pay for the expenses and to be able to invest in the planting of my project, for those who follow me, they know that I already have about a year and a half to start and that I have been investing from what I earn here, a good part comes from what I earn by publishing and other games, since I have always been a player in our ecosystem, games like Risingstar, which is the main source of help to be able to get my project forward. DCity, another game that helped me, but that has now fallen a lot in terms of ROI, but that also brought good money at the time.

Esa foto me la hizo mi esposa, mientras yo estaba, sembrando para tratar de rendir algo más, ya que uno de los obreros dijo que se iba a las 11:30 am (algunas personas no les gusta trabajar seguido) los otros como son familiares dijeron que hasta terminar. Pero la cosa iba perfecta cuando una lluvia se nos sacudió encima, era el anuncio a el gran chaparrón que venía, el cual nos corto el trabajo, porque fue fuerte y el terreno quedo muy enlodado. Nos metimos bajo un pequeño techo que fabrique hace ya como un mes, para éstas ocasiones, pero que va, se mojaba uno casi igual que afuera, porque allí en mis tierras hace mucha briza y llovía era venteada. Solo quedo esperar que escampara un poco y regresar a casa, para ligar que haga algo de sol mañana para poder seguir la jornada y terminar de sembrar, eran 20 kilos de semillas y calculo que metimos unos 11 kilos. Quiero dar gracias a ustedes por ese apoyo cada día, lo que me ayuda en gran parte a costear los gastos y poder invertir en la siembra en mi proyecto, para los que me siguen, saben que ya tengo como año y medio que arranque y que he ido invirtiendo de lo que gano aquí, una buena parte viene de lo que gano al publicar y otro de los juegos, ya que siempre he sido un jugador en nuestro ecosistema, juegos como Risingstar, que es la fuente principal de ayuda para poder sacar mi proyecto adelante. DCity, otro juego que me ayudo, pero que ahora ha decaído mucho en cuanto a ROI, pero que también en su momento aporto un buen dinero.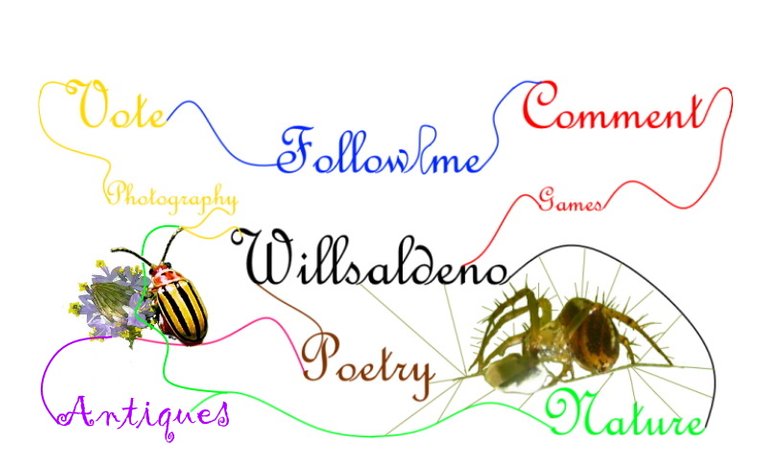 This is where the lyrics go for today, I invite you to continue looking a little more of this world in the next publication, I hope it will be tomorrow, or later, maybe the voice will be seen or will let you see something about games, so if you liked it What is being done for you here, do not hesitate to support the work with something positive, below I invite you to:

Hasta aquí llegan las letras por hoy, les invito a seguir mirando un poco más de este mundo en la siguiente publicación, espero sea mañana, o más tarde, quizás la voz verse o o deje ver algo sobre juegos, así que si te ha gustado lo que se hace para ustedes aquí, no dudes en apoyar el trabajo con algo positivo, allí abajo te invito a: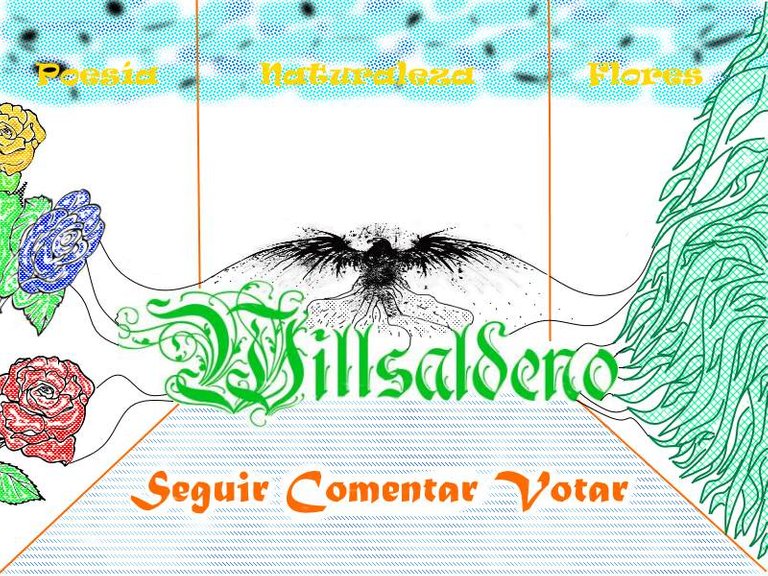 Nota-Note
Bilingüe: Que utiliza dos lenguas al mismo nivel o se hace en dos lenguas
Bilingual: That uses two languages ??at the same level or is done in two languages.
Camera: REDMI 9

Location: Villa de Cura.