Buenos días a todos, a veces sabiendo que los días por la mañana, cuando amanece y nos levantamos, siempre tenemos antojos de degustar algo sabroso, es por eso que en lo personal algo tan exquisito como el pastelito con dulce de batata el cual es uno de mis preferidos, mas cuando lo acompaño con mate, como se ve en la foto, el cual es fácil de prepararlo, tomamos el mate le agregamos la yerba, la bombilla y colocamos un poco de manzanilla a la yerba, luego calentamos el agua lo vertemos en el termo y el mate ya esta listo.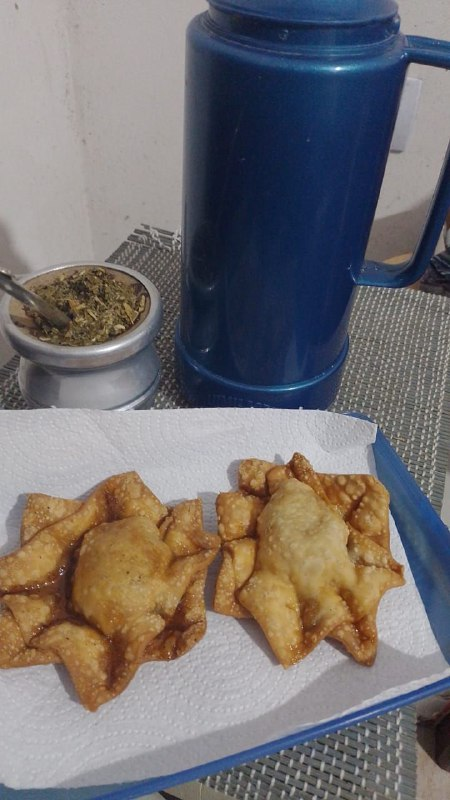 Para elaborar el pastelito es una manera muy fácil, por supuesto las tapas para el mismo las compre, en la cual colocamos un pedacito de dulce de batata el cual cortamos en forma de dados, luego lo cerramos como se ve en forma de moño, para luego colocar la sarten en el fuego verter aceite y un poco de margarina, cuando se calienta, le vamos agregando los pastelitos, cuando estos están dorados, los sacamos con una espumadera, lo agregamos en una fuente, le agregamos un poco de azúcar y listo a degustar nuestro sabroso desayuno.
MUCHAS GRACIAS POR LEERME Y SEGUIRME.
TRADUCIDO AL INGLES
Good morning everyone, sometimes knowing that the days in the morning, when dawn breaks and we get up, we always have cravings to taste something tasty, that's why personally something as delicious as the sweet potato cake which is one of my favorites, It is easy to prepare, we take the mate, we add the yerba mate, the bombilla and we put some chamomile to the yerba mate, then we heat the water and pour it in the thermos and the mate is ready.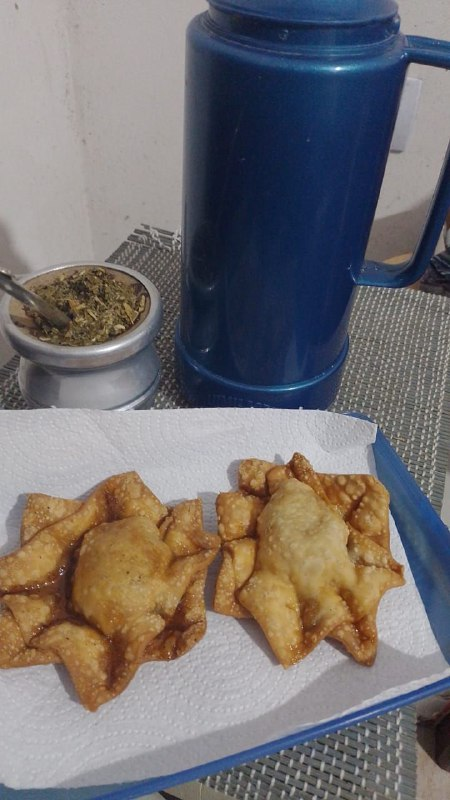 To make the cake is a very easy way, of course I bought the lids for it, in which we put a little piece of sweet potato which we cut into cubes, then we close it as seen in the form of a bow, then place the pan on the fire pour oil and a little margarine, when heated, we add the cakes, when they are golden brown, remove them with a slotted spoon, add it in a bowl, add a little sugar and ready to taste our tasty breakfast.
THANK YOU VERY MUCH FOR READING AND FOLLOWING ME.