Buenos días a todos, hallándome de paseo en la casa de un primo, quien tenia preparado tanto carne de cerdo como carne de res, también la chimeca, es a lo que se le llama a la tripa donde se embuten la carne para la elaboración del chorizo, la manera de hacerlo es la siguiente, primero, se tritura bien la carne o sea se pica toda. el porcentaje es de 75 por ciento de carne de cerdo y 25 de carne de res, se le agrega pimentón molido, ajo, sal, conservantes para embutido, se mescla bien todo, hasta que quede bien compacto, luego se coloca la tripa o chinesca en la maquina a la que se le hace funcionar y esta comienza a cargar dicha tripa, de esa manera con hilo choricero se comienza a atar a la medida que deseamos, bueno en este caso son de 25 centímetros, luego se lo va atando en la otra parte, se corta la tripa y el hilo, para luego colocarlo como se ve, es en estos palos, en los cuales se los lleva a la sombra. de un galpón con piso de tierra, pared de adobe o barro, con techo de paja, de esa forma se madura los mismos, para después de 30 días, comenzar a degustar, que seria su estado de maduración y por supuesto sale exquisito.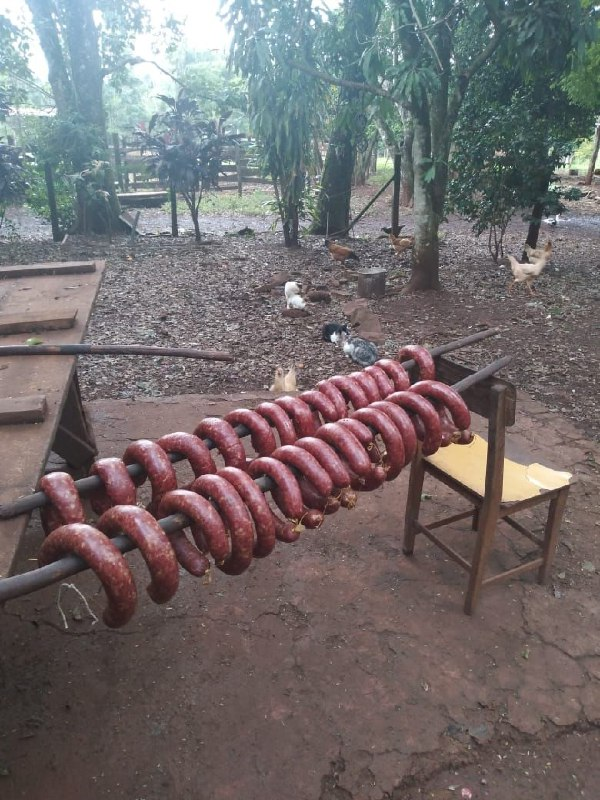 De esta fue mi colaboración en la elaboración de este delicioso chorizo casero, bueno seria como el llamado salamín o salame.
MUCHAS GRACIAS POR LEERME Y SEGUIRME.
TRADUCIDO AL INGLES
Good morning everyone, I was visiting the house of a cousin, who had prepared both pork and beef, also the chimeca, is what is called the casing where the meat is stuffed for the preparation of the chorizo, the way to do it is as follows, first, the meat is well crushed or chopped all. The percentage is 75 percent of pork and 25 percent of beef, ground paprika, garlic, salt, preservatives for sausage is added, everything is mixed well until it is well compacted, then the casing or chinesca is placed in the machine that is made to work and it begins to load the casing, In this way with thread choricero begins to tie to the extent that we want, well in this case are 25 centimeters, then it is tying it in the other part, cut the gut and thread, and then place it as seen, is in these sticks, which are carried in the shade. The "Palo" is placed in a shed with an earthen floor, adobe or mud wall, with a thatched roof, in this way they are matured, and after 30 days, begin to taste, which would be its state of maturation and of course comes out exquisite.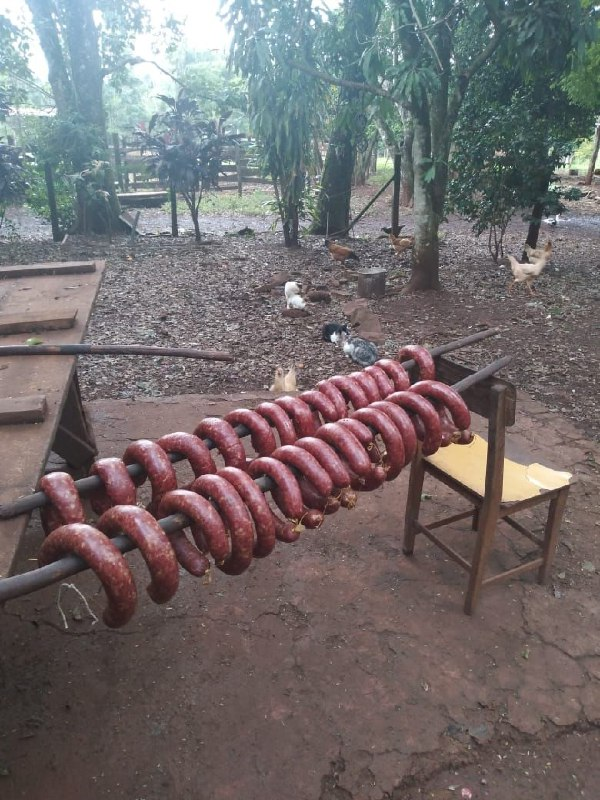 This was my collaboration in the elaboration of this delicious homemade chorizo, well it would be like the so-called salami or salami.
THANK YOU VERY MUCH FOR READING AND FOLLOWING ME.