Hola a todos, como siempre digo a los que integran esta hermosa comunidad, la que me hace sentir que soy alguien y no uno que ocupa un espacio en esta gran atmosfera, pero que ese espacio que ocupo no es en vano porque en la medida que puedo lo comparto con todos ustedes, haciéndolos participe de mi existencia, la cual hace que el día a día sea muy importante, como lo es el paseo que disfrute en este viaje hacia esta gran provincia, que se compone de la gran PATAGONIA, ARGENTINA, EN SUD AMERICA, HEMISFERIO SUR, muy cerca de la ANTARTIDA, de tal manera espero que sigan disfrutando de este guía turístico, que publica este post, pero les digo que todavía queda mucho mas para seguir disfrutando, lo que vemos es la parte de la pasarela que sirve de observatorio de este gran fenómeno natural de GLASIARES.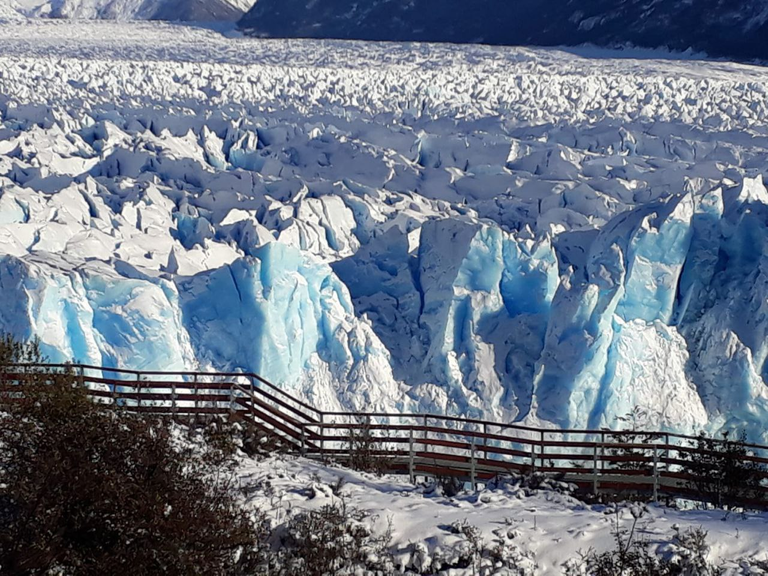 Mas observo todo esto y parece una fantasía, como una pintura como describí en el otro post, pero con la diferencia que es todo real en tiempo y forma.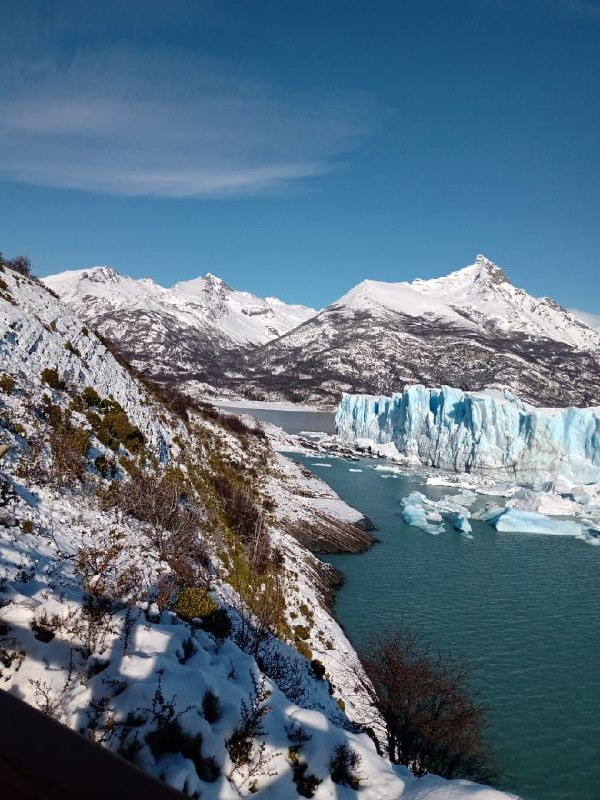 Dejando ver todo lo que la MADRE NATURALEZA, tiene para nosotros, desde ya sabiendo que es la máxima creación de nuestro señor DIOS, QUE HISO TODO LO EXISTENTE, el hielo que se desprende lo comparo con pequeñas islas flotantes, con el contraste del horizonte, de varios colores, marrón parte negra y con los picos de los cerros o montañas llenos de nieve blanca como un algodón.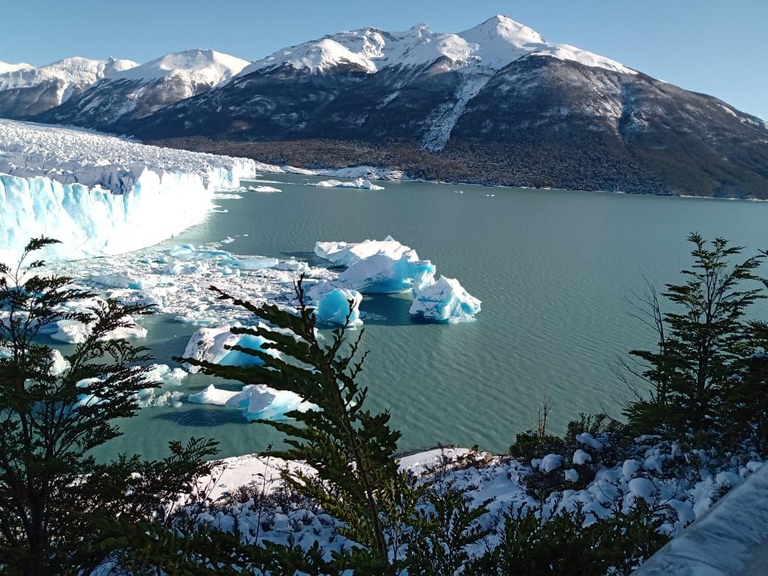 Amigos estar presente en estos momentos con todo esto que se ve en las fotos, además con el cielo celeste totalmente, como el agua y todo este contraste natural que se parece a un sueño.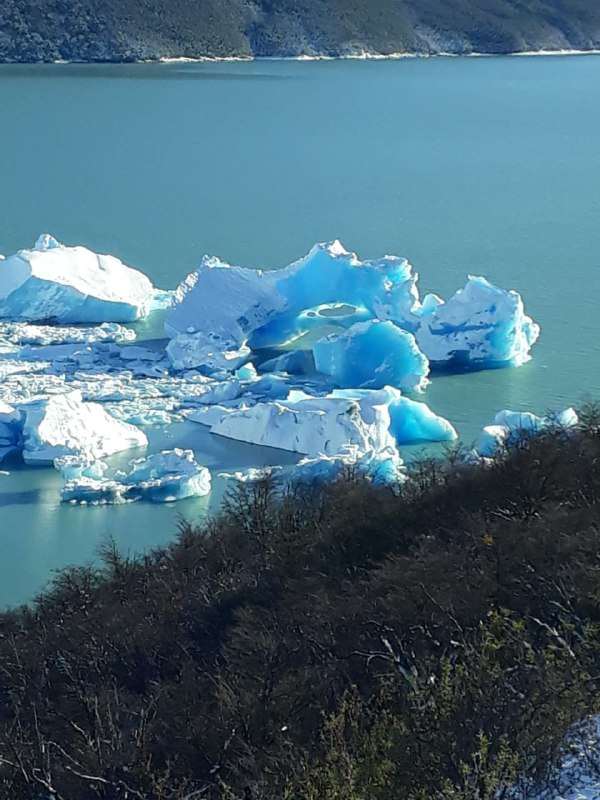 Por ejemplo esta pared blanca, si la comparamos con el fondo que se ve de un color negro que seria al precipicio de la montaña, no tiene nada que decir, solamente que como es de hielo se va desapareciendo con el tiempo, por el calentamiento global, por los grandes experimentos del hombre.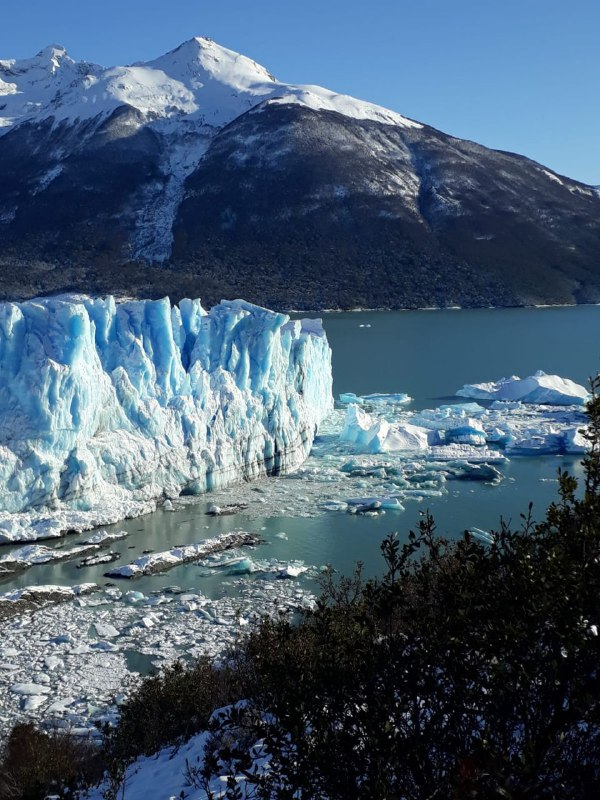 Hallarse en esta Pasarella construida por el hombre, la cual es de mucha importancia por el beneficio que da a todos los turistas que visitan este lugar, es muy importante, porque como ven la vista que da, la cual es para enriquecer el alma.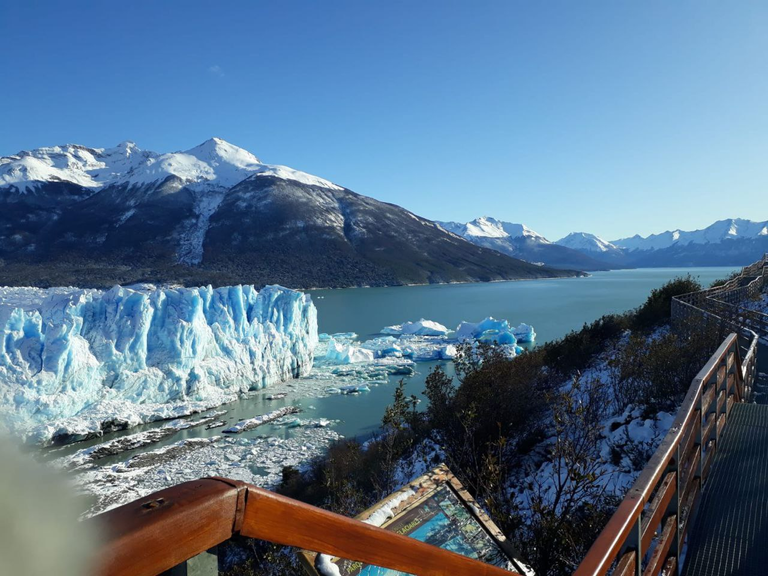 Si hará frio, pero es un frio hermoso, por la cantidad de nieve, la cual hasta se agarra de la madera de la baranda, cuando nieva por las noches.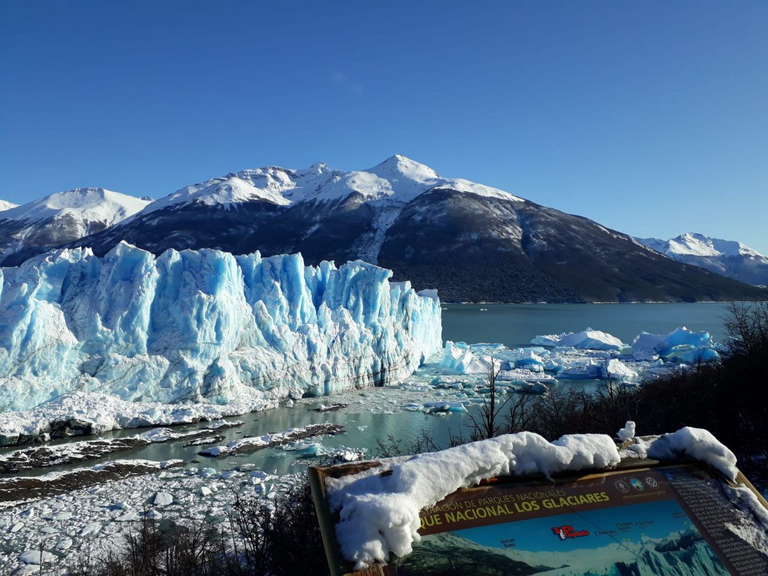 Que por suerte es en momentos que aprovechamos para descansar, hablando de noche, el sol ya se esta escondiendo para darle el lugar a ella, la luna.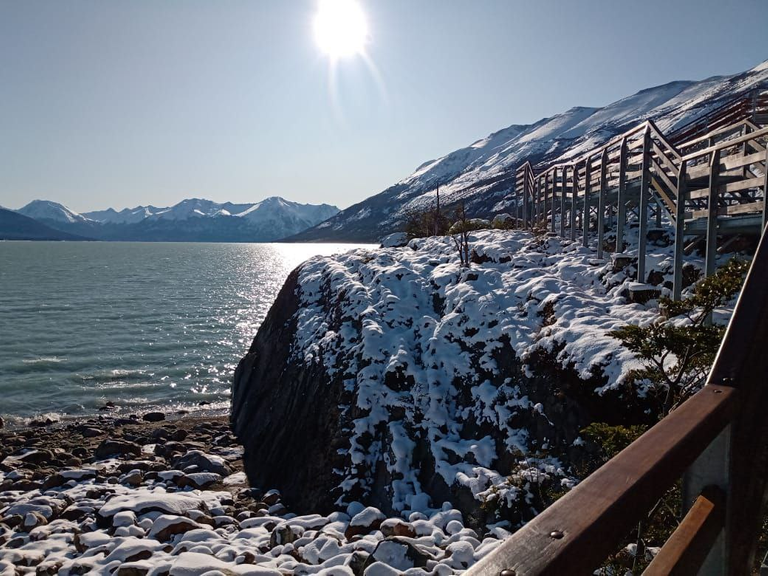 La verdad que mirando detenidamente desde este lugar, el agua parece un lago gigante, rodeado por esas montañas y mesetas, con el cielo bien celeste y con el sol que se va apagando muy despacio.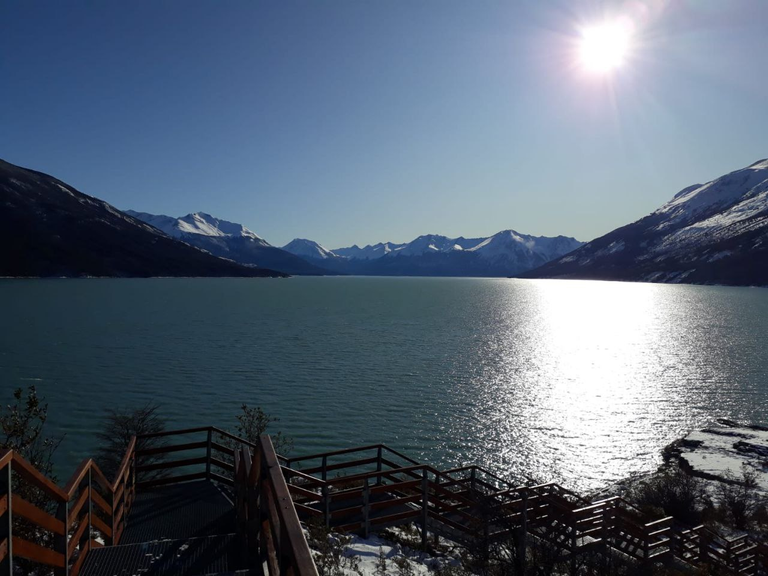 En esta foto se puede ver la parte de la orilla, sigue todo blanco, a pesar de haber pasado todo el día, con un bello sol.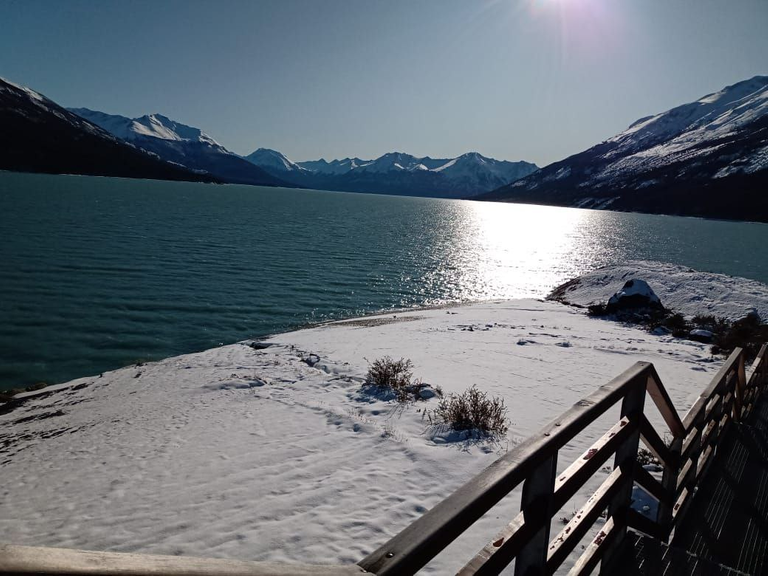 En esta foto amigos, la cual no se trata de una luz, pero si es la luz natural el (sol ) que todavía brilla, la luz artificial es al final de este caño que tengo de frente.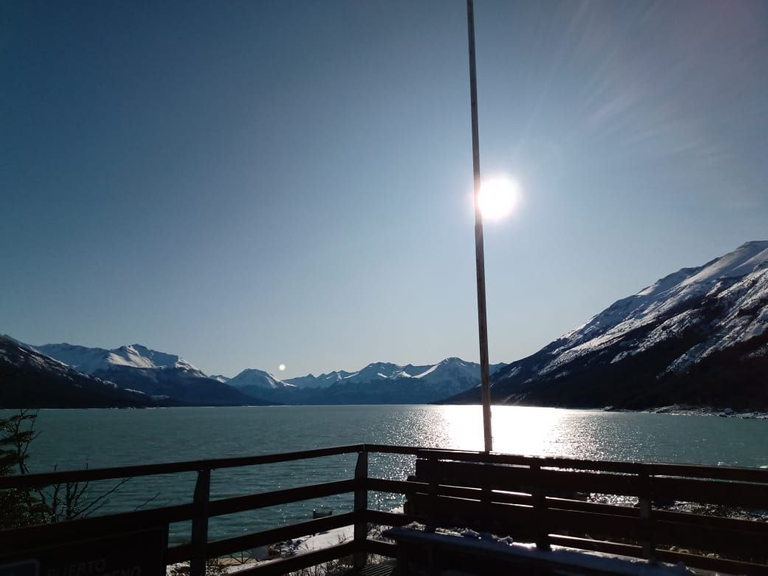 La finalidad de la foto es para el que presta atención en la misma, es el lucero que se encuentra en el horizonte, como si fuera una pequeña bola que comienza a mostrarse.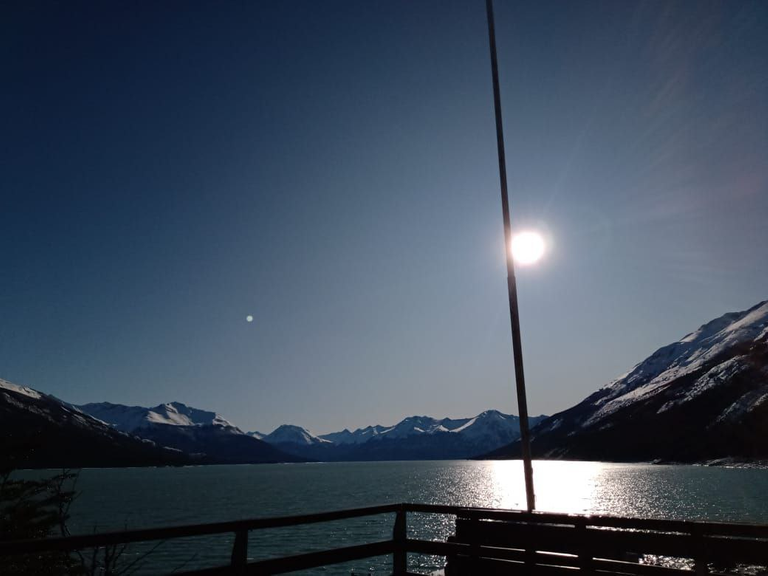 Subiendo por supuesto muy despacio, donde se va mesclando con las estrellas que ya comienzan a aparecer en la vía láctea.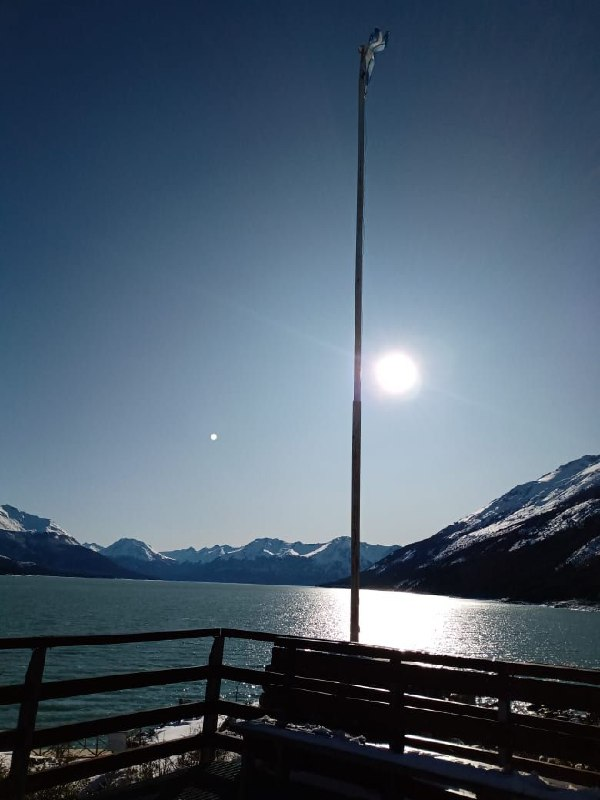 DE ESTA MANERA, SIGO COMENTANDO EN LOS POST, QUE YA PUBLIQUE Y EN LOS QUE ESTAN POR PUBLICARSE REFERENTE A TODA ESTA BELLEZA, QUE SE ENCUENTRA EN ESTE LADO DEL PLANETA TIERRA.
MUCHAS GRACIAS POR SEGUIRME Y LEERME, QUE TENGAN UN BELLO DIA.
TRANSLATED INTO ENGLISH.
Hello everyone, as I always say to those who make up this beautiful community, which makes me feel that I am someone and not one who occupies a space in this great atmosphere, but that this space I occupy is not in vain because as far as I can I share it with all of you, making you participate in my existence, which makes the day to day is very important, as is the ride that I enjoy on this trip to this great province, which is composed of the great PATAGONIA, ARGENTINA, IN SOUTH AMERICA, SOUTHERN HEMISPHERE, very close to ANTARTIDA, so I hope you continue to enjoy this tour guide, who publishes this post, but I tell you that there is still much more to continue enjoying, what we see is the part of the walkway that serves as an observatory of this great natural phenomenon of GLASIARS.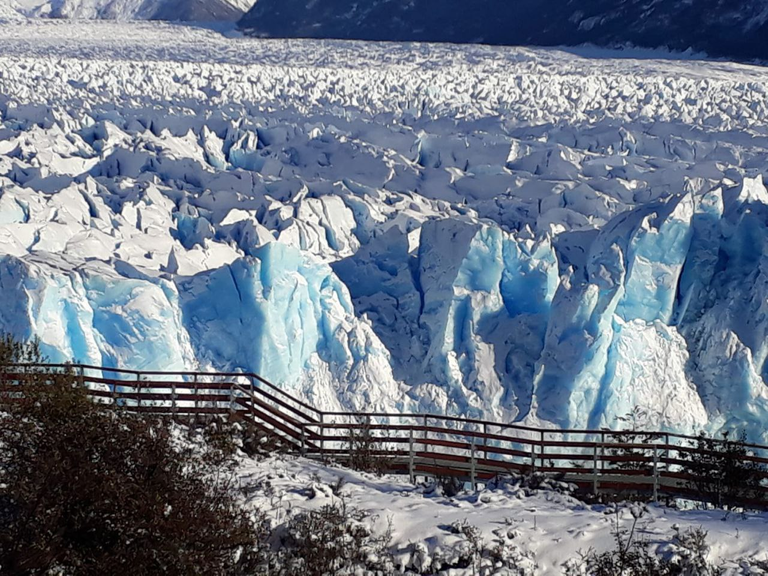 But I observe all this and it looks like a fantasy, like a painting as I described in the other post, but with the difference that it is all real in time and form.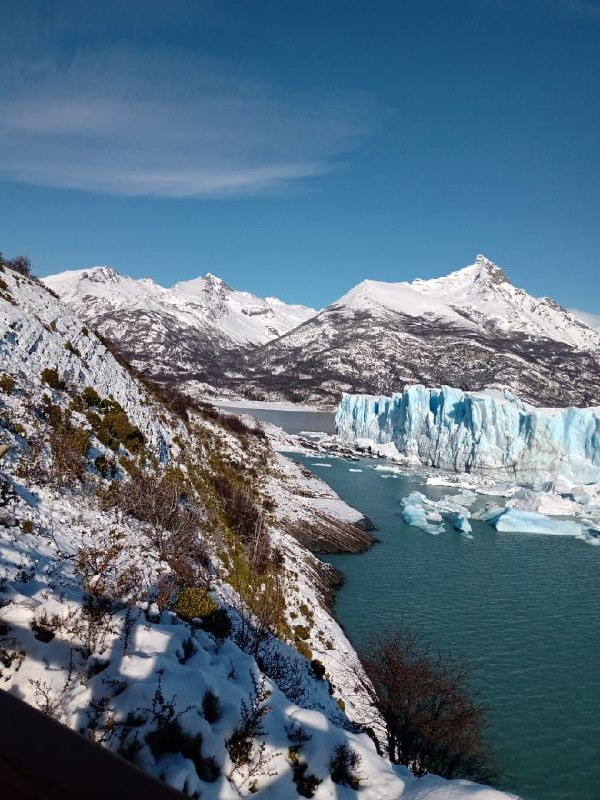 Letting see all that MOTHER NATURE, has for us, knowing that it is the ultimate creation of our Lord GOD, WHO MADE EVERYTHING EXISTING, the ice that comes off I compare it with small floating islands, with the contrast of the horizon, of various colors, brown part black and with the peaks of the hills or mountains full of white snow like absorbent cotton.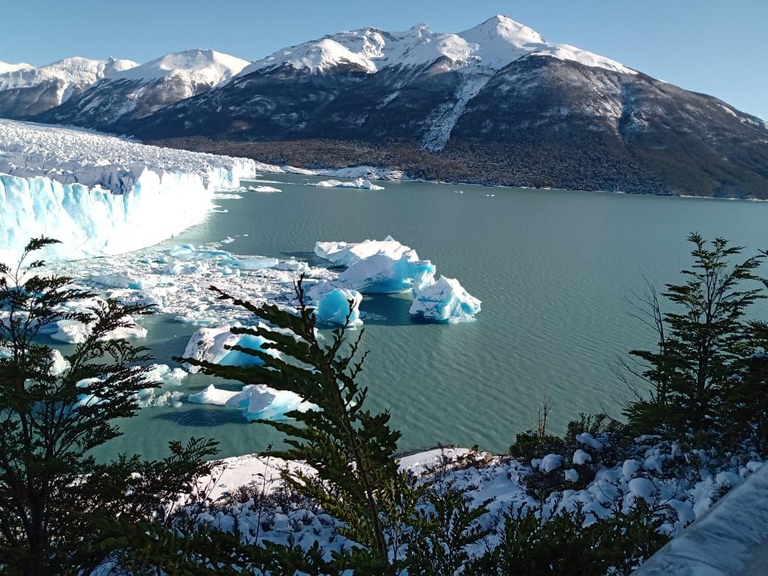 Friends to be present in these moments with all this that you see in the photos, also with the sky totally light blue, like water and all this natural contrast that looks like a dream.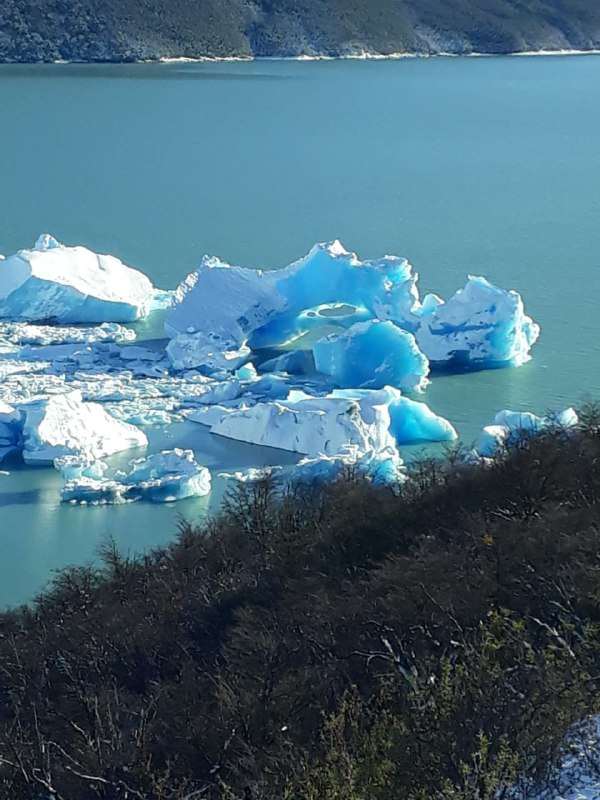 For example this white wall, if we compare it with the black background that would be the precipice of the mountain, has nothing to say, only that as it is made of ice it is disappearing over time, by global warming, by the great experiments of man.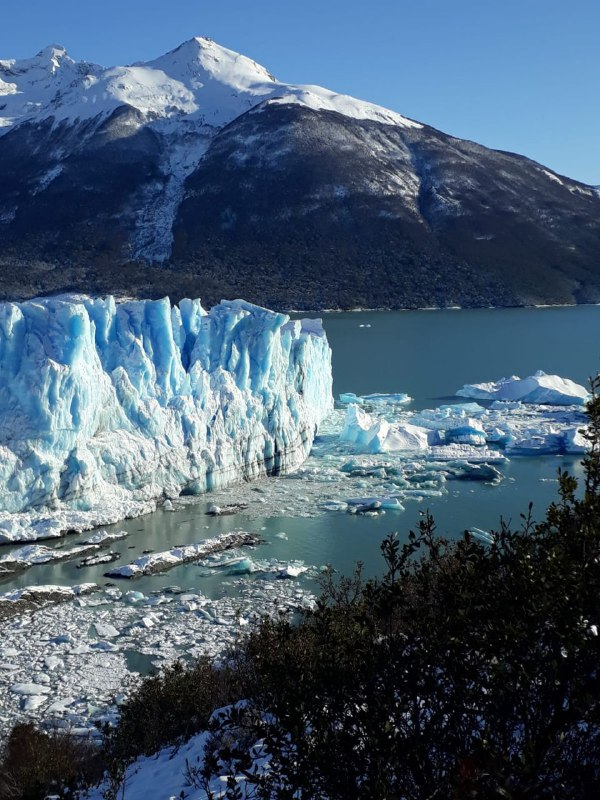 To be in this man-made footbridge, which is of great importance for the benefit it gives to all tourists who visit this place, is very important, because as you can see the view it gives, which is to enrich the soul.
image.png](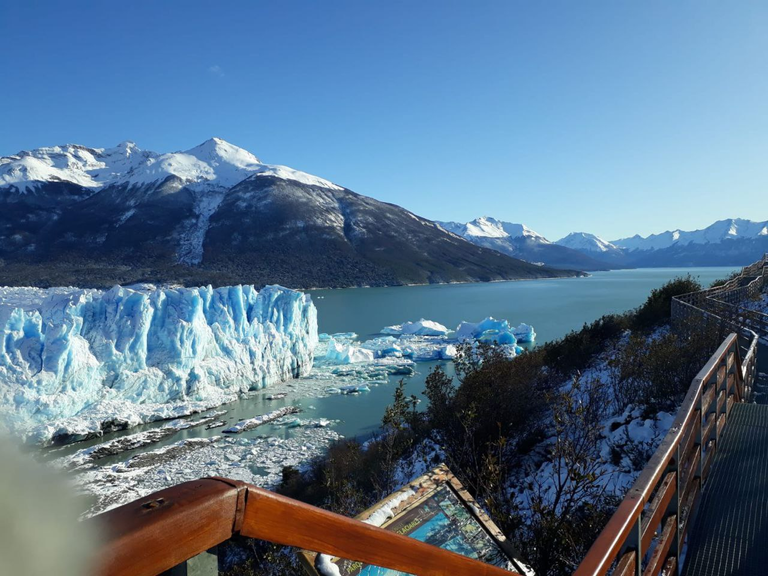 )
Yes it will be cold, but it is a beautiful cold, because of the amount of snow, which even grabs the wood of the railing, when it snows at night.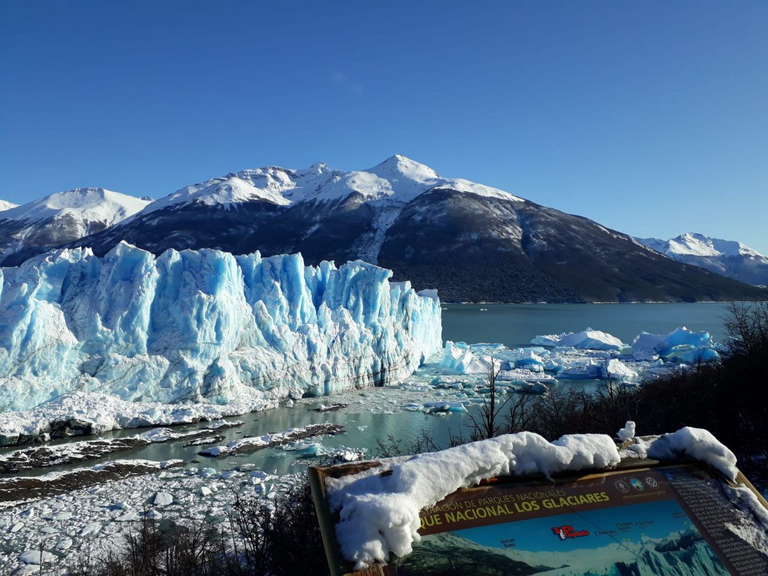 Luckily it is at times that we take advantage to rest, speaking of night, the sun is already hiding to give the place to her, the moon.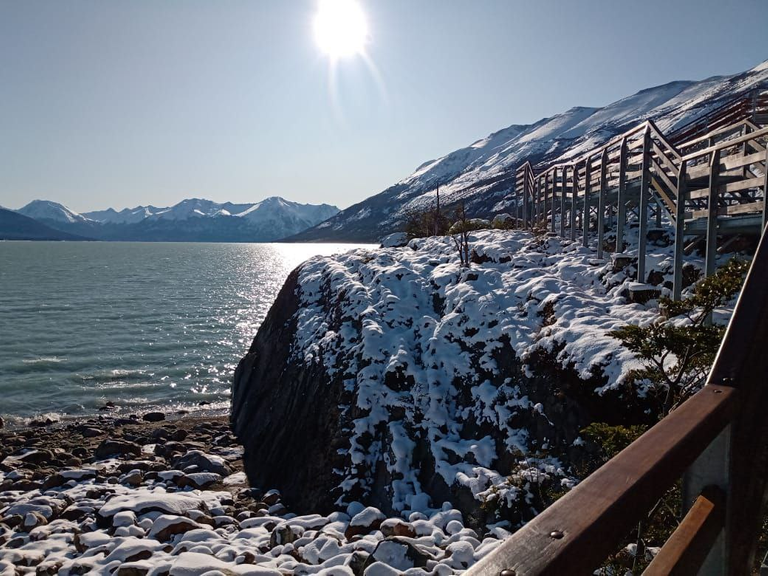 The truth is that looking carefully from this place, the water looks like a giant lake, surrounded by those mountains and plateaus, with a very light blue sky and the sun is fading very slowly.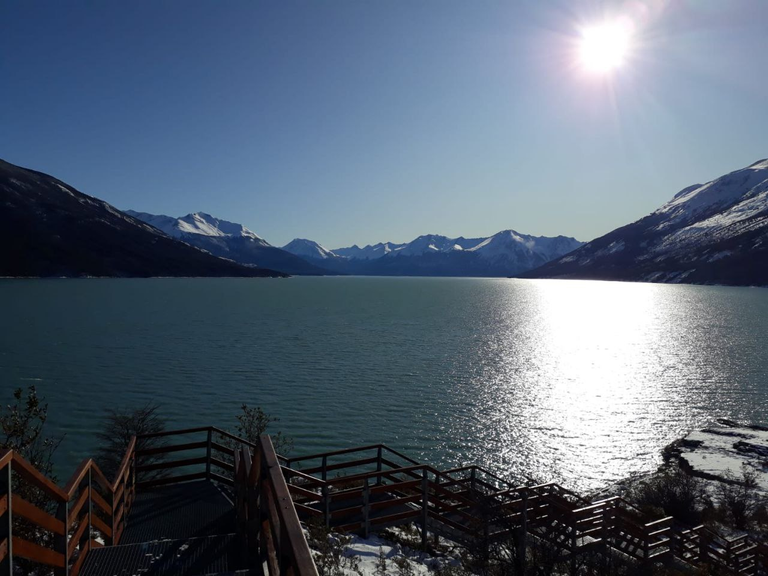 In this photo you can see the part of the shore, still all white, despite having spent the whole day, with a beautiful sun.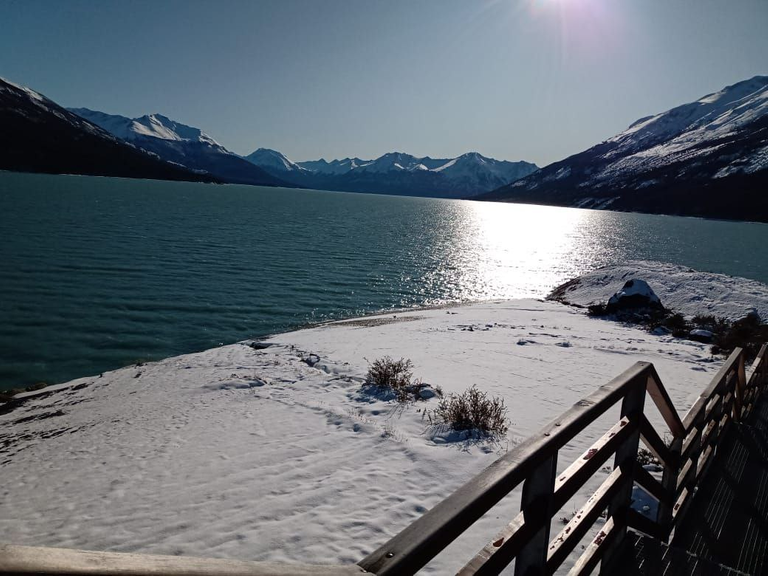 In this photo friends, which is not a light, but it is the natural light (sun) that still shines, the artificial light is at the end of this pipe that I have in front of me.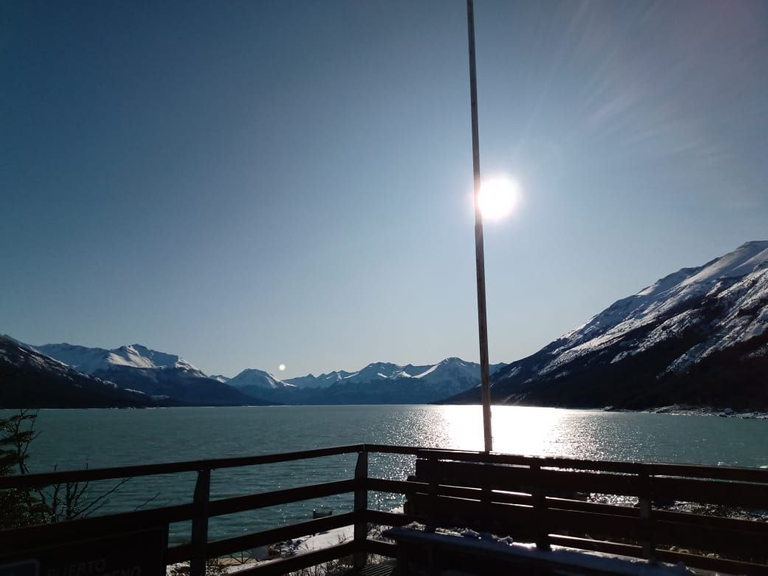 The purpose of the photo is for the one who pays attention in the photo, is the star that is on the horizon, as if it were a small ball that begins to show itself.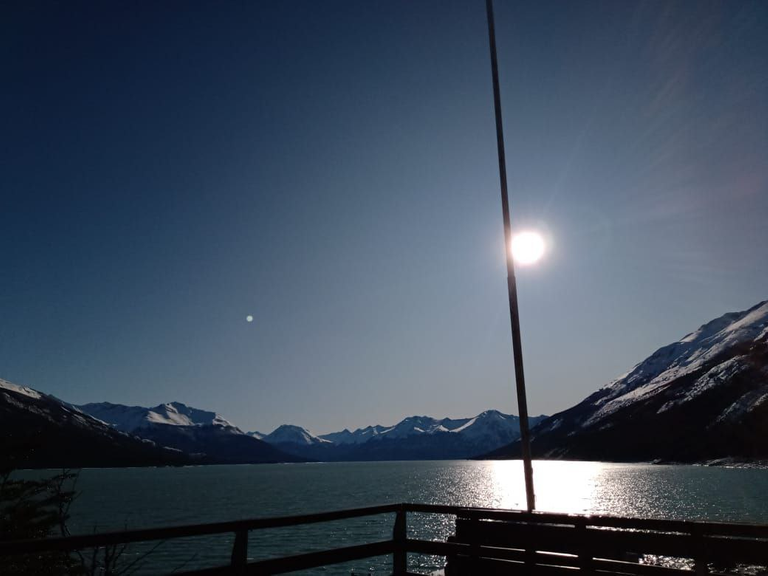 Rising very slowly of course, where it is blending in with the stars that are already beginning to appear in the milky way.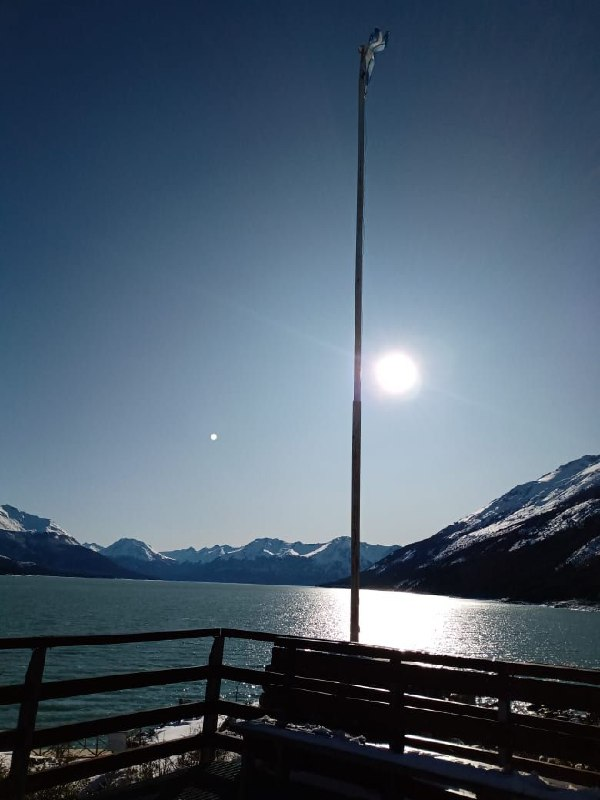 IN THIS WAY, I CONTINUE COMMENTING IN THE POSTS, THAT I ALREADY PUBLISHED AND IN THOSE THAT ARE ABOUT TO BE PUBLISHED ABOUT ALL THIS BEAUTY, THAT IS IN THIS SIDE OF THE PLANET EARTH.
THANK YOU VERY MUCH FOR FOLLOWING AND READING ME, HAVE A NICE DAY.