Buenos días a todos, los que integran esta bella comunidad, la como siempre pongo de manifiesto que por medio de ella y de todos ustedes que la componen, al efectuar un post, que lo comparo con un grano de arena, que ese granos de arena, en el día a día nos va haciendo crecer mas y mas, teniendo siempre en cuenta de nuestras iniciativas de creatividad en lo que publicamos, por ejemplo en este post, el cual escribo, es el final del paseo o viaje por ese bello lugar de la PATAGONIA ARGENTINA, al llegar a este grandioso HOTEL DE EL CALAFATE.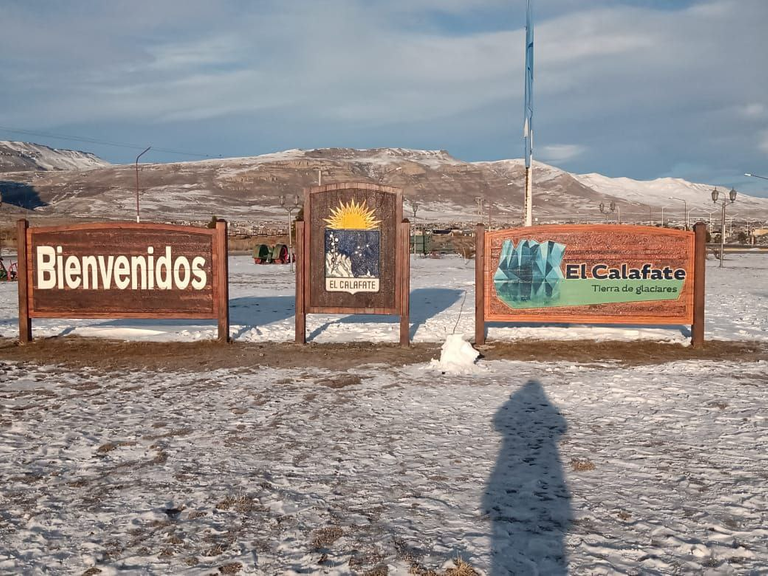 Lo que se puede ver, que seria tierra o ripio por la zona, es solamente la nieve, la cual cubre toda la extensión de tierra, formando como dije una gran alfombra.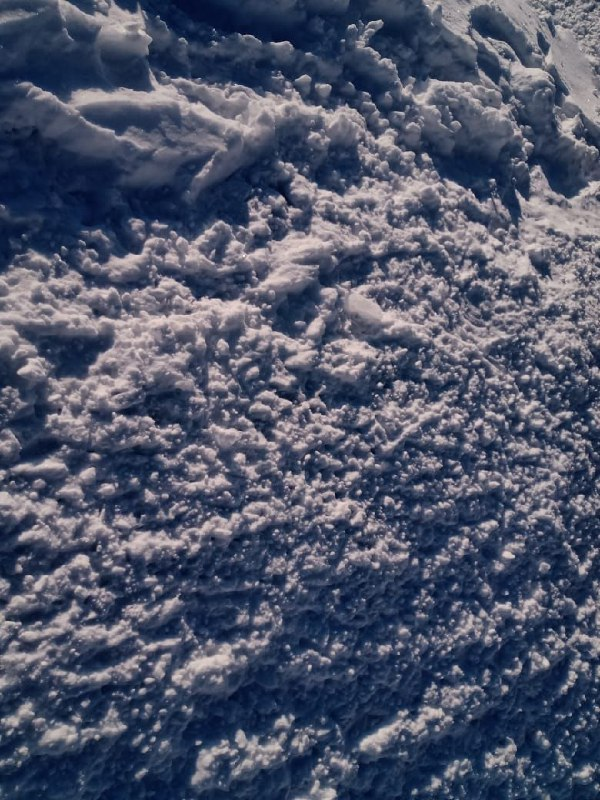 Con nuestro destino a la vista, o sea próximo a llegar el cual no deja de ser una obra maestra, lo digo porque en la zona donde se construyo dicho hotel, como ven en la ladera de una meseta, dejando ver un bello paisaje hacia el horizonte.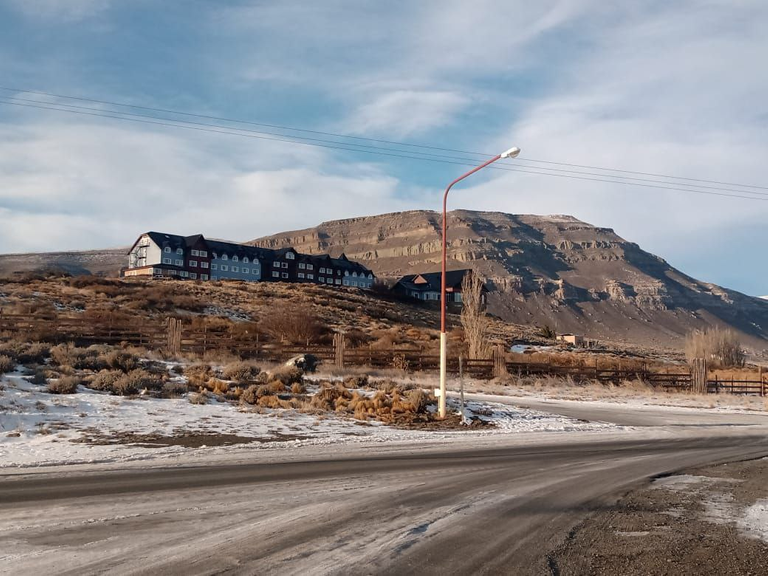 Una ves que cruzamos por la parte del frente, vamos girando hasta llegar a la parte de atrás del mismo, acá lo que se puede observar de la construcción es solamente los ventanales que dan al pasillo del mismo.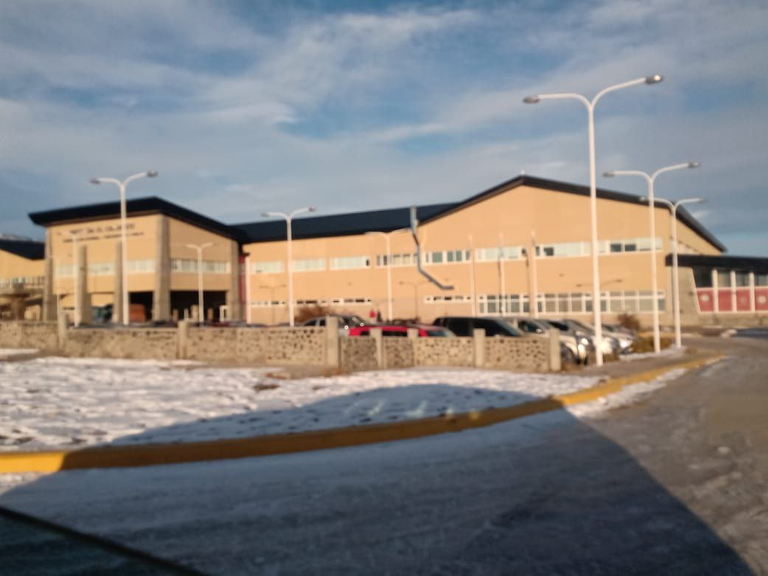 Seguimos el camino, rodeando dicho hotel, buscamos el contra frente, donde seria la entrada principal, así que una ves que llegamos a la misma, nos sentiríamos mas tranquilos.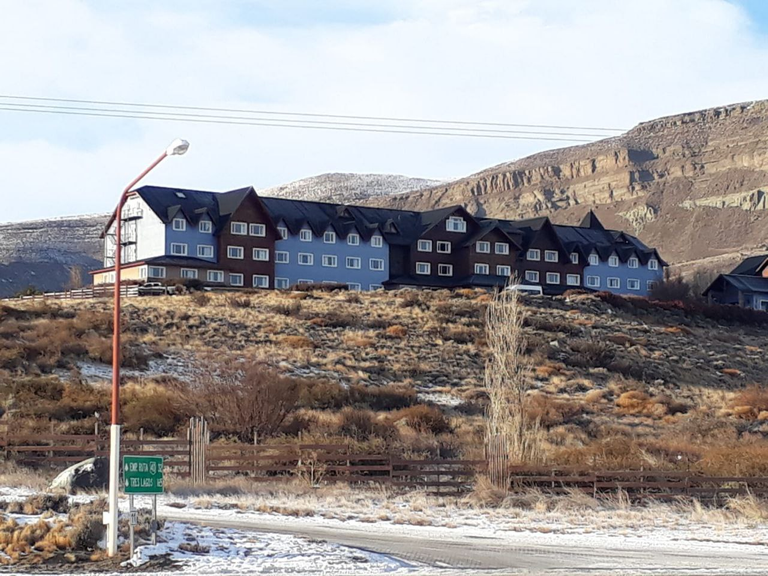 Como verán la fachada, de la parte del frente se ve muy bella, tejas de color azul, las paredes de color marrón forradas de madera, las ventanas de todas de color blanca, pero lo que destaco son las caídas del techo todo de dos aguas y bastantes empinadas, es para cuando nieva, esta se deslice mas rápido.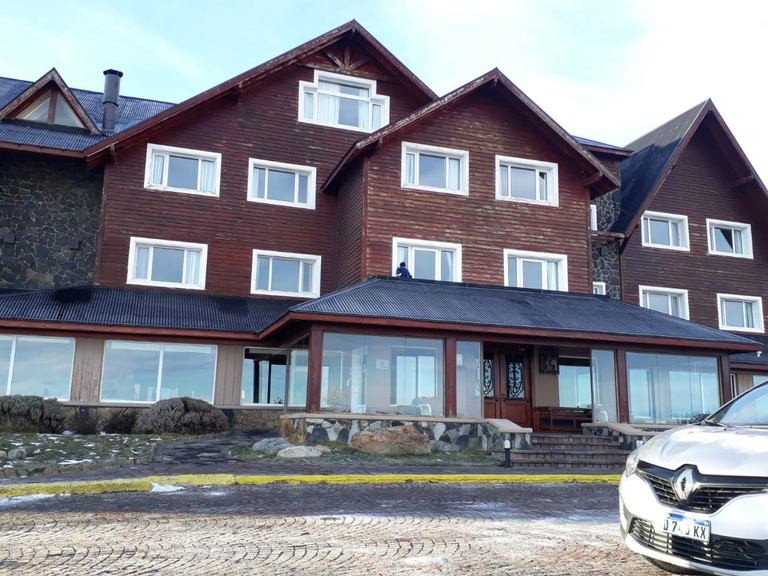 Desde nuestra habitación se puede ver, lo que seria un patio de comida, pero en estos momentos hasta sobre las mesas hay nieve, es por eso que por las noches el frio es devastador.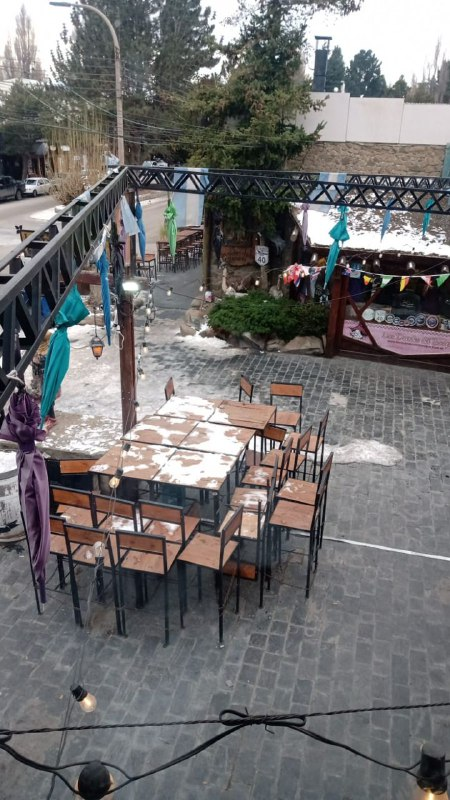 De esta manera descansamos muy bien en dicho hotel, para luego así despedirnos de este bello paseo y de haber también disfrutado muy bien del mismo.
MUCHAS GRACIAS POR SEGUIRME Y LEERME, QUE TENGAN UN BUEN DIA EN FAMILIA.
TRADUCIDO AL INGLES.
Good morning to all, those who make up this beautiful community, as always I show that through it and all of you who compose it, to make a post, which I compare it to a grain of sand, that grain of sand, in the day to day is making us grow more and more, always taking into account our creativity initiatives in what we publish, for example in this post, which I write, is the end of the walk or trip through this beautiful place of the ARGENTINE PATAGONIA, arriving at this great HOTEL OF EL CALAFATE.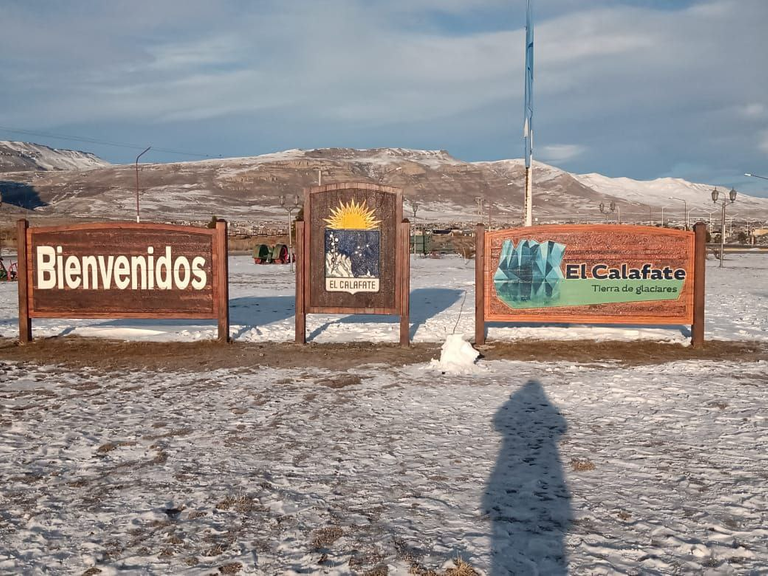 What you can see, which would be dirt or gravel in the area, is only snow, which covers the entire expanse of land, forming as I said a large carpet.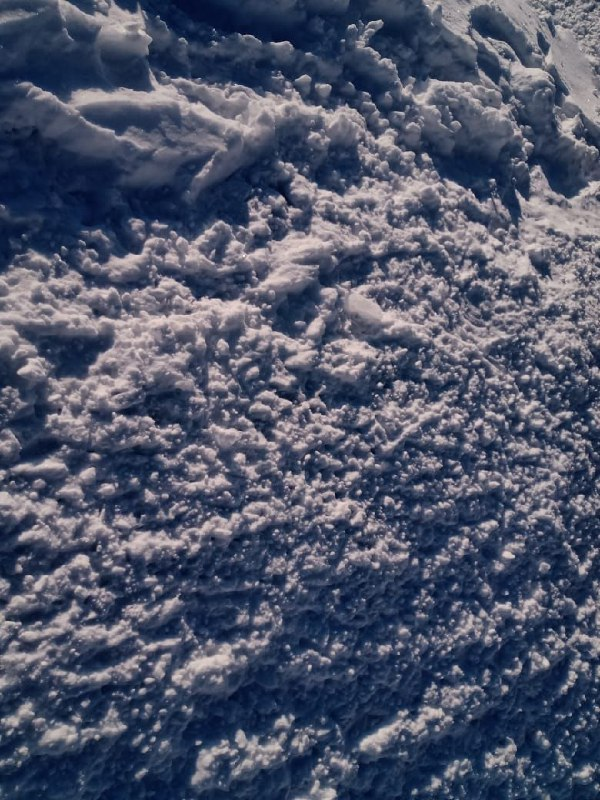 With our destination in sight, or close to arrive which is still a masterpiece, I say this because in the area where the hotel was built, as you can see on the slope of a plateau, leaving a beautiful landscape towards the horizon.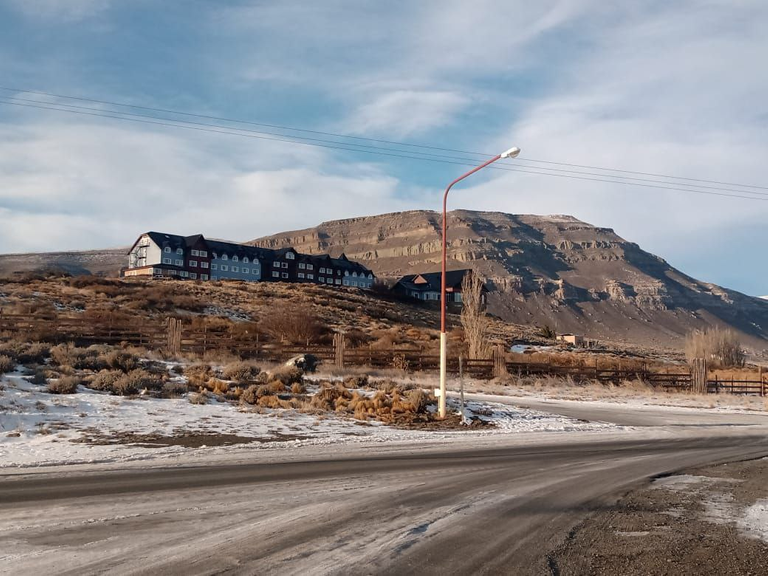 Once we cross the front of the hotel, we turn around until we reach the back of the hotel, here we can only see the windows that lead to the corridor of the hotel.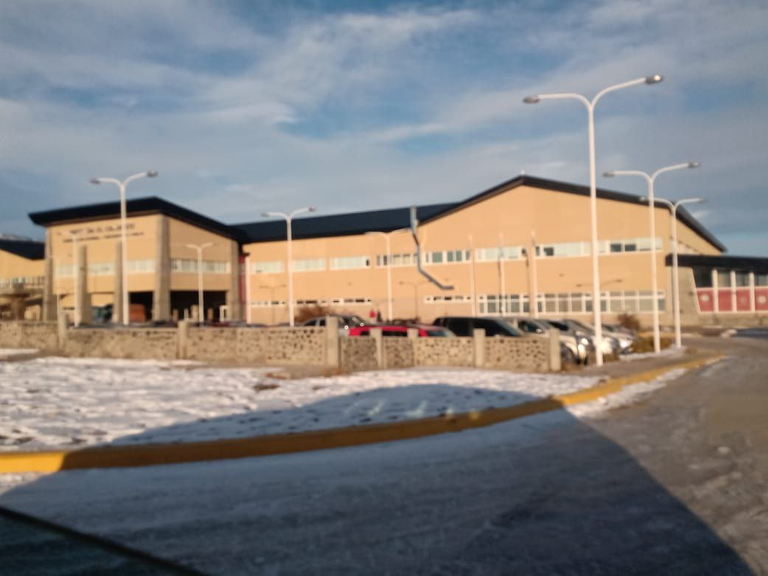 We follow the road, going around the hotel, we look for the back front, where the main entrance would be, so once we get to it, we would feel calmer.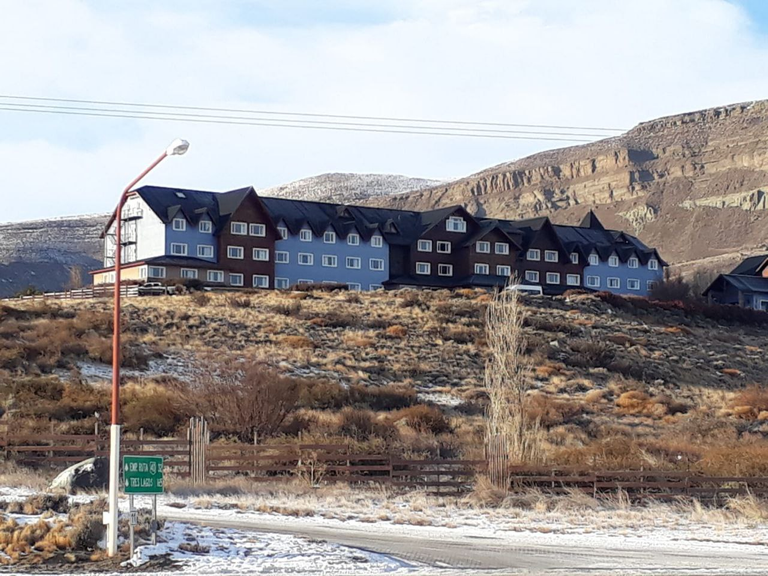 As you can see the facade of the front looks very beautiful, blue tiles, brown walls lined with wood, the windows are all white, but what stands out are the falls of the roof all gabled and quite steep, it is for when it snows, it slides faster.
image.png](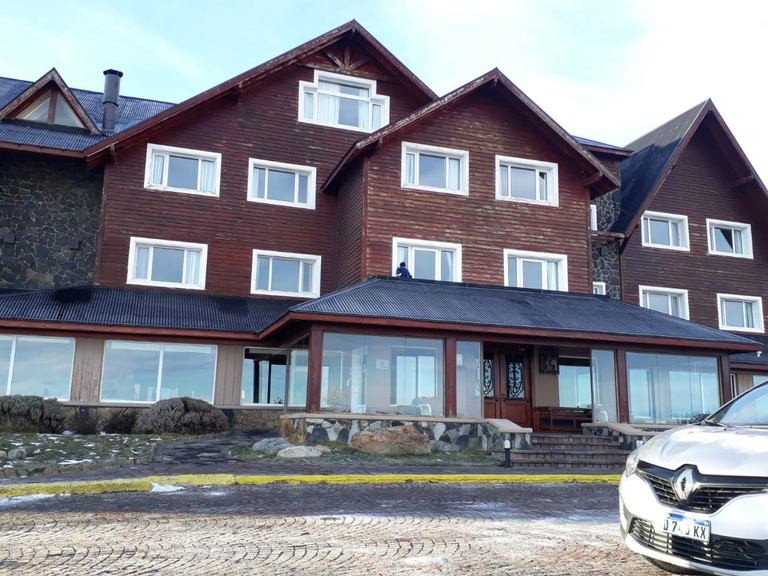 )
From our room you can see, what would be a food court, but at this moment even on the tables there is snow, that's why at night the cold is devastating.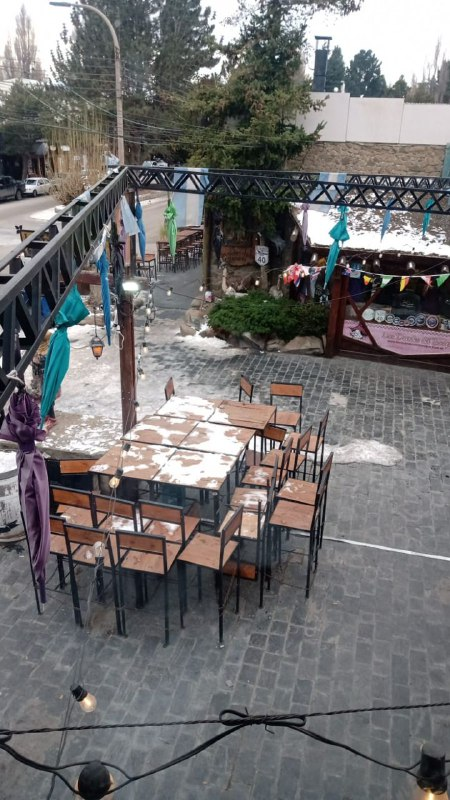 In this way we rested very well in this hotel, and then we said goodbye to this beautiful trip and to have also enjoyed it very well.
THANK YOU VERY MUCH FOR FOLLOWING ME AND READING ME, HAVE A NICE DAY WITH YOUR FAMILY.