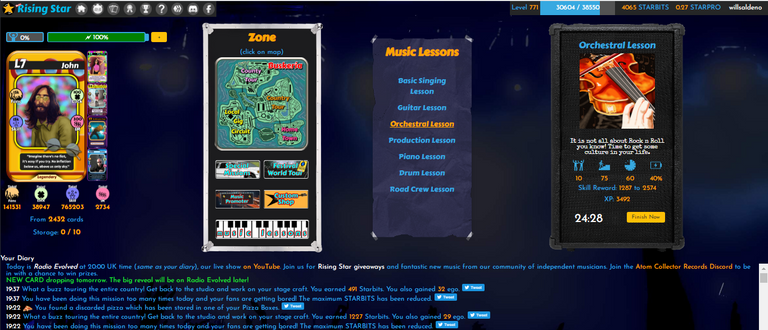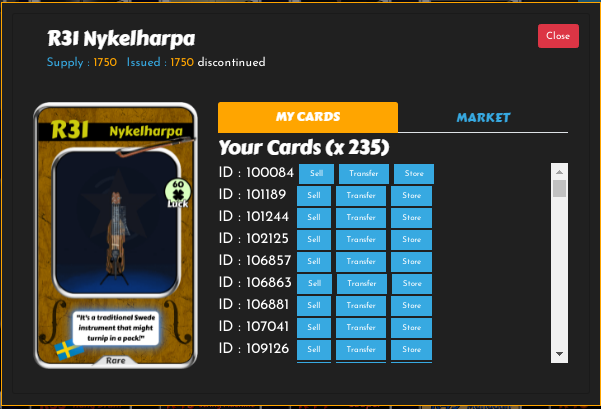 Greetings, my dear earthlings.

As you can see, I'm still doing missions of orchestra lessons, my lesson selected to put together instruments of that kind. I can win between 1287 and 2574,Skill, but this is not by chance, it has been by the strategy of joint instrument cards of the same type (check frequently asked questions and see the list for each lesson) by seeing the list they show there, you will have an idea of what to put together, depends on the lesson you prefer.

Saludos, mis estimados terrícolas.

Como pueden ver sigo haciendo misiones de lecciones de orquesta, mi lección seleccionada para juntar instrumentos de ese tipo. Puedo ganar entre 1287 y 2574,Skill, pero esto no es casualidad, ha sido por la estrategia de juntas tarjetas de instrumentos de un mismo tipo (revisa pregunta frecuentes y ve la lista para cada lección) al ver la lista que muestran allí, tendrás una idea de que juntar, depende de la lección que más prefieras.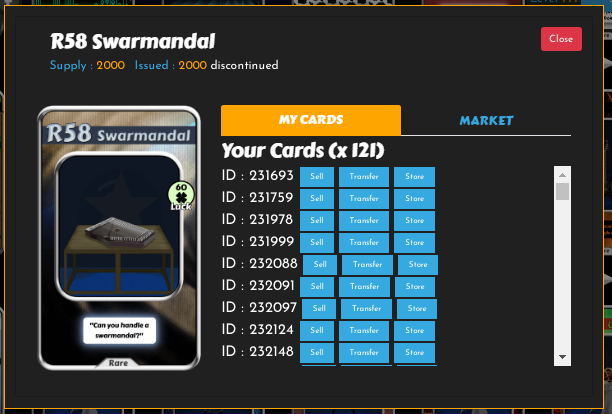 From R31 Nykelharpa I have 235 NFT cards that are about 15% of the total card run, from R58 Swarmandal 121, which would be about 8% of the total and E12 Harp, only 9 out of 250. In addition to collecting cards I guarantee to have a good amount of a card that will go up from price to future, because their print run are very low and they are also needed if a new player wants to complete their collection, in the future I will be able to sell some to buy others and so, That is part of the long-term strategy, as you know every card that finishes its run, it is increasing in price and they reach some that I think are excellent.

De R31 Nykelharpa tengo 235 tarjetas NFT que son cerca del 15% del total del tiraje completo de la tarjeta, de R58 Swarmandal 121, que seria cerca de un 8% del total y E12 Harp, solo 9 de 250. Además de juntar tarjetas garantizo tener una buena cantidad de una tarjeta que se van a subir de precio a futuro, porque su tiraje son muy bajos y además se necesitan si un nuevo jugador quiere ir completando su colección, a futuro podré vender algunas para comprar otras y así, esa es parte de la estrategia a largo plazo, como saben cada tarjeta que termina su tiraje, va aumentando de precio y llegan a alcanzar algunos que a mi me parecen excelentes.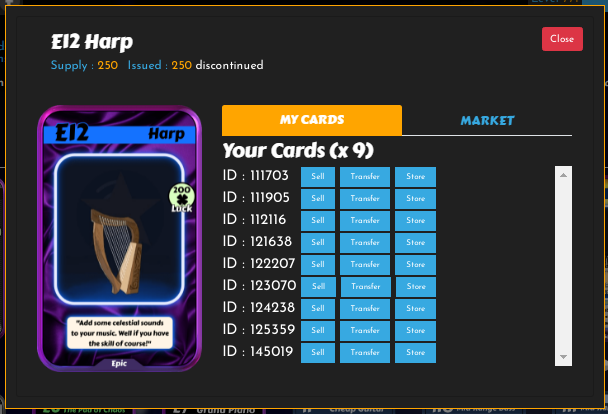 Always, since I entered this game I have thought about the future, after analyzing a few games in these almost 4 years looking for games to earn some money for daily sustenance, I have learned a few things and I keep a kind of statistics of how they work I have indicators, and I like that it has not entered into bubbles, the rise has been constant and gradual, based on improvements and the work of incorporating things that provide more and more utility to the token of this great game, in addition to having these numbers that speak for themselves, there is something that from the beginning makes me stay and that thanks to that I did not leave when some friends did and after the great flood, now they are sorry, because the truth I have not invested so much money, in comparison as if done in other games that did not give me results.

Siempre, desde que entré a este juego he pensado a futuro, luego de analizar unos cuantos juegos en éstos ya casi 4 años buscando juegos para ganar algo de dinero para el sustento diario, he aprendido algunas cosas y llevo una especie de estadísticas de como funcionan he indicadores, y me gusta que no ha entrado en burbujas, la subida a sido constante y paulatina, basada en mejoras y el trabajo de incorporación de cosas que brinden cada vez más utilidad a los token de este gran juego, además de tener éstos números que hablan por si solos, existe algo que desde el comienzo me hace quedarme y que gracias a eso no salí cuando algunos amigos lo hicieron y luego de la gran crecida, ahora ellos están arrepentidos, porque la verdad yo no he invertido tanto dinero, en comparación como si se hace en otros juegos que no me dieron resultados.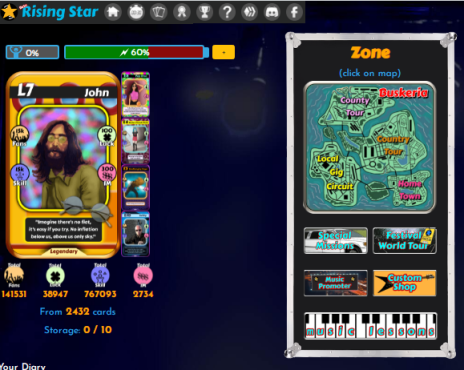 Something tells me that Risingstargame has a great future ahead of it and I hope there will be a big boom, and your NFT will take prices like the ones I expect in the future. Sure, everything is a risk, but if you don't take risks, you don't win or lose, the instruments for me are the best NFT, because everyone needs the instruments if they want to reduce the ego, which is the main opalo in the game for us players.

Algo me dice que Risingstargame tiene un gran futuro por delante y espero llegue un gran boom, y sus NFT tomen precios como los que estimo a futuro. Claro, todo es un riesgo, pero si no tomas riesgos, ni ganas ni pierdes, Los instrumentos para mi, son las mejores NFT, porque todos necesitan los instrumentos si quieren reducir el ego, que es el principal opácalo en el juego para nosotros los jugadores.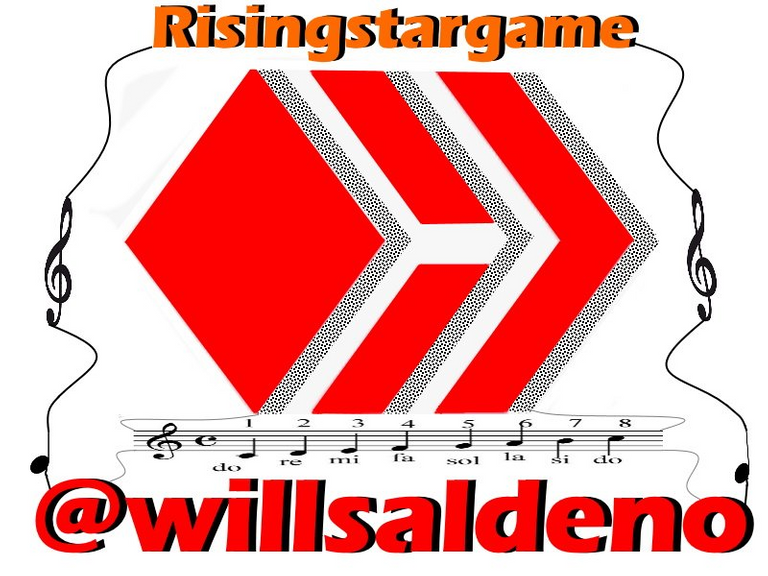 All images are screenshot of the game

Risingstargame and the currency of the token was made in collage style, with the program, Paint.net, to give an idea of ​​a possible currency that is surely made in a very more professional if they do it in the future.

Todas las imágenes son capture de pantalla del juego

Risingstargame y la monedo del token fue realizada a estilo collage, con el programa, Paint.net, para dar una idea de una posible moneda que de seguro la realizan con una manera mucho más profesional si en un futuro ellos la realizan.



Nota-Note
Bilingüe: Que utiliza dos lenguas al mismo nivel o se hace en dos lenguas
Bilingual: That uses two languages ??at the same level or is done in two languages.