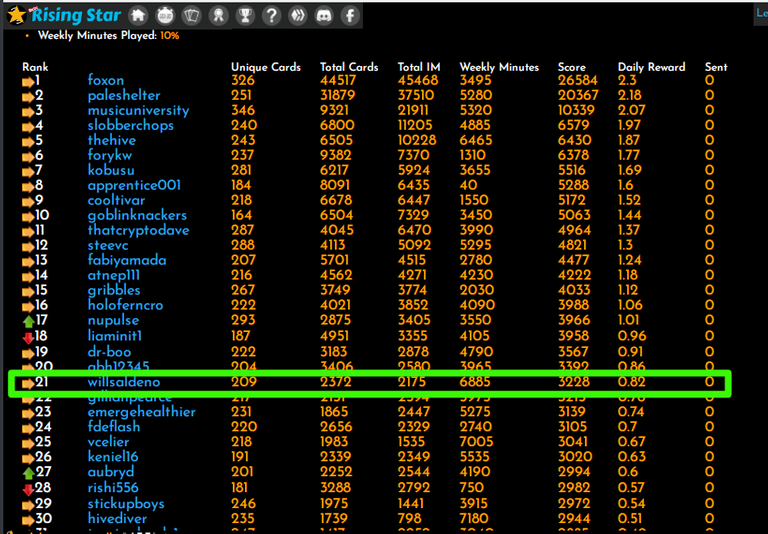 Greetings, my dear earthlings.
After investing in Risingstarme in a few packages, I'm still ranked 21st, but the truth is, with my sights set on 15th place, I think I have a chance of at least getting there if I stay on track.


This has me very happy and more seeing how the game is going better every day, new people enter and is growing, which promises a future of success for my NFT, which the truth so far is wonderful, if we just take into account that my legendary John is valued at over 1200 Hives, and even if I'm offered them I won't sell it.
Now let's add to that that I managed to buy some other legendary ones at very low prices, in the beginning of the game ( You can take advantage of this even with cards that are coming out) So whenever I can buy those that are within my reach.

Saludos, mis estimados terrícolas.
Después de invertir en Risingstargame en unos cuantos paquetes, aun me encuentro en el puesto 21, pero la verdad con la mira puesta en el lugar 15, creo que tengo oportunidad de al menos llegar allí si sigo como voy.


Esto me tiene muy contento y más al ver como el juego cada día le va mejor, entra gente nueva y esta creciendo, lo que promete un futuro de éxitos para mis NFT, que la verdad hasta ahora es maravilloso, si solo tomamos en cuenta que mi legendaria John esta valorada por más de 1200 Hives, y aun si me los ofrecen no la vendo.

Ahora sumemos a eso que logre comprar algunas otras legendarias en precios muy bajos, en principio del juego ( Se puede aprovechar esto aun con tarjetas que están saliendo) Así que cada vez que puedo compro las que estén a mi alcance.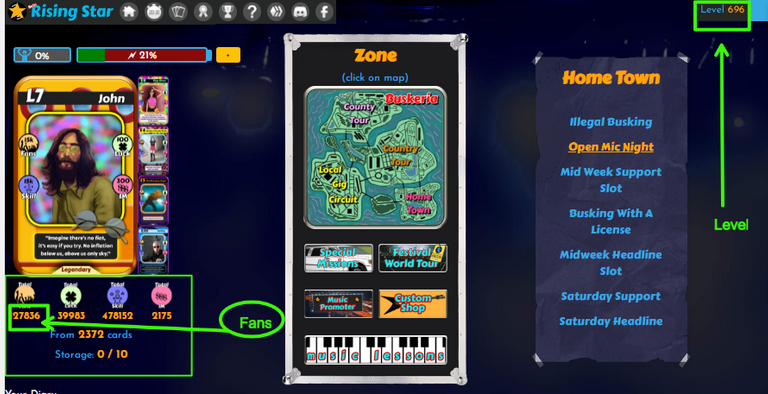 The numbers improved and now I'm producing a little more starbits. I think I need to improve something to be more efficient and I'm looking to see which values are the ones that improve the amount found per mission, I think the IM, which is what I need to try, Because I thought luck brought something to the chances of improving efficiency, the percentage, but it's not.

Los números mejoraron y ahora produzco un poco más de STARBITS. Considero que debo mejorar algo para ser más eficiente y ando en busca de ver cuales valores son los que mejoran la cantidad que se encuentra por misión, creo que los IM, que es lo que me falta probar, porque pensé que la suerte aportaba algo a las posibilidades de mejorar la eficiencia, del porcentaje, pero no es así.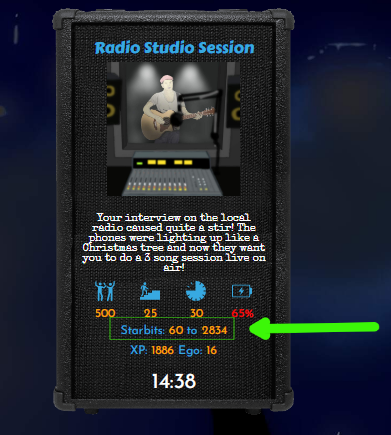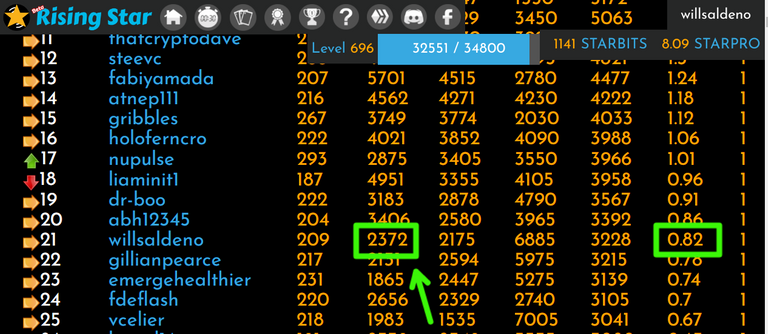 The number of cards has increased considerably but I must at least increase them by 50% so I will continue to collect some STARBITS to buy packages, although the truth I need to count on luck and find some legendary good that elevates my conscientious stats.

La cantidad de tarjetas ha aumentado considerablemente pero debo al menos incrementarlos un 50% por lo que voy a seguir reuniendo algunos STARBITS para comprar paquetes, aunque la verdad necesito contar con la suerte y encontrar alguna buena legendaria que eleve mis estadísticas considerablemente .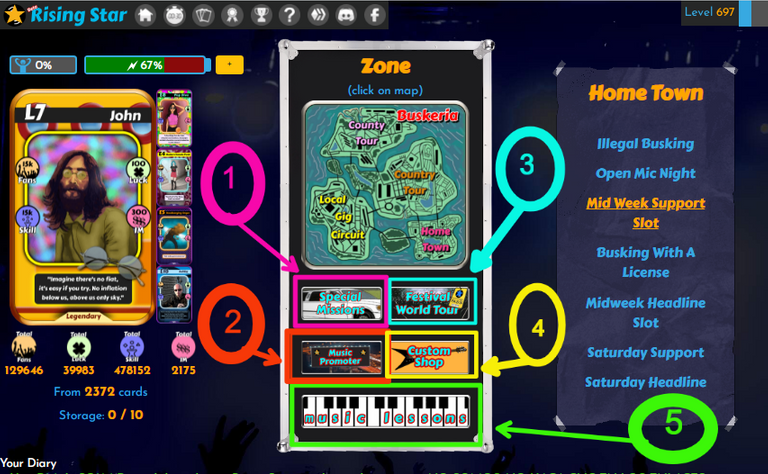 On the other hand, the game grows more and more, the owners create things where they invest the production of STARBITS /(I hope they create at least a few more) This adds that depth that is needed for the balance of the token economy, keeping a good price.
I think it's only a matter of time, just so that many will notice this game and get a big boom, even bigger than the one you have, there's only a little more promotion from the players.
Everything is in their hands, the community grows and brings other players as long as they notice that the game is balanced, and gives good results, Jux is seen to be a very smart person and has managed to keep things well, so I congratulate him, And your work team makes you want the game, this creates guarantees, at least trust in me, enough to keep investing and makes me think about all that growth that is coming for this wonderful game.
The cards are beautiful works of art which creates a further addition to the appeal of some of the best games I have found in Hive and look that I have tried some stories.

Por otro lado, el juego cada vez crece más, los dueños crean cosas donde invertir la producción de STARBITS /(espero creen al menos unas cuantas más) Esto agrega esa profundidad que se necesita para el equilibrio de la economía del token, manteniendo un buen precio.
Creo que es cuestión de tiempo, solo eso para que muchos se den cuenta de este juego y llegue un gran bum, aun mayor que el que tiene, falta solo un poco más de promoción por parte de los jugadores.
Todo esta en sus manos, la comunidad crece y trae otros jugadores mientras noten que el juego es equilibrado, y da buenos resultados, Jux se ve que es una persona muy inteligente y ha sabido mantener las cosas bien, por lo que le felicito, y su equipo de trabajo le pone ganas al juego, esto crea garantías, al menos confianza en mi, suficientes para seguir invirtiendo y me hace pensar en todo ese crecimiento que se avecina para este maravilloso juego.
Las tarjetas son hermosas obras de arte lo que crea un agregado más a el atractivo de unos de los mejores juegos que he encontrado en Hive y miren que yo si que he probado unos cuentos.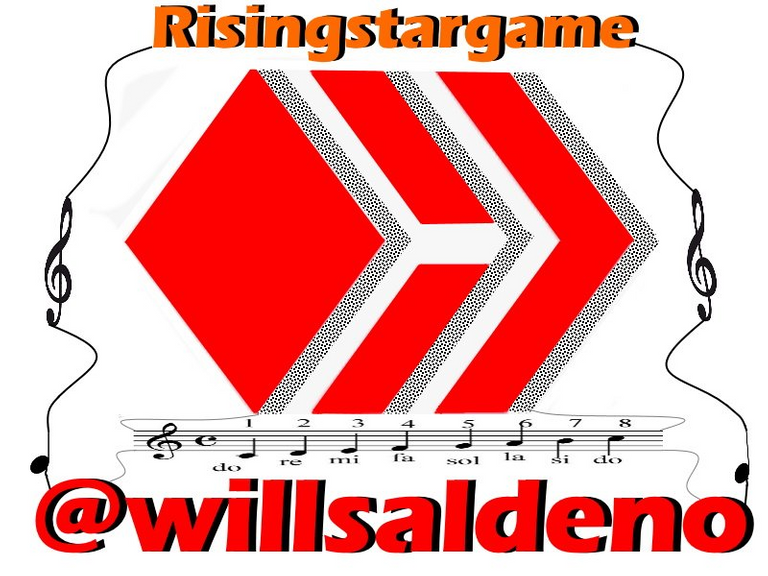 All images are screenshot of the game

Risingstargame and the currency of the token was made in collage style, with the program, Paint.net, to give an idea of ​​a possible currency that is surely made in a very more professional if they do it in the future.

Todas las imágenes son capture de pantalla del juego

Risingstargame y la monedo del token fue realizada a estilo collage, con el programa, Paint.net, para dar una idea de una posible moneda que de seguro la realizan con una manera mucho más profesional si en un futuro ellos la realizan.



Nota-Note
Bilingüe: Que utiliza dos lenguas al mismo nivel o se hace en dos lenguas
Bilingual: That uses two languages ??at the same level or is done in two languages.