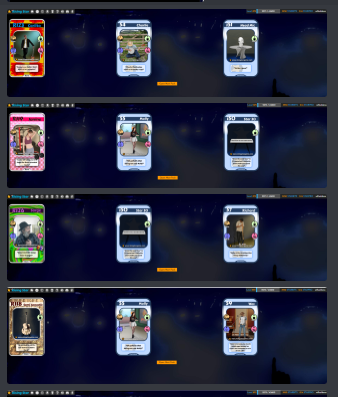 Greetings, my dear earthlings

After a while away from publishing, I have returned, I was not dead, I was on a binge (As they say in my land" But for this reappearance I bought 12 packs of cards, in the picture above you can start to see that I have come out in each envelope.

Saludos, mis estimados terrícolas

Luego de un tiempo distanciado de publicar, he regresado, no estaba muerto, estaba de parranda (Como dicen en mi tierra" Pero para esta reaparecida he comprado 12 paquetes de tarjetas, en la imagen de arriba pueden comenzar a ver que me ha salido en cada sobre.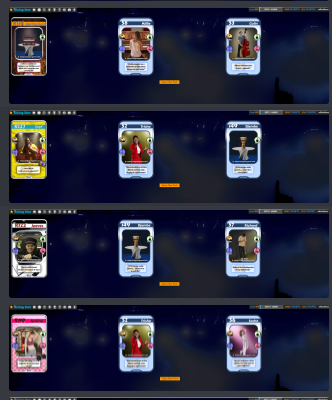 The most important to highlight is that epic card E49 The Purple One, the truth this beautiful guitar, fascinates me, although it is not the instruments of the lesson that I take, I do orchestra lessons.

La más importante a destacar es esa tarjeta épica E49 The Purple One, la verdad esta hermosa esa guitarra, me fascina, a pesar de que no es de los instrumentos de la lección que yo tomo, yo hago lecciones de orquesta.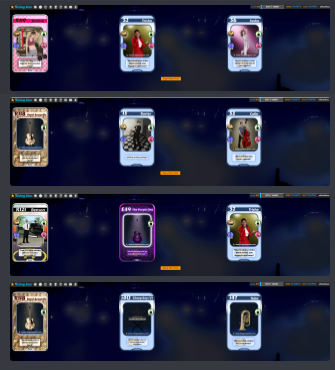 I retire a little because I'm an efficient player, yes, I'm very crazy But don't crazy people and different people have the right to be unique? Well that's another topic and it's taboo, so we better talk about Christmas, hahaha, what a beautiful time and despite everything, in my country feels another atmosphere, I think positive changes are coming, better not talk about that either, hahaha.

Me retire un poco porque soy un jugador eficiente, sí, estoy muy loco ¿Pero acaso los locos y personas diferentes no tenemos derecho a ser únicos? Bueno eso es otro tema y es tabú, así que mejor hablamos de la navidad, jajaja, que época más bonita y a pesar de de todo, en mi país se siente otro ambiente, creo que se acercan cambios positivos, mejor tampoco hablo de eso tampoco, jajaja.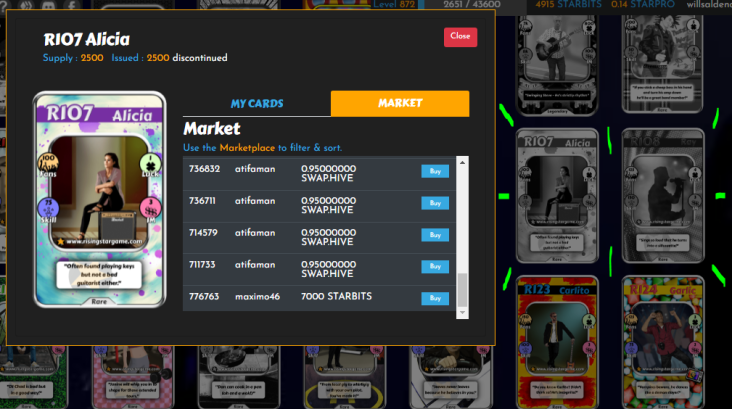 I didn't stop there and I kept shopping in the market, I flew that one for 7000 Starbits and the other one next to it, but the internet connection was slower than usual, so I didn't open my collection to see the cards that already sold out and buy them in the market to complete a little more my deck. Tomorrow I'll continue shopping.

No me detuve allí y seguí comprando en el mercado, volé esa por 7000 Starbits y la otra que esta a su lado, pero la conexión a internet estaba más lenta que de costumbre, así que no me abría mi colección para ver las tarjetas que ya agotaron su edición y comprarlas en el mercado para completar un poco más mi mazo. Será mañana que continúe comprando.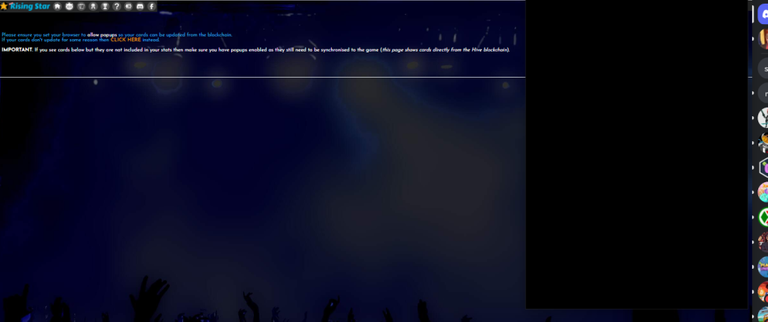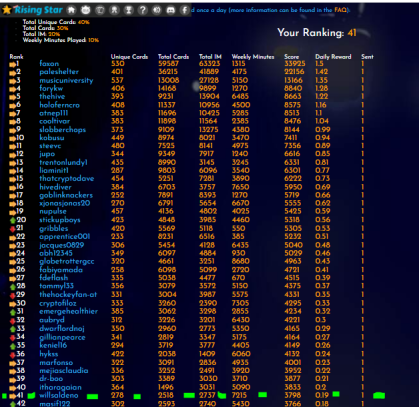 Usf, I'm down to 41, people are investing in cards, but don't worry I'm back. By the way, you guys have seen the great opportunity to buy the million Starbits, wow, this one at a great price, take advantage because as soon as I get back a capital I will fly about 3 million Bits in the market, then don't say not to mention them. Hey, sure, I have to say: I'm not an investment expert. I'm just a crazy man who eats soap and brushes his teeth with burnt oil, haha. But the million Starbits for that price, only at this time that everyone is spending and selling almost everything.

Usf, me han bajado al puesto 41, la gente esta invirtiendo en tarjetas, pero no se preocupen que he regresado. Por cierto chicos, han visto la gran oportunidad de comprar el millón de STARBITS, wow, esta a un gran precio, aprovechen porque apenas logre recuperar un capital voy a volar unos 3 millones de Bits en el mercado, luego no digas que no se los mencione. Hey, claro, debo decirlo: Yo no soy experto en inversiones. Solo soy un loco que come jabón y se cepilla los dientes con aceite quemado, jaja. Pero el millón de STARBITS por ese precio, solo en esta época que todos gastan y por ello andan vendiendo casi todo.

See how my numbers were, after those purchases have improved noticeably, so it was worth investing, plus I've stopped selling my STARBITS to collaborate and reduce the offer, to keep you priced on this date that we all know most sell for an extra cash entry, and if we add up the Hive, it's what gives us this good opportunity, so at least I'll try to buy STARBITS at a good price.

Vean como estaban mis números, luego de esas compras han mejorado notoriamente, así que ha valido la pena invertir, además que he dejado de vender mis STARBITS para colaborar y reducir la oferta, para que mantenga precio en esta fecha que todos sabemos la mayoría venden para una entrada de dinero adicional, y si le sumamos la subida del Hive, es lo que nos da esta buena oportunidad, así que al menos yo voy a tratar de comprar STARBITS a buen precio.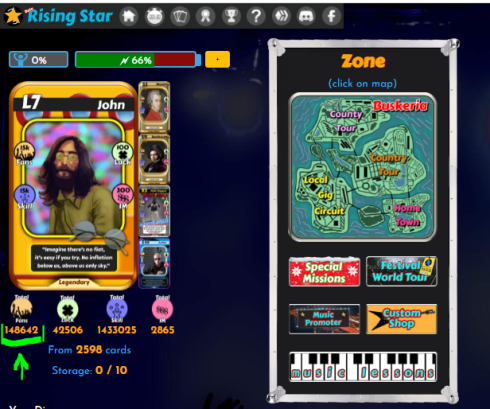 A rumor has been heard that they are going to take out an island, this idea appears in a post a while ago, if someone else said it, it would be nice to see them take out one, since all artists when they reach the top, buy an island or a mansion, So these would be ideas that can be developed, and that you can do some special missions there, so that those who buy them have the opportunity, for vehicles, it would be nice to have a cargo plane and a gandola, to carry the instruments and sound worldwide - Se ha escuchado un rumor de que van a sacar una isla, esta idea la asome en un post hace un tiempo, si alguien más la dijo, seria agradable ver que saquen una, ya que todos los artistas cuando logran la cima, compran una isla o una mansión, así que éstas serian ideas que se pueden desarrollar, y que se puedan hacer algunas misiones especiales allí, así los que las compren tengan la oportunidad, para vehículos estaría bien un avión de carga y una gandola, para llevar los instrumentos y el sonido a nivel mundial.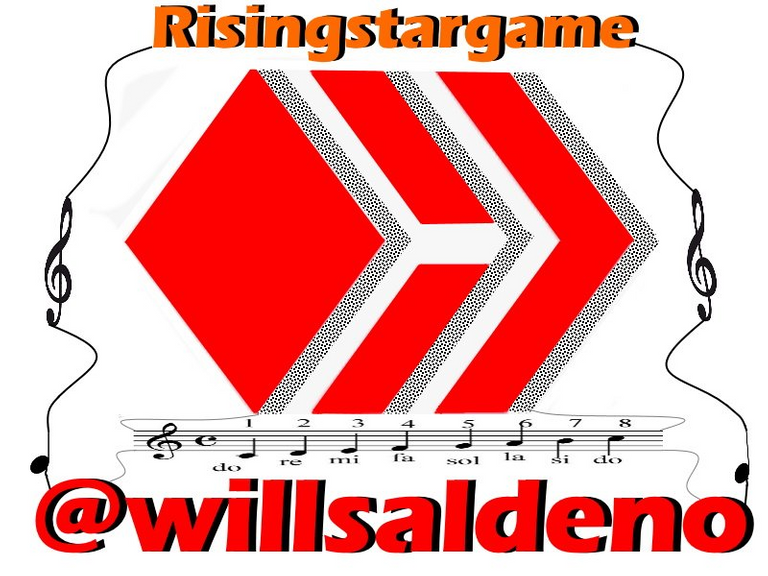 All images are screenshot of the game

Risingstargame and the currency of the token was made in collage style, with the program, Paint.net, to give an idea of ​​a possible currency that is surely made in a very more professional if they do it in the future.

Todas las imágenes son capture de pantalla del juego

Risingstargame y la monedo del token fue realizada a estilo collage, con el programa, Paint.net, para dar una idea de una posible moneda que de seguro la realizan con una manera mucho más profesional si en un futuro ellos la realizan.



Nota-Note
Bilingüe: Que utiliza dos lenguas al mismo nivel o se hace en dos lenguas
Bilingual: That uses two languages ??at the same level or is done in two languages.