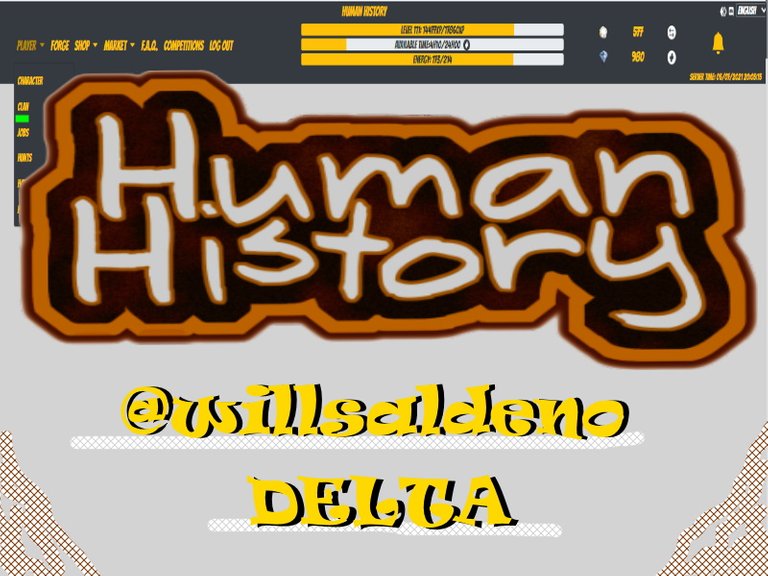 Greetings, my dear fellow players. Today I bring you a little guide about
Human-History-Game It is a game that I like and in which I have a clan "DELTA" to which I take the opportunity to invite them from the entrance Do you dare? Then follow this guide I offer you.

In the same way if you always enter to play connected and you can find me in Dicord Human-History

Saludos, mis estimados amigos jugadores. Hoy les traigo una pequeña guía sobre
Human-History-Game Es un juego que me gusta y en el cual tengo un clan "DELTA" al cual aprovecho de invitarles desde la entrada ¿Te animas? Entonces sigue esta guía que te ofrezco.

De igual manera si entras a jugar siempre ando conectado y puedes encontrarme en Dicord Human-History
So you'll see the home page
Así verás la página principal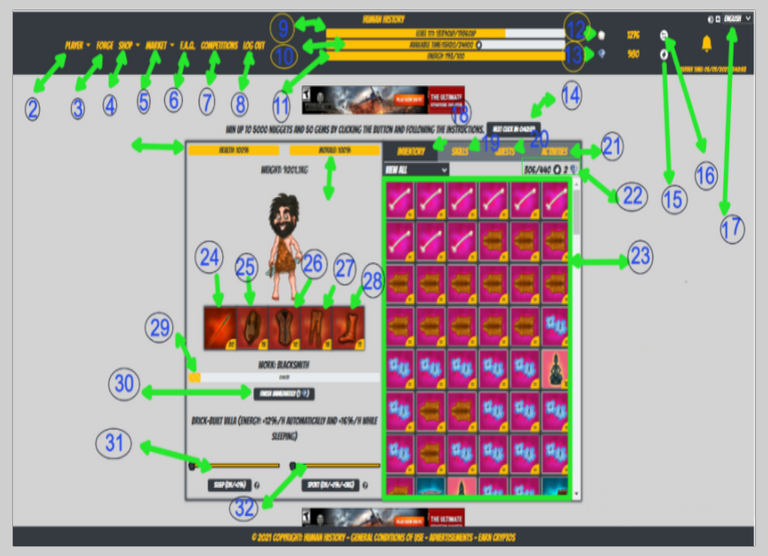 1: Home page
2:Playlist
3: Forging accessories
4:Game store
5: Player market
6:Frequently asked questions
7:Competitions
8:Leaving the game
9: Player Level Bar
10:24 hour Time Bar
11: Energy Bar
12: Amount of token you have earned
13:Amount of gems you own
14:Time left for next click
15: Button to enter to buy gems >/li> li> 16: Button to enter to claim tokens
17:Change language (English-French)
18:Inventory
19: skills
20:Daily quest
21:lActivities book
22:Buy spaces for inventory
23: Inventory things view
24: Weapon
25:Garment to cover the head
26:Garment to cover the chest
27: Pants
28: Shoes
29: Work mission time
30: Button to start or advance mission
31: Buy energy with time.
32: Exercise

1: Página principal
2:Lista de jugar
3: Forja accesorios
4:Tienda del juego
5: Mercado de jugadores
6:Preguntas frecuentes
7:Competiciónes
8:Salir del juego
9: Barra de nivel del jugador
10:Barra de tiempo 24 horas
11: Barra nivel de energía
12: Cantidad del token que haz ganado
13:Cantidad de gemas que posees
14:Tiempo que falta para siguiente click
15: Botón para entrar a comprar gemas
16: Botón para entrar a reclamar los token
17:Cambiar idioma (Ingles-Francés)
18:Inventario
19: habilidades
20:Quest diarios
21:lLibro de actividades
22:Comprar espacios para inventario
23: Vista de cosas del inventario
24: Arma
25:Prenda para cubrir la cabeza
26:Prenda para cubrir pecho
27: Pantalones
28: Zapatos
29: Tiempo misión de trabajo
30: Botón para iniciar o adelantar misión
31: Comprar energía con tiempo.
32: Hacer ejercicio

(14 )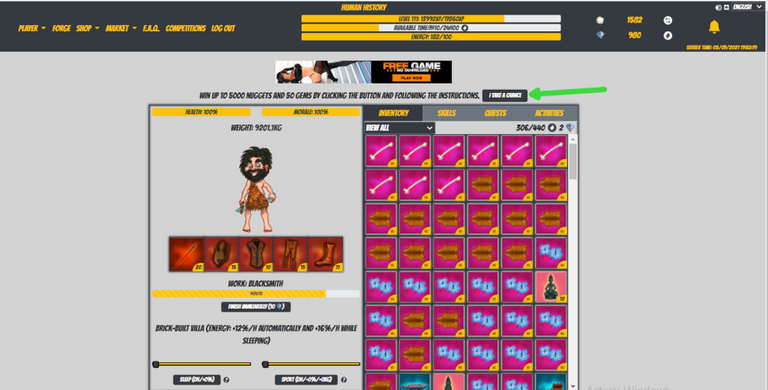 I'll start by making the game as easy as possible and allow them to win at once, and this is where they click, and that button sends you to an advertisement, for waiting just a few seconds you can win gems, so it's something you should do with priority. You do those steps as well as the two images below and you go back to the page, and you get a note of your payment

Comenzaré por hacer lo más fácil del juego y que les permitirá ganar de una vez, y aquí es donde se hacen los click, y ese botón te envía a una publicidad, por esperar apenas unos segundos puedes ganar gemas, así que es algo que debes hacer con prioridad. Haces esos unos pasos así como los de las dos imágenes de abajo y t regresa a la página, y te aparece una nota de tu pago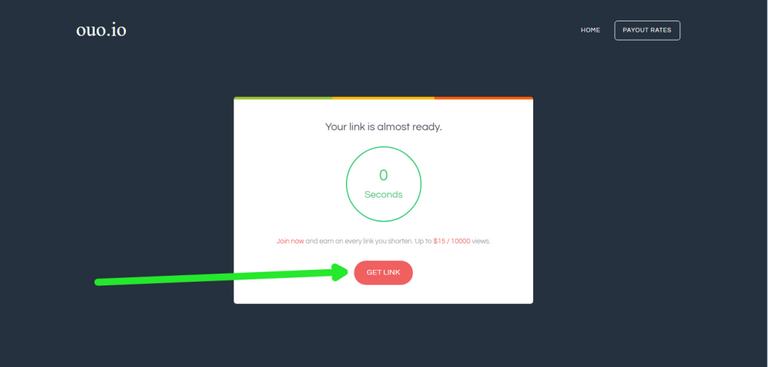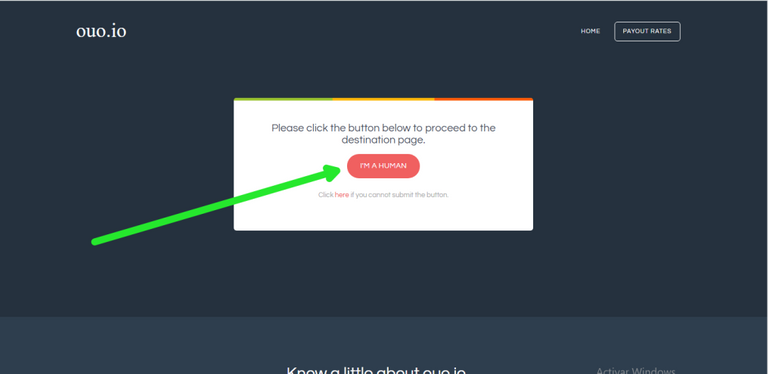 (2)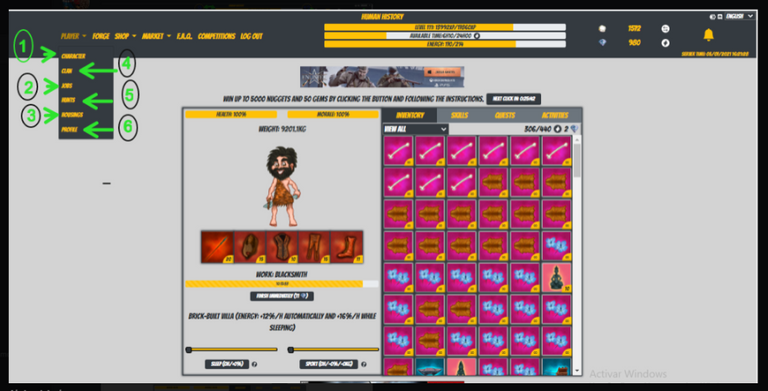 As you must wait an hour to make more click, you go and open this panel so, here you enter the button 4 to do missions to hunt, and then there itself passed the time (depends on the mission you choose) There you will find where you collect what you have hunted. Something important is that you need a weapon (you can just buy it) for now you can choose one of the 4 hunting missions that appear at the bottom of the image that I put you as a visual guide, but you see that I put two arrows up, They mean that you must have time and energy there, to be able to carry out missions, once they are exhausted, you must look for strategies with what you earn resources to buy time. You see a button with extra symbol on that bar, there you buy time, which in turn you can change to power on button "31"

Como debes esperar una hora para hacer más click, vas y abres este panel para que, aquí entras en el botón 4 para hacer misiones de cazar, y luego allí mismo pasado el tiempo (depende la misión que escojas) Allí encontrarás donde se recoge lo que haz cazado. Algo importante es que necesitas un arma (apenas puedas debes comprarla) por ahora puedes escoger una de las 4 misiones de caceria que aparecen en la parte inferior de la imagen que te pongo de guía visual, pero ves que puse dos flechas para arriba, esas te quieren decir que debes tener tiempo y energía allí, para poder realizar misiones, una vez que se agotan, debes buscar estrategias con lo que ganes recursos para comprar tiempo. Ves un botó con símbolo de más en esa barra, allí compras tiempo, que a su vez lo puedes cambiar por energía en botón "31"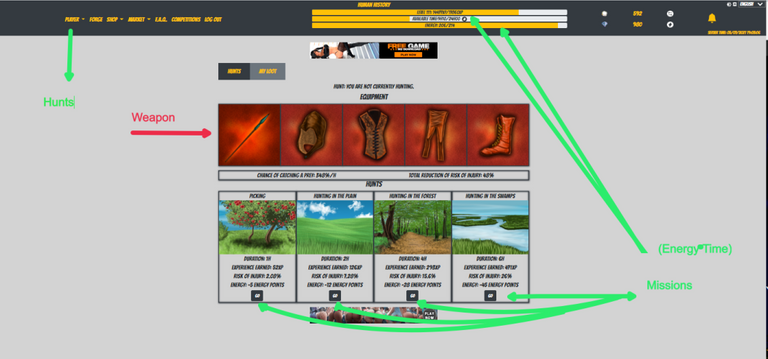 Action "A" will take you to the list where you can claim what you've hunted on your mission. Action "B" is where you can refill each animal. And the "C" is where you throw it, as there is a quest that asks you to throw some and as you level up ask you to throw more, some quest ask you to recover booty, another ask you to buy some things in the store, so I advance this by mentioning the subject.

La Acción "A" te llevará a la lista donde puedes reclamar lo que haz cazado en tu misión. La "B" es donde puedes recamar cada animal. Y la "C" es donde lo tiras, ya que hay un quest que te pide tirar algunas y a medida que subes de nivel pide botar más, algunas quest piden que recuperes botín, otra que compres algunas cosas en la tienda, así que te adelanto esto al mencionar el tema.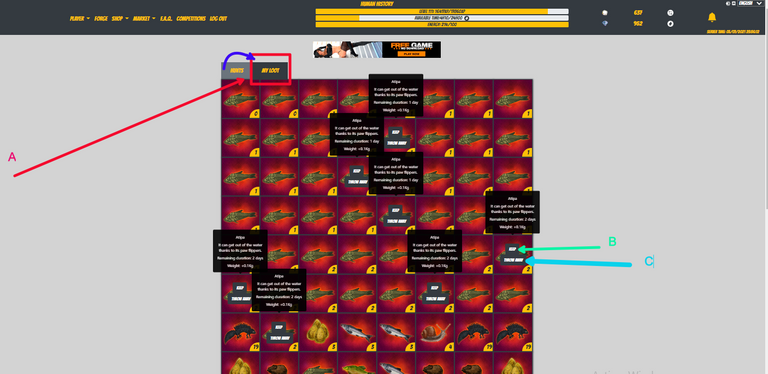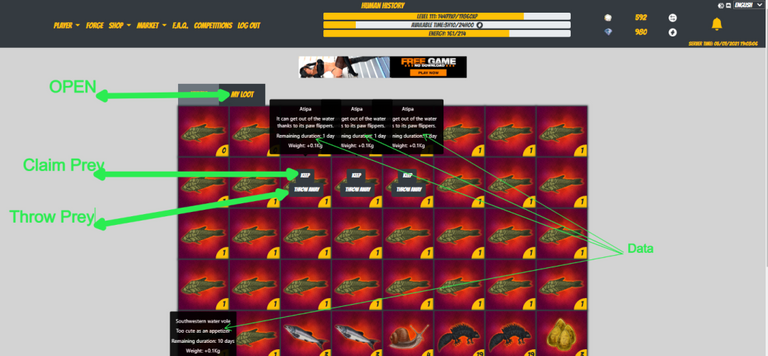 Job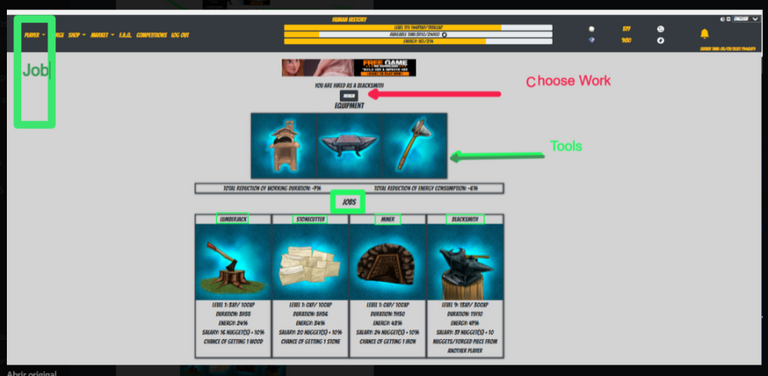 Here you have to choose the work you will do, the woodcutter is easier and also requires a lot of wood. Example that you enter my clan, you will be able to sell in the internal market and to help the members, I will buy it (we need it to raise some levels that benefit all the clan) but I will pay it so that with those resources they try to raise their levels.br> Once you choose your trade, you should gather to buy the main tools and as you have more purchasing power you should try to buy all those related to your work, since they provide some benefits each.

Aquí debes escoger el trabajo que realizaras, el de leñador es más fácil y además se requiere mucha madera. Ejemplo que entras a mi clan, podrás vender en el mercado interno y para ayudar a los miembros, yo la compraré (la necesitamos para subir algunos niveles que benefician a todos los del clan) pero la pagaré para que con esos recursos traten de subir sus niveles.
Una vez escoges tu oficio, debes reunir para comprar la herramientas principal y a medida que tengas más poder adquisitivo debes tratar de compras todas las referentes a tu trabajo, ya que aportan algunos beneficios cada una.

(18)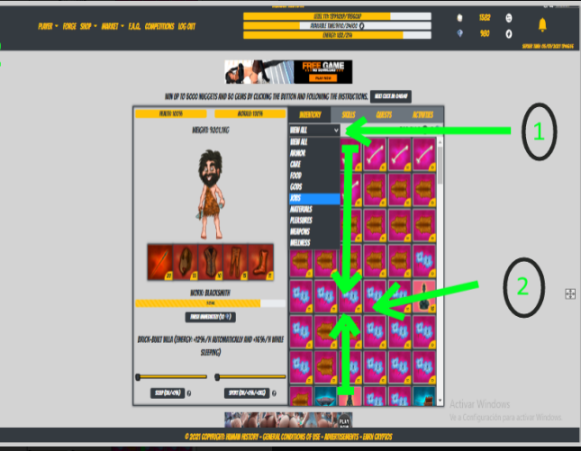 Once each mission is completed, the prizes are claimed and another is made. We return to the main page on the game button, the 1 "Character" and we find the 18 "Inventory" button where we will find the objects we have and the animals we claimed earlier.br> In number 1 shows you where to click to open the secondary menu with the list where the different things appear and where you can select a single class to shorten the list (in case you have many things) The "2" shows you the images of what you have in stock and the arrows the extension that can occupy, all this so you have an idea to future.br> Here you can consume animals to gain weight, either for the competition or for quests who ask to consume a certain amount of weight.

Una vez que termine cada misión se reclaman los premios y se hace otra. Regresamos a la página principal en el botón de juegos, la 1 "Character" y nos encontramos el botón 18 "Inventario" Donde vamos a encontrar las objetos que tengamos y los animales que reclamamos anteriormente.
En número 1 te muestra donde hacer click para abrir el menú secundario con la lista donde aparecen las distintas cosas y donde puedes seleccionas una sola clase para acortar la lista (en caso que tengas muchas cosas) El "2" te muestra las imágenes de lo que tienes en inventario y las flechas la extensión que puede ocupar, todo esto para que tengas una idea a futuro.
Aquí puedes consumir los animales para ganar peso, sea para la competencia o para los quest que piden consumir cierta cantidad de de peso.
(20)
Quest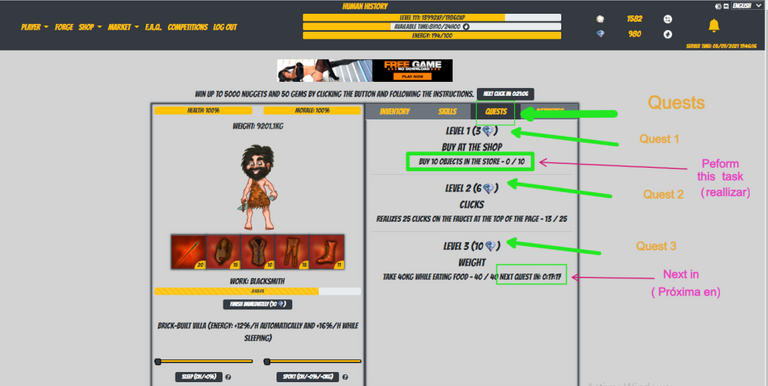 (19)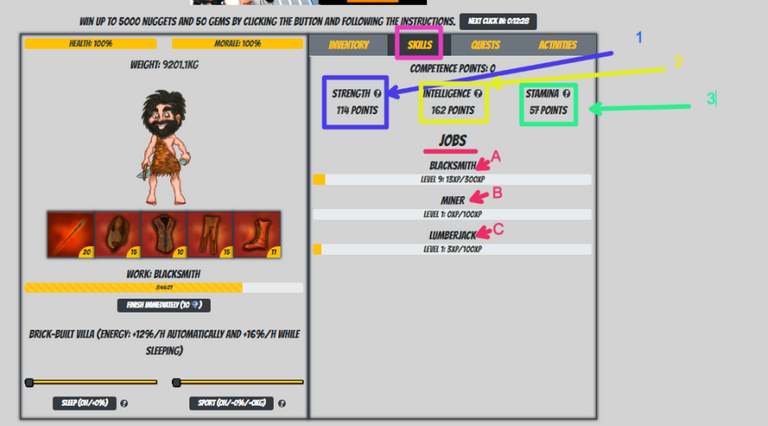 The Skills must be increased and each time you rise level you are given 3 and you must choose to which of those you add the points to increase. They in turn help you to receive more points each level you climb (a cycle) and I will name them in order of importance to me. 3: Intelligence helps you receive more points to level up. Stamina: It helps to have more percentage of energy in the main energy bar, identified with the "11" in the main page image and it is good to increase it a little, but to some extent. 1: Strength, which increases your chance of finding better animals when you hunt.

Las Skill debes aumentarlas y cada vez que subes de nivel te entregan 3 y debes escoger a cual de esas le sumas los puntos para aumentar. Ellas a su vez te ayudan a recibir más puntos cada nivel que subes (un ciclo) Y las nombraré en orden de importancia para mi. 3: La inteligencia te ayuda a recibir más puntos para subir de nivel. Stamina: Ayuda a tener mas porcentaje de energía en la barra principal de energía, identificada con el "11" en la imagen de página principal y es bueno aumentarla un poco, pero hasta cierta medida. 1: Strength, lo que te aumenta el chance de encontrar mejores animales cuando cazas.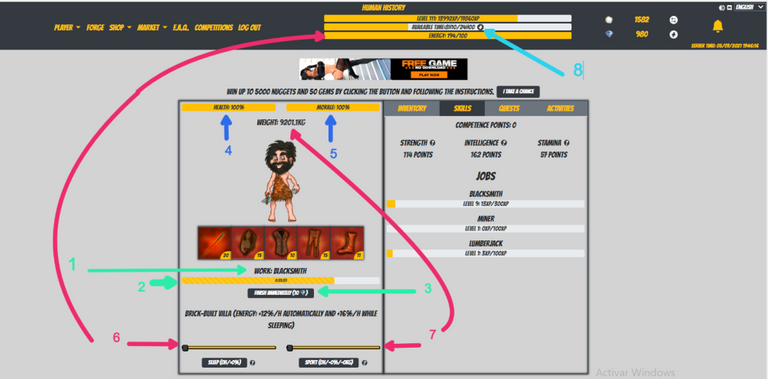 1: Name of the job you chose.
2: Work duration bar
3:Button to advance the mission (if you pay gems)
4: Health: Improve by consuming certain foods and the God Fitalis helps.
5: Moral (God "helps you to improve while you sleep, you must buy it.
6: Bar where you buy energy with time.
7: Bar where you exercise, if you spend time helps you lose weight.
8:Button where you buy time, if you pay with gems.

1: Nombre del trabajo que escogiste.
2: Barra de duración del trabajo
3:Botón para adelantar la misión (si pagas gemas)
4: Salud: Mejora consumiendo ciertos alimentos y el Dios Fitalis ayuda.
5: Moral (El Dios " "ayuda a mejorar mientras duermes, debes comprarlo.
6: Barra donde compras energía con tiempo.
7: Barra donde haces ejercicio, si gastas tiempo te ayuda a bajar peso.
8:Botón donde compras tiempo, si pagas con gemas.

(18)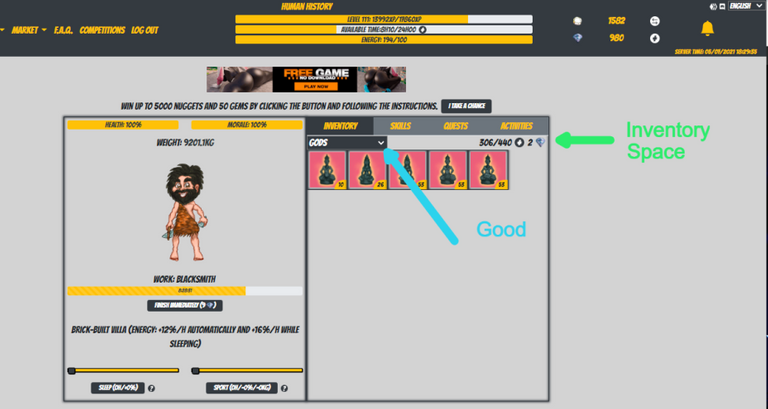 Here you can see the gods and for what each serves.
The inventory has that button, where you can enter and if you pay for gems (2 for each space) you increase the storage capacity, something that is advantageous as you progress in the game.

Aquí pueden ver los dioses y para que sirve cada uno.
El inventario, tiene ese botón , donde puedes entrar y si pagas gemas (2 por cada espacio) haces crecer la capacidad de almacenaje, algo que es ventajoso a medida que avanzas en el juego.

(16)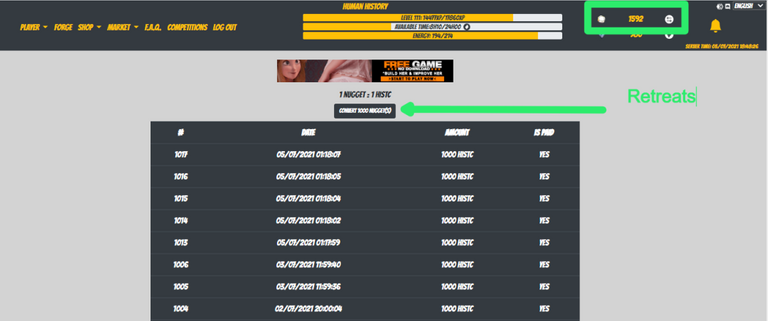 Claim from a 1000, the game currency the
token HISTC The ones that get you there in Hive Engine. I invite you to visit the market where you can buy some to improve in a quick way mpas in the game.

Reclamar de a 1000, la moneda del juego el
token HISTC Los que te llegan allí en Hive Engine. Te invito a visitar el mercado donde puedes comprar algunos para mejorar de una forma más rápida en el juego.

(15)

Once you have the token, here you can buy gems or you can also use Hives and other crypros.

Una vez que tengas el token, aquí puedes comprar gemas o también puedes usar Hives y otras crypros.

(4)

The game store offers you some things, as it is limited but is renewed every day by updating the game schedule. There is quest that asks you to buy a specific amount (depends on your level in the quest increases) But see that you also have a button to make new things come out, but you must pay 1 gem for each change and it is at random what will appear.

La tienda del juego te ofrece algunas cosas, ya que es limitado pero se renueva cada día al actualizarse el horario del juego. Hay quest que te piden que compres una cantidad especifica (depende de tu nivel en los quest aumenta) Pero ve que también tienes un botón para hacer que salgan nuevas cosas, pero debes pagar 1 gema para cada cambio y es al azar lo que aparecerá.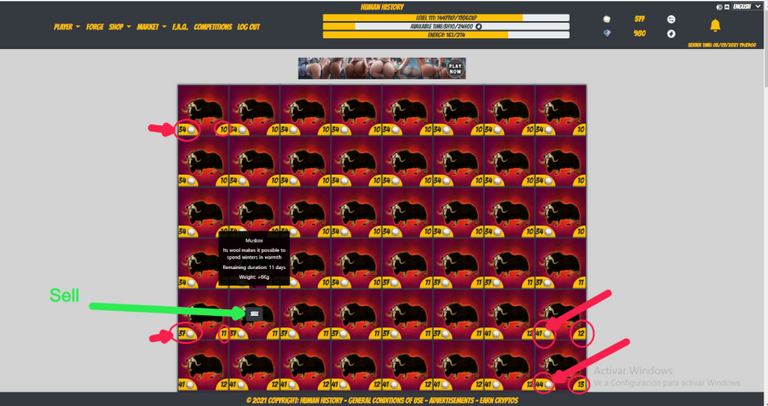 But here you can also sell the game, and it pays you immediately, of course, with fixed prices, not like in the play market where you can set the price you think best.

Pero aquí también puedes venderle al juego, y te paga de manera inmediata, claro, con precios fijos, no como en el mercado de jugadores, donde puedes establecer el precio que mejor te parezca.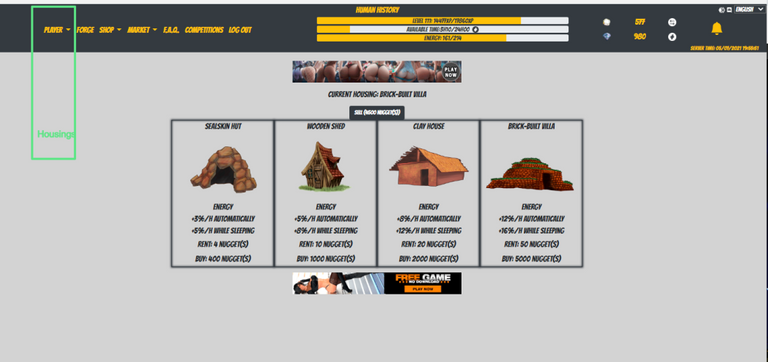 Here you choose the type of house you want, its price depends (the more expensive) the more contributions it provides, and the main thing is for when you go to sleep and it generates energy. You can buy it or rent it.

Aquí escoges el tipo de casa que quieres, depende su precio (mientras más costosa) más aportes brinda, y lo principal es para cuando vas a dormir y ella genera energía. La puedes comprar o alquilar.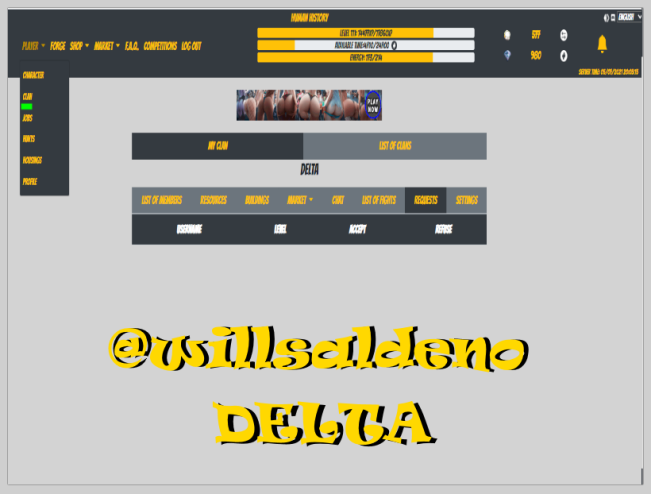 There you enter the clan, I have one called "DELTA" Everyone is welcome, as we must begin to grow to prepare for battles (a new update that they will add) for now I have kept the clan as peaceful, to grow, but once the battles arrive, We have to fight to win more things, so I'll help some members who need it, to grow something faster. There is an internal market for members only. Resources must be gathered to level up some benefits that improve the percentage of what we earn and each member of the clan receives that benefit equally, I have been raising the levels with another member of the clan, I hope that many loggers arrive, because we need wood.

Allí entras al clan, yo tengo uno llamado "DELTA" Todos son bienvenidos, ya que debemos comenzar a crecer para prepararnos para las batallas (una nueva actualización que van a agregar) por ahora he mantenido el clan como pacifico, para crecer, pero una vez lleguen las batallas, debemos pelear para ganar más cosas, por eso ayudaré un poco a los miembros que lo necesiten, para crecer algo más rápido. Existe un mercado interno para solo miembros. Se deben reunir recursos para subir de nivel algunos beneficios que mejoran el porcentaje de lo que ganamos y cada miembro del clan recibe por igual ese beneficio, yo he ido subiendo los niveles con otro miembro del clan, espero que lleguen muchos leñadores, porque necesitamos madera.

( 7 )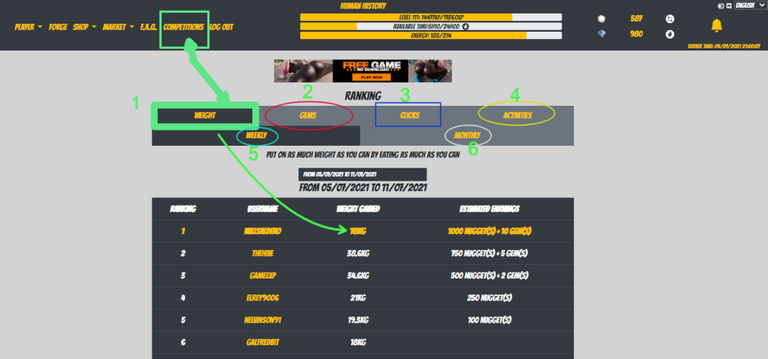 After all that, you can be prepared to go to competitions or rather try to climb on the rak, as this is automatic, but you can do things by spending resources to be more competitive, but I recommend concentrating at first to level up.
It is not just a rank, there are several, one for each activity, the main one is weight, but you can enter and review the others to give you an idea of each one.

Después de todo eso, puedes estar preparado para ir a las competiciones o más bien tratar de subir en el rank, ya que esto es de manera automática, pero se pueden hacer cosas gastando recursos para ser más competitivo, pero yo recomiendo concentrarse al principio a subir de niveles.
No es solo un rank, existen varios, uno para cada actividad, el principal es el de peso, pero puedes entrar y revisar los otrospara que te des una idea de cada uno.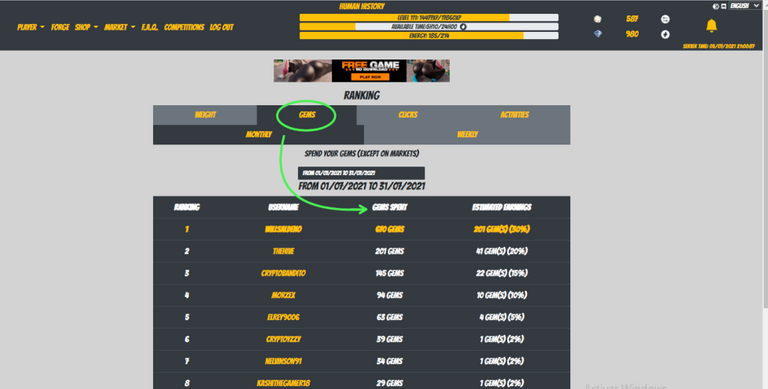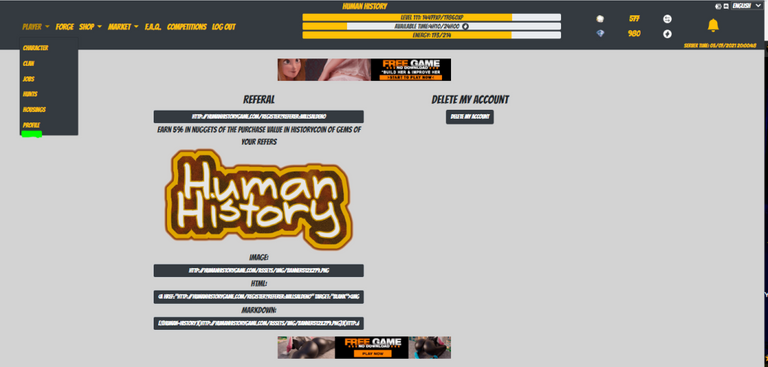 And the profile page, where you can find your referral link, by the way I leave mine for you to enter.
My Game Link br> You can also find other things, in my case use the image offered by the owner of the game, so I take the opportunity to thank him for creating this great game. The images are screenshots of the game, with modifications (to be able to explain graphically) use the program, Paint Wed, which is an extension that you can download in your browser, which is very good and makes things a little easier. I must say that I'm not an investment expert, so don't risk games any more than you're willing to lose, although the truth is I'm offering you this for fun and if you manage to win something, it's an extra. Thank you for reading me and this material I made with much affection for you, I hope it will help you to start in this great game.

Y la página de perfil, donde puedes encontrar tu link de referido, por cierto te dejo el mío para que entres.
Mi Link del juego
También puedes encontrar otras cosas, en mi caso use la imagen que ofrece el dueño del juego, por lo que aprovecho para dar las gracias a él, por crear este gran juego. Las imágenes son capturas de pantalla del juego, con modificaciones (para poder explicar gráficamente) use el programa, Paint Wed, la cual es una extensión que puedes descarga en tu navegador, la cual es muy buena y hace las cosas algo más fácil. Debo decir que no soy experto en inversiones, así que no arriesgues en los juegos más de lo que estés dispuesto a perder, aunque la verdad te ofrezco esto para que te diviertas y si logras ganar algo, es un extra. Gracias por leerme y este material lo realice con mucho cariño para ustedes, espero les sirva para comenzar en este gran juego.