HOLA AMIGOS 💕🐝 // HI FRIENDS 💕🐝
Como están espero se encuentren muy pero muy bien, hoy paso por 6 compartir una hermosura de plantita, la conozco como malva, les cuento que está planta llegó a nuestra casa, porque hace algún tiempo una amiga de mi hermana le regaló una matica pequeña y le dijo que la plantara dónde le diera bastante sol, que florece hermosa y además tiene bastante propiedades medicinales, mi hermana le hizo caso y la plantó en su jardín donde le diera bastante sol, la matica creció más o menos como 1 metro de altura y cuando floreció sus flores nos enamoraron a todas jejejeje
As you are I hope you are very, very well, today I am sharing a beautiful little plant, I know it as mallow, I tell you that this plant came to our house, because some time ago a friend of my sister gave her a small matica and told her to plant it where it would get enough sun, it blooms beautifully and also has many medicinal properties, my sister listened and planted it in her garden where it would get enough sun, the matica grew about 1 meter high and when it bloomed its flowers made us all fall in love hehehehehehehe.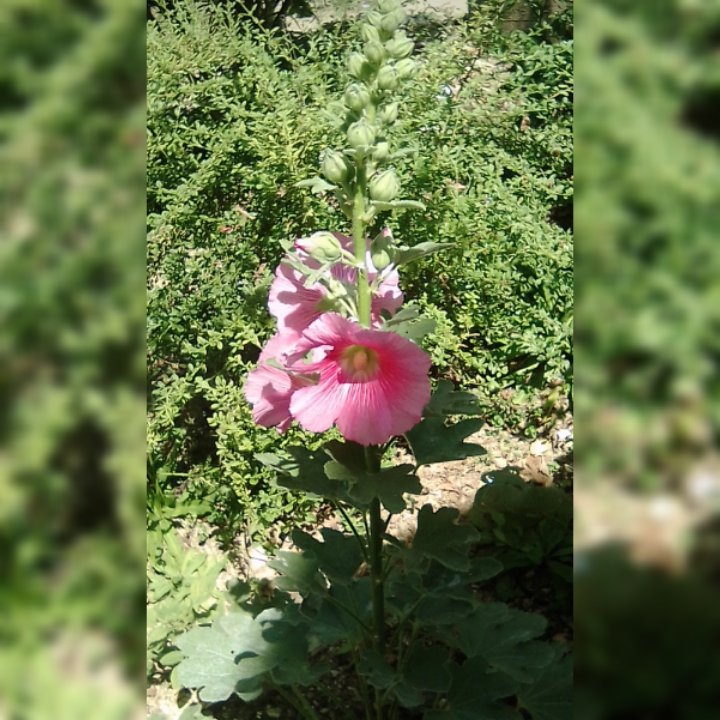 Entonces ya le dimos la tarea a mi hermana de recolectar las semillas para que nos repartiera a nosotras, ella nos dió unas semillitas hace algún tiempo y bueno las sembramos en una parte de nuestro pequeño jardín donde pega bastante sol, y es lo que quiero mostrarles hoy que estamos muy emocionadas porque nuestra plantita empezo a florecer, aún no han abierto todas las flores, porque todo el capullo que se ve hacia arriba se va a llenar de flores ☺️
So we already gave the task to my sister to collect the seeds to distribute to us, she gave us some seeds some time ago and we planted them in a part of our small garden where it hits enough sun, and that's what I want to show you today that we are very excited because our little plant began to bloom, they have not yet opened all the flowers, because all the bud that looks up is going to fill with flowers ☺️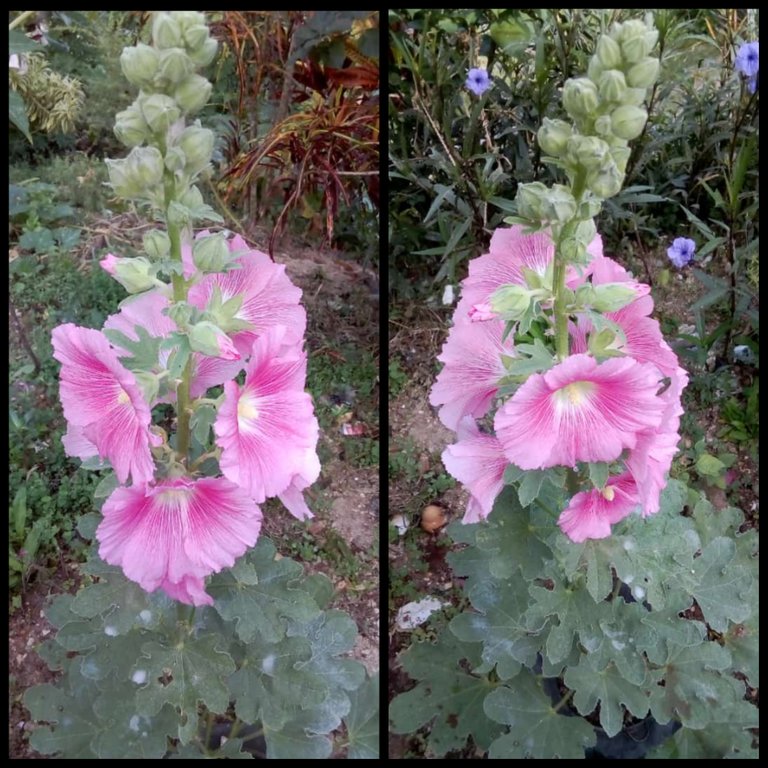 Como quisiera poder tenerla en un matero para así colocarla en un lugar donde pueda presumir de ella mejor, y mi hermana que nos la regalo se siente muy contenta de que si nos floreció, y me dijo que a ella le regalaron otra que es un rojo más fuerte así que estoy esperando las otras semillas.
How I wish I could have it in a pot so I can place it in a place where I can show it off better, and my sister who gave it to us feels very happy that it did bloom, and she told me that she was given another one that is a stronger red so I am waiting for the other seeds.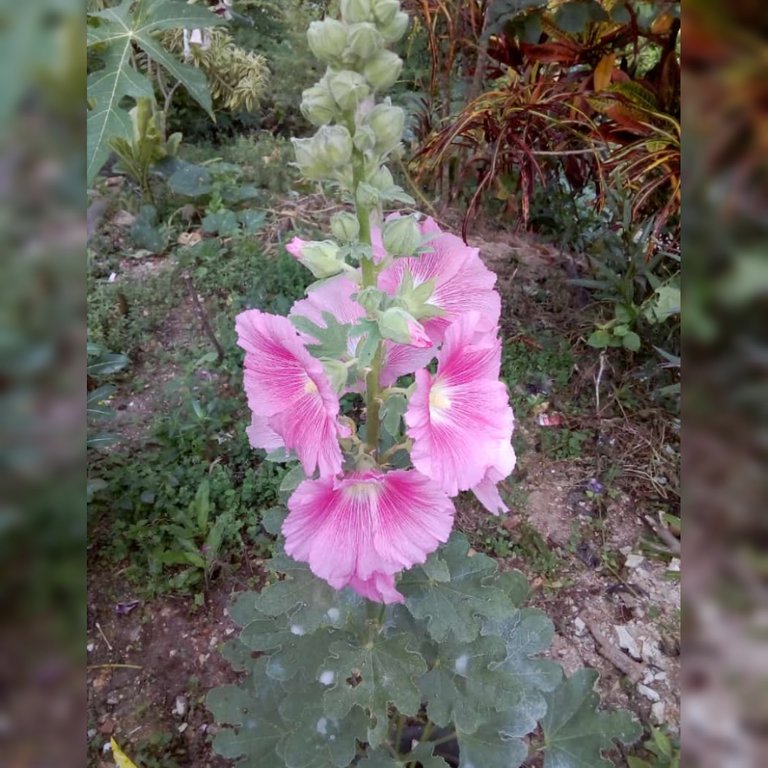 Cuando mi abuela la vio también quedó encantada, porque ella dice que hace muchísimo años atrás tuvo bastante de estás platas que floreaban de varios colores, pero con el pasar de los años se le fueron perdiendo, y me cue ta que ella usaba las flores para hacer ensaladas, y yo bromeando le dije, no le vaya arrancar las flores a esta porfis jejejeje
When my grandmother saw it she was also delighted, because she says that many years ago she had a lot of these plants that bloomed in various colors, but over the years they were lost, and she told me that she used the flowers to make salads, and I jokingly told her, don't tear the flowers off this one please hehehehehehehehe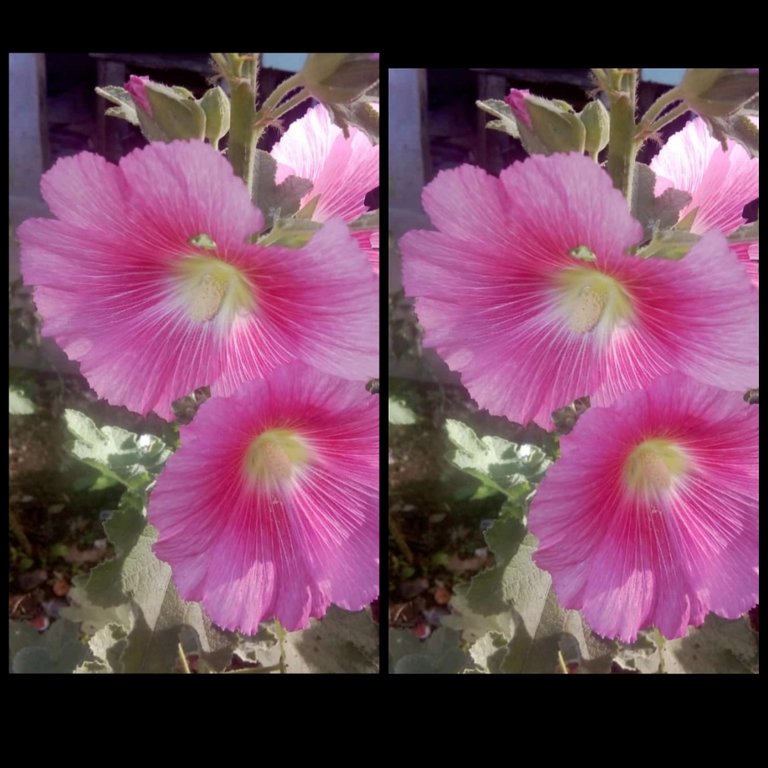 Mitiga el dolor de garganta con una infusión de malva me dice mi abuela que se pone a hervir un litro de agua. Cuando rompa a hervir añade dos de hojas y flores de malva, que estén bien limpias. Apaga el fuego y deja reposar durante 20 minutos. Transcurrido este tiempo colamos y, cuando esté a temperatura ambiente, utilizamos haciendo gárgaras tantas veces al día como necesitemos.
Mitigate a sore throat with an infusion of mallow, my grandmother tells me that she boils a liter of water. When it starts to boil add two leaves and flowers of mallow, which are well cleaned. Turn off the heat and let it stand for 20 minutes. After this time, strain and, when it is at room temperature, gargle as many times a day as needed.

La malva se utiliza en infusión para la bronquitis. Esta planta medicinal puede contribuir a mejorar el insomnio. Alivia el dolor de cabeza con malva. Para la diarrea entre otras dolencias. Así que no solo es hermosa sino que también aporta muchos beneficios.
Mallow is used in infusion for bronchitis. This medicinal plant can contribute to improve insomnia. Relieve headache with mallow. For diarrhea among other ailments. So it is not only beautiful but also brings many benefits.