Buenos días a todos los integrantes de esta hermosa comunidad de HIVE, sabemos que todo esto se hace posible al compromiso de cada uno de los que en ella integramos y que de alguna manera al efectuar nuestras publicaciones hacemos que la misma siga creciendo cada día mas con nuestro granito de arena, como lo es en este post, donde hago siempre hablo y hago referencia de mi jardín creo que ya algunos de ustedes lo conoce mas que yo jajaaj, al estar regando las flores, plantas medicinales, frutales y otros, no quise dejar pasar y efectuar este post con la planta de piña, les comento que un día al comprar esta fruta y cunado llegamos a casa me dije porque no plantar, supuestamente de este brote tendría que dar otra fruta, pues si de ese brote que le quita a la fruta luego de comprarla y que luego la plante con mucho amor y teniendo la plena certeza de que la misma daría otra fruta, pues como ven este es el resultado, solamente me resta esperar que este a punto para quitarla, eso seria cuando dicha fruta tenga una consistencia y color adecuado.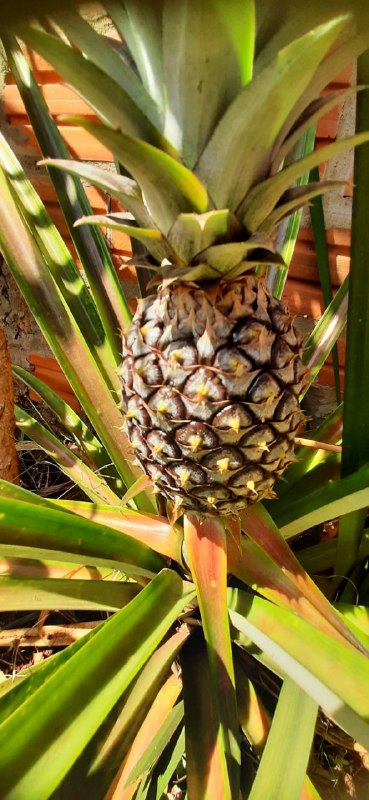 Por lo que pude saber instruyéndome en este tema de la forma de plantar la piña, cuando la fruta esta a punto, es cuando la parte de abajo se encuentra casi seca sus hojas por completo, como verán ya esta tomando un color amarronado y amarillento, eso quiere decir que para esta fiesta tendré en la ensalada de fruta algo que lo cultive yo, bueno existen otras frutas, como sabrán el mango también, pero a lo que voy amigos que todo esto en lo personal me hace sentir muy seguro de lo que hago, por eso cuando comienzo o hago algo como en este caso mis palabras son, si todo lo que haces y lo emprendes con amor y perseverancia sale bien.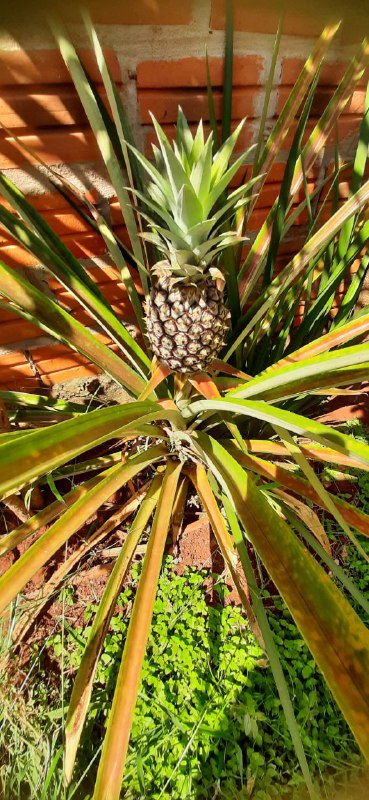 Así que los animo que si tienen un espacio sin flores en su jardín lo sepan aprovechar, existe una variedad enorme de lo que podemos plantar y usufructuar, puede ser tanto de frutas, hortalizas, verduras, remedios, etc., por supuesto que debemos de hacer el seguimiento adecuado, no le debe faltar el alimento que es el agua y la limpieza que es lo fundamental en ese espacio.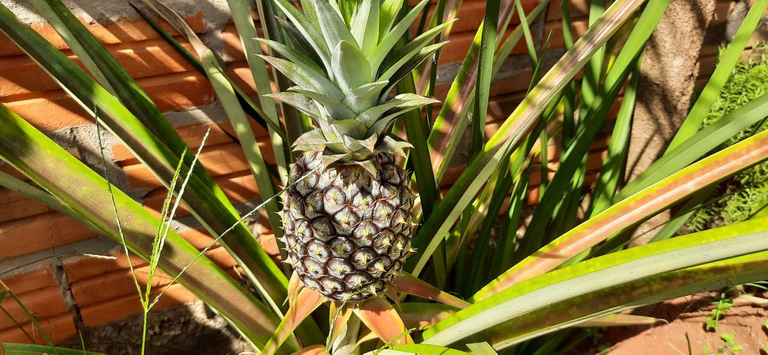 De tal manera si les agrado esta hermosa planta de fruta crecida en el jardín, la cual es muy fácil de plantar, no dejen de enviar sus comentarios y sus votos.
MUCHAS GRACIAS POR LEERME Y SEGUIRME, QUE TENGAN UN EXCELENTE DIA.
TRANSLATED INTO ENGLISH.
Good morning to all members of this beautiful community of HIVE, we know that all this is made possible to the commitment of each of us who are part of it and that somehow to make our publications we do that it continues to grow every day more with our grain of sand, as it is in this post, where I always talk and make reference to my garden I think some of you already know it more than me hahaaj, to be watering flowers, medicinal plants, fruit trees and others, I did not want to miss and make this post with the pineapple plant, I tell you that one day when I bought this fruit and when we got home I said why not plant, supposedly from this shoot would have to give another fruit, well if that shoot that takes away the fruit after buying it and then plant it with love and having the full certainty that it would give another fruit, as you see this is the result, I just have to wait for this point to remove it, that would be when the fruit has a consistency and proper color.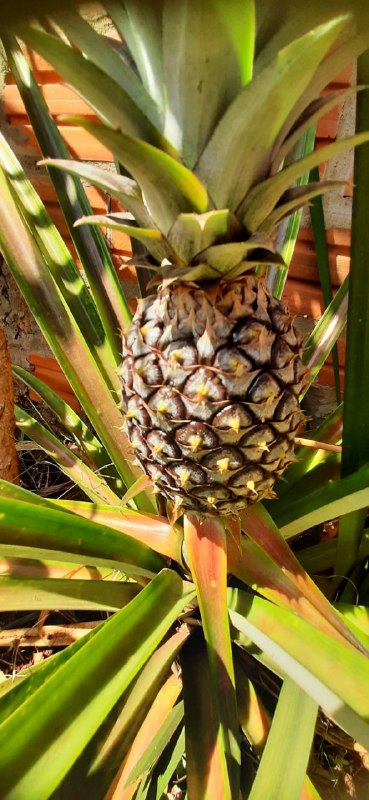 For what I could know instructing me in this topic of how to plant the pineapple, when the fruit is ready, is when the bottom is almost dry leaves completely, as you can see it is already taking a brownish and yellowish color, that means that for this party I will have in the fruit salad something that I grow it myself, well there are other fruits, as you know the mango also, but what I'm going friends that all this personally makes me feel very confident in what I do, so when I start or do something as in this case my words are, if everything you do and you undertake it with love and perseverance goes well.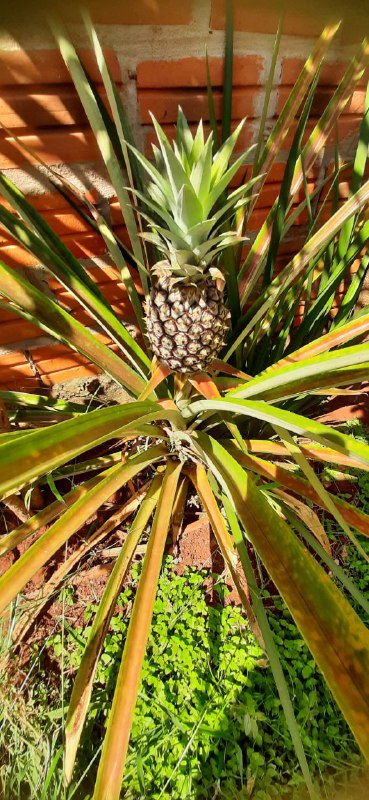 So I encourage you that if you have a space without flowers in your garden know how to take advantage of it, there is a huge variety of what we can plant and enjoy, it can be both fruits, vegetables, vegetables, remedies, etc., of course we must do the proper monitoring, you should not miss the food that is water and cleanliness which is essential in that space.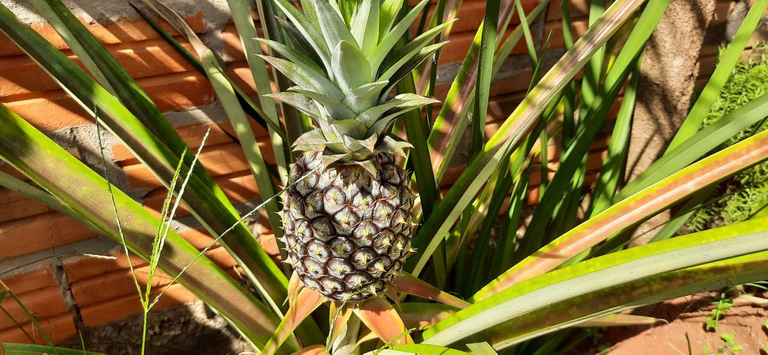 So if you like this beautiful fruit plant grown in the garden, which is very easy to plant, do not forget to send your comments and your votes.
THANK YOU VERY MUCH FOR READING AND FOLLOWING ME, HAVE A GREAT DAY.