Bueno amigos como pueden ver, al terminar de explayar el post, donde dicho colibrí se hallaba entre las flores, como desafiándome, se presento pero esta ves sobre un gajo de la planta de mango, justo al final del gajo que es una parte seca y muy débil pero soporta el peso de esta ave la cual calculo pesara unos 200 gramos jajaajaj, primero se poso dándome la espalda y al acercarme para quitarle la foto es como si supiera, se poso mirando de frente.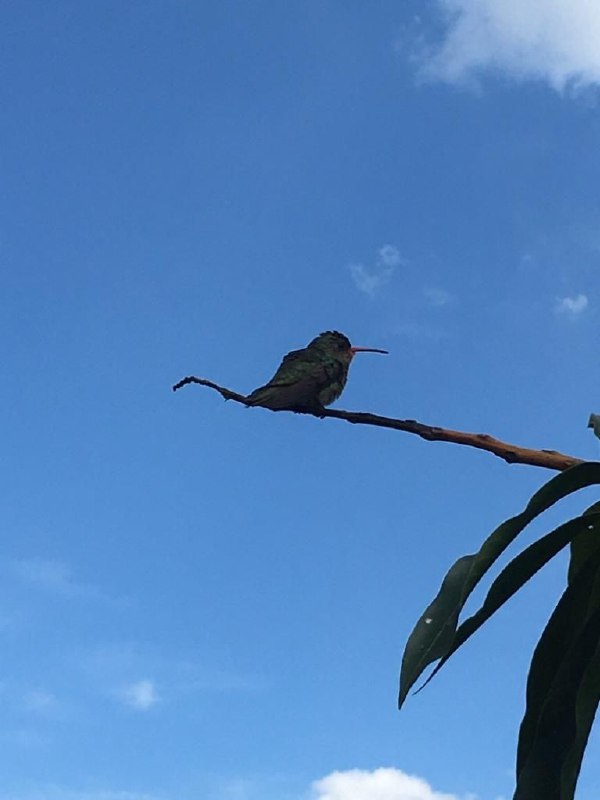 Luego cuando iba a quitarle la foto, volvió a darme la espalda, como si fuera tímido, pero siempre bien paradito en la punta de la rama, lo que mas me agrado de todo esto a pesar de que para extraer esta fotos tuve que ser muy sigiloso, es el fondo o sea el horizonte de la parte de atrás del colibrí, las nubes de color celeste y blanco.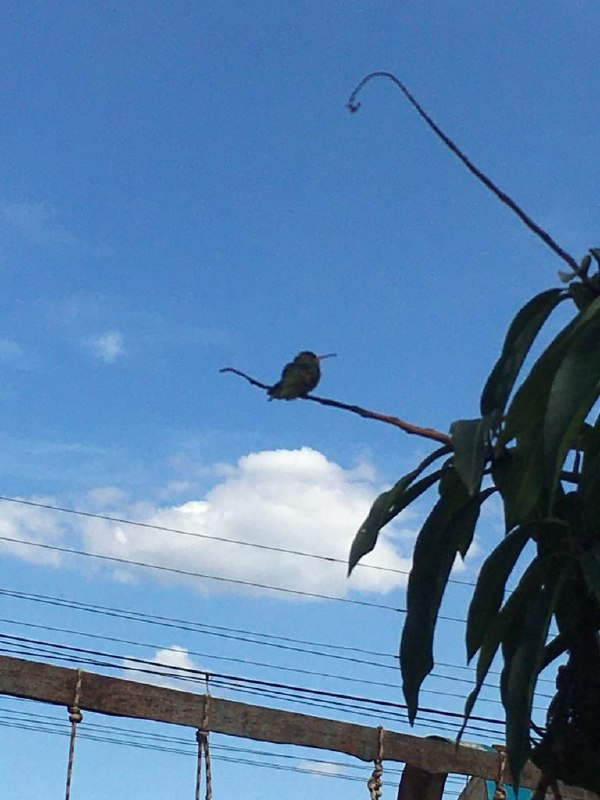 Lo que me deja apreciar un cuadro excelente, la reja, la parte de garaje, la hamaca, la planta de mango, los cables de luz de la calle y el pájaro posando en la rama con las nubes de fondo, formando de esa manera un gran paisaje.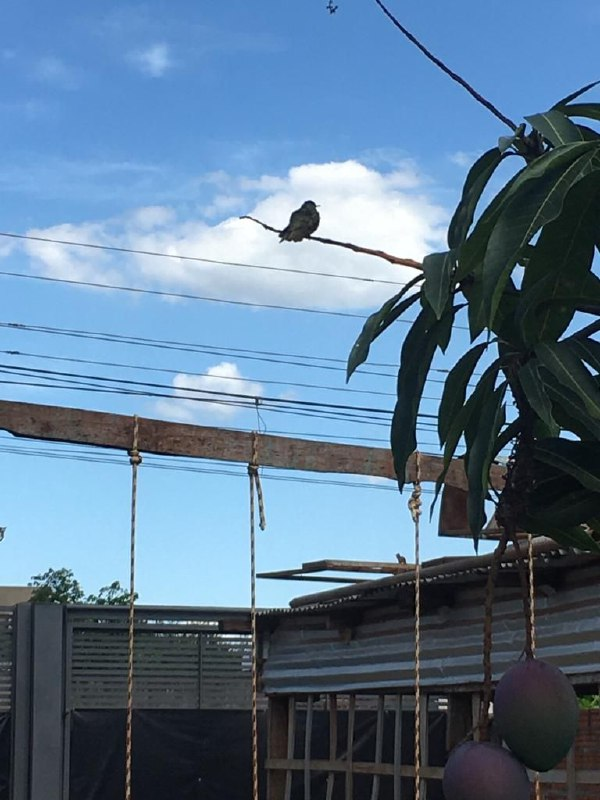 Bueno de esta manera disfrute de este colibrí, sabiendo que el mismo también disfruto de las fotos que le quite, asimismo quedo a la espera de sus comentarios.
MUCHAS GRACIAS POR LEERME Y SEGUIRME, QUE TENGAN UN BENDECIDO DIA.
TRANSLATED INTO ENGLISH.
Well friends as you can see, when I finished explaining the post, where this hummingbird was among the flowers, as if challenging me, he showed up but this time on a segment of the mango plant, just at the end of the segment which is a dry and very weak part but supports the weight of this bird which I calculate weighs about 200 grams hahahahah, first he landed with his back to me and when I approached to remove the photo is as if he knew, he landed looking straight ahead.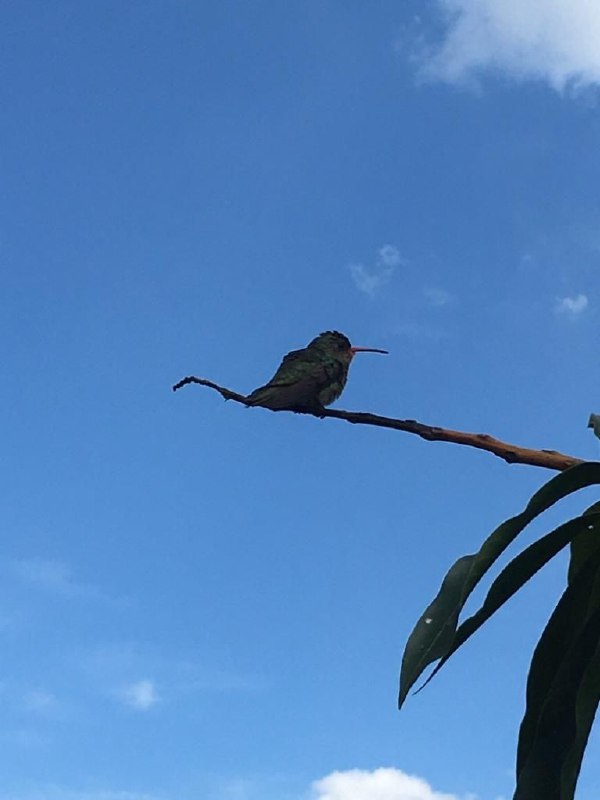 Then when I was going to take the photo, he turned his back to me, as if he was shy, but always standing on the tip of the branch. What I liked the most of all this, even though I had to be very stealthy to take this photo, is the background, that is the horizon behind the hummingbird, the clouds of light blue and white.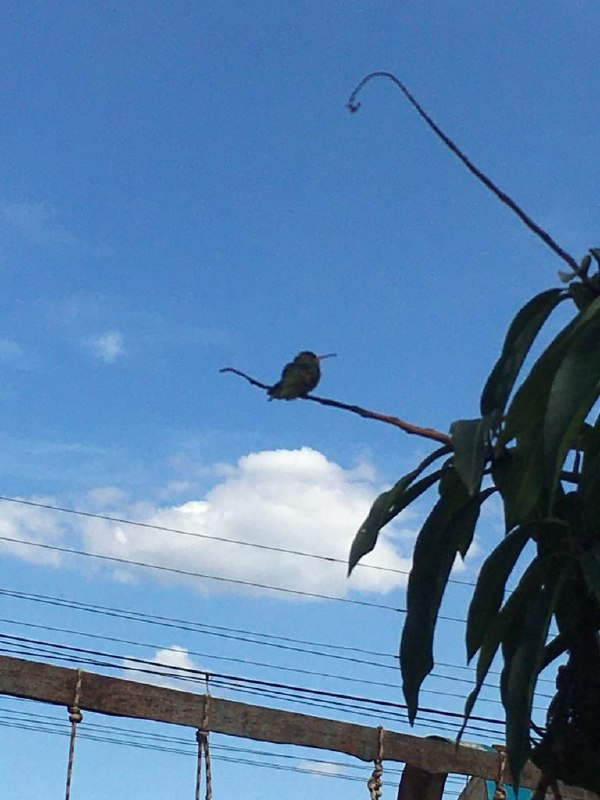 This leaves me to appreciate an excellent picture, the fence, the part of the garage, the hammock, the mango plant, the street light wires and the bird perched on the branch with the clouds in the background, thus forming a great landscape.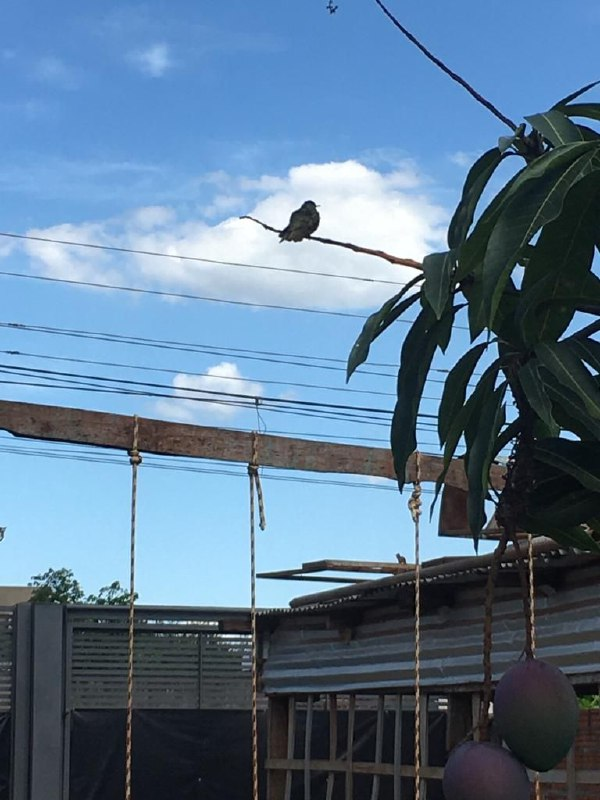 Well this way I enjoyed this hummingbird, knowing that he also enjoyed the photos I took of him, and I am waiting for your comments.
THANK YOU VERY MUCH FOR READING AND FOLLOWING ME, HAVE A BLESSED DAY.