Buenos días a todos los integrantes de esta grande y hermosa comunidad de HIVE, la que nos permite de alguna manera realizar nuestros sueños, siempre y cuando efectuemos publicaciones que tenga que ver con la realidad, con fantasía, con sueños, con el arte culinario y infinidades de cosas mas, por ejemplo en este post, les hablare un poco de las propiedades del ajenjo, el cual es un arbusto de pequeñas dimensiones, muy fácil de plantarlo, cuidarlo y no ocupa mucho lugar, o sea en nuestro jardín puede ser una planta de flor mas, pero eso no seria todo, si no lo que esta planta puede dar y lo útil que es para el ser humano y para nuestra subsistencia.
Como se puede ver, la misma es de un color verde gris asió, solamente las puntas que florecen son mas bien de color verde claro, tiene un tallo principal, del cual salen otros tallos, dejando salir lo que seria sus hojas , como pueden ver estas hojas tienen forma de gajitos muy pequeños, que seria lo que podemos utilizar, por ejemplo es diurético, sirve de antinflamatorio, es expectorante.
Sus beneficios, son: Ayuda para adelgazar o sea bajar de peso, elimina los parásitos que podemos tener en nuestro estomago, también elimina los parásitos externos, combate enfermedades como la muy conocida- Mal de Chagas-, también para combatir tumores y lo mas apropiado es que alivia los cólicos de cuando la mujer esta menstruando, regulando su periodo en que dura el mismo, o sea es un gran alivio para la mujer en esa situación.
POSEE CONTRADICCIONES: Si abusamos en engerir el te de ajenjo, se nos puede endurecer y inflamar nuestro estomago, produciendo de esa manera muchos gases y eructos, si lo engerimos en dosis adecuadas y no abusamos del mismo, no tendremos complicaciones, si las hay para las mujeres lactantes y mediante el embarazo lo cual seria prohibido ingerir dicho te.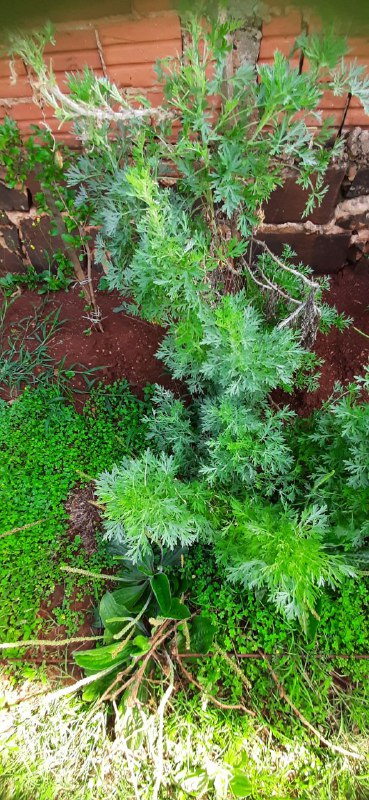 Amigos según el libro sagrado o sea la biblia, en la cual podemos hallar en.
Apocalipsis ( 8-11 ) donde dice que se nombra a una estrella que cae del cielo, ardiendo como una antorcha, sobre los ríos y manantiales, provocando la muerte de varios hombres, al transformar las aguas en amargas, con el fin de castigar a los pecadores.
Espero haya sido de sus agrados lo explayado, siendo asi quedo a la espera de sus comentarios.
MUCHAS GRACIAS POR LEERME Y SEGUIRME, QUE TENGAN UN BENDECIDO DIA.
TRANSLATED INTO ENGLISH.
Good morning to all members of this big and beautiful community of HIVE, which allows us to somehow realize our dreams, as long as we make publications that have to do with reality, with fantasy, with dreams, with the culinary art and countless other things, for example in this post, I will talk a little about the properties of wormwood, which is a small shrub, very easy to plant it, take care of it and does not occupy much place, that is in our garden can be a flowering plant more, but that would not be all, if not what this plant can give and how useful it is for humans and for our livelihood.
As you can see, it is a gray-green color, only the flowering tips are rather light green, has a main stem, from which other stems, leaving out what would be their leaves, as you can see these leaves are shaped like very small segments, which would be what we can use, for example is diuretic, serves as an anti-inflammatory, is expectorant.
Its benefits are: It helps to lose weight, eliminates parasites that we can have in our stomach, also eliminates external parasites, fights diseases such as the well-known Chagas disease, also to combat tumors and the most appropriate is that it relieves cramps when women are menstruating, regulating your period that lasts the same, that is a great relief for women in that situation.
POSES CONTRADICTIONS: If we abuse in engerir the wormwood tea, we can harden and inflame our stomach, thereby producing many gases and belching, if we engerir it in adequate doses and do not abuse the same, we will not have complications, if there are for lactating women and through pregnancy which would be prohibited to ingest the tea.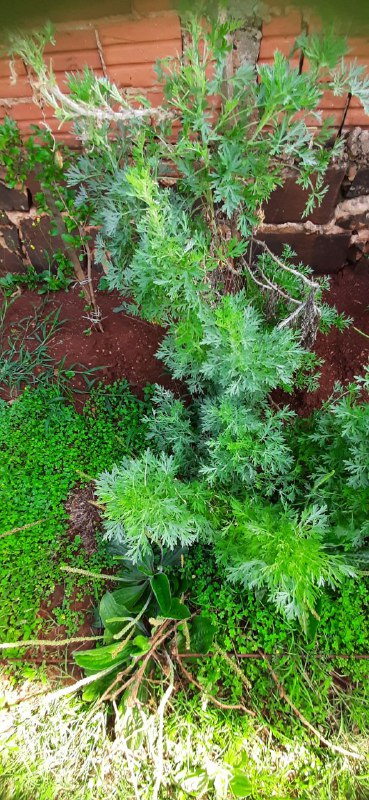 Friends according to the holy book or the bible, in which we can find in.
Revelation ( 8-11 ) where it says that a star is named that falls from heaven, burning like a torch, on the rivers and springs, causing the death of several men, transforming the waters into bitter, in order to punish sinners.
I hope you have enjoyed what I have explained, being so, I am waiting for your comments.
THANK YOU VERY MUCH FOR READING AND FOLLOWING ME, HAVE A BLESSED DAY.