Bueno amigos, después de ver la mariposa que se alimentaba con el polen de las flores de mi jardín, no pude dejar pasar esta otra oportunidad de ver como este insecto, el cual es muy similar a un escarabajo, pero la verdad que sus colores son muy diferentes al mismo, también sus formas y colores, como ve es mas bien fino adelante con la terminación de la parte de atrás también fina.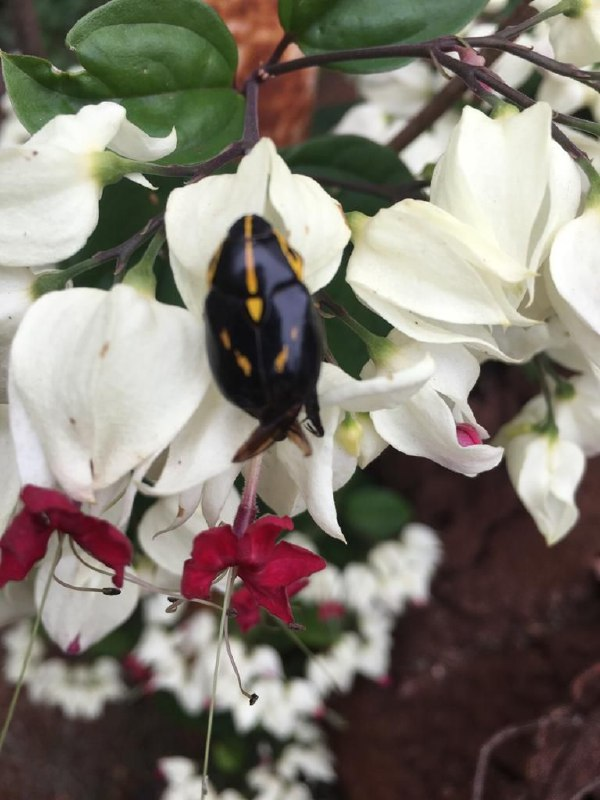 Su color resalta en las flores blancas con capullo de color lila, al tener el color negro en su totalidad en el centro desde adelante hasta la mista una franja de color amarillo, con otra transversal mismo, color pero lo que mas me agrado es alrededor de sus ojos en forma de triangulo como si fuera un antifaz haciéndolo mas llamativo en su totalidad, su desplazamiento es muy lento.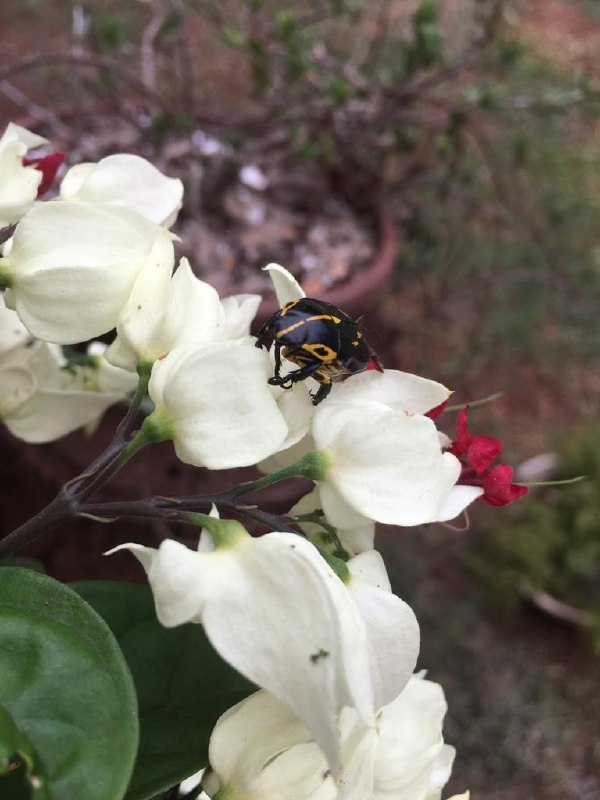 Como verán se desplazaba de polen en polen, en donde con una trompita la cual se alargaba lo introducía a la flor y muy despacio extraía el néctar, en el momento que hacia ese movimiento con las patas delanteras, como ven tiene forma de serrucho con la punta como si fuera unos ganchos, se aferraba bien en la flor mientras comía, como siempre mencione, haciendo referencia a la MADRE NATURALEZA, la cual fue creación de nuestro DIOS hiso todo esto, que nosotros los humanos lo podemos disfrutar en todos los sentidos, mas cuando dichos insectos son fotografiados como este y otros mas en el momento justo de su comida, eso me llena de vida saber como son otras especias, que también tienen vida como nosotros los humanos.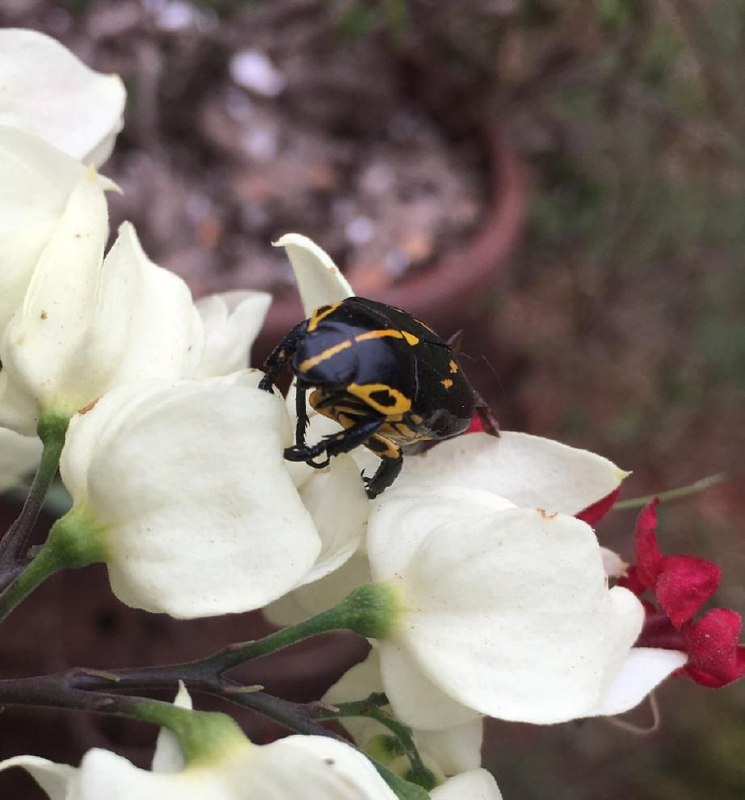 Así que amigos de haberles agradado lo explayado en este post, referente a la fotografía del momento justo en que se alimenta, en este caso este insecto o como lo fue la mariposa, solamente me queda esperar sus comentarios y sus votos, muy agradecido.
GRACIAS POR LEERME Y SEGUIRME, QUE PASEN UN HERMOSO DIA, EN FAMILIA.
TRANSLATED INTO ENGLISH
Well friends, after seeing the butterfly that fed on the pollen of the flowers in my garden, I could not miss this other opportunity to see how this insect, which is very similar to a beetle, but the truth is that its colors are very different from it, also its shapes and colors, as you see is rather thin at the front with the termination of the back also fine.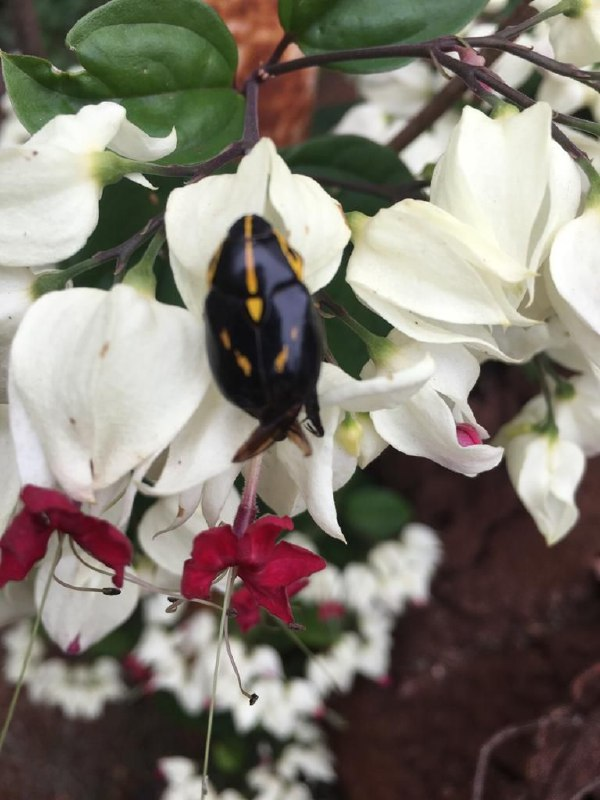 Its color stands out in the white flowers with lilac bud, having the black color in its totality in the center from the front to the mista a strip of yellow color, with another transverse same, color but what I liked most is around his eyes in the form of triangle as if it were a mask making it more striking in its totality, its displacement is very slow.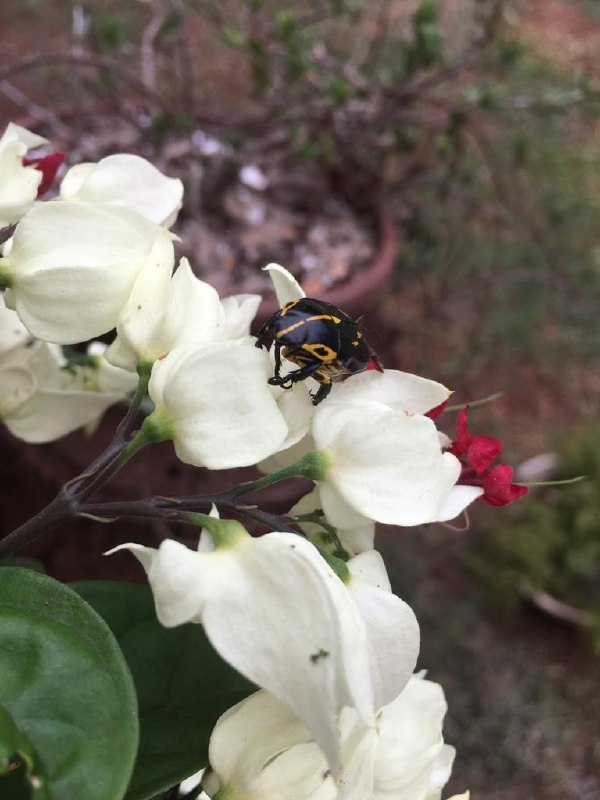 As you can see it moved from pollen to pollen, where with a little trunk which was elongated, it introduced it to the flower and very slowly extracted the nectar, at the moment it made this movement with its front legs, as you can see it has the shape of a saw with the tip as if it were hooks, it clung well to the flower while eating, as I always mentioned, making reference to MOTHER NATURE, which was the creation of our GOD did all this, that we humans can enjoy in every way, but when these insects are photographed as this and others more at the right time of their meal, that fills me with life to know how other spices are, which also have life like us humans.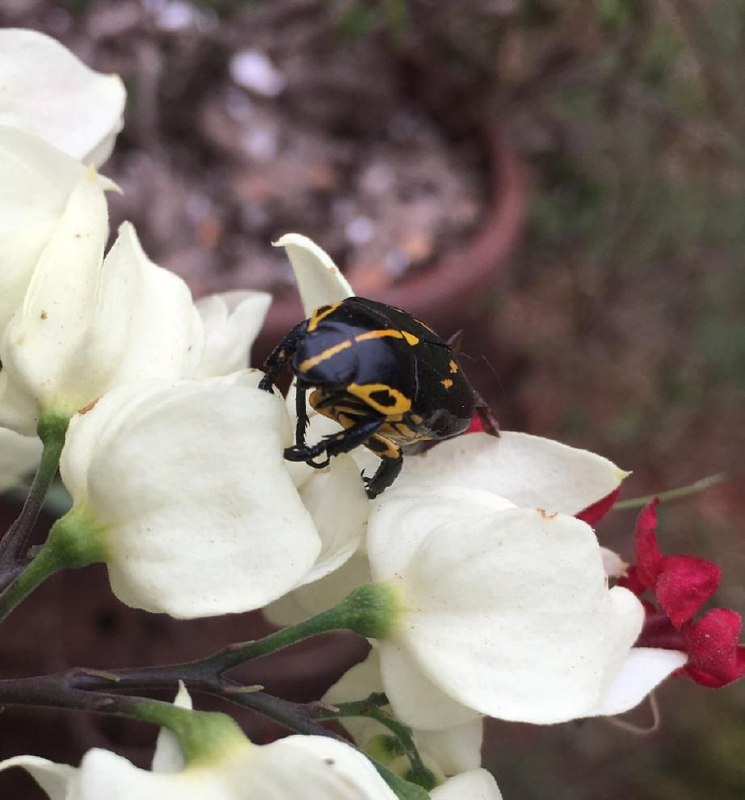 So friends, if you liked what I have explained in this post, regarding the photograph of the right moment when it feeds, in this case this insect or as it was the butterfly, I can only wait for your comments and your votes, I am very grateful.
THANK YOU FOR READING AND FOLLOWING ME, HAVE A NICE DAY WITH YOUR FAMILY.