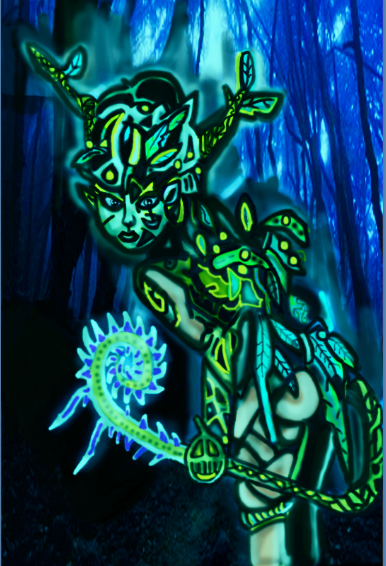 Hola amigos de hive, en esta ocasion les estare hablando de este bello dibujo realizado en arte digital he inspirado en una criatura mitologica, es protector del bosque donde cada dia se ve afectado por la tala y la quema, el trabaja muy fuerte por reconstruir lo ya dañado, pero cada dia necesita mas ayuda de otras criaturas.
Fui trabajando los colores parte por parte, hasta llegar a las variedades mas deseadas, este programa photoshop me ha servido de mucho, porque puedo trabajar muy relajado con la paleta de colores y los pinceles que me ayudan bastante.
Si bien el arte digital es nuevo para mi ya que solo he trabajado con el oleo, y carboncillo le he ido agarrando mucho cariño y me he complementado rapidamente y aqui pueden ver el resultado.
Hello friends of hive, this time I will be talking about this beautiful drawing made in digital art I have inspired by a mythological creature, he is protector of the forest where every day he is affected by logging and burning, he works very hard to rebuild what already damaged, but needs more help from other creatures every day.
I worked the colors part by part, until I reached the most desired varieties, this photoshop program has helped me a lot, because I can work very relaxed with the color palette and the brushes that help me a lot.
Although digital art is new for me since I have only worked with oil, and charcoal I have been getting a lot of affection and I have quickly complemented myself and here you can see the result.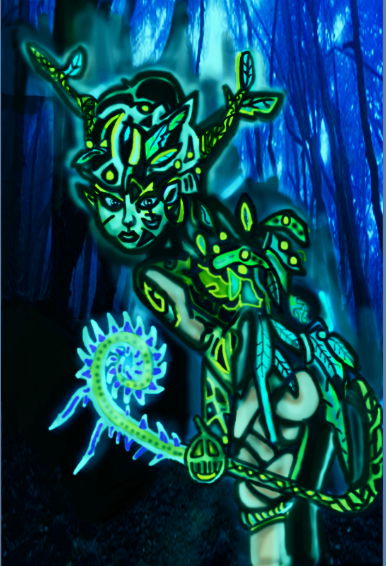 En su brazo izquierdo posee una espada de muchas puas, y dos filos laegos que los utiliza para neutralizar a su enemigo sin que este tenga opciones de escapar.
Su cuerpo esta cubierto de ramas y hojas que le dan un buen camuflaje y asi pasar desapercibido entre muchos arboles, se encuentra semi desnudo debido al clima caluroso que suele hacer.
Por cada dibujo que realizo me gusta contar una pequeña historia como esta ya que para hacerlo necesito imaginarme en ese mundo y darle vida al personaje como lo estoy haciendo ahora.
Mi recomendacion es que todas las personas sepan que si seguimos dañando los bosques y regando cualquier cantidad de basura nos vamos a ver afectados por la fuerza de la naturaleza, se encontraran con terremotos, sismos de gran magnitud entre otras variedades.
Aqui mi trabajo final, siempre agradecido con mi Dios por darme este don de pintar y cada dia sigo mejorando ya que me falta mucho por aprender, pero con la constancia y dedicacion todo se puede.
Espero ls guste amigos, saludos.
In his left arm he has a sword with many spikes, and two lakes that he uses to neutralize an enemy without the latter having any chance of escape.
Its body is covered with branches and leaves that give it a good camouflage and thus go unnoticed among many trees, it is semi-naked due to the hot weather that it usually does.
For each drawing that I make I like to tell a little story like this since to do so I need to imagine myself in that world and bring the character to life as I am doing now.
My recommendation is that all people know that if we continue to damage the forests and water any amount of garbage, we will be affected by the force of nature, they will encounter earthquakes, earthquakes of great magnitude among other varieties.
Here is my final work, always grateful to my God for giving me this gift of painting and every day I keep improving since I still have a lot to learn, but with perseverance and dedication everything can be done.
I hope you like it friends, greetings.