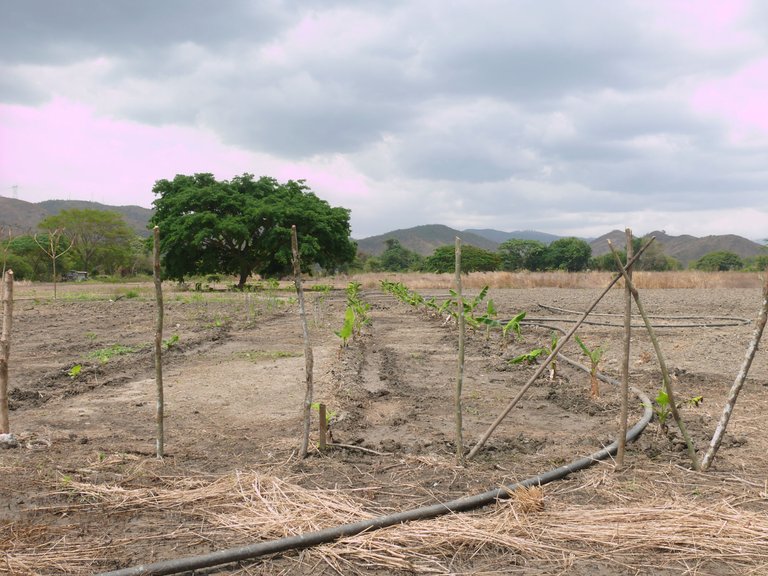 Greetings, my dear Earthlings. The orchard is taking shape, now in a much faster way, since I have managed to carry the water, the hose that you see in the first photo, was one that I bought to bring the water from where the end of the hose was thicker than We have been taking from one side to put where we are going to leave it definitive. That view is from the neighboring plot, so that they would have a good perfective of several things: the fence that I am making, those poles that already give some shape and are going to hold the wire, some poles are lying there, but it is so that the people do not take them, since many people pass looking for firewood, leave some sticks lying down and then put them in and they took them, now I leave them that way and they do not grab them. You can see the three lines of banana plants with the furrows for the water to run when I water, one on the right the front and the plowed land, waiting for us to finish taking the hose out of my plot to be able to close the deep ditch that We made to remove it and to the left the piece of land that we planted with Yucca bushes (which you see below) I planted about 150 bushes of two pieces of the stick that is the seed that germinates, since the Yuca sticks by stake, but I need bring another bit of seeds to finish the areas that we clean, irrigate with plenty of water, prepare and sow with this tuber.

Saludos, mis estimados terrícolas. El huerto va tomando forma, ahora de una manera mucho más rápida, ya que he logrado llevar el agua, la manguera que ven en la primera foto, era una que compré para acercar el agua desde donde estaba el final de la manguera más gruesa que venimos sacando de un lado para meter por donde la vamos a dejar definitiva. Esa vista es desde la parcela vecina, para que tuvieran una buena perfectiva de varias cosas: la cerca que estoy haciendo, esos palos que ya dan algo de forma y van a sostener el alambre, algunas varas están allí recostadas, pero es para que las personas no se las lleven, ya que pasa mucha gente buscando leña, deje algunos palos tirados para luego colocarlos y se los llevaron, ahora los dejo en esa forma y no los agarran. Se puede ver las tres líneas de plantas de bananas con los surcos para que corra el agua cuando riegos, un a la derecha el frente y la tierra arada, esperando que terminemos de sacar la manguera de mi parcela para poder cerrar el la profunda zanja que hicimos para sacarla y a la izquierda el pedazo de tierra que sembramos de matas de Yuca (que ven allí abajo) Sembré unas 150 matas de a dos pedazos del palo que es la semilla que germina, ya que la Yuca pega por estaca, pero me falta llevar otro poco de semillas para terminar las áreas que limpiamos, regamos con abundante agua, preparamos y sembramos con este tubérculo.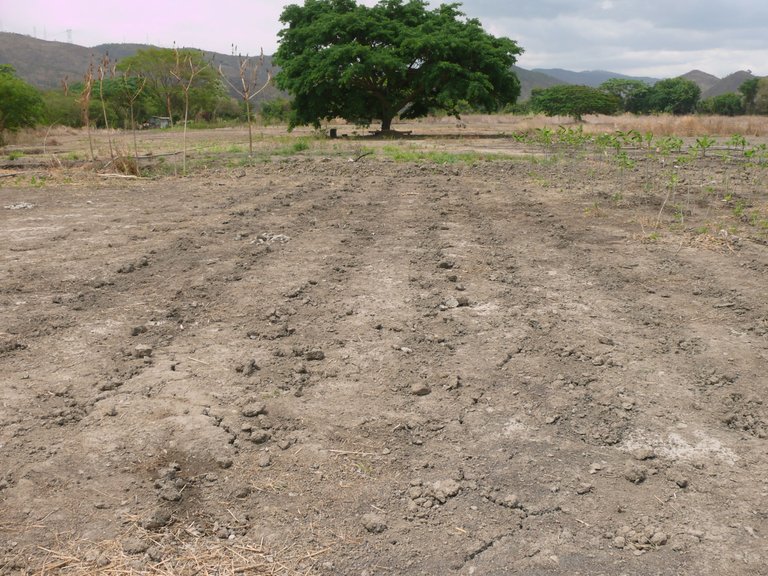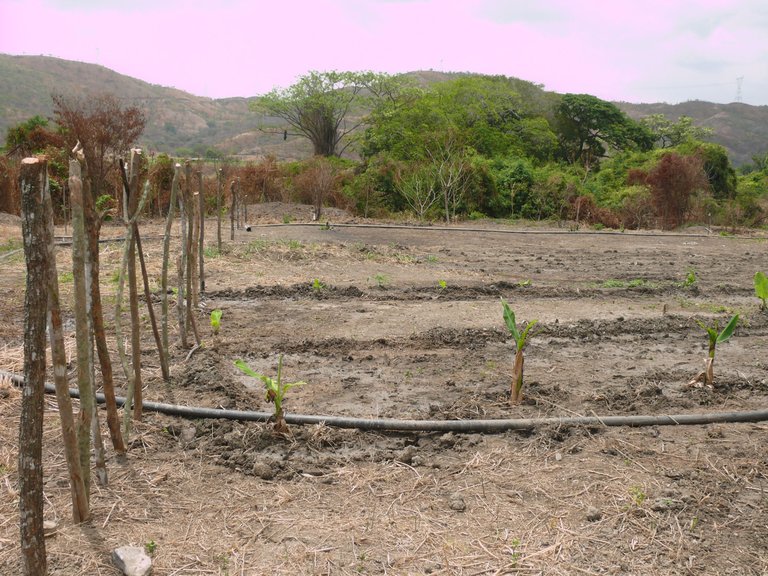 Better see how the fence line is going, some banana plants and in the background part of the land that we sow with Yuca, but above all you can see the two hoses, the improvised one to bring the water closer and already in the background the 4-inch one that we take out to move and that it remains there for the main network that will supply the entire area.

Vean mejor como va la línea de la cerca, algunas plantas de cambur yen el fondo parte de la tierra que sembramos con Yuca, pero sobre todo pueden ver las dos mangueras, la improvisada para acercar el agua y ya en el fondo la de 4 pulgadas que sacamos para mudar y que quede allí para red principal que surtirá toda la zona.

The heron is already coming to our plot, it comes walking little by little from the neighbor's land and begins to hunt insects that are attracted by the humidity of our garden, not only the herons, we can already see several insect control birds, doing their work and those who cross each other eat, that is why I really like that they walk on my land and I plan to put several signs (do not hunt) within my land, because some people threw stones at them as they passed, that is why the fence that I am putting up In that specific area, to prevent them from passing by and stepping on what I have sown, lately as the area is clean, many people have been passing by and the thing is that they do not look where they step, they throw stones at beneficial animals and that is why they you must take some precautions.

La garza ya se viene hacía nuestra parcela, viene caminando poco a poco desde las tierras del vecino y se pone a cazar insectos que son atraídos por la humedad de nuestro huerto, no solo las garzas, ya podemos ver varias aves controladoras de insectos, haciendo su trabajo y comen los que se atraviesen, por eso me gusta mucho que anden en mis tierras y pienso poner varios letreros (no cazar) dentro de de mis tierras, porque algunas personas les lanzaban piedras al pasar, por eso la valla que estoy colocando en esa zona especifica, para evitar que pasen por allí y pisen lo que he sembrado, últimamente como la zona esta limpia, han estado pasando muchas personas y la cosa es que no miran donde pisan, lanzan piedras a los animales beneficiosos y por eso se debe tomar algunas previsiones.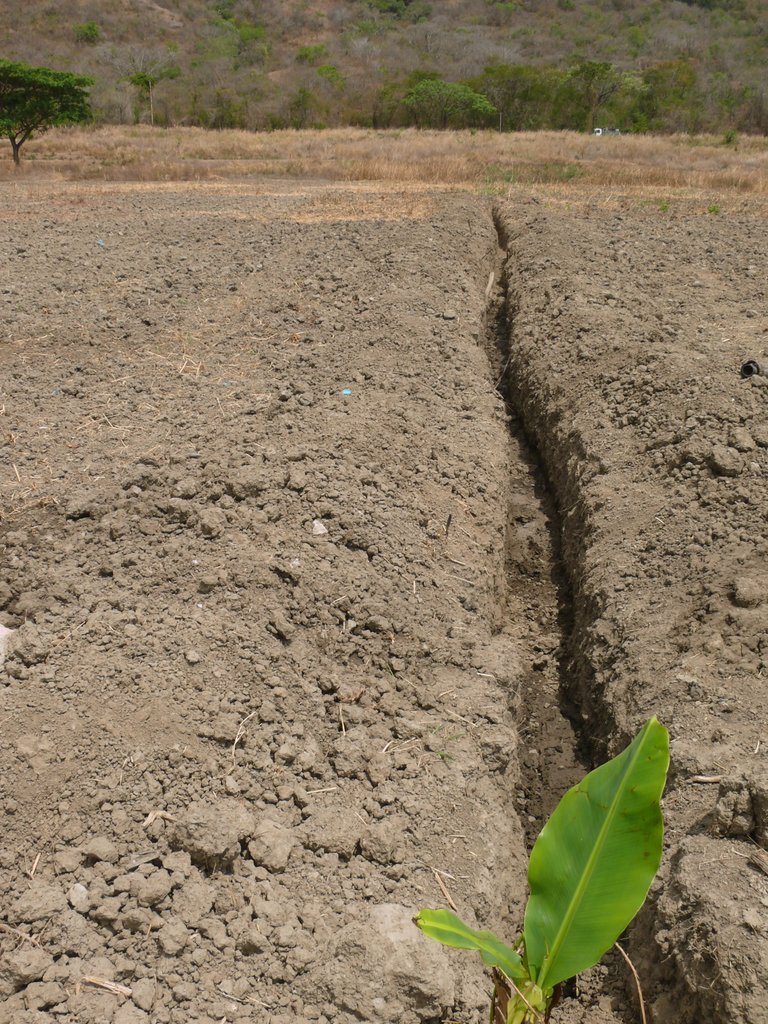 As well as this one meter deep ditch, we have had to do to take out hose throughout the area of ​​the peasant settlement, we remove it from there and place it where it will be useful, as I mentioned above. It is a great effort, we have already covered about 600 meters and almost all of us have water, another triumph to advance in the positive, to try to produce healthy food, with a lot of effort, because you already know how difficult things are in my country.

Así como esta zanja de un metro de profundidad, hemos tenido que hacer para ir sacando manguera por toda la zona del asentamiento campesino, la retiramos de allí y la colocamos a donde si va a ser útil, como he mencionado anteriormente. Es un gran esfuerzo, ya cubrimos unos 600 metros y casi todos tenemos agua, otro triunfo para avanzar en lo positivo, para tratar de producir alimento sano, con mucho esfuerzo, porque ya saben como esta todo difícil en mi país.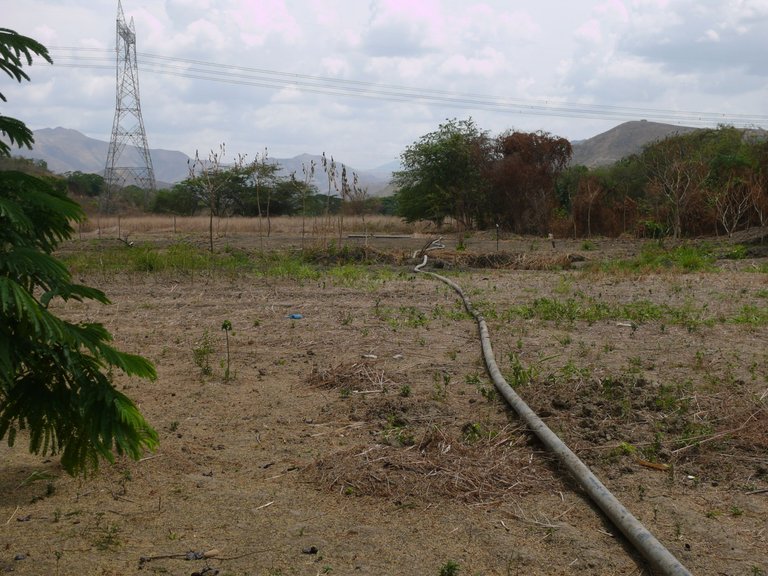 There you can see where we put the 4-inch hose that will be the main network to supply the water to irrigate the entire area. Of course, we still need to remove about 100 meters of hose and bury about 400 meters of that network that will now be the main one, notice that it is above, because we connect it so that we can enjoy the benefit of water at once, since we are going with the advance , solving.

Allí pueden ver donde colocamos la manguera de 4 pulgadas que va a ser la red principal para surtir el agua para regar toda la zona. Claro, aún falta sacar unos 100 metros de manguera y enterrar unos 400 metros de esa red que ahora será la principal, noten que esta por encima, porque la conectamos para de una vez poder disfrutar del beneficio del agua, ya que vamos con el avance, solucionando.

I am working from Monday to Monday to see progress in the orchard project, it is a lot of work but for now there is still doing things manually, which slows down performance, but I cannot afford the machinery costs. I spent the week of the waning moon, which is the best to sow, so now I will be able to sow on Fridays or certain species that are better with other moons, I wanted to sow 3 kilos of beans, that black grain that is the main one consumption here, I wait for a machinery that they are going to bring to go back to give other passes with the tractor and the harrow, to leave the hectare better prepared, I think I will also furrow in a mechanized way, that is why I am raising the money to be able to pay, I make the effort because with so much time in an economic crisis like the one we went through here, many things are missing in my home so I must manage myself as well as possible, but thanks to you for that support with your vote, I continue to work hard for balancing things and giving a use that provides a positive impact and thus showing how our ecosystem provides that impulse, that's why thanks to you, to you Hive, to you LEO, to Risinstargame, dCity. I hope you enjoy this work that I show you and you can see the effort with which it is made, I publish more on the subject because it no longer leaves me time to take as many photos of nature as before, the truth is, at this moment I am physically exhausted, but I must continue working and I do this with great affection for you.

Estoy trabajando de lunes a lunes para poder ver avance en el proyecto del huerto, es mucho trabajo pero por ahora ya queda hacer cosas de forma manuales, lo que hace más lento el rendimiento, pero no puedo costear los gastos de maquinaria. Se me paso la semana de la luna menguante, la que es la mejor para sembrar, así que ahora podré sembrar los viernes o ciertas especies que son mejor con otras lunas, quería sembrar 3 kilos de Caraotas, ese grano negro que es el de principal consumo en acá, espero por una maquinaria que van a traer para volver a dar otros pases con el tractor y la rastra, para dejar la hectárea mejor preparada, creo que voy a surcar también de manera mecanizada, por eso estoy reuniendo el dinero para poder pagar, hago el esfuerzo porque con tanto tiempo en una crisis económica como la que pasamos acá, hace falta muchas cosas en mi hogar por lo que debo administrarme lo mejor posible, pero gracias a ustedes por ese apoyo con su voto, yo sigo trabajando duro por equilibrar las cosas y dar un uso que brinde un impacto positivo y así dejar ver como nuestro ecosistema brinda ese impulso, por eso gracias a ustedes, a ti Hive, a usted LEO, a Risinstargame, dCity. Espero disfrutes este trabajo que te muestro y logres ver el esfuerzo con que se realiza, publico más sobre el tema porque ya no me deja tiempo para hacer tantas fotos sobre la naturaleza como antes, la verdad en este momento estoy agotado físicamente, pero debo seguir trabajando y hago esto con mucho cariño para ustedes.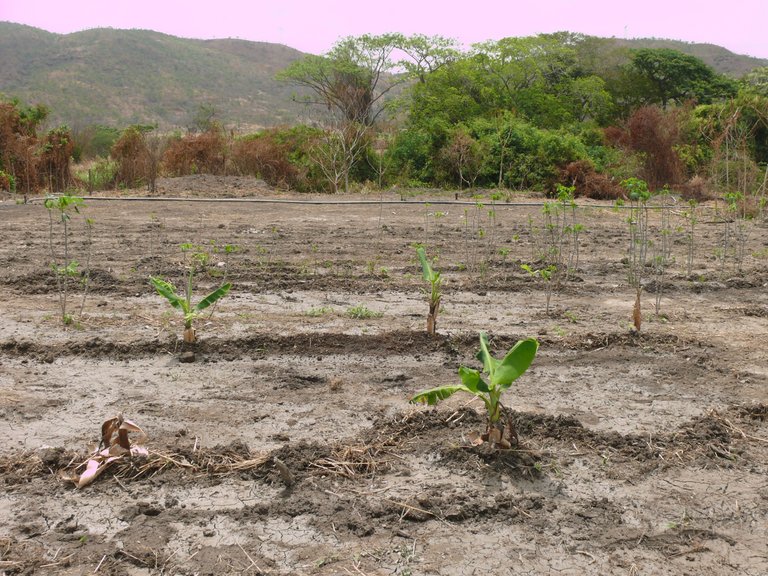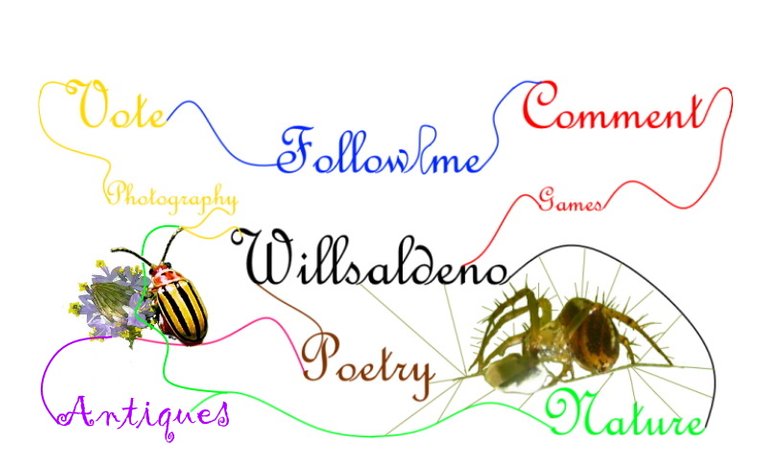 This is where the lyrics go for today, I invite you to continue looking a little more of this world in the next publication, I hope it will be tomorrow, or later, maybe the voice will be seen or will let you see something about games, so if you liked it What is being done for you here, do not hesitate to support the work with something positive, below I invite you to:

Hasta aquí llegan las letras por hoy, les invito a seguir mirando un poco más de este mundo en la siguiente publicación, espero sea mañana, o más tarde, quizás la voz verse o o deje ver algo sobre juegos, así que si te ha gustado lo que se hace para ustedes aquí, no dudes en apoyar el trabajo con algo positivo, allí abajo te invito a: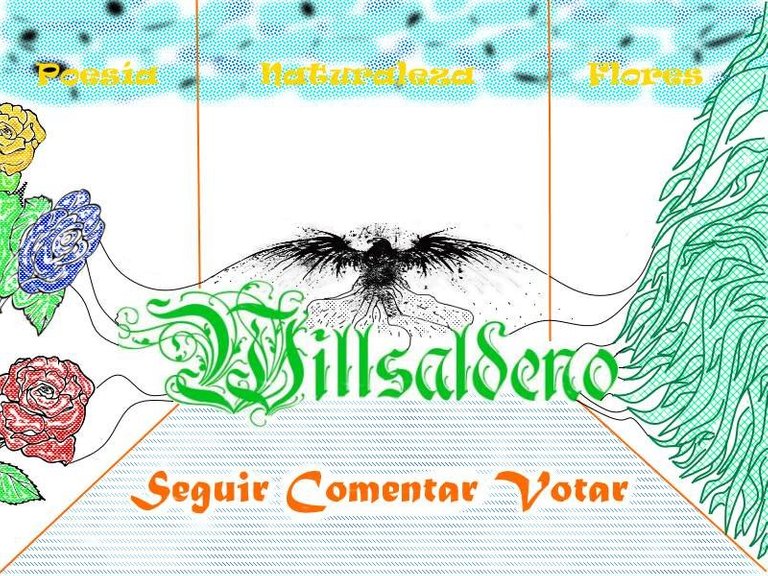 Nota-Note
Bilingüe: Que utiliza dos lenguas al mismo nivel o se hace en dos lenguas
Bilingual: That uses two languages ??at the same level or is done in two languages.
Camera: Panasonic Lumix DMC-FZ50.



Lent: Leica 1: 2.8-3.7 / 7.4-88.8.

Location: Villa de Cura.



Original photographs of willsaldeno, I do not edit the photos, because I like to put only what I achieve with the camera and not something improved with an editor.