Hola a todos , siempre existe una buena oportunidad al comenzar la semana, para degustar una milanesa de pollo, como lo es esta muy completa, la cual consiste de lo siguiente. primero preparo la milanesa del pollo la cual la trozo bien, luego le agrego sal, y en un recipiente con huevo, orégano, ají molido,, lo bato todo, y sobre esto le paso la milanesa de pollo dos veces, para que quede bien mojada, de ahí la paso sobre el pan rallado, también dos veces, de esa forma tengo la milanesa elaborada para después freírla en aceite bien caliente, luego sobre la misma le agrego queso fresco y panceta ahumada, la llevo al horno hasta que se derrita el queso, luego sobre la misma le agrego huevos fritos, y junto con dicha milanesa le agrego la papa frita la cual fue cortada en bastones y después de freírlas la dejo con dicha milanesa, para llamarla de esa manera milanesa de pollo completa.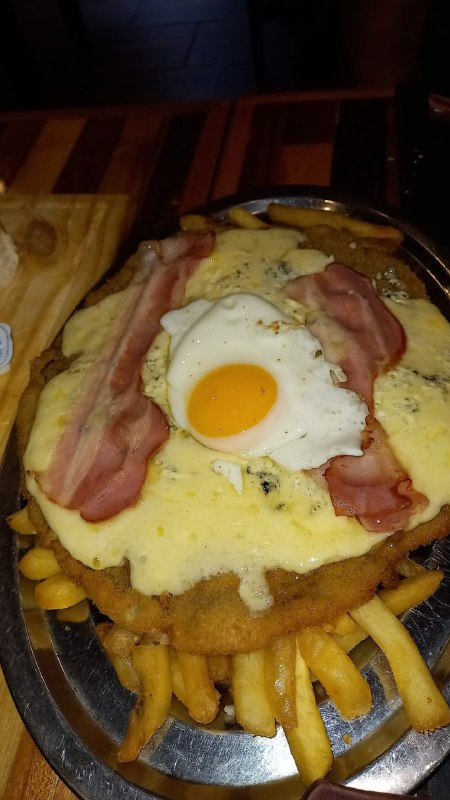 La verdad sale muy sabrosa, cuando la preparamos de esta manera, a tal punto que no queda nada de dicha milanesa.
MUCHAS GRACIAS POR LEERME Y SEGUIRME.
TRANSLATED INTO ENGLISH
Hello everyone, there is always a good opportunity at the beginning of the week, to taste a chicken milanesa, as is this very complete, which consists of the following. first I prepare the chicken milanesa which I chop it well, then I add salt, and in a bowl with egg, oregano, ground chili, I beat it all, and on this I pass the chicken milanesa twice, so that it is well wet, then I pass it over the bread crumbs, also twice, that way I have the milanesa prepared to fry it in very hot oil, then over it I add fresh cheese and smoked bacon, I take it to the oven until the cheese melts, then over it I add fried eggs, and together with this milanesa I add the fried potato which was cut into sticks and after frying them I leave it with this milanesa, to call it in this way complete chicken milanesa.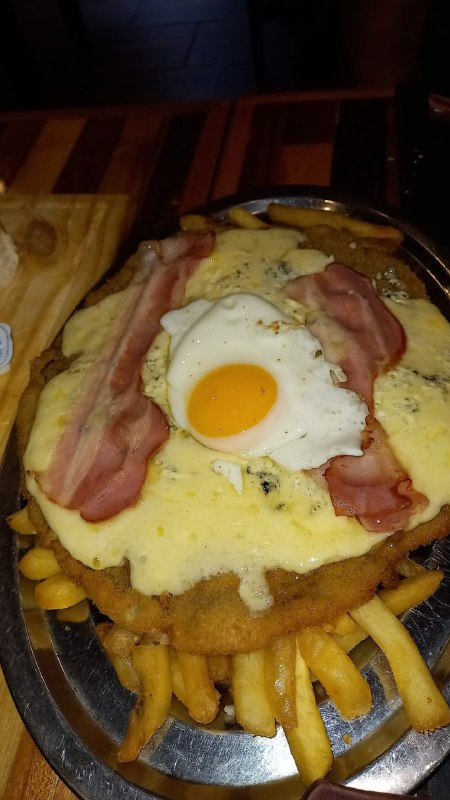 The truth is that it comes out very tasty, when prepared in this way, to such an extent that there is nothing left of the milanesa.
THANK YOU VERY MUCH FOR READING AND FOLLOWING ME.