Hola a todos, de ves en cuando el cambio de menú es considerable, dado que muchas veces la carne, la fritura, y otras comidas, las cuales no son bien recepcionadas en nuestro organismo, nos hace que cambiemos el menú, cuando de comida se trata y de cambiar a una comida diferente, que mejor que cocinar una sabrosa tarta de choclo y pollo, como se ve en la foto, siendo la misma muy fácil de prepararla, lo primero es hervir bien, en este caso una pechuga de pollo, la cual colocamos una olla con agua cuando esta comienza a hervir, le agregamos un poco de sal, comino, ají en polvo, la pechuga, dejamos que se cocine, luego cuando esta la quitamos del agua, la dejamos que se enfrié, luego la desmenuzamos y hacemos como una pasta, le agregamos queso fresco, semilla de amaranto y lino a gusto, luego tomamos la tapa de para pascualina, la abrimos y colocamos esta pasta, un poco mas de queso y arriba el choclo como se ve en la foto, luego la colocamos en el horno.
Lo de colocarla en el horno, es solamente para que la misma se caliente y se cocine la masa, también para que el queso que tiene se derrita, de esa manera el sabor es mas apreciable, mas si le agregamos un poco de pimienta blanca, así que de esa manera ya tenemos la tarta terminada y cocinada.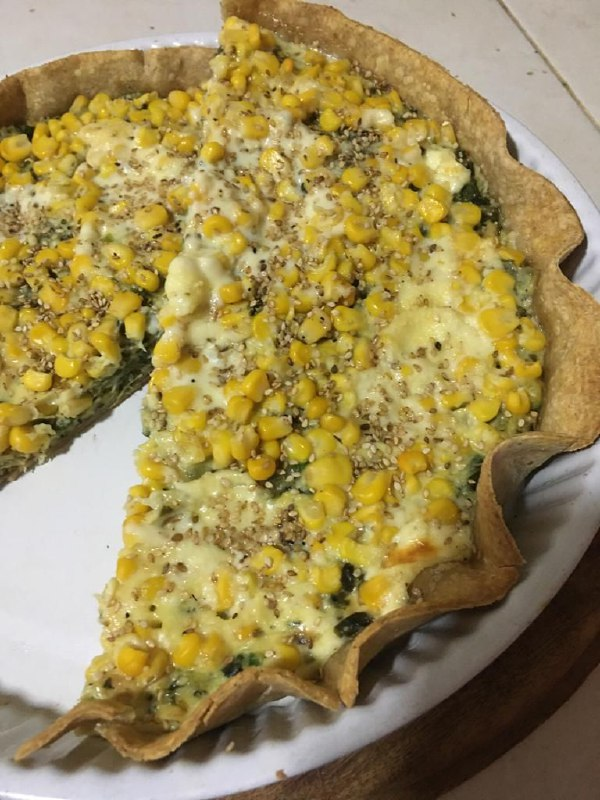 La cual luego de cortarla en porciones, la agregamos en un plato, la verdad que el degustarla cuando aun esta caliente, para mi gusto lo considero mas sabroso y con un sabor especial.
MUCHAS GRACIAS POR LEERME Y SEGUIRME.
TRANSLATED INTO ENGLISH
Hello everyone, from time to time the change of menu is considerable, since many times the meat, fried food, and other foods, which are not well received in our body, makes us change the menu, when it comes to food and change to a different meal, what better to cook a tasty cake of corn and chicken, as seen in the photo, being the same very easy to prepare, the first thing is to boil well, in this case a chicken breast, When it starts to boil, we add a little salt, cumin, chili powder, the breast, let it cook, then when it is cooked, we remove it from the water, let it cool down, then we crumble it and make a paste, add fresh cheese, amaranth and flax seeds to taste, then take the lid of the pascualina, open it and put this paste, a little more cheese and on top the corn as shown in the picture, then place it in the oven.
The only reason to put it in the oven is so that it heats up and cooks the dough, also so that the cheese melts, that way the flavor is more noticeable, more if we add a little white pepper, so that way we already have the cake finished and cooked.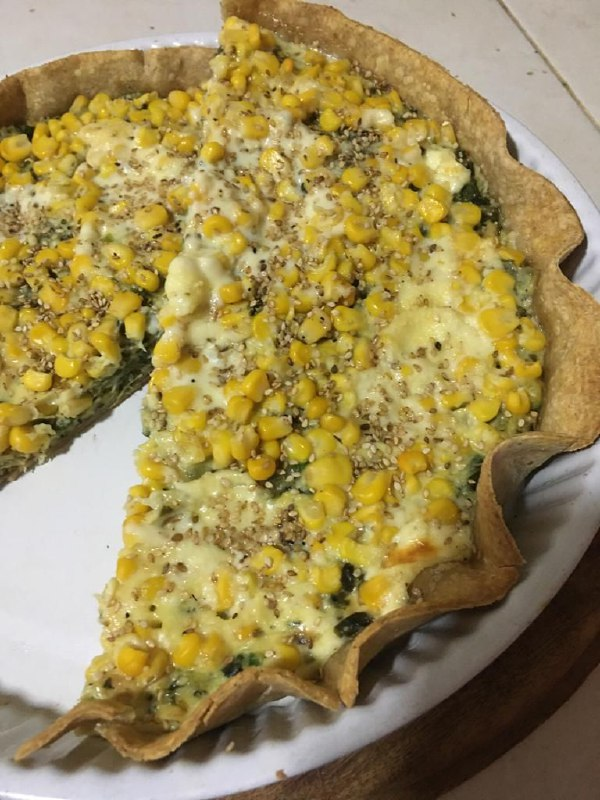 After cutting it into portions, we put it on a plate, the truth is that I consider it tastier and with a special flavor when it is still hot.
THANK YOU VERY MUCH FOR READING AND FOLLOWING MY