Hola a todos siguiendo con almuerzos de pescados en este caso con los tubos de calamar me hice una sabrosas rabas y para acompañar a las mismas hice una papas fritas como bastoncitos, la verdad salió todo muy sabroso, para preparar las rabas, lo primero es cortar el tubo de calamar en aros, los cuales luego los rebose primero los pase por huevo, y luego por la harina, para finalmente freírlos en aceite bien caliente, cuando están doradas de un lado se le da vueltas y luego el la otra mitad hasta que tome el mismo color o sea amarronado.
En cambios las papas fritas, luego de cortarlas en bastoncitos, las Frei también en aceite bien caliente, hasta que tomen también el color amarronado, que es cuando ya están listas para degustarlas.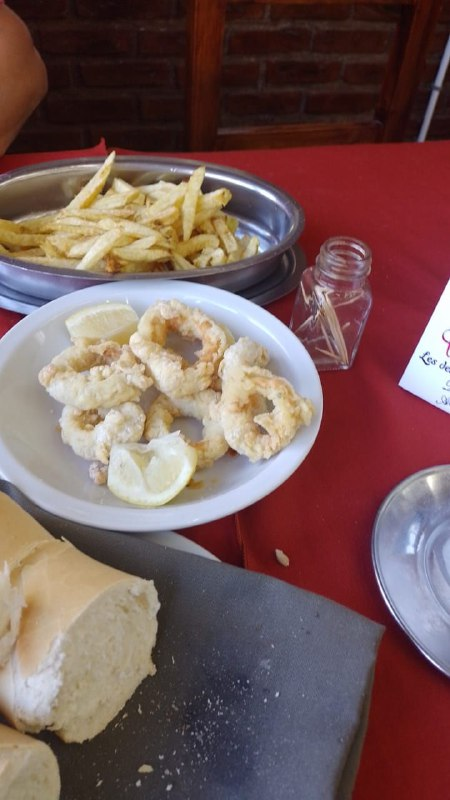 Así es amigos de esta manera se preparan las rabas y las papas fritas en bastones, la verdad son un verdadero manjar.
MUCHAS GRACIAS POR SEGUIRME Y LEERME.
TRANSLATED INTO ENGLISH
Hello everyone following with fish lunches in this case with the squid tubes I made a tasty rabas and to accompany them I made a fries as sticks, the truth came out all very tasty, to prepare the rabas, the first thing is to cut the squid tube into rings, which then overflow them first pass them through egg, and then through the flour, and finally fry them in very hot oil, when they are golden brown on one side is given turns and then the other half until it takes the same color or brownish.
On the other hand the french fries, after cutting them in small sticks, I fry them also in very hot oil, until they also take the brownish color, which is when they are ready to be tasted.
That's right friends, this is the way to prepare the rabas and the french fries in sticks, the truth is that they are a real delicacy.
THANK YOU VERY MUCH FOR FOLLOWING AND READING ME.