Buenos días a todos los que de alguna manera hacen que esta gran plataforma, continúe el día a día, para que todos los que la integramos, nos de esa seguridad de ser algún día un referente para los que quieran integrarse a la misma, con la única finalidad de crecer en la parte económica, por supuesto que valiéndonos de nuestro esfuerzo, el cual hace que nos beneficiemos todos y no unos pocos, porque si todos, todos los días explayamos nuestros ideales y nuestras iniciativas en cada post, la cual seria la única manera de crecer, por supuesto siempre y cuando tengamos en cuenta y respetemos los protocolos, de la reglamentación que existe y en cuanto que de postear e trate, que mejor que explicar de como se elabora una comida tan rica como esta, la cual se trata de un pecceto a la olla, que se debe cocinar muy lentamente, lo primero es colocar dicha olla en un brasero como el que se ve, prendiendo fuego el carbón, para luego colocar la olla, luego a esta le vertemos un poco de aceite, luego cebolla cortada bien fina, sal, ají molido, pimentón molido, le vamos agregando agua, condimentos varios, luego le agregamos el pecceto, en este caso como el mismo Hera muy grande lo corte casi por la mitad, luego se tapa la olla, le agregamos mas agua y a medida que falte la misma le vamos agregando, luego le agregamos tomate bien maduro cortado bien fino, cuando notamos que esta casi cocinado, lo damos vuelta y le agregamos unas hojas de orégano y de romero.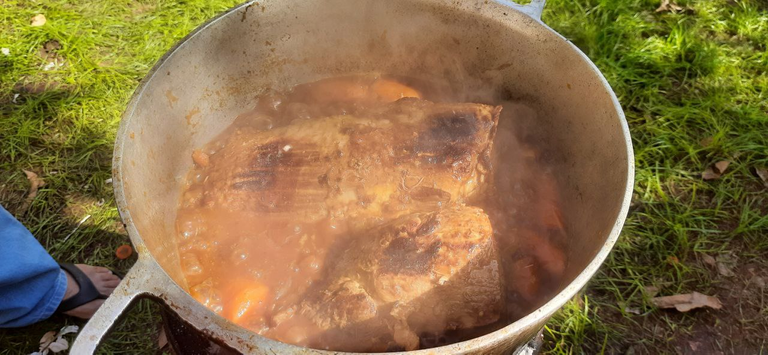 De esa manera seguimos cocinando dicho pecceto hasta que notamos que el mismo se encuentre bien cocinado, luego lo quitamos de la olla, lo cortamos en rodajas no muy grandes y las volvemos a colocar en la olla, tapamos la misma y dejamos que se termine de cocinar bien, para luego comenzar a degustar.
MUCHAS GRACIQS POR LEERME Y SEGUIRME.
TRANSLATED INTO ENGLISH
Good morning to all those who somehow make this great platform, continue day by day, so that all of us who integrate it, give us that security of being someday a reference for those who want to join it, with the sole purpose of growing in the economic part, of course using our effort, which makes us all benefit and not a few, because if we all, every day we explain our ideals and our initiatives in each post, which would be the only way to grow, of course as long as we take into account and respect the protocols, of the regulations that exist and as far as posting is concerned, what better than to explain how to prepare a meal as delicious as this, which is a pecceto to the pot, which must be cooked very slowly, the first thing is to place the pot in a brazier as seen, lighting the charcoal fire, then place the pot, then we pour a little oil, then finely chopped onion, salt, ground chili, ground paprika, we are adding water, various seasonings, then we add the pecceto, in this case as the same Hera very large cut it almost in half, then cover the pot, we add more water and as long as it lacks the same we are adding, then we add ripe tomatoes cut very thin, when we notice that it is almost cooked, we turn it over and add some oregano and rosemary leaves.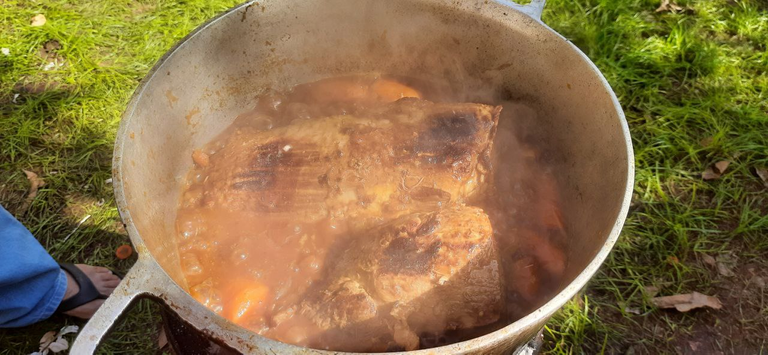 In this way we continue cooking the pecceto until we notice that it is well cooked, then we remove it from the pot, cut it into slices not too large and put them back into the pot, cover it and let it finish cooking well, and then begin to taste.
THANK YOU VERY MUCH FOR READING AND FOLLOWING ME.