Siempre en cada comida, existen la costumbre en algunas familias el de degustar un sabroso postre, como lo es en este caso el de preparar peras al vino tinto con crema, el cual es muy fácil de elaborarlo, siempre con mucha paciencia y sus ingredientes son el siguiente.
Todo depende de la cantidad de comensales o de porciones que queremos, en este caso lo vamos hacer para 8 porciones.
8 PERAS
210 GRAMOS DE AZUCAR
1 VINO 3/4 O DE 750 ML.
1 TROZO DE CASCARA DE NARANJA, ES DE CUANDO PELAMOS LA MISMA
2 CLAVOS DE OLOR
1 PALO O PALITO DE CANELA
2 TROZOS DE CASCARA DE LIMON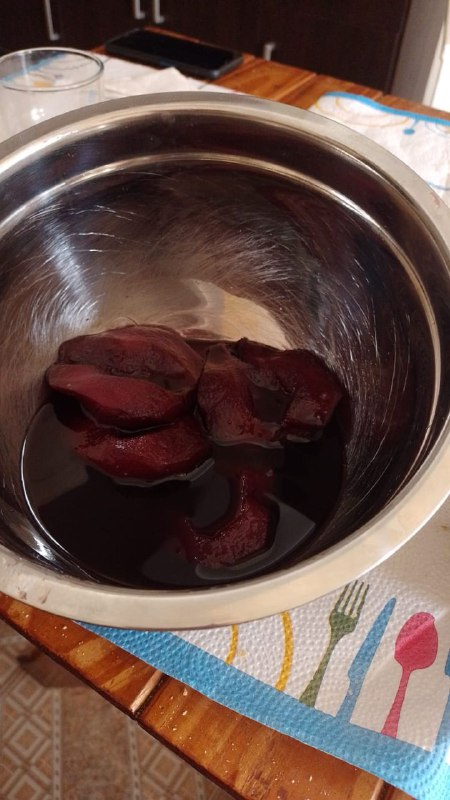 Pelamos las peras, en este caso las corte al medio para mas comensales, en una olla coloque el vino tinto, el palo o palito de canela, los clavos de olor, las cascaras de naranja y de limón, le agregue el azúcar, luego tapar dicha olla y cocinar a fuego lento por el lapso de unos 40 minutos, después de esto apagamos el fuego y dejamos la olla tapada hasta que la misma se enfrié, luego quitamos el jugo que queda, aparte colocamos las peras.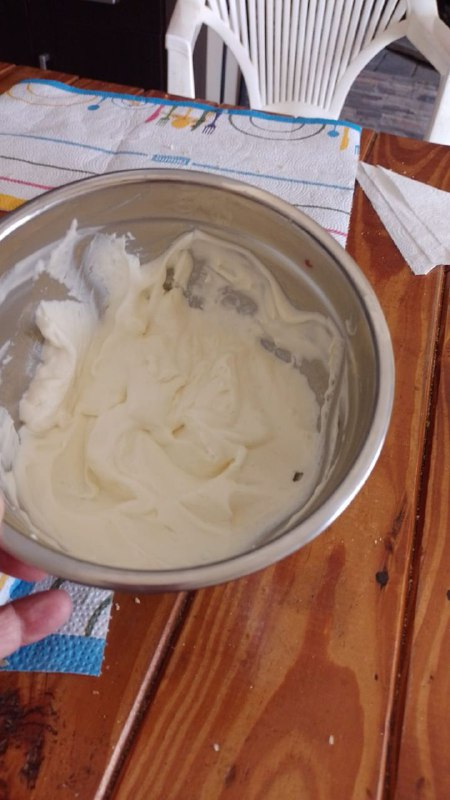 En un volts batimos la crema de leche, hasta que esta quede mas solida, como se ve en la foto.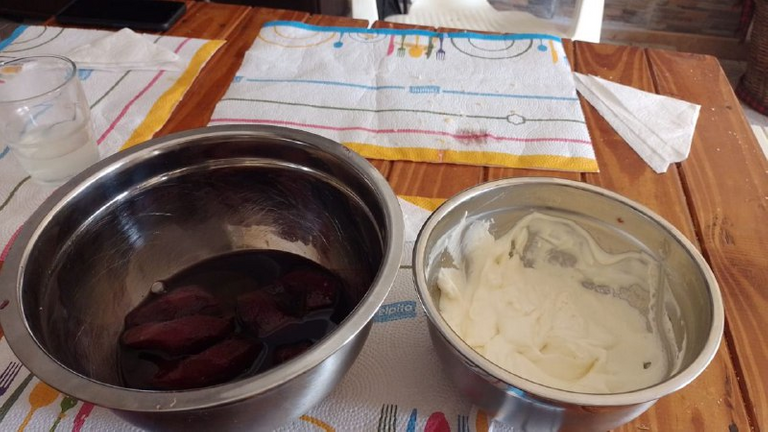 Teniendo en los volts separados, la pera y la crema, las servimos, como vemos en la foto, le agregamos la crema a gusto y de esa manera tenemos el postre antes mencionado, pera al vino tinto con crema.
![image.png](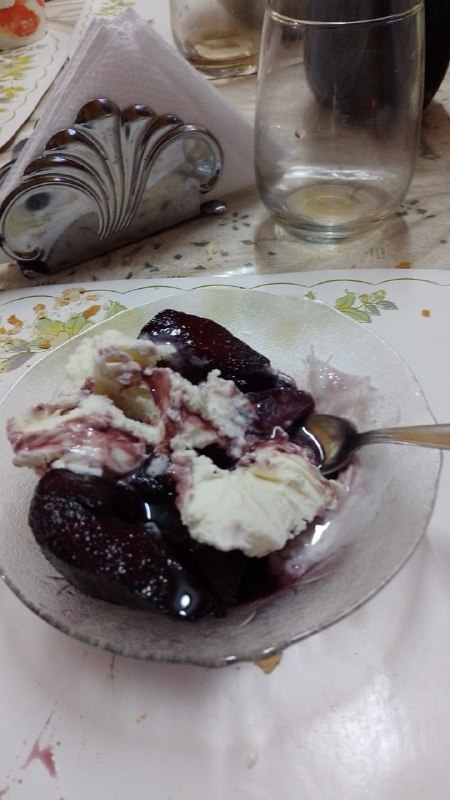 La verdad es un postre para quedar bien, referente al vino al calentarlo el mismo se evapora el alcohol dejando el sabor del vino mesclado con la pera y cuando le agregamos la crema la verdad sale exquisito.
De esta manera podemos elaborar dicho postre, asimismo quedo a la espera de sus comentarios.
MUCHAS GRACIAS POR SEGUIRME Y LEERME.
TRANSLATED INTO ENGLISH
Always in every meal, there is the custom in some families to taste a tasty dessert, as it is in this case to prepare pears in red wine with cream, which is very easy to prepare, always with a lot of patience and its ingredients are as follows.
It all depends on the number of guests or portions we want, in this case we are going to make it for 8 portions.
8 PEARS
210 GRAMS OF SUGAR
1 3/4 OR 750 ML. WINE
1 PIECE OF ORANGE PEEL, IT IS FROM WHEN WE PEELED IT
2 CLOVES
1 CINNAMON STICK
2 PIECES OF LEMON PEEL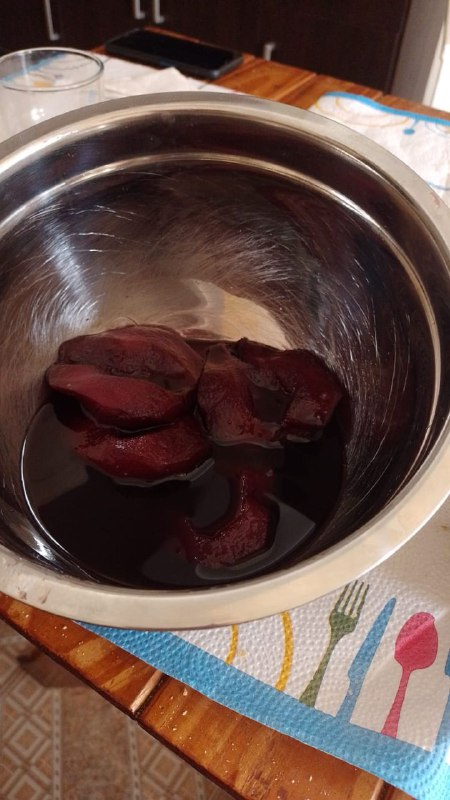 Peel the pears, in this case cut them in the middle for more diners, in a pot place the red wine, the cinnamon stick, the cloves, the orange and lemon peels, add the sugar, then cover the pot and cook over low heat for about 40 minutes, after this we turn off the fire and leave the pot covered until it cools, then remove the juice that remains, apart we place the pears.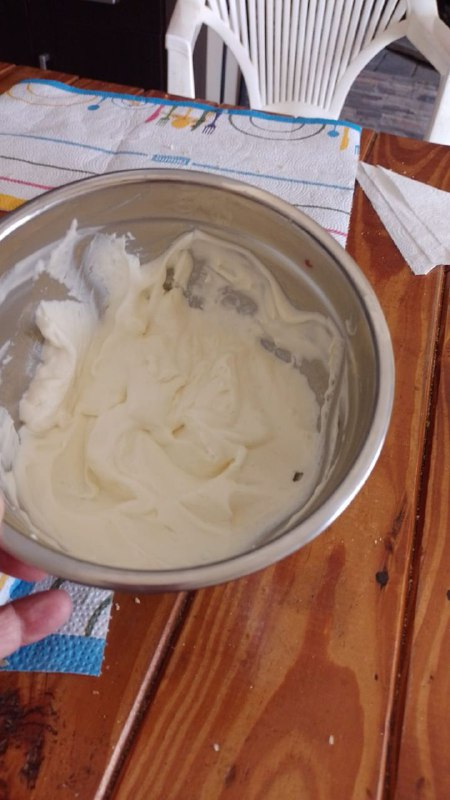 In a volts whisk the milk cream, until it is more solid, as shown in the picture.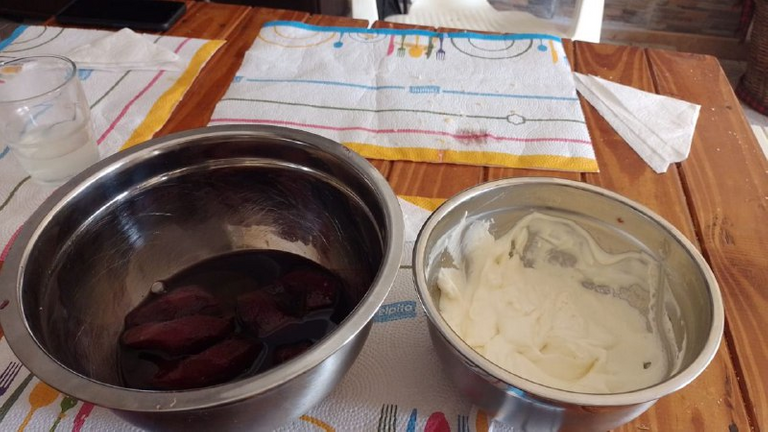 Having in separate volts, the pear and the cream, we serve them, as we see in the photo, we add the cream to taste and in this way we have the dessert mentioned above, pear in red wine with cream.
![image.png](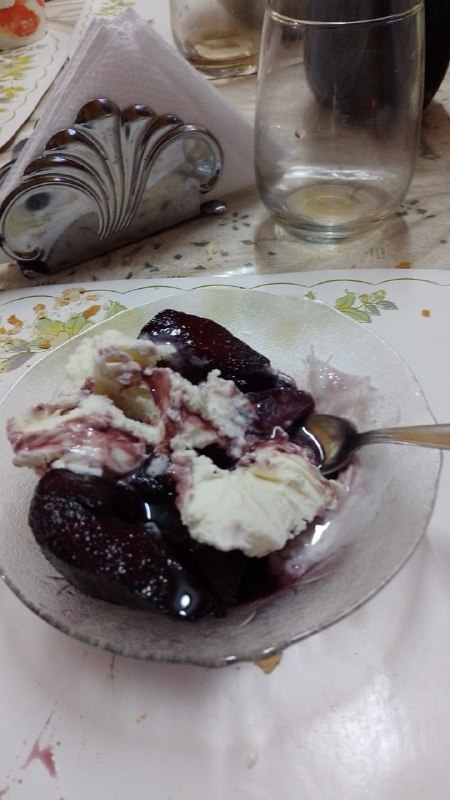 The truth is a dessert to be good, referring to the wine when heating it, the alcohol evaporates leaving the taste of wine mixed with the pear and when we add the cream, it really comes out exquisite.
In this way we can elaborate this dessert, I am also waiting for your comments.