Buenos días a todos, hoy por ser un día muy destacado en el calendario, estoy preparando al disco un sabroso mondongo, conocido como mondongo a la española, es muy fácil de elaborarlo, primero que hacemos es el fuego con leños bien seco, que se hayan caído solos del árbol, como vemos en la foto, luego colocamos esta especie de parrilla la cual se utiliza para calentar agua, cocinar, etc., colocamos el disco, le agregamos un poco de aceite, sobre este le agregamos cebolla cortada en julianas, ajo. sal, cuando comienza a freírse, le vamos agregando un poco de agua, luego cuando ya esta hirviendo todo le agregamos el mondongo cortado en tiras finas, y revolvemos un poco, para después agregar tomate cortado en julianas muy finas para que se desintegre mejor, seguimos revolviendo un poco mas y le agregamos morrón, cúrcuma, caldo para carne, dejamos que comience a hervirse bien todo, luego controlamos el fuego que no falte leños y seguimos revolviendo despacio, le agregamos un poco mas de agua
así vamos viendo hasta que se ablande el mondongo, cuando este esta blando, es cuando ya esta listo para degustar, entonces le agregamos un poco de papa y batata, para darle mas sabor.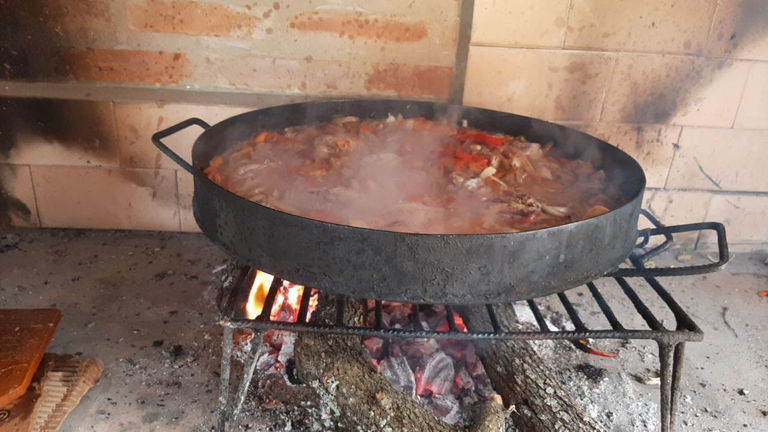 Así es amigos como preparo este exquisitez de comida, además es muy fácil
MUCHAS GRACIAS POR SEGUIRME Y LEERME.
TRANSLATED INTO ENGLISH
Good morning everyone, today for being a very important day in the calendar, I am preparing a tasty mondongo, known as mondongo a la española, it is very easy to prepare it, first we do is the fire with very dry logs, which have fallen alone from the tree, as we see in the photo, then we place this kind of grill which is used to heat water, cooking, etc., We place the disc, add a little oil, on it we add onion cut into julienne strips, garlic, salt, when it begins to fry. salt, when it begins to fry, we add a little water, then when everything is boiling we add the tripe cut into thin strips, and stir a little, and then add tomato cut into very thin julienne strips so that it disintegrates better, We continue stirring a little more and add red bell pepper, turmeric, meat broth, we let it all start to boil well, then we control the fire that there is no lack of wood and continue stirring slowly, we add a little more water, and so we see until it softens.
We are watching until the tripe is soft, when it is soft, is when it is ready to taste, then we add a little potato and sweet potato, to give it more flavor.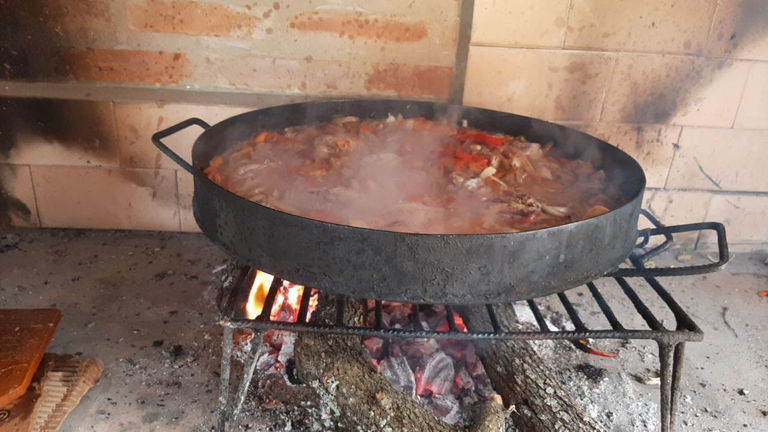 This is how I prepare this delicacy of food, it is also very easy.
THANK YOU VERY MUCH FOR FOLLOWING AND READING ME.
.