buenos días a todos, como sabemos los días sábados en lo personal es el día de los permitidos, por tal ocasión nada mejor que degustar una sabrosa milanesa pero de pollo, con papas fritas y huevos fritos, la misma se prepara de la siguiente manera, la pata y muslo del pollo lo deshuesamos y luego lo fileteamos dándole forma de milanesa, en un volts, le agregamos huevos, ajo y perejil cortado bien pequeño, le agregamos sal, mesclamos todo y luego colocamos la milanesa adentro, luego la quitamos y la pasamos por pan rallado, cuando ya esta la freímos y listo,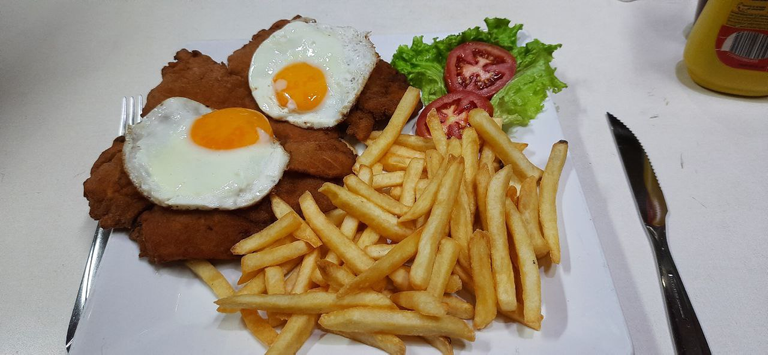 Para preparar las papas, primero las lavamos, luego las cortamos en bastoncitos, para después comenzar a freírlas, cundo están las agregamos en el plato junto a la milanesa y después los huevos que después de freírlos también los agregamos en el plato con dos rodajas de tomate y una hoja de lechuga.
Para después deleitarnos al degustar esta exquisita comida.
MUCHAS GRACIAS POR LEERME Y SEGUIRME.
TRANSLATED INTO ENGLISH
Good morning everyone, as we know Saturday is the day of the allowed, for such an occasion nothing better than tasting a tasty chicken milanesa but with fried potatoes and fried eggs, it is prepared as follows, the leg and thigh of the chicken we debone it and then we fillet it giving shape of milanesa, in a volts, we add eggs, garlic and parsley cut very small, we add salt, we mix everything and then we place the milanesa inside, then we remove it and we pass it through breadcrumbs, when it is ready we fry it and it is ready,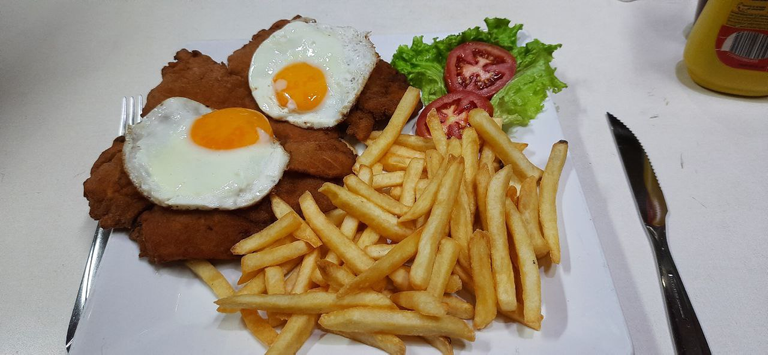 To prepare the potatoes, first we wash them, then we cut them in small sticks, and then we start frying them, when they are ready we add them in the plate next to the milanesa and then the eggs that after frying them we also add them in the plate with two slices of tomato and a leaf of lettuce.
Then we enjoy this exquisite meal.
THANK YOU VERY MUCH FOR READING AND FOLLOWING ME.