Si existe algo que me agrada es el pescado, de agua dulce, bueno sin menospreciar al de agua salada, que por cierto es muy sabroso, también por sus beneficios, por el ejemplo el de agua salada y de las profundidades de esta, son los que contienen mas OMEGA, que las mismas son muy importante para nuestro cuerpo, por el hecho de que nos hace mucho bien a las articulaciones, las cuales se van dañando a medida que pasa los años, pero la verdad como dije el de agua dulce, conocido como SURUBI, son muy codiciados, para la elaboración de varios platos, como por ejemplo de la milanesa de dicho pez, la cual se hace de la siguiente manera, en un volts, colocamos tres huevos, sal, ajo y perejil cortados bien pequeños, batimos muy bien todo, luego tomamos la pieza de pescado, que el mismo y esto es muy importante, no tiene espina, lo fileteamos, como para milanesa, los vamos agregando en dicho volts, luego los vamos quitando del mismo, y los pasamos por pan rallado, para luego tomar una sarten agregarle aceite y un poco de mantequilla, cuando dicho aceite esta caliente, le agregamos dicha milanesa, cuando notamos que se doro del lado de la fritura, la damos vuelta, cuando esta parte esta dorada, la misma ya esta lista.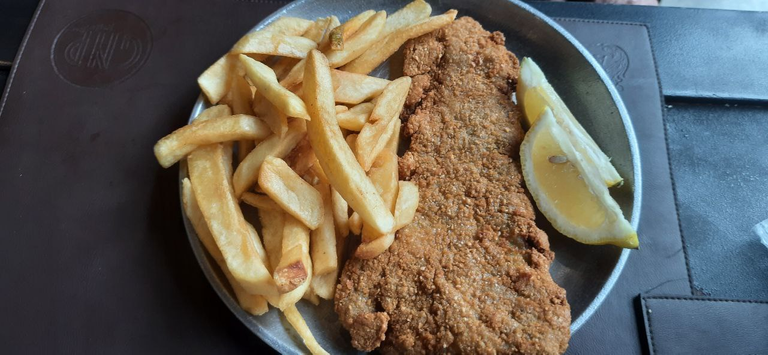 Así que procedemos a pelar las papas que utilizaremos, luego las cortamos en bastoncitos, luego las colocamos en la sarten que contienen el aceite, para de esa manera freír dichas papas, las que quedarían como se ve en la foto, acompañando dicha milanesa, el limón es a gusto de cada uno, que agregándole el mismo le da un sabor excelente.
MUCHAS GRACIAS POR LEERME Y SEGUIRME.
TRANSLATED INTO ENGLISH
If there is something that I like is the fish, freshwater, well without belittling the saltwater, which by the way is very tasty, also for its benefits, for example the saltwater and the depths of this, are those that contain more OMEGA, that the same are very important for our body, for the fact that it does us much good to the joints, which are damaged as the years go by, but the truth as I said the freshwater, known as SURUBI, are very coveted, for the preparation of various dishes, such as the milanesa of this fish, which is made in the following way, in a volts, we put three eggs, salt, garlic and parsley cut very small, we beat everything very well, then we take the piece of fish, that the same and this is very important, has no bone, we fillet it, as for milanesa, we are adding them in that volts, then we are removing them of the same one, and we pass them by breadcrumbs, to then take a frying pan to add oil and a little butter, when this oil is hot, we add this milanesa, when we notice that it is browned on the side of the frying, we turn it over, when this part is browned, the same one is ready.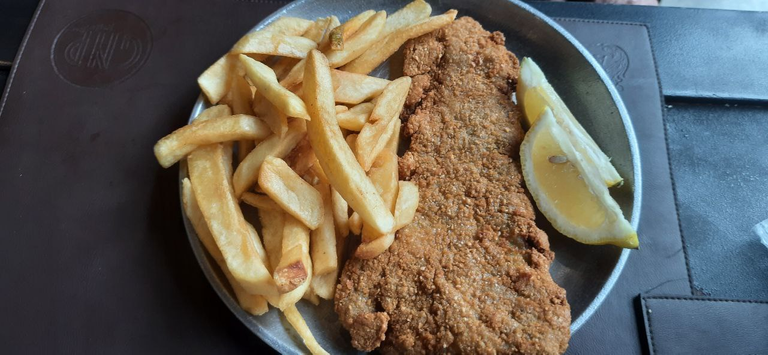 So we proceed to peel the potatoes that we will use, then we cut them into sticks, then we place them in the pan containing the oil, to fry the potatoes, which would be as seen in the photo, accompanying the milanesa, the lemon is to taste of each one, adding it gives it an excellent flavor.
THANK YOU VERY MUCH FOR READING AND FOLLOWING ME.