Buenos días a todos, ya llegamos a la mitad de semana o sea día miércoles
el cual es ideal para degustar un sabroso matambrito de cerdo a la pizza, chorizo casero y morcilla, todo a la parrilla, que es muy fácil de hacerlo, comenzamos por encender el fuego, luego cuando están las brasas, colocamos la parrilla y sobre esta los chorizos y el matambrito de carne de cerdo,, por supuesto que es una carne muy delicada, por ser muy fina, entonces le agregamos muy poco fuego, no así a los chorizos y a la morcilla, cuando se cocina lo damos vuelta al matambrito y arriba del queso rodajas de tomate cortado en juliana muy fino, tapamos todo con un molde, en este caso de pizza, para que el queso se derrita mas rápido, cuando ya esta todo derretido, es porque ya esta listo para ser degustado, mientras en una sarten freímos las papas fritas, las cuales son cortadas en bastoncito, para acompañar al matambrito.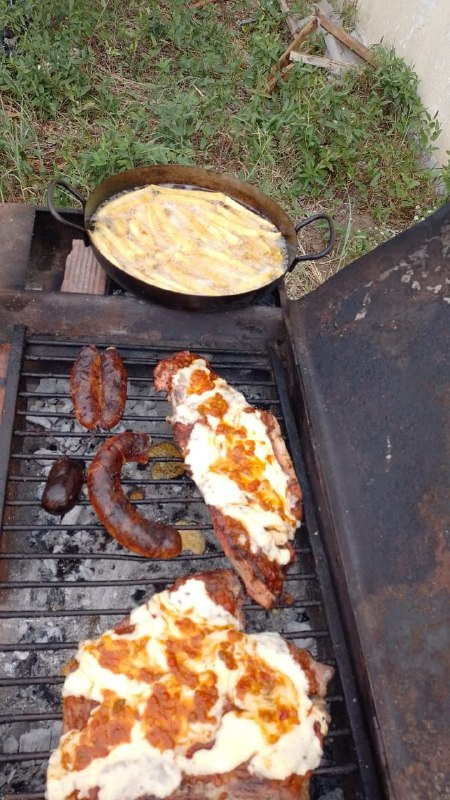 En lo personal me agrada esta comida, la cual es fácil de prepararla y por cierto sale muy sabrosa.
MUCHAS GRACIAS POR LEERME Y SEGUIRME.
TRANSLATED INTO ENGLISH
Good morning everyone, we are already in the middle of the week or Wednesday, which is ideal to taste a tasty matambrito pork pizza, homemade chorizo and black pudding
which is ideal to taste a tasty pork matambrito pizza, homemade sausage and blood sausage, all grilled, which is very easy to do, we start by turning on the fire, then when the embers are, we place the grill and on it the sausages and pork matambrito, of course it is a very delicate meat, being very thin, then we add very little fire, when it is cooked we turn it over to the matambrito and above the cheese slices of tomato cut in very thin julienne, we cover everything with a mold, in this case of pizza, so that the cheese melts faster, when everything is already melted, is because it is ready to be tasted, while in a frying pan we fry the french fries, which are cut into sticks, to accompany the matambrito.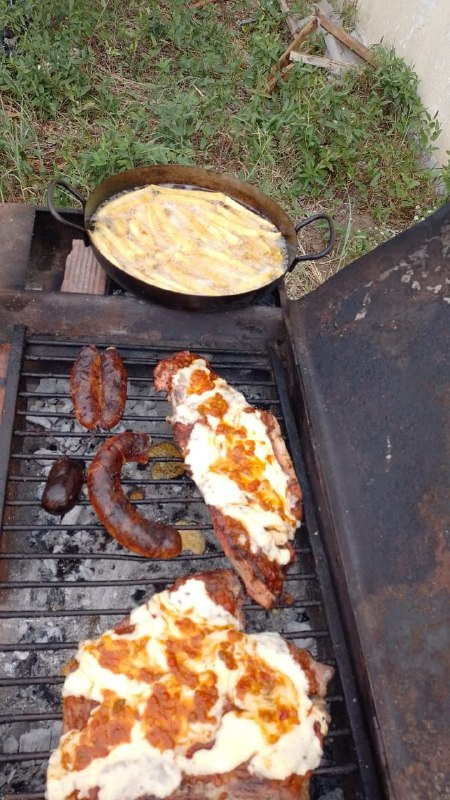 Personally I like this food, which is easy to prepare and it is very tasty.
THANK YOU VERY MUCH FOR READING AND FOLLOWING ME.