Buenos días a todos, espero se encuentren todos muy bien, sabiendo que los días de invierno, los cuales existen días que el mismo se torna muy duro, tanto para la naturaleza, como también para los seres humanos, lo digo por la gripe que bien sabemos, nos molesta por unos 5 o 6 días, pero debido a los dos años que pasamos referente a la pandemia, todo debe ser precaución o sea el de cuidarnos para no caer con una gripe o un resfriado, pero también por el covid 19 que todavía sigue dejando secuelas, por eso cuando digo cuidarnos me refiero también a las comidas en general, pero la verdad que cocinar un guisado con arroz integral con pollo, en lo personal es de mi máximo agrado, también es muy fácil de prepararlo, en una cacerola agregamos un poco de aceite, luego cebolla cortada bien fina, cuando esta comienza a freírse le agregamos sal, y especias varias, luego el pollo, cuando notamos que el pollo esta cocinado, le agregamos morrón, luego un poco de agua y cuando el agua hierve le agregamos el arroz antes mencionado, asi que cuando dicho arroz esta a punto apagamos el fuego y dejamos la olla tapara para que de asiente bien todo y así el arroz quedara un poco mas seco.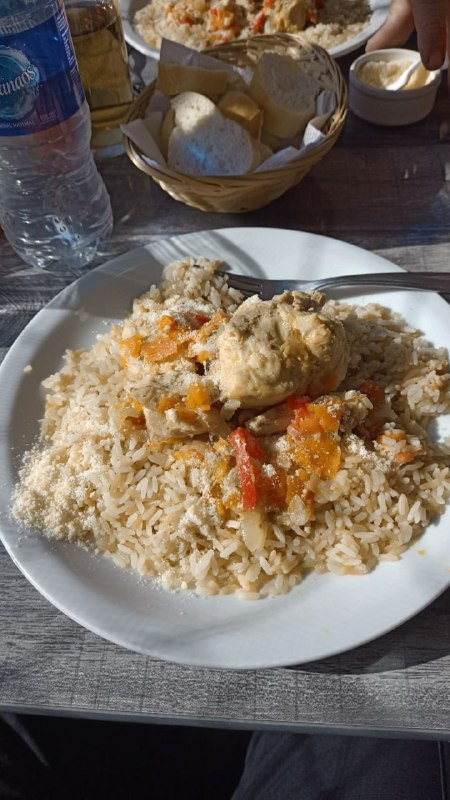 Cuando destapamos la olla es para servirnos en el plato, quedando el mismo como se ve en el plato, le podemos agregar queso rallado para darle mas rico sabor.
MUCHAS GRACIAS POR LEERME Y SEGUIRME.
TRANSLATED INTO ENGLISH
Good morning everyone, I hope you are all very well, knowing that the days of winter, which there are days that it becomes very hard, both for nature, as well as for humans, I say this because of the flu that we know, bothers us for about 5 or 6 days, but due to the two years that we spent in relation to the pandemic, everything must be precaution, that is to say to take care of ourselves so as not to fall with a flu or a cold, but also because of the covid 19 that still continues leaving sequels, that is why when I say to take care of ourselves I also refer to meals in general, but the truth is that cooking a stew with brown rice with chicken, personally is of my utmost pleasure, it is also very easy to prepare, in a pan add a little oil, then finely chopped onion, when it begins to fry add salt and various spices, then the chicken, when we notice that the chicken is cooked, we add red bell pepper, then a little water and when the water boils we add the rice mentioned above, so when the rice is ready we turn off the fire and leave the pot covered so that everything settles well and so the rice will be a little drier.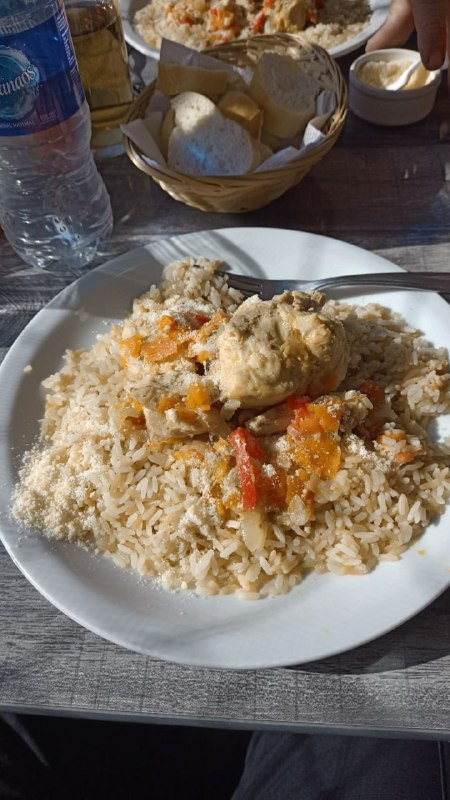 When we uncover the pot is to serve in the dish, being the same as seen on the plate, we can add grated cheese to give it more rich flavor.
THANK YOU VERY MUCH FOR READING AND FOLLOWING ME