Buenos días a todos, después de un bello día que se paso en familia, como todo domingo, al finalizar el mismo, comienza otra ves todo, el trabajo, las obligaciones, los negocios, las esperanzas, el cual es el anhelo de todo ser humano, que existe en cada uno de nosotros el de llegara nuestro final, con un solo propósito muy bien y con mucha salud y hablando de salud que mejor que un almuerzo sabroso y saludable como lo es el filete de este pescado llamado tilapia, es semejante al filete de merluza solo que este es de rio o sea agua dulce, pero es muy delicioso y en este caso esta preparado de la siguiente manera, en una sarten se vierte un poco de aceite de oliva, luego el filete de tilapia condimentado a gusto, o sea sal y condimentos varios, también ajo, papa cortada en julianas, cebolla, tomate, morrón, luego cuando casi esta cocinado le agregamos crema de leche bien batida y sobre esta semillas de chia, dejando así con un sabor excelente y queda como se lo ve en la foto.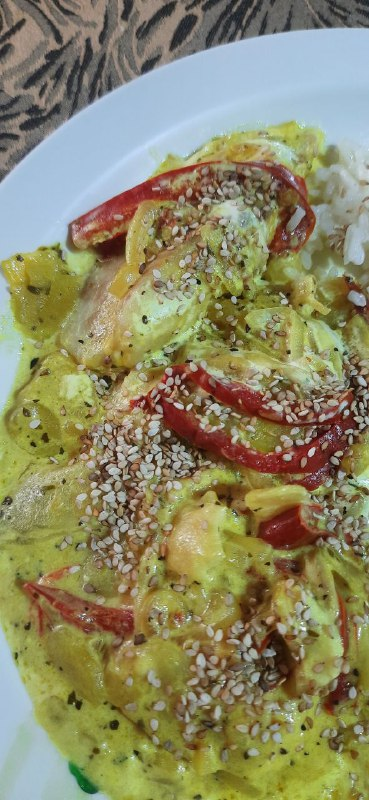 Luego para acompañar a dicho pescado, hervimos un poco de arroz al cual le agregamos un caldo con sabor a pescado,, una ves colado el arroz lo agregamos al plato junto al pescado, al cual le agregamos semilla también, quedando presentado dicho plato como se ve en la foto, además es una excelente comida, muy nutritiva por el omega y muy sana.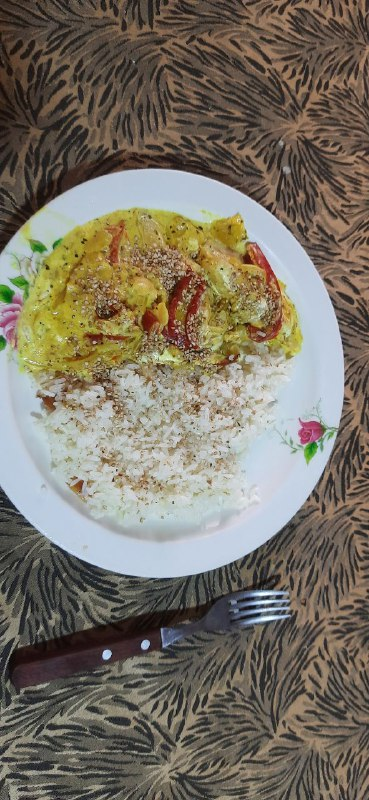 La misma es muy fácil de prepararla, sus ingredientes son económicos y fácil de conseguirlos. de haberles gustado lo explayado, no dejen de enviar sus comentarios y tambien sus votos.
MUCHAS GRACIAS POR LEERME Y SEGUIRME.
TRANSLATED INTO ENGLISH
Good morning everyone, after a beautiful day spent with the family, like every Sunday, at the end of it, everything begins again, work, obligations, business, hopes, which is the desire of every human being, which exists in each of us to reach our end, with a single purpose very well and in good health and speaking of health, what better than a tasty and healthy lunch as is the fillet of this fish called tilapia, it is similar to the filet of hake only that this is of river or fresh water, but it is very delicious and in this case it is prepared in the following way, in a frying pan is poured a little olive oil, then the tilapia filet seasoned to taste, that is to say salt and various seasonings, then the tilapia fillet is seasoned to taste, that is salt and various seasonings, also garlic, potato cut into julienne strips, onion, tomato, bell bell pepper, then when it is almost cooked we add whipped cream and chia seeds, leaving it with an excellent flavor and is as shown in the photo.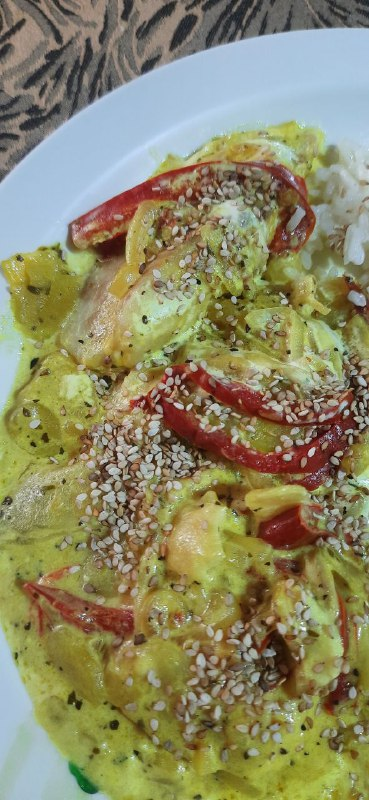 Then to accompany the fish, we boil some rice to which we add a fish-flavored broth, once the rice is strained we add it to the dish with the fish, to which we also add seeds, leaving the dish as shown in the photo, it is also an excellent meal, very nutritious for the omega and very healthy.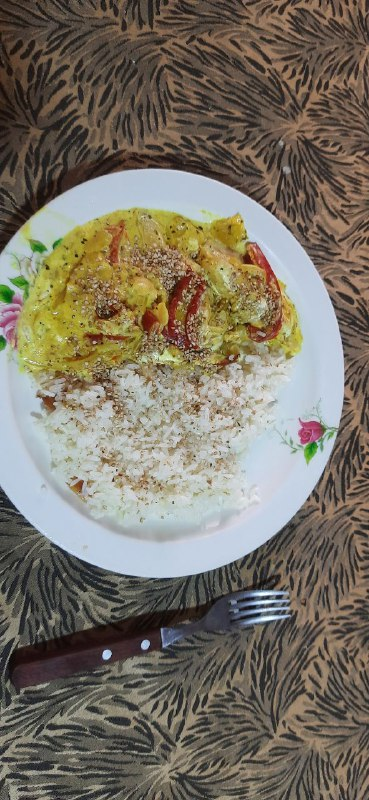 It is very easy to prepare, its ingredients are inexpensive and easy to get. If you liked what I have explained, please send me your comments and also your votes.
THANK YOU VERY MUCH FOR READING AND FOLLOWING ME.