Hola a todos los que me siguen y a los que no me siguen también, a veces cuando el frio aprieta o sea hace demasiado frio en un pais como este PARAGUAY el cual es de un clima tropical, no existe mejor desayuno como el que les voy a compartir, el mismo se trata de unas pirecas o tortas fritas o como la llaman en republica DOMINICANA, yaniqueque, la misma es muy fácil de elaborarla y sus ingredientes son:
Harina
Sal
Mantequilla derretida
Huevo
Colocamos la harina en un recipiente, luego le agregamos agua si esta tibia en mejor, luego la sal, el huevo y por ultimo en ves de aceite mantequilla derretida, la da mejor sabor, comenzamos a amasar hasta que notamos que dicha masa tenga consistencia, la dejamos reposar unos 15 minutos, luego cortamos en trozos de como seria dicha torta frita o sea le damos la forma redonda y la pichamos con un tenedor, porque al freírla se infla un poco.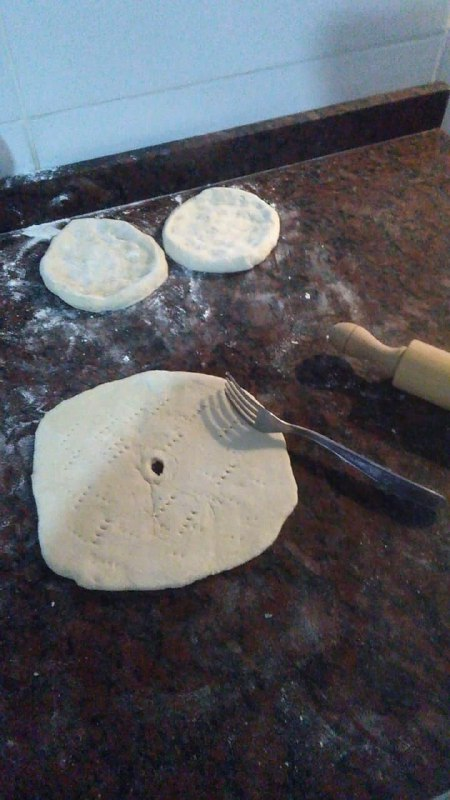 Bueno en esta fotografía vemos cuando comenzamos a freírlas, como les dije al pincharlas no se inflan, para su cocción como siempre mencione, vertemos aceite y colocamos un poco de grasa de porcino refinada, de esa manera sale mas liviana la fritura y con mas sabor.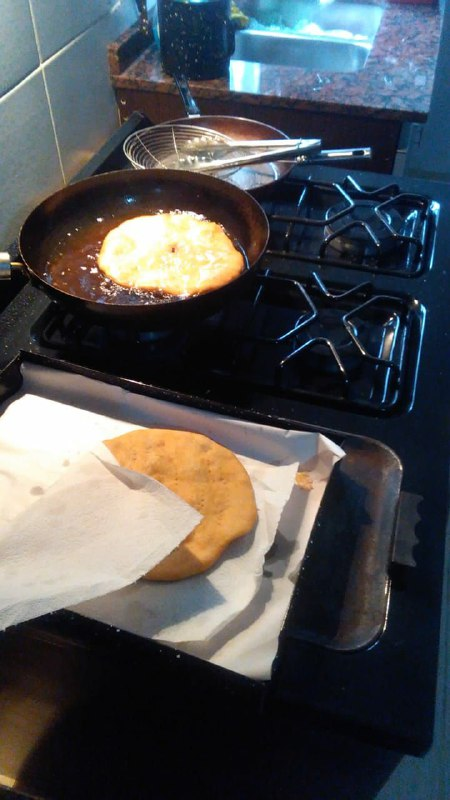 Cuando tenemos lo suficiente ya que están fritas, las apilamos de esta manera como vemos, es para que se mantengan calentitas, preparamos el mate y a desayunar, en mi caso personal como vivía en el campo, es una forma o costumbre dicho desayuno, lo único que suspendemos por un momento la dieta jajajaaj.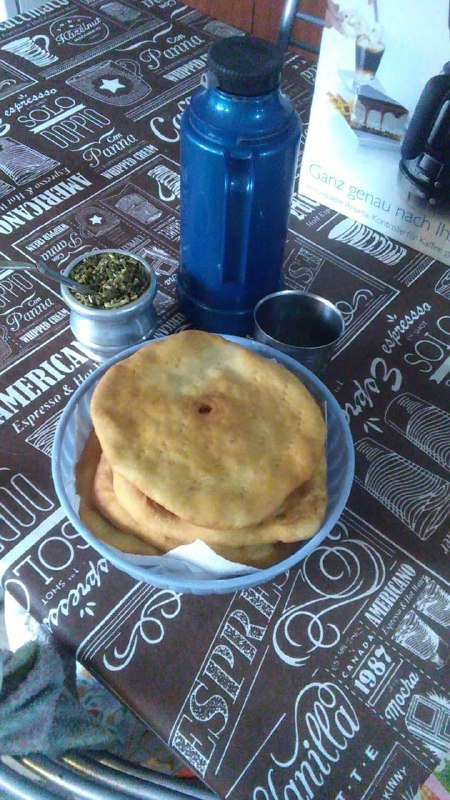 Pero la verdad amigos que de ves en cuando un desayuno así, rompiendo la dieta no ase mucho efecto, al cuerpo, porque es algo de costumbre y a veces nos cuesta dejarlo, de todos modos si le agrado este tipo de desayuno, no dejen de escribir sus comentarios.
GRACIAS POR SEGUIRME Y LEERME,BENDICIONES.
TRANSLATE IN ENGLISH
Hello to all those who follow me and those who do not follow me too, sometimes when the cold tightens or it is too cold in a country like this PARAGUAY which has a tropical climate, there is no better breakfast like the one I am going to. share, it is about pirecas or fried cakes or as they call it in the DOMINICAN republic, yaniqueque, it is very easy to make and its ingredients are:
Flour
Salt
Melted butter
Egg
We place the flour in a container, then we add water if it is warm at best, then the salt, the egg and finally, instead of oil, melted butter gives it better flavor, we begin to knead until we notice that the dough has consistency, We let it rest for about 15 minutes, then we cut it into pieces of what said fried cake would be, that is, we give it the round shape and we chop it with a fork, because when frying it it inflates a little.
! [image.png] (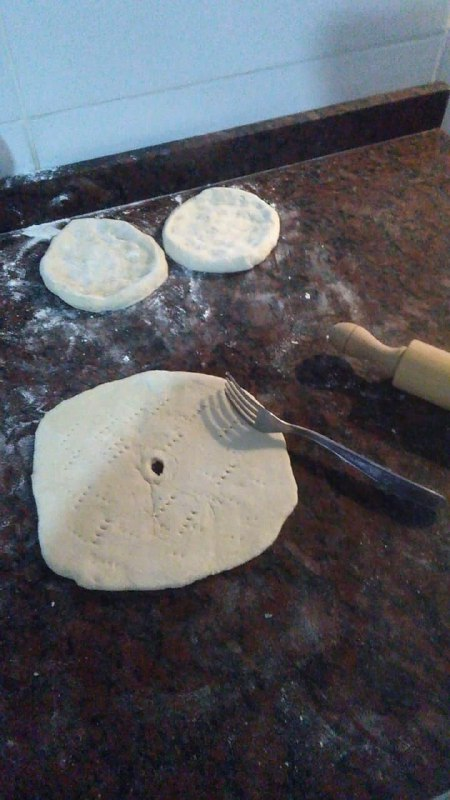 )
Well, in this photograph we see when we start to fry them, as I told you when puncturing them they do not inflate, for their cooking as I always mentioned, we pour oil and put a little refined pork fat, that way the frying comes out lighter and with more flavor .
! [image.png] (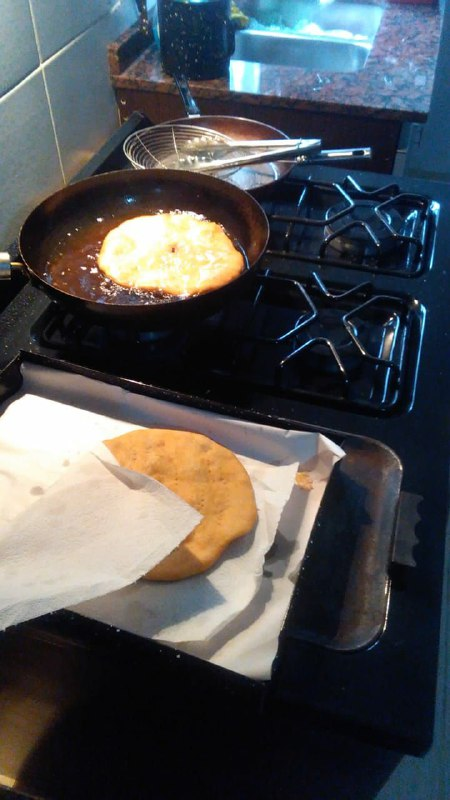 )
When we have enough since they are fried, we stack them in this way as we see, it is to keep them warm, we prepare the mate and have breakfast, in my personal case as I lived in the countryside, it is a way or custom said breakfast, the only thing that we suspend the diet for a moment hahaha.
! [image.png] (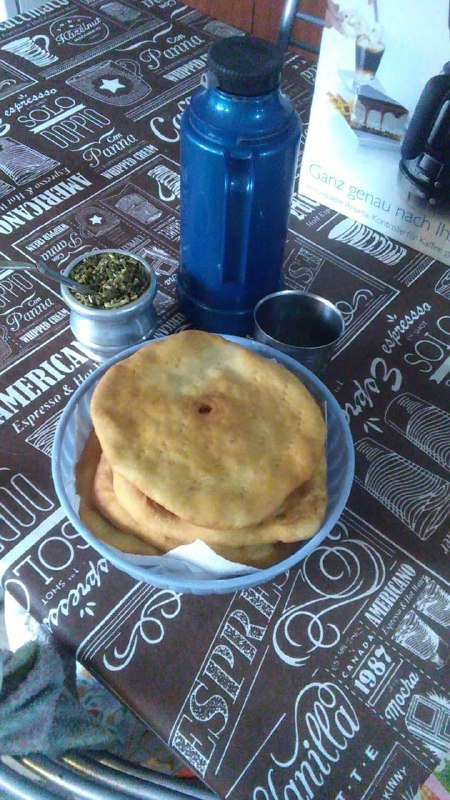 )
But the truth friends, from time to time a breakfast like this, breaking the diet does not have much effect on the body, because it is something of habit and sometimes it is difficult for us to give it up, anyway if you like this type of breakfast, do not stop writing your comments.
THANK YOU FOR FOLLOWING ME AND READ ME, BLESSINGS.