Como cada domingo y no lo llamaría tradición, si no en la manera que se puede, preparo un asado para compartir en el almuerzo, pero en este caso con una variante nueva, en la foto se puede un molde de pizza, pero su contenido no es precisamente la pizza, es una masa preparada con harina de maíz de la siguiente manera, colocamos dicha harina en un volts, le agregamos sal a gusto, huevo, agua, cúrcuma un poco de ajo bien picado, comenzamos a amasar, cuando notamos que ya esta la masa propiamente dicha, la colocamos en un molde, antes le agregamos un poco de aceite de oliva llevamos dicho molde al borde de la parrilla, donde lo dejamos para que comience a cocinarse, cuando notamos que casi esta le agregamos queso como si fuera una pizza, luego lo dejamos que se cocine bien, es para acompañar el asado, sale muy bien.
Dicho asado esta compuesto por chinchulín, chorizo casero, morcilla, salchicha parrillera, asado en tira y también una tira de tapa de asado, cuando la carne se encuentra cocinada, que comenzamos a degustar la misma, lo hacemos también con lo que tenemos en el molde pizza, es para reemplazar a la ensalada.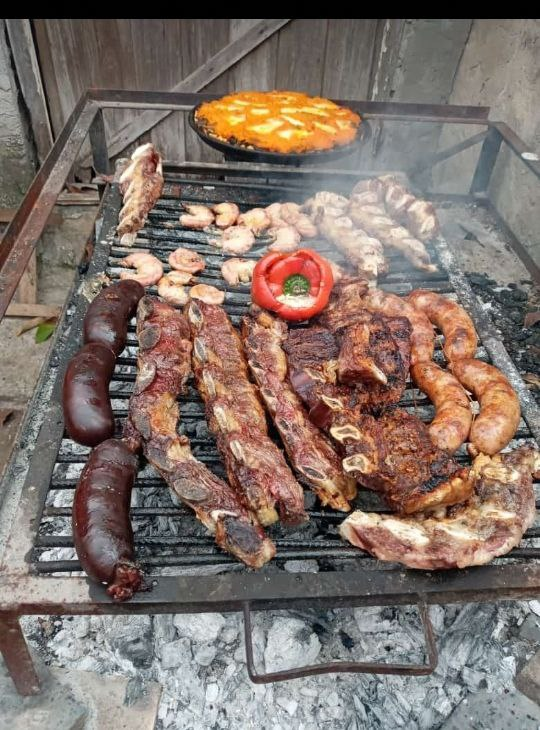 Retiramos el asado de la parrilla, lo cortamos en porciones, lo colocamos en una tabla como se puede ver en esta foto y a disfrutar del mismo, en un domingo cálido y hermoso, junto a la familia.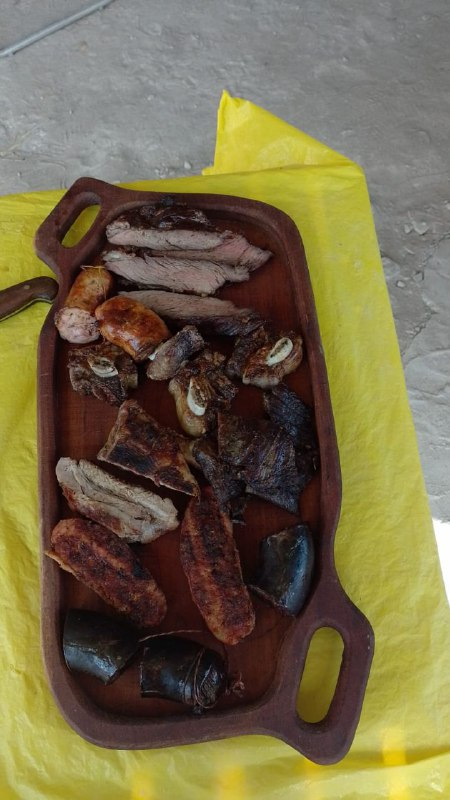 Bueno la novedad con este asado en la tarta de harina de maíz, para acompañar el mismo, les digo que es fácil de preparar y uno lo puede condimentar a gusto.
Si les agrado esta manera de cocinar algo diferente con el asado, no dejen de enviar sus comentarios.
MUCHAS GRACIAS POR SEGUIRME Y LEERME.
TRANSLATED INTO ENGLISH
As every Sunday and I would not call it tradition, if not in the way you can, I prepare a roast to share for lunch, but in this case with a new variant, in the photo you can see a pizza mold, but its content is not precisely the pizza, it is a dough prepared with corn flour as follows, we put the flour in a volts, add salt to taste, egg, water, turmeric, a little chopped garlic, we begin to knead, when we notice that the dough itself is ready, we place it in a mold, before we add a little olive oil, we take it to a mold, we place it in the dough itself, we add a little olive oil, turmeric, a little chopped garlic, we begin to knead, when we notice that the dough itself is ready, we place it in a mold, before we add a little olive oil, we take the mold to the edge of the grill, where we leave it to start cooking, when we notice that it is almost ready we add cheese as if it were a pizza, then we let it cook well, it is to accompany the roast, it comes out very well.
This roast is composed of chinchulín, homemade chorizo, blood sausage, grilled sausage, roast in strip and also a strip of roast cover, when the meat is cooked, we begin to taste it, we also do it with what we have in the pizza mold, it is to replace the salad.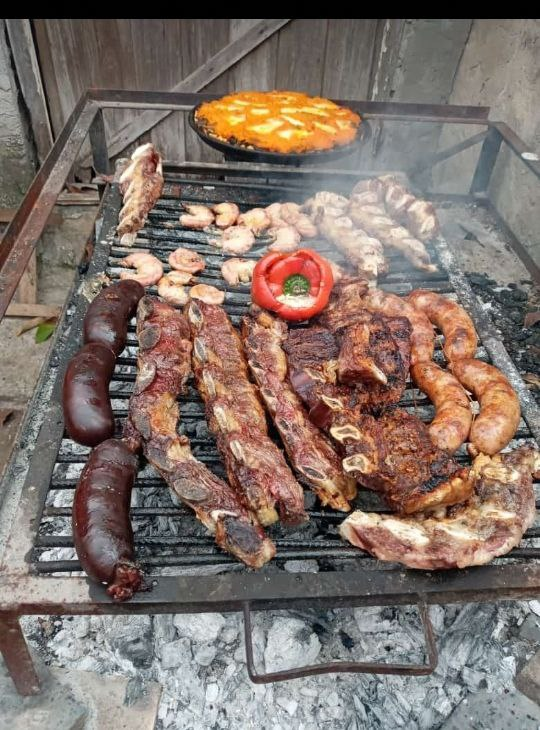 We remove the roast from the grill, cut it into portions, place it on a board as you can see in this picture and enjoy it, on a warm and beautiful Sunday, with the family.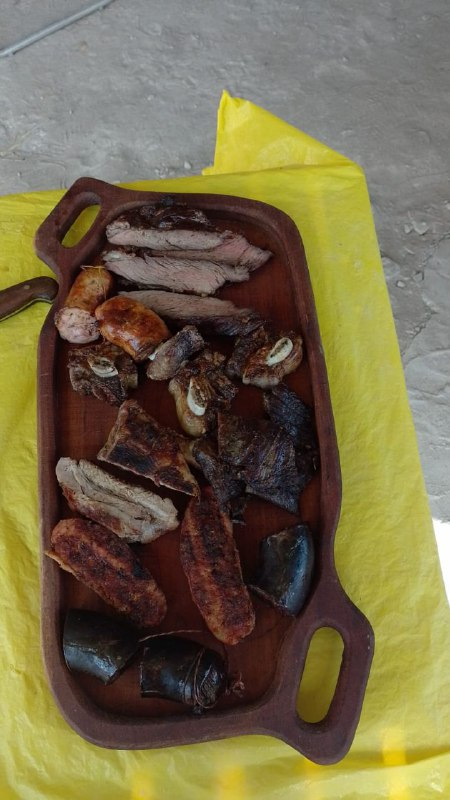 Well the novelty with this roast in the cornmeal cake, to accompany it, I tell you that it is easy to prepare and you can season it to taste.
If you like this way of cooking something different with the asado, please send me your comments.
THANK YOU VERY MUCH FOR FOLLOWING AND READING ME.