A veces la circunstancias de la vida, nos lleva a aprovechar lo que la naturaleza creo, me expreso de esta manera porque viajando por la ruta de la provincia de CORRIENTES ARGENTINA, cerca de los esteros del IBERA, es una zona de bañados, laguna y esteros propiamente dicho, lo que ocurrió fue algo triste, mientras circulaba pude observar una caravana de camiones de carga, el cual uno de ellos, el ultimo mas precisamente arrolla a un yacaré de casi dos metros de largo, bastante grande, le aplasto la cabeza y continuo su marcha sin darse cuenta de lo que ocurrió, como es una zona desolada, como todo lugar en el campo y tampoco venia ningún vehículo, detuve la marcha y un paisano que justo pasaba por el lugar en su caballo, me dice -señor pobre animal, pero se le puede dar provecho,- como le dije- este señor detiene su marcha desciende del caballo, quitando el facón que llevaba en su cintura, procede a cortar una parte de la cola de dicho yacaré, me ofrece una porción de unos 2 kilos, de la parte mas gruesa, -llévese esto señor, cocínelo en la cacerola bien condimentado, es lo mas exquisito que existe,- claro dicho paisano Hera el que controlaba la zona por la reserva donde se crían dichos animales, así que para no desperdiciar la muerte de ese animal-yacaré- y viendo que el señor seguía faenando lo que quedaba del animal, manifestando que tendría carne para varios días, los criaban para venderlos a los restaurant mas sobresalientes en todas partes del mundo, coloque dicho pedazo de carne en el conservador y me retire.
Es hoy que retire del congelador esa carne cortándola en pequeños trozos como me había manifestado ese señor, lo condimente bien, con ajo, cúrcuma, pimienta, sal, ají molido, etc., tome una olla le agregue un poco de aceite de oliva, cebolla bien cortada y coloque la carne, la fui revolviendo luego tape la olla y deje que se cocinara bien a fuego lento.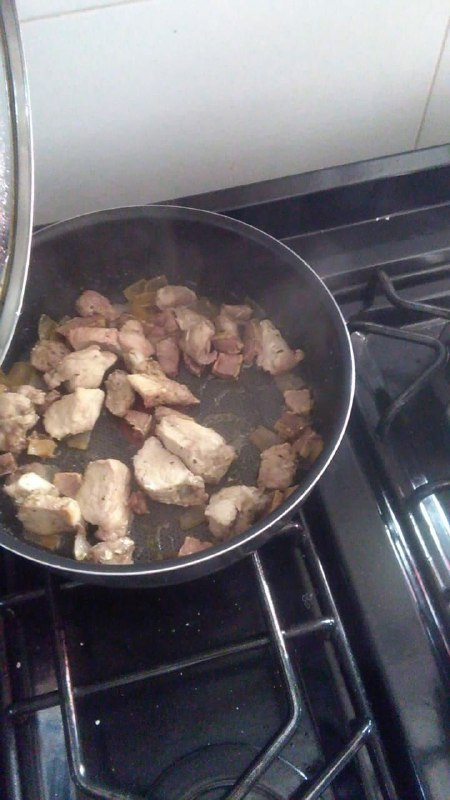 En otra olla olla había colocado papa y manzana verde pelada y sin semilla que había hervido, pise con el pisa papa hasta convertirlo en puré, como se ve en la foto, le agregue un poco de mantequilla, aceite de oliva y una pisca de sal, el cual salió muy sabroso.
Una ves que se cocino la carne retire la olla y serví la misma junto con un poco de puré, la verdad amigos tenia razón el paisano, es algo afrodisiaco esa carne tiene un sabor especial, seria como pechuga de pollo con sabor a pescado.
Como dije a veces la circunstancia de la vida nos lleva a experimentar cosas como esta comida.
Si la misma les agrado y como comentario respeto a los animales, pero esta fue una ocasión especial, siendo los mismos criados para consumo, como el pollo, el cerdo, el carpincho, etc. solamente me resta quedar a la espera de sus comentarios.
MUCHAS GRACIAS POR SEGUIRME Y LEERME.
TRANSLATED INTO ENGLISH
Sometimes the circumstances of life, leads us to take advantage of what nature creates, I express myself in this way because traveling along the route of the province of CORRIENTES ARGENTINA, near the marshes of IBERA, is an area of marshes, lagoon and marshes itself, what happened was something sad, while circulating I could see a caravan of trucks, One of them, the last one more precisely, ran over a caiman of almost two meters long, quite large, crushed its head and continued its march without realizing what happened, as it is a desolate area, like any place in the countryside and no vehicle was coming, I stopped the march and a countryman who was just passing by the place on his horse, told me - "Sir, poor animal, but you can make use of it, but you can make use of it, but it can be used, - as I told him - this gentleman stops his march descends from the horse, removing the facon that he had in his waist, proceeds to cut a part of the tail of the yacaré, he offers me a portion of about 2 kilos, of the thickest part, - take this sir, cook it in the casserole well seasoned, it is the most exquisite thing that exists, - Of course, this countryman was the one who controlled the area for the reserve where these animals are bred, so in order not to waste the death of this animal - alligator - and seeing that the gentleman was still slaughtering what was left of the animal, saying that he would have enough meat for several days, they raised them to sell them to the most outstanding restaurants in all parts of the world, I put this piece of meat in the freezer and I left.
Today I took the meat out of the freezer and cut it into small pieces as the man had told me, I seasoned it well with garlic, turmeric, pepper, salt, ground chili, etc., I took a pot and added a little olive oil, chopped onion and put the meat in it, I stirred it and then I covered the pot and let it cook well over low heat.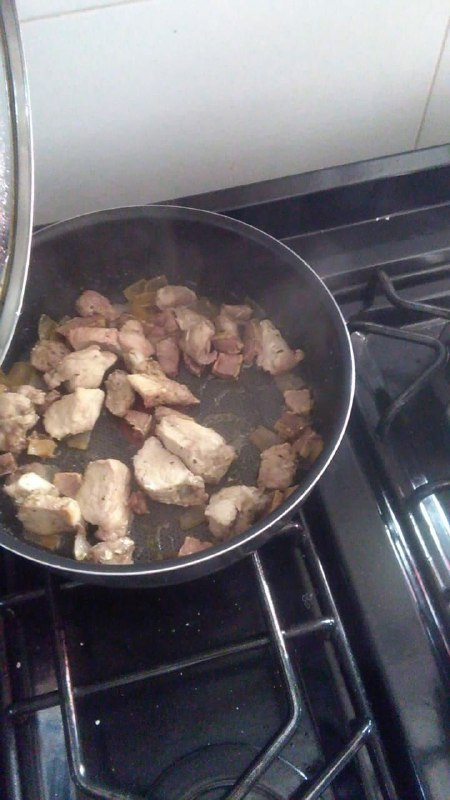 In another pot I put potatoes and peeled and seedless green apples that I had boiled, I mashed them with the potato masher until it became a puree, as shown in the picture, I added a little butter, olive oil and a pinch of salt, which came out very tasty.
Once the meat was cooked I removed the pot and served it with some mashed potatoes, the truth is that my friends were right, it is something aphrodisiac, this meat has a special flavor, it would be like chicken breast with fish flavor.
As I said sometimes life circumstances lead us to experience things like this food.
If you like it and as a commentary I respect the animals, but this was a special occasion, being the same raised for consumption, such as chicken, pork, capybara, etc. I can only wait for your comments.
THANK YOU VERY MUCH FOR FOLLOWING AND READING ME.